These cookies have been one of my most favourite recipes because it is one of the first cookies I ever baked as a teenager and this has been a hit ever since…
Found it while scrolling through one of my sister's recipe books and after a few tweaks here and there I managed to get the proper recipe.So this one's a keeper guys!!!
This cookie recipe means a lot to me because I have baked this for most of my loved ones from a very young age and now I'm willing to share it with you all
Before I start on the recipe let me enlighten you on few things I have learnt about perfecting your cookie….Hope these tips and tricks will help you like it did for me
There are few tips and tricks to getting best results when baking a cookie
🍪Each note depends on what kind of cookie texture you prefer so what works for me may not exactly work for you.I love chewy cookies, not the hard kind
🍪I'm only sharing my personal experience with you to make things a little less complicated before you actually start baking a basic cookie specially if you're a beginner
🍪Use good quality ingredients : When I mean good quality doesn't mean you buy an expensive imported brand, for example you can still buy local butter but don't use margarine and expect a rich and tasty cookie
🍪Use room temperature ingredients specially when it comes to butter and eggs
🍪If you want to bring the frozen butter to room temperature,cut them into small squares and leave on a plate for about 20 minutes
🍪Place cold eggs in a bowl of regular water to bring it to room temperature faster
🍪Check expiry dates on your baking soda and baking powder before using because the longer it lasts on your shelf,it loses its properties
🍪Do not over beat the butter with sugar.Just make sure the ingredients have incorporated well enough to create the perfect base for your cookie dough.Over beating will cause your cookie to spread too much when baking.As you can see Melted butter works really well for me in this recipe
🍪Adding eggs in one at a time helps create more volume to your cookie dough
🍪Adding a pinch of salt helps elevate flavours and take it next level
🍪Use a mix of dark brown and light brown sugar if you like a chewiness in your cookie.
🍪I love using a mix of dark muscavado sugar in my cookies but using these darker sugars can change the colour of your cookie dough.This gives a rich caramel flavour…Baking times vary when using darker sugars too
🍪If you like your cookies firm then use plain white sugar.This cookie remains lighter on the appearance as well.As you can see in the first image the difference between the two cookie doughs.Scroll Up to see
🍪You can make your own self raising flour by adding 1 tsp of baking powder to every 100g. I prefer doing this than buying the self raising flour because I don't have to worry about whether the raising agent has expired in the flour
LESS IS MORE.Do not add more baking soda : make sure you add level tsp
🍪Chop your chocolate off the chunk of a dark chocolate bar along with chocolate chips for better texture.I mean who doesn't love biting into chunks of chocolate in every bite!!!! Be generous with the chocolate going in….
🍪Don't feel shy to use your hands to mix in the flour at the end.This really helps to mix everything evenly
🍪Chilling the cookie dough is one of the most important things for best results.This helps develop more flavour and stops the cookie dough from spreading all over the place while baking…Now we all want nice round cookies yeah??
But if your cookie dough is not too sticky you could roll them into even sized balls and freeze them in ziplock bags.
Thaw them for 30 minutes and just pop them in the oven over a lined baking tray when you want freshly baked cookies.How convenient is that??
In fact the more it is refrigerated the better the quality of your baked cookie will be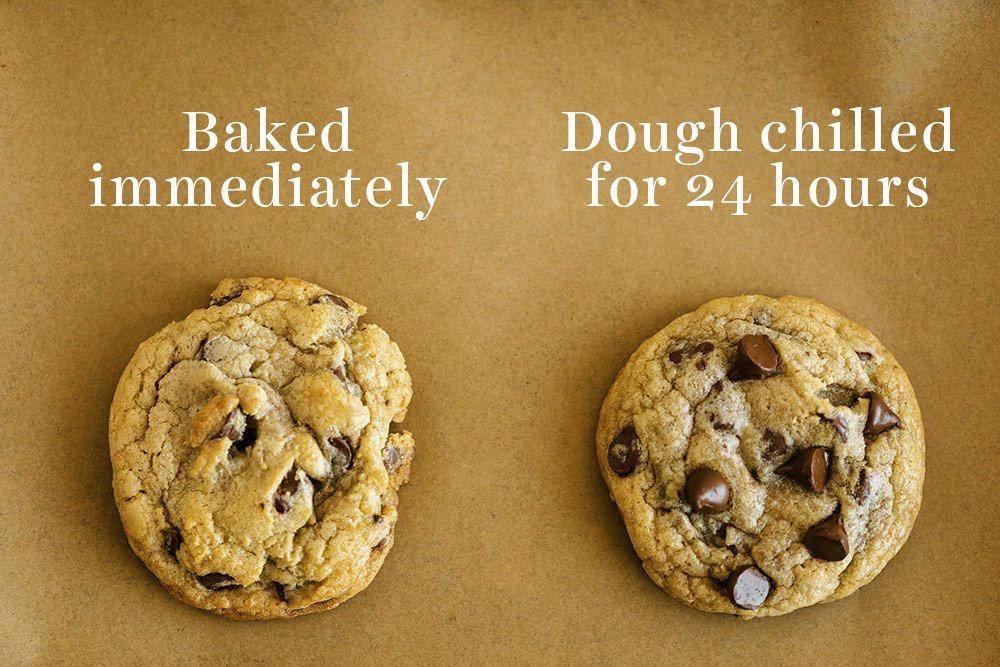 Cookie dough can be frozen for months in batches and used for many desserts as well.I used them a lot for the base of my regular brownies
🍪Refer to my post on the Chocolate Biscoff Cookie Brownie🍪
https://www.instagram.com/p/CL097jyhUUw/?igshid=11z5k15t477nr
The Link to see how I made them is at the end (scroll down)
🍪Weighing each cookie dough ball is another important tip to ensure all cookies on the sheet bake evenly
🍪You could measure them in a small digital scale if you want to be precise.I would use 45-50g of dough per cookie
🍪If you don't own a digital scale you could use a measuring spoon or ice cream scoop to spoon out your cookie dough before baking.
🍪Study what kind of oven you have because my timings may slightly vary.(I own an ELBA fan oven)
🍪Always line your baking tray with parchment paper or use a reusable silicon mat for baking cookies.
🍪Preheat your oven for maximum 20 minutes before baking your first batch.The oven might be overheated if you leave it on for too long before baking.Just keep monitoring the temperature to avoid over baking the first batch.Over baked cookies can create brittleness…not nice
🍪I would usually preheat the oven at 200' for 20 minutes,then reduce to 180' after placing the cookie tray in…
🍪Always bake batch by batch because cookies need to be baked in the centre rack,that way the concentration is only on this particular batch
🍪Some ovens have hot spots,if you have that kind of an oven then rotate the tray around every 10 minutes of baking
🍪Baking Time is crucial for Cookies
🍪If you use brown sugar you might need to take them off a bit earlier than the regular sugar ones because the brown sugars start to caramelise and create crispy edges.Not everyone likes crispy edges though…
🍪I bake them for 12-15 minutes at 180'
🍪Nothing more than that because I prefer my cookies this way
🍪They're still soft and appear undone when removing from the oven but they will harden after a few minutes as they will still continue to bake on the sheet and that's when you will see the the perfect cookie 👌🏻
🍪Do not attempt to remove them immediately,they will break and crumble
🍪Let them sit for about 10 minutes before placing on a cooling rack
Let's Start Making Some Cookies
You Will Need
200g Butter
1/2 Cup Dark Brown Sugar
1 Cup Light Brown Sugar
Two Eggs
Two Cups Plain Flour
1 tsp baking soda
1/2 tsp salt
Two Cups Dark Chocolate Chunks
One Cup Chopped Walnuts
Vanilla
Step One : Sift Dry ingredients together and set aside
Step Two : So there are two ways you can use butter in a cookie.You could either melt the butter or not.Today I decided to melt the butter
Step Three : Add Sugars in…Beat till nice and fluffy
Step Five : Time to add eggs in one by one (made a larger batch, hence more eggs in the bowl)
Step Six : Time to add the dry ingredients gradually
Lighty fold in the flour using a spoon and then use your fingers bring everything together
Do not over beat the flour.Go easy while using your fingers…
Step Seven : Add Vanilla
This dough is rather sticky because of the melted butter but don't worry it will settle when chilled
Step Eight : Add in Chocolate
Step Nine : Don't miss out on the nuts
Mix Mix Mix
Step Ten : The dough is ready to be chilled
I also made a variation using only white sugar as I mentioned earlier so I can show you'll the difference
For this I didn't melt the butter, creamed it with the white sugar to create a light mixture.Then followed the rest of the steps to make another delicious cookie dough
The only difference here is the kind of sugar and the texture of the butter
This dough has dark and white chocolate chips and lots of almond flakes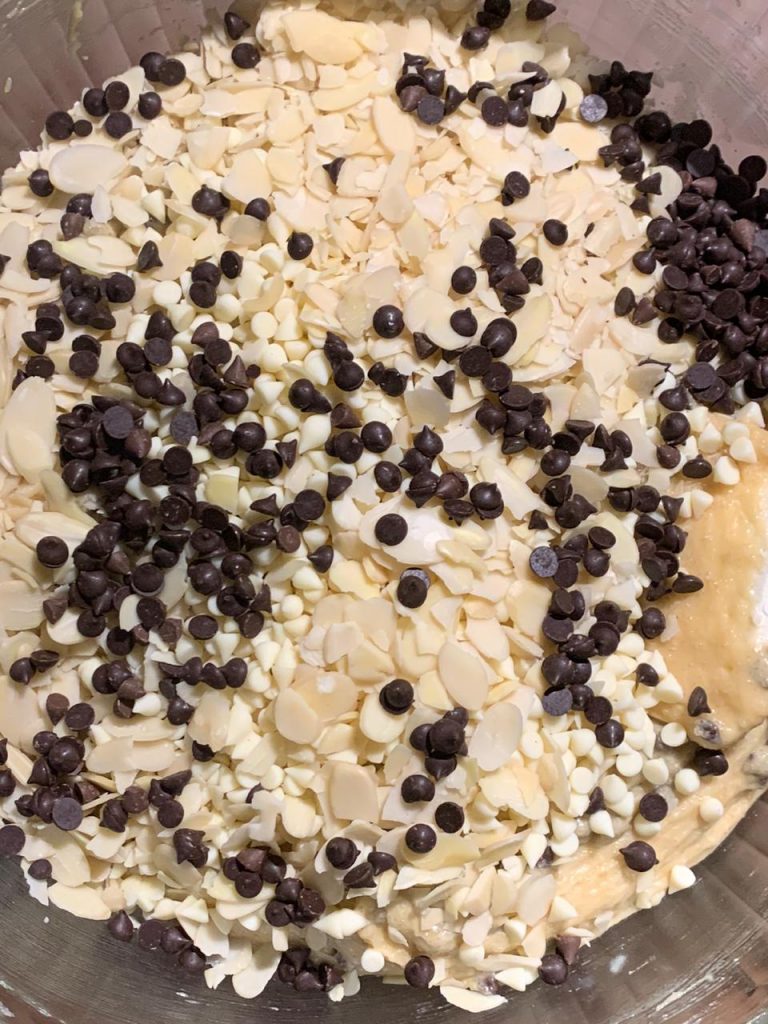 MIX MIX MIX
This dough goes to the chiller as well
Best if it can be chilled overnight or at least few hours before baking
TIME TO BAKE THESE BABIES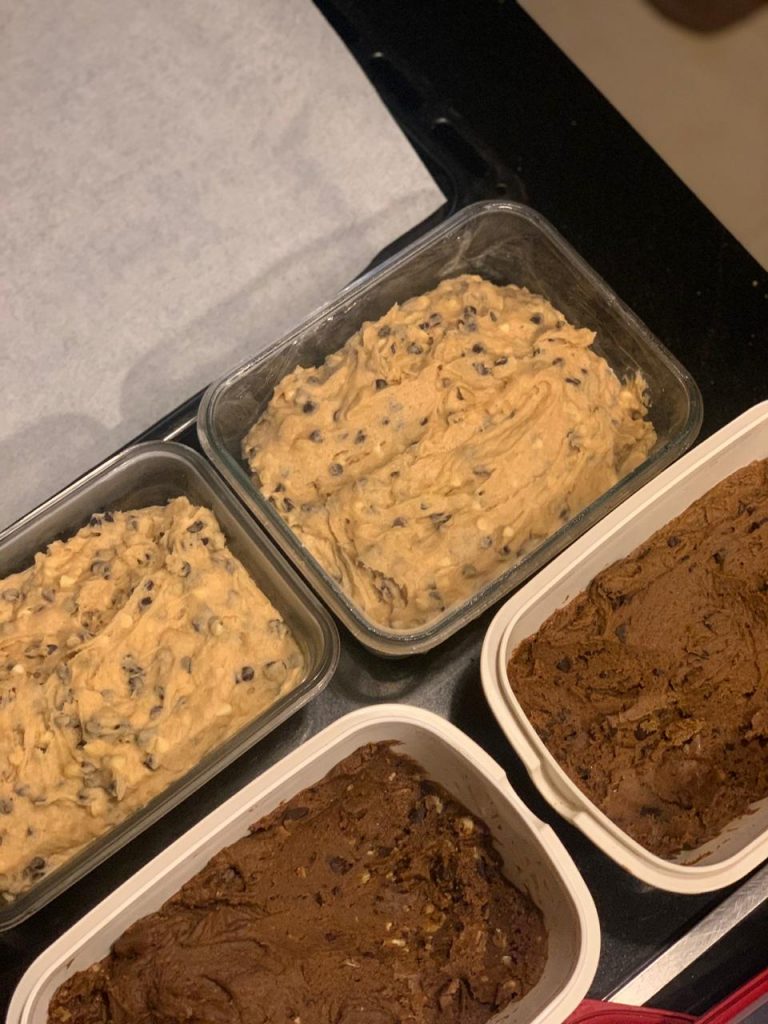 I used an ice cream scoop to spoon out the dough.This helps all cookie dough balls to be of same weight which is very important for even baking
Space them out on a lined baking sheet
I used parchment paper but you could use a silicon mat if that's what you have
Bake in a pre heated oven at 180 for 12-15 minutes and nothing more..
Like I mentioned earlier baking time is crucial for the best results in cookies
Scroll up and read through my tips and tricks for baking the right cookie
Time to enjoy a warm cookie with some cold milk or if you are a coffee person just like me, then coffee it is…
I couldn't grab a proper image of the cookies because the kids couldn't stop eating them as soon as they came out of the oven….So addictive
But here's an image of the Biscoff Stuffed Cookies I made using the same cookie dough : Refer to link attached below to see how I made them
Would love to see your remakes on this deliciousness.Be sure to tag me on social media or send me a screenshot if your account is private so I can re share them on my stories
Hope this cookie makes you happy !!! It certainly lifts our mood and such a life saver to have some stash in the freezer to be used when needed.I made a Chocolate Biscoff Brownie recently and that has been one of the most wanted things these days
Refer to link below to see how I made these bad boys
MORE COOKIE RECIPES TO TRY OUT THIS SEASON !!!
Double Chocolate Cookies
Classic Short Bread Cookies
Flap Jack Cookies
Peanut Butter Cookie Bars
Monster Cookies
Pistachio Cookies
Have a great day everyone !!! Keep smiling and Spread Love not Hate !!
Much Love 💓 Nuzrath