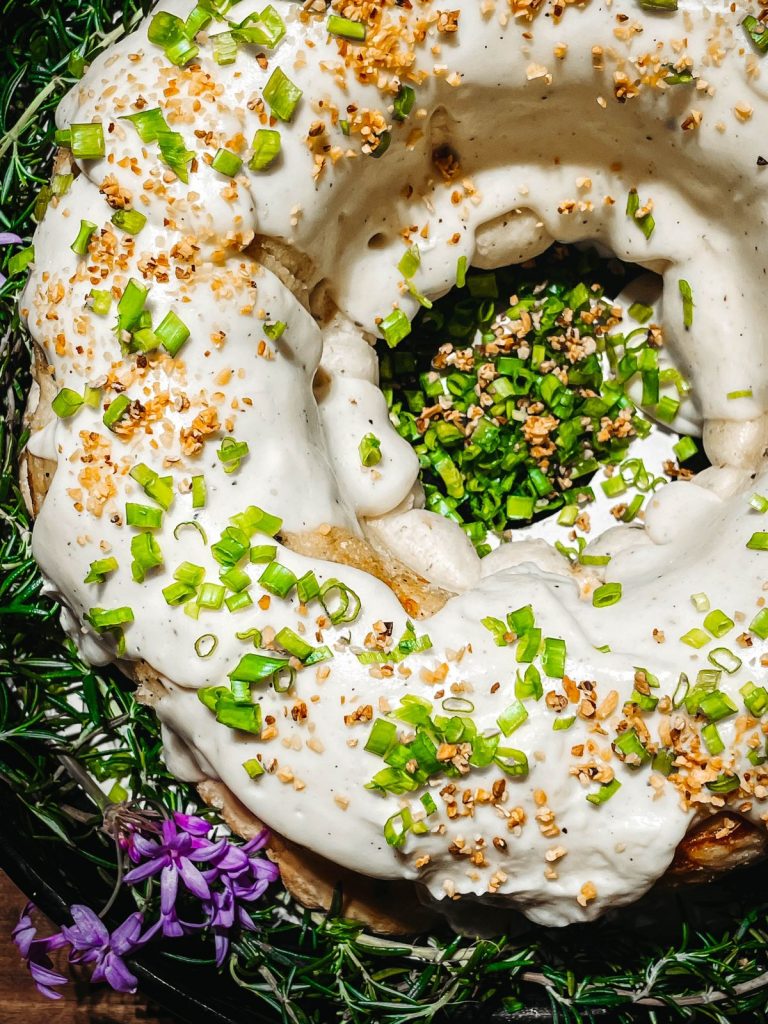 Garlic Infused Monkey Bread using all Finch dehydrated spices
Savoury Monkey Bread is a very popular type of pull apart bread dish made using chunks of dough balls that are dunked in flavoured butter or oil and assembled in a doughnut shape. This incredibly buttery dough is baked to perfection and enjoyed by removing part by part using your fingers,hence the name "Monkey Bread"
The sweet version with Cinnamon Sugar is the most festive one but I have made the savoury version from scratch using Finch Spices and swapped the butter for Finch Ceylon Virgin Coconut Oil.
This bad boy is stuffed with mozzarella cheese because everything tastes better with cheese yeah ??
This particular milk bread recipe is super easy to make so you don't have to worry about StoreBought dough anymore.This dough is so versatile it can also be used to make regular milk bread loaf using the same ingredients and pick your choice of ingredients for the stuffing.
Check out my Instagram page for more cooking inspiration.Refer to link attached below :
All Premium Finch products that can enrich your life with @finch.foods @finch.trading
https://instagram.com/finch.foods?utm_medium=copy_link
https://instagram.com/finch.trading?utm_medium=copy_link
You can get your favorite products delivered by placing an order on the Finch website www.finch.lk or via UberEats/PickMe
Their Premium range is also available at Keells,Cargills,SPAR,Laugfs,and GLOMARK and selected retail outlets islandwide
Let's Get Started
You Will Need
500g All Purpose Flour
1 tbsp Sugar
1 tbsp Yeast
One Cup Milk
3 tbsp Virgin Coconut Oil
2 Eggs
1 tbsp Garlic Powder
1 tbsp Dried Herbs
1 tsp Salt
Step One : Mix in yeast and sugar with lukewarm milk and let it bloom.Make sure the milk at the right warm temperature.
If it is too hot it will kill the yeast and if it's not warm enough the yeast will not react.
Step Two : Mix dry ingredients in a bowl.
The Garlic Powder stores well in the refrigerator.Leaving it outside might cause it to harden.If so don't panic and trash it : Pls add warm water and use the liquid or remove it from the bottle and grate the hardened blocks into smaller chips.I get so many questions regarding this problem so I thought it's the best time to address the issue and find a solution.
Step Three : Add the oil and eggs into the milk and yeast mixture.
Step Four : Add wet and dry ingredients together and make a manageable and slightly sticky dough.
Step Five : Let this rest for at least one hour
Step Six : Once it has risen,punch the dough in to remove trapped air.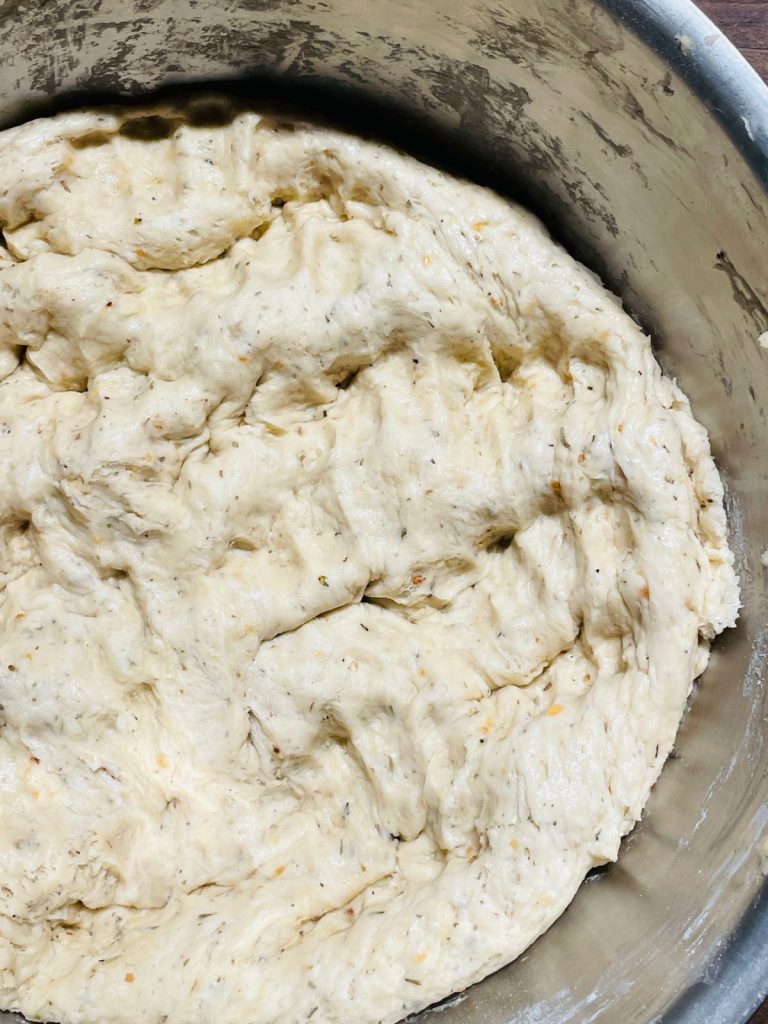 Step Seven : Prep a Bundt Pan if that's what you will be using to make this monkey bread.I have always seen monkey bread assembled in Bundt Pans but you could definitely make your own pattern : Use a regular greased oven proof round baking dish and place a ramekin in the middle to create the space like a Bundt Pan.Start assembling the dough balls around it to create the doughnut shape.
I have also made like regular pull apart bread so don't panic if you have no Bundt Pan or even a ramekin to create the shape.
Grease the base of the baking pan with more virgin coconut oil and sprinkle flour to make the process of unmoulding easy.Tip the pan around and make sure the flour sticks to all sides of the pan and dump out excess.
Let's Assemble This
Divide the dough into half then into smaller balls
For Cheesy Monkey Bread : Flatten the dough using your fingers over your palm and stuff them with cheese if you prefer this nice and cheesy.This step step is completely optional
Dip the dough balls in Garlic and Herb Oil before placing them in the baking dish.You can skip this step if you don't prefer not to do this additional step.The choice is yours
Garlic Oil : Mix in 3 tbsp Virgin Coconut Oil with 1 tsp garlic powder and 1 tsp dried herbs
Like I mentioned earlier I have swapped the butter to Finch Virgin Coconut Oil in today's recipe
Start arranging the little oiled dough balls into the prepped pan.Once you are almost at the rim of the pan you can stop because it will need to rise once more.
Let this rise for another 30 minutes
Egg wash the surface
Bake in a preheated oven at 180' for 20-30 minutes
This is how it looks and its ok if it over flows abit because this will be unmoulded and then flip to the other side when plating.
Once the bread is out of the oven while still hot,brush the top with Garlic Oil
You could use butter but I opted for Finch Virgin Coconut Oil as a healthier alternative.
You could enjoy right away but I served with a topping of cheesy white sauce and it just elevated the flavours top notch !!! Try it and thank me later
BECHAMEL OR WHITE SAUCE
You Will Need
One Cup Milk
1 tbsp Cornflour
1/2 tsp Salt
1/2 tsp Black Pepper
1 tbsp Butter/Virgin Coconut Oil
1/2 Cup Heavy Cream (optional)
1 tbsp Cream Cheese (optional)
Mix everything together in a small saucepan and keep on low flame till it thickens into the perfect consistency.Using a whisk can prevent lumpy sauce.
If you do end up with a lumpy sauce don't fret, add some water and blitz it in the blender.Then transfer to the saucepan again and reheat.This will make the sauce smooth.
Would love to see your remakes on this deliciousness.Be sure to tag me or send me a screenshot if your account is private so I can reshare it on my stories
Much Love ❤️ Nuzrath
#finchlk #kewpiesrilanka #finchlifestyle #enhanceyourlifestyle #exoticspices #finchspices #finch #finchfoods #finchsrilanka #finchtrading#srilankanfoodie #mylankanfoodjournal #colombofoodbloggers #instapic #instadaily #foodphotgraphy #eatpraylove #begrateful