If you live in a tropical country this exotic fruit is available almost throughout the year even though there are times when prices may vary during certain seasons…
Unfortunately in most other countries this fruit is only available in seasons and ridiculously expensive I hear…
The most smartest way to store these babies when they're at a good price would be to make yourself some passion fruit jam or in my case I love fruit curds or spreads; so as of recent I have been making more of these tangy curds and it's been so easy to make once you get the hang of it !!!
Freezes really well and lasts in the chiller for up to two weeks if stored properly.
What is fruit curd ?
It is basically a kind of creamy custardy fruit spread made using passion fruit,lemon,sugar and butter.Then thickened using egg yolks most of the time.
I have skipped the seeds but if you like them in your fruit curd,go ahead and add them in
So versatile ,this deliciously creamy passion fruit curd can be used as a filling or topping for a variety of desserts.Sometimes we even top this with our morning toast and crackers…So good ??
Check out my previous post on how I used this passion curd to top my spongey pillow like yogurt cake.Refer to link below :
You Will Need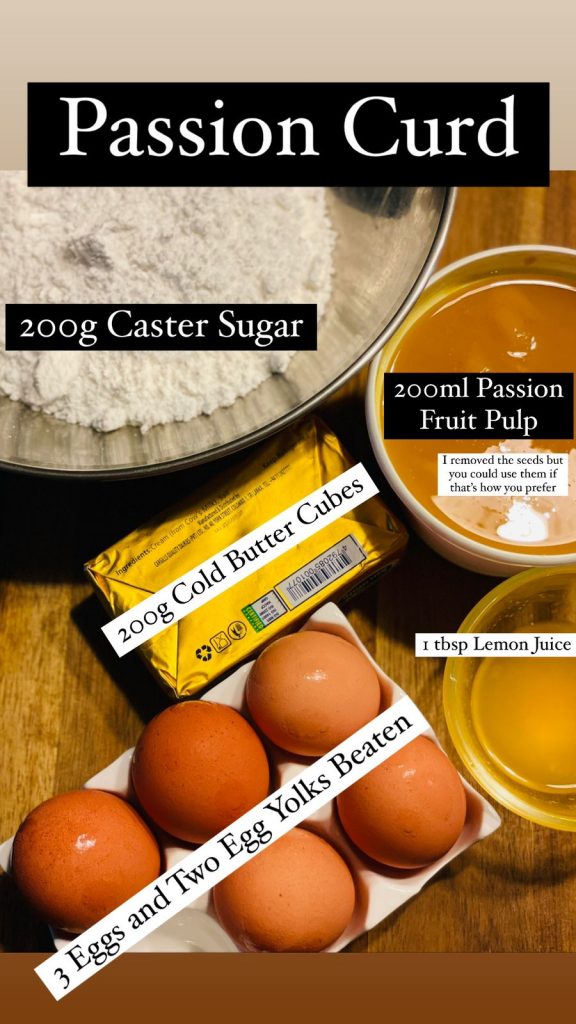 200 ml Passion Fruit Pulp
1 tbsp Lemon Juice
200g Cold Butter chopped
200g Caster Sugar
3 Eggs and 2 egg yolks beaten
Step One : Cook together in a saucepan over medium high heat,passion fruit pulp,lemon juice,butter and sugar.Once the butter has melted and everything is well incorporated,remove from fire.
Step Two : Beat the eggs together.
Step Three : Carefully drizzle the warm passion and butter mixture into the eggs while still beating it.Keep doing this till the passion and butter mixture is over.
Step Four : Now put this mixture back over low heat in the same saucepan and patiently continue to stir till it's ready.
Step Five : Keep stirring till it gradually thickens and creates the consistency you prefer.Approximately 5-6 minutes per quantity
When it coats the back of your spoon like gloss,you know it's ready !!!
It will thicken as it cools so you can remove from heat a little before the consistency you actually need.
Check out the difference in consistency from the images below
Check out my Instagram page for more cooking inspiration.
@my_lankan_food_journal
Would love to see your remakes on this deliciousness.Be sure to tag me or send me a screenshot if your account is private so I can reshare it on my stories
Much Love ?? Nuzrath
#srilankanfoodie #mylankanfoodjournal #foodblog #colombofoodbloggers #colombolife #instadaily #bekind #begrateful #passioncurd