Extended Lockdown means more Banana Bread and more Smart Cooking!!
Overripe Bananas can actually be improvised to create many healthy and delicious recipes so next time think twice before you want to Chuck it into the bin…
Food Wastage is so common with fresh produce and it's absolutely heartbreaking to see so much food going to waste globally and there's not much we can
do about it ??? Let's do our part because every small thing can make a difference….
This banana bread recipe is super simple yet super quick.You don't need a blender.The most amount of effort would be the mashing of the bananas and other ingredients together,the rest is self explanatory because the batter is made in one bowl.
You could definitely use brown sugar or coconut sugar if you're not happy with using white refined sugar but if that's what you have available then just go ahead with whatever is at your reach.Even liquid sweeteners work well : Honey or Maple Syrup
I also added in freshly grated Granny Smith apples but you can totally skip that out of your recipe and it will still be really delicious.
You could throw in a few raisins,chocolate chips,or nuts of choice and personalize it according to what's available in your pantry.
This particular one I made in a loaf tin(4"x8"),you can bake them in the form of muffins or even one full cake,the choice is yours!
Let's Get Started
You Will Need
Two Cups Ripe Bananas mashed
50g Melted Butter
200g All Purpose Flour
1/2 tsp Baking Powder
Pinch of Salt
1/4 tsp cinnamon powder
1/2 Cup Sugar or any form of sweetener
1 egg beaten
1 tsp vanilla extract
1 Granny Smith apple grated finely
1/4 Cup Nuts of choice
Mash bananas in a bowl using a fork or potato masher.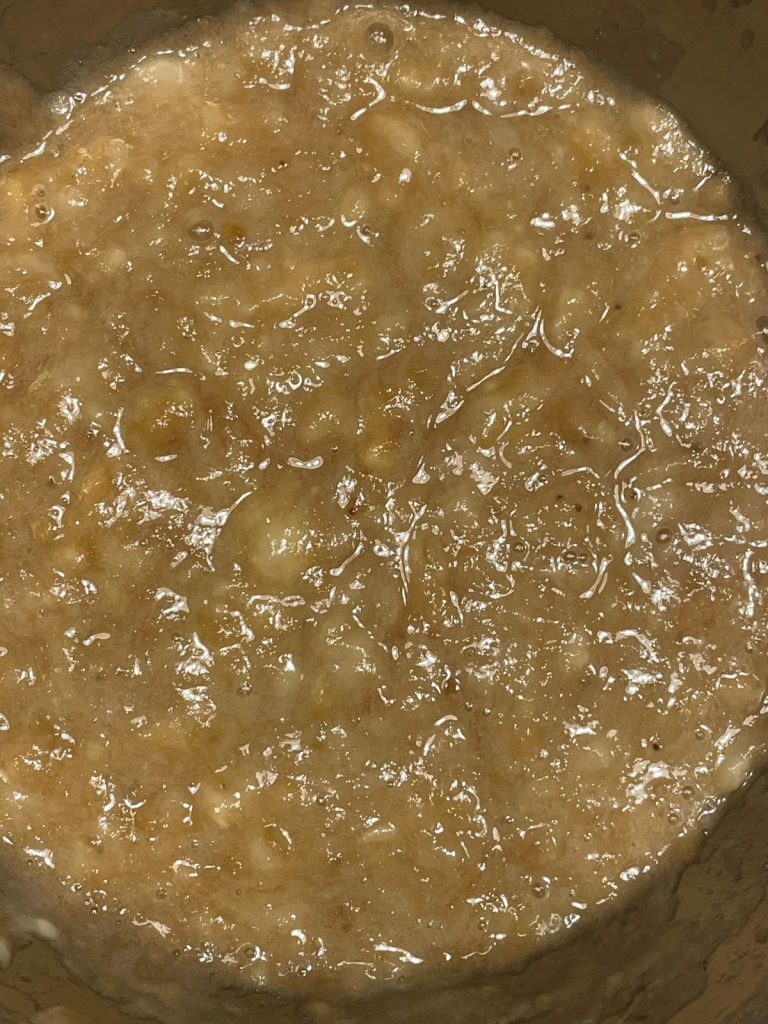 Add in other ingredients one by one and mix till well combined.
Pour batter in to lined and greased loaf tin.Sprinkle more nuts on top and some sliced bananas
Bake in a preheated oven at 180' for atleast 40 minutes or until a toothpick or wooden skewer when inserted in the centre comes out clean.If you see streaks of wet batter,let it continue to bake for a little longer while covering with a layer of aluminum foil on top to prevent it from burning the top.
Remove from oven when it's completely done and let it sit for atleast 10 minutes before slicing through.
Using a serrated knife helps slicing easier n less messy.
Serve while still warm because that's how we like to enjoy some Banana Bread.
This lasts for a week if stored properly but it never lasted that long with my kids.They loved to snack on it all day long….No one will ever know about the overripe bananas they thought went into the bin !!!
Much Love ?? Nuzrath
#srilankanfoodie #mylankanfoodjournal #foodblog #colombofoodbloggers #colombolife #instadaily #bekind #begrateful #lockdown2021 #lockdownsrilanka?? #bananabread #smartcooking #smartbaking #stayhome #staysafe #staysane #alhamdulillahforeverything??