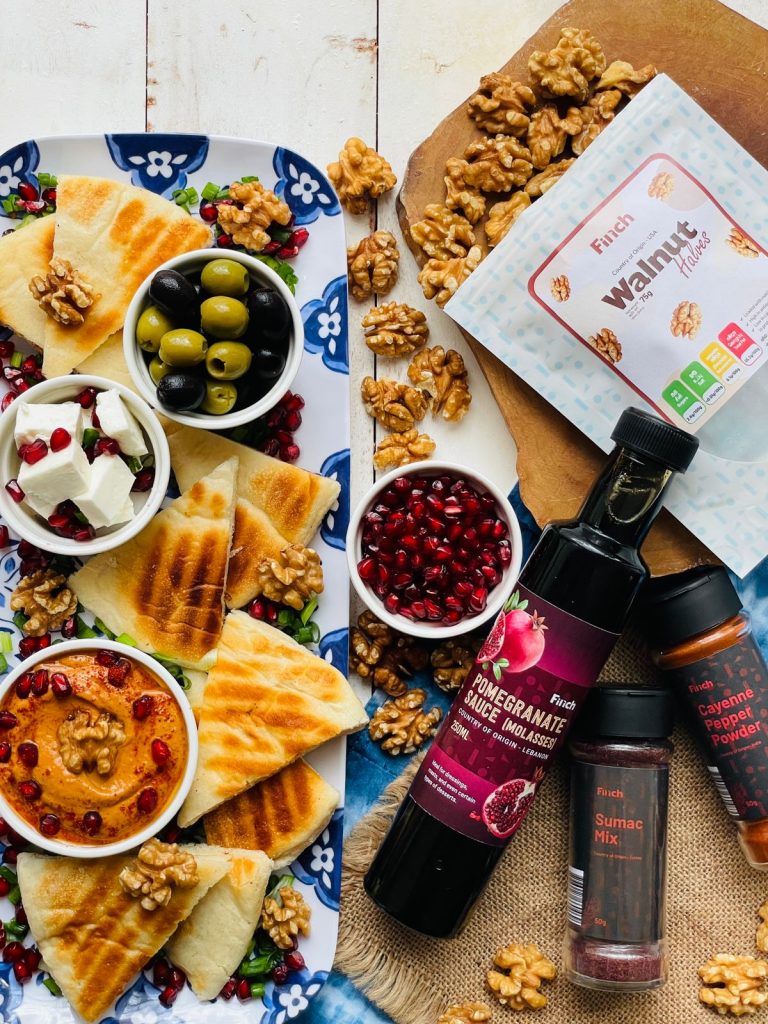 Muhammara is originally a Turkish Spicy Dip that is served in a Traditional Cold Mezze Platter alongside a variety of other dips that we can't get over.The love for Middle Eastern food doesn't stop with Hummus and Babaganouj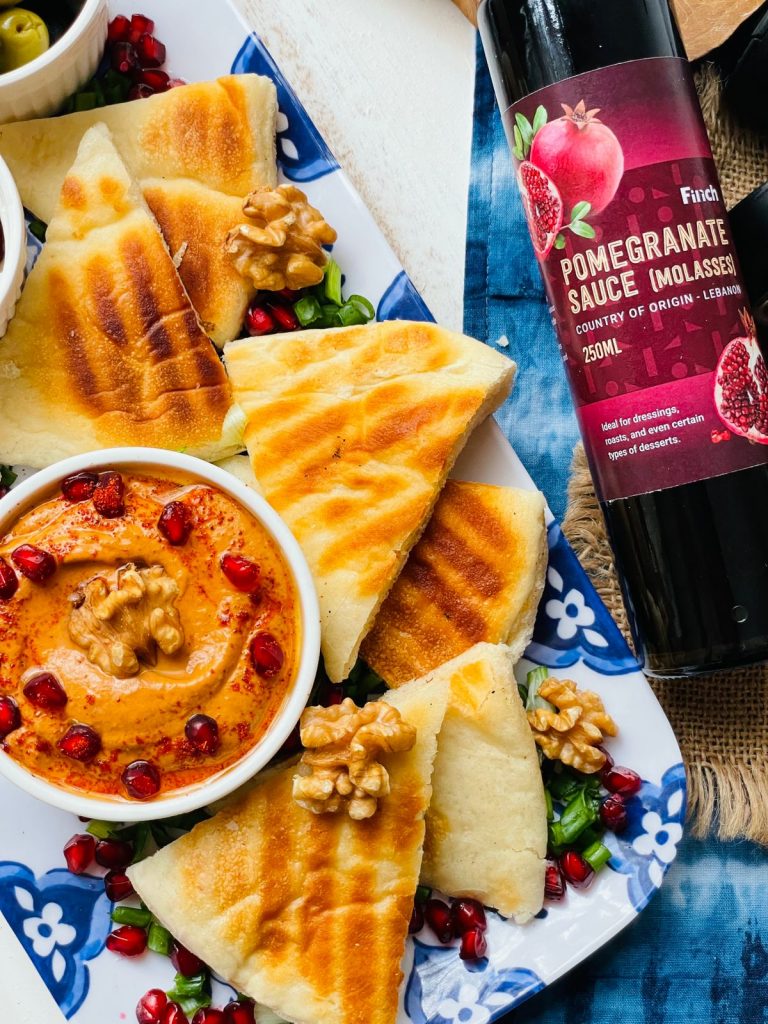 Muhammara is made using a few roasted red peppers,walnuts,and a few special ingredients that brings out the distinct flavour of this marvellous dish.Pomegranate Molasses and Cayenne Pepper are two different ingredients : one being sweet and the other very spicy but when combined in this they compliment each other really well bringing out the best of both worlds…
This dish ideally includes bread crumbs as well but I have skipped it to keep mine low carb because I felt the walnuts were really doing the needful.
Pomegranate Molasses is used quite often in Traditional Middle Eastern Dishes dishes and it's basically concentrated Pomegranate Juice.
We love using Pomegranate Molasses on salads,dips and meats.
Chicken liver and Molasses…phenomenal!!! I have even come across a cold drink for Ramadan using Pomegranate Molasses with just ice and lime drink🍸🍸🍸
Have you ever tried Pomegranate Molasses??? Would you try ??
The wait is finally over because you can now buy this special ingredient from Finch
All Premium Finch products that enrich your life with @finch.foods @finch.trading
https://instagram.com/finch.foods?utm_medium=copy_link
https://instagram.com/finch.trading?utm_medium=copy_link
You can get your favorite products delivered by placing an order on the Finch website www.finch.lk or via UberEats/PickMe
Their Premium range is also available at Keells,Cargills,SPAR,Laugfs,and GLOMARK and selected retail outlets islandwide
Let's Get Started
You Will Need
Two Red Peppers roasted and puréed
Extra Virgin Olive Oil
100g Raw Walnuts
1 clove garlic
2 tbsp Tomato Paste or Sun Dried Tomatoes
3 tbsp Pomegranate Molasses
1 tbsp lime juice
1 tsp Sumac
1/2 tsp Cayenne Pepper
1 tsp Paprika
Pinch of salt
Roasted Red Bell Pepper Paste
Roasting the Bell Pepper is the first step you need to start with.It is as simple as it can get.Place the cleaned pepper cut into two over a lined baking tray and drizzle with olive oil.
Bake in a preheated oven at 200' for atleast 30 minutes or until the top looks nice and charred.
Remove from oven,let it cool and purée it using your food processor.This can be stored in the refrigerator for a week maybe but lasts longer if frozen.
This is such a versatile paste that can be used to make most dishes,like as a marinade or even to make Roasted Pepper Hummus.
My recipe is available in the blog site.Refer to link attached below :
Once this paste is done,the rest of the steps are quite self explanatory : Blitz everything in the food processor to make yourself a nice and creamy Muhammara
Check out my Instagram page for more cooking inspiration.Refer to link attached below :
Would love to see your remakes on this deliciousness.Be sure to tag me or send me a screenshot if your account is private so I can reshare it on my stories
Much Love ❤️ Nuzrath
finchlk #kewpiesrilanka #finchlifestyle #enhanceyourlifestyle #exoticspices #finchspices #finch #finchfoods #finchsrilanka #finchtrading#srilankanfoodie #mylankanfoodjournal #colombofoodbloggers #instapic #instadaily #foodphotgraphy #eatpraylove #begrateful