Pumpkin Pie is most commonly made during the harvest time of the year which is known as Fall or Early Winter in most countries.
It is an incredibly comforting pie infused with pumpkin spice and all things nice 🎃🎃🎃
The rich and velvety custard with a sweet and spicy crust just makes me feel better when paired with a warm mug of hot coffee…
This time of the year most parts of the world introduces all things with pumpkin spice on the menu,that includes even drinks such as Pumpkin Spice Lattes and Shakes
This Slice of Pumpkin Pie is one of my most awaited things during this season.Nothing matches The Pumpkin Pie served at The Butter Boutique Colombo 🎃🎃🎃
It is just perfect 👌🏻
That's what inspired me to give this recipe a go…I know it can be quite intimidating to try something out of your comfort zone but there's no reason not to give this deliciousness a chance.I assure you there's not really much that can go wrong unless ofcourse you burn it…
Today I have made the Pumpkin Pie using a type of squash called Butternut Squash also known as "Batana" or "Dubai Wattaka" in my beautiful country.
I have made the Pumpkin Purée from scratch and also made my own version of the Pumpkin Spice.Scroll down to see how you can make this most amazing Pie at home…
Let's Get Started
You Will Need
The Sweet Pastry Base
Two Cups All Purpose Flour
3/4 Cup Brown Sugar
1/2 tsp Pumpkin Spice
1 tsp Vanilla
100g Salted Butter or add 1/2 tsp salt
Two Egg Yolks beaten
1/2 Cup cold milk/water if needed
Let's make the dough
Make sure the butter is nice and chilled.Cut into cubes before using.This helps to break them down evenly and easily.
Step One : Add in dry ingredients in a bowl
Step Two : Crumble the cubed butter with the flour using your fingers to create a sandy texture.You could use a dough blender/pastry cutter if you own one.
Step Three : Add yolks and make into a manageable dough.Not too sticky neither too dry.
Add water/milk only if needed.
Chill this dough for atleast a few hours before use for best results.Preferably overnight.This dough freezes really well too.
Thaw for 10 minutes before rolling out.
Roll Inbetween two parchment papers to avoid the dough from sticking to the rolling pin.Sprinkle flour if necessary only.
Transfer to greased tart tin.You could make a large 9" tart or individual ones if you have them on hand.
I made 9 individual pies with this quantity
Fork the prepared tart base and egg wash with beaten egg whites before blind baking for the first time.
Do not bake for more than 5-10 minutes
While cooling start prepping the Pumpkin Pie Filling
Pumpkin Pie Filling
Two Cups Pumpkin Purée
1 tbsp Cornflour
1 Cup Brown Sugar
3 Whole Eggs
1/2 Cup Evaporated Milk
1/2 Cup Heavy Cream
1 tsp Vanilla
1 tsp Pumpkin Spice
Home Made Pumpkin Purée
When making Pumpkin Pie you have a choice : Use canned pumpkin or make it from scratch using Sweet Pie Pumpkins or locally known as "Bataana" "Dubai Pumpkin" in our country.
Pumpkin Purée that comes in a can is not local made so it can be pretty expensive.I promise you that this way of making Pumpkin Purée is not gonna cost you even 1/4 of the price you pay for the imported can but it's gonna still taste absolutely delicious because you made it from scratch 🎃🎃🎃
Check out my older post for the recipe on how to make your Pumpkin Purée using the pumpkin you got from the local market.
Refer to link attached below :
Home Made Pumpkin Spice
Pumpkin Spice is not commonly found in Srilanka so I decided to make it at home using fresh whole spices available in my pantry.
Why pay more when you can assemble the similar one using these simple ingredients.
1 tsp Ginger Powder
1 tbsp Cinnamon Powder
1 tsp Mixed Spices/Cloves Powder
1 tsp Nutmeg Powder
All dried whole spices and herbs available at Finch.
You can get your favorite products delivered by placing an order on the Finch website www.finch.lk or via UberEats/PickMe
Their Premium range is also available at Keells,Cargills,SPAR,Laugfs,and GLOMARK and selected retail outlets islandwide
To make the filling : Combine all ingredients in a bowl and your filling is ready.
Time To Assemble
Fill them cooled tarts with spoons of Pumpkin Pie Filling and bake for the second time in the preheated oven at 180' for 25-35 minutes or until you're sure it's completely cooked all the way through and not jiggly in the middle when you give it a small shake.
Let this cool completely and serve with a dollop of cold whipped cream for the most amazing experience of pumpkin spice and all things nice 🎃🎃🎃
Check out my Instagram page for more cooking inspiration.Refer to link attached below :(not available)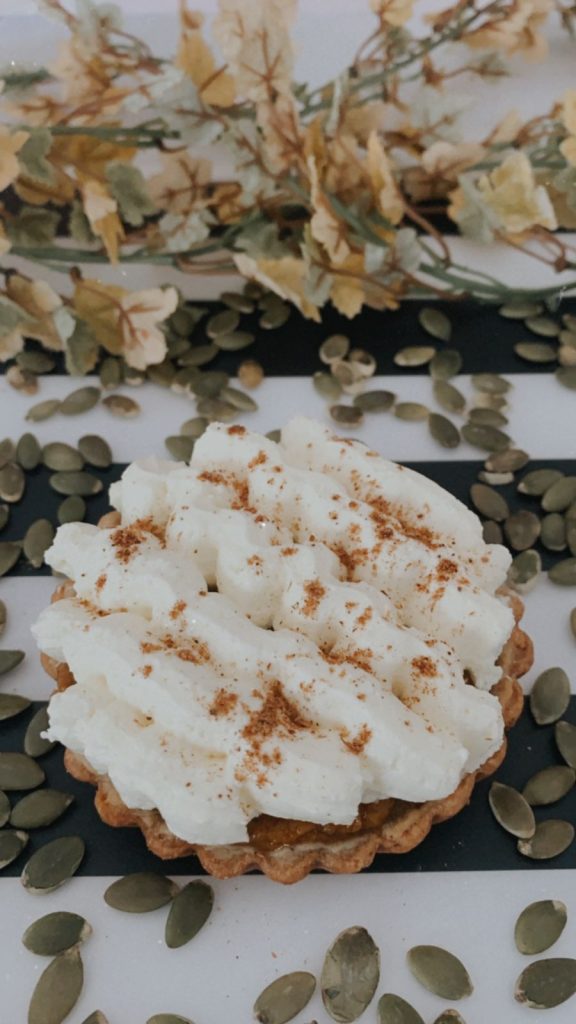 Would love to see your remakes on this deliciousness.Be sure to tag me or send me a screenshot if your account is private so I can reshare it on my stories
Much Love ❤️ Nuzrath
#srilankanfoodie #mylankanfoodjournal #foodblog srilankanfoodie #mylankanfoodjournal #foodblog #colombofoodbloggers #colombolife #finch #finchsrilanka #finchspices #finchherbsandspices #finchfoods #finchhealthyliving #finchwithme #foodiesofintsagram#onthetable #instadaily #igers #eatpraylove #positivevibesonly