Pecan Pie is quite popular during the Year End Holiday Season in the West.
Thanksgiving dinner is always complete with a traditional warm pie…
We first tried this when we were visiting Canada for the first time and it has been my son's favorite since…
Biting into a warm pie with a dollop of cream just screams comfort in every bite doesn't it ?? Specially during the recent chilly nights : All I can dream of is warm pie in one hand while being cuddled up with my favorite book on the other…
Lately I've been reading quite a lot and I think I can get used to it because an occasional digital detox is much needed yeah?
Pecan nuts are not freely available in Srilanka and you're lucky if you can actually find them at an affordable price.
I promised Dawood I'll make him a good Pecan Pie during the season and I'm so glad I was able to get my ingredients thanks to Finch.
https://instagram.com/finch.foods?utm_medium=copy_link
https://instagram.com/finch.trading?utm_medium=copy_link
You can get your favorite products delivered by placing an order on the Finch website www.finch.lk or via UberEats/PickMe
Their Premium range is also available at Keells,Cargills,SPAR,Laugfs,and GLOMARK and selected retail outlets islandwide
I swapped a few things around from my original recipe for almond tarts and recreated a promising home made dough from scratch but you could definitely choose to use store bought short crust pastry if you're in a mood to save time and create a short cut.
Let's Get Started
You Will Need
The Pie Dough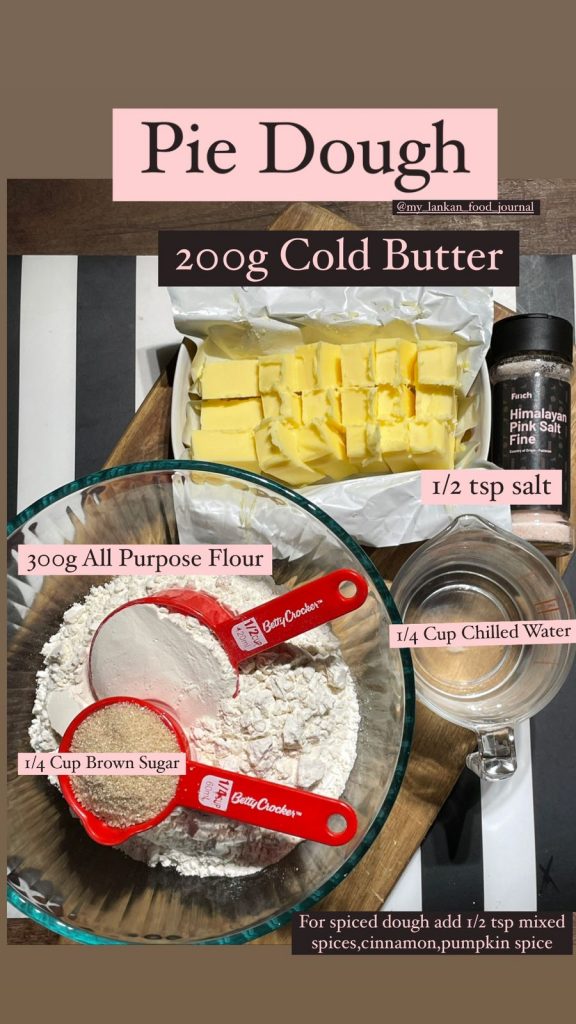 Ingredients
200g Cold Butter
300g All Purpose Flour
1/4 Cup Brown Sugar
1/4 tsp salt
Little less than 1/4 Cup Chilled Water
Step One : Chopping the butter up into smaller cubes makes it easier to combine with the flour.
Step Two : Mix the All Purpose Flour with the cold butter cubes using your fingers till it resembles sand texture.
Add water only if needed
Step Three : Make into a manageable dough.Not too sticky,neither too dry.
Let this chill for at least an hour or so,preferably overnight.This dough can be made and frozen ahead.The quality of dough increases when it is allowed to rest in the chiller.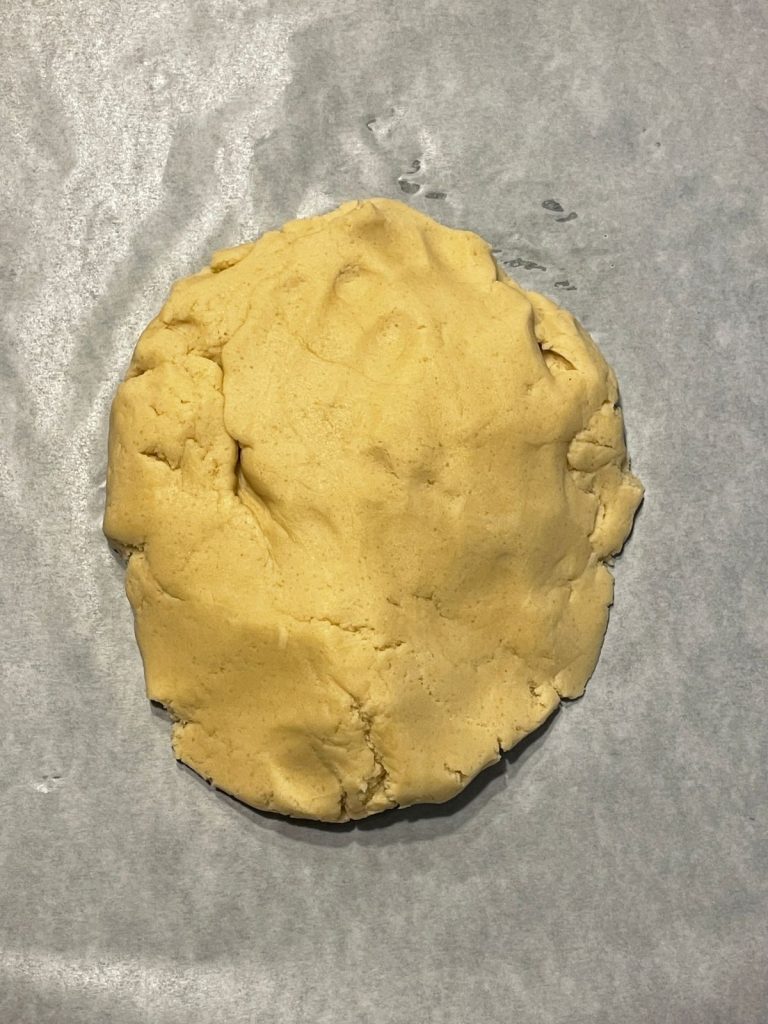 Thaw for ten minutes if frozen before needed.
Start rolling in between two parchment papers over a flat surface,to avoid sticking to the rolling pin.Sprinkle flour if necessary.
Roll into few inches more than the tart pan.
Transfer to lined and greased tart tin.(10"diameter)
Fork through and egg wash with egg whites before baking for the first round.
Bake in a preheated oven at 180' for 5-10 minutes maximum.
Remove from oven and let it cool down completely while you prep the filling.
The Filling
Ingredients
250g Pecans
3 Large Eggs
1 Cup Natural Bees Honey or Maple Syrup
You could even use Original Kithul Treacle.
1/2 Cup Brown Sugar
1 tsp Vanilla
1/2 Cup Melted Butter
Pinch of salt
1/2 tsp Cinnamon
The filling is made using maple syrup but you could definitely use natural bees honey or even Kithul Treacle if that's what's available.Molasses,Corn Syrup or Glucose Syrup should work well too.
You could either chop up the nuts and add to the filling or arrange the nuts neatly over your baked tart shell like i did.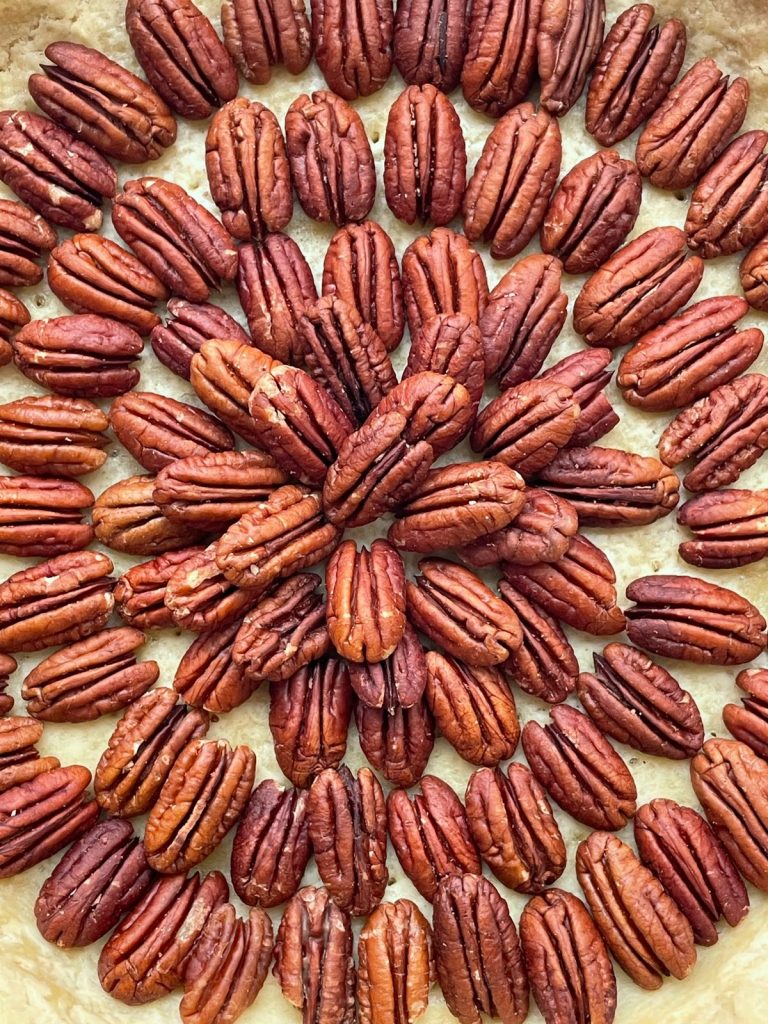 Well,I kinda went a little extra didn't I ? ?????? Obsessed or OCD….
Look at how pretty they look when arranged in one pattern
Combine all ingredients in a bowl to make the filling.
Time to fill this bad boy!!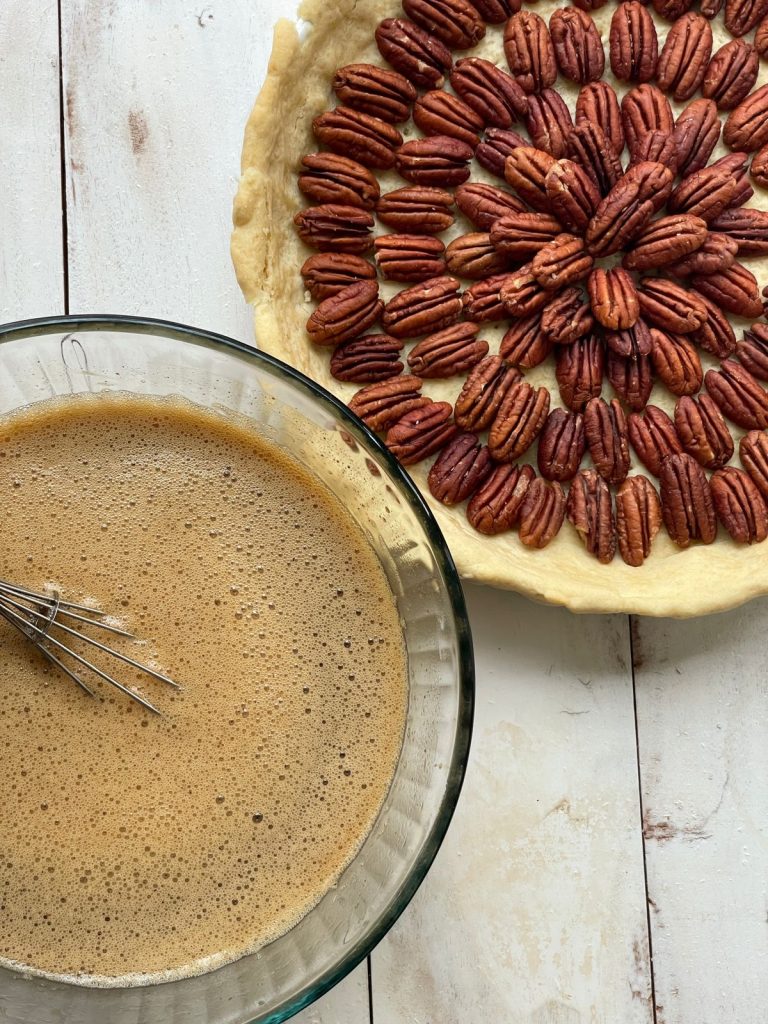 Check out my IGTV to check out the pie making in process.Refer to link attached below :(working on it)
Carefully spoon the filling over the neatly arranged half baked tart shells.
You could either make one large tart or few mini ones if you have the appropriate loose bottom individual tart tins,the choice is yours…I got these mini ones as a gift but am sure most cake supply stores should have them in stock.
Do not fill all the way to the top because this may spill over.Fill to an almost full level for a perfect balance.
Bake in a preheated oven at 180' for 30-40 minutes or until the pie is no longer jiggly when you tap on the sides or give it a small shake.
My kitchen smells absolutely amazing and I can't wait to dig in but this is super hot and I need to let it cool till it's warm enough before being able to devour this deliciousness….
Serve with a scoop of vanilla ice cream or even a dollop of some plain old cream and you got yourself a delightful slice of pie…Yummm
My kids didn't have enough patience to sit around though,they just gobbled them up like they've never tried before…They sure loved it and I'm one happy mamaa because I promised my first born I will make this for him when I get my hands on some Pecan Nuts and I'm so glad I chose the best quality from Finch.
Check out my Instagram page for more cooking inspiration.Refer to link attached below : (working on it)
Would love to see your remakes on this deliciousness.Be sure to tag me or send me a screenshot if your account is private so I can reshare it on my stories
Much Love ?? Nuzrath
#finchlk #kewpiesrilanka #finchlifestyle #enhanceyourlifestyle #exoticspices #finchspices #finch #finchfoods #finchsrilanka #finchtrading#srilankanfoodie #mylankanfoodjournal #colombofoodbloggers #instapic #instadaily #foodphotgraphy #eatpraylove #begrateful