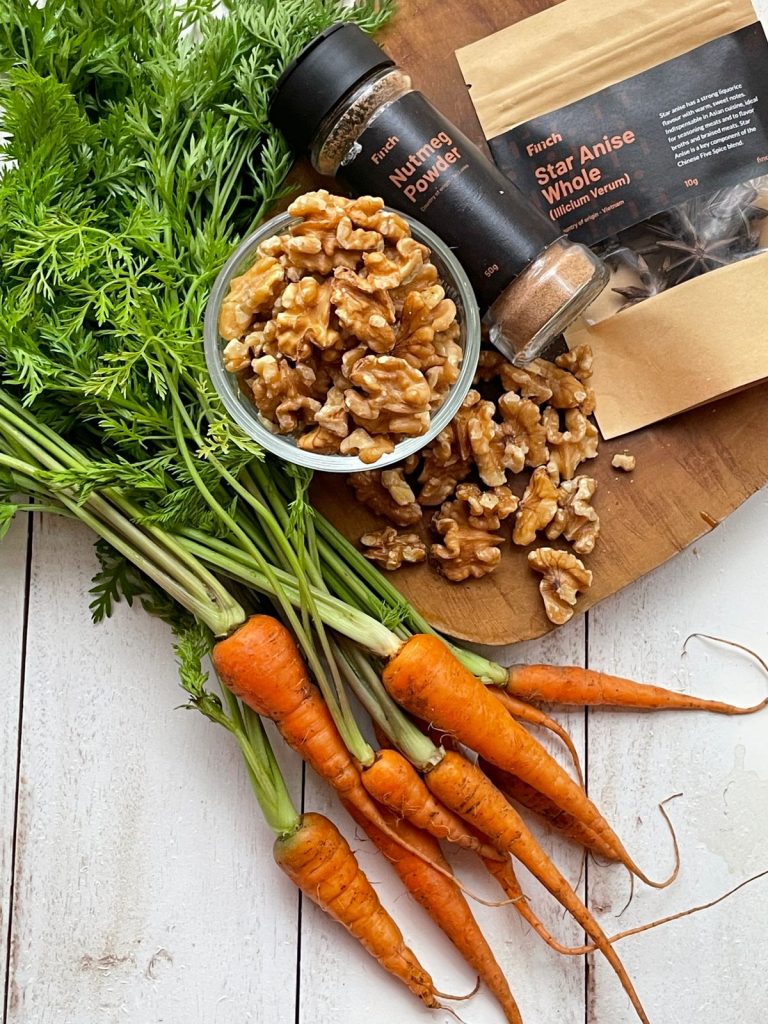 Just what you need on a lazy weekend : My sister's Incredibly Moist and Spiced Carrot Cake ???
?Ideally topped with luscious Cream Cheese Frosting but today I settled with a light cream cheese drizzle and I have no regrets !!
No doubt my eldest sister is the best baker in the family and I'm so proud to have learnt little things from her…
?I transformed her marvellous recipe with a little twist by swapping the Cinnamon Powder to Finch Nutmeg and Star Anise Powder : I must admit it was a worthy experiment…
The two spices compliment each other so well and the results were next level
Star Anise is an underrated whole spice : I got familiar with this ancient super food when I first started cooking Indian food and I've been a devotee since..
The addition of star anise and nutmeg really enhances the flavour and screams comfort in every bite ???
All Premium Finch products :
Whole Walnuts
Nutmeg Powder
Star Anise
Virgin Coconut Oil
@finch.foods @finch.trading
You can get your favorite products delivered by placing an order on the Finch website www.finch.lk or via UberEats/PickMe
https://instagram.com/finch.trading?utm_medium=copy_link
https://instagram.com/finch.foods?utm_medium=copy_link
Their Premium range is also available at Keells,Cargills,SPAR,Laugfs,and GLOMARK and selected retail outlets islandwide
Let's Get Started
You Will Need
150ml Virgin Coconut Oil
3 Eggs
250g Grated Carrots
250g Brown Sugar
100g Walnuts
250g All Purpose Flour
1.5 tsp Baking Powder
1 tsp Star Anise Powder
1 tsp Nutmeg Powder
1 tsp Vanilla (Optional)
Chop the walnuts coarsely
Step One : Mix Dry ingredients in a bowl (All Purpose Flour,Baking Powder,Nutmeg,Star Anise)
Step Two : Beat Brown Sugar with eggs till nice and fluffy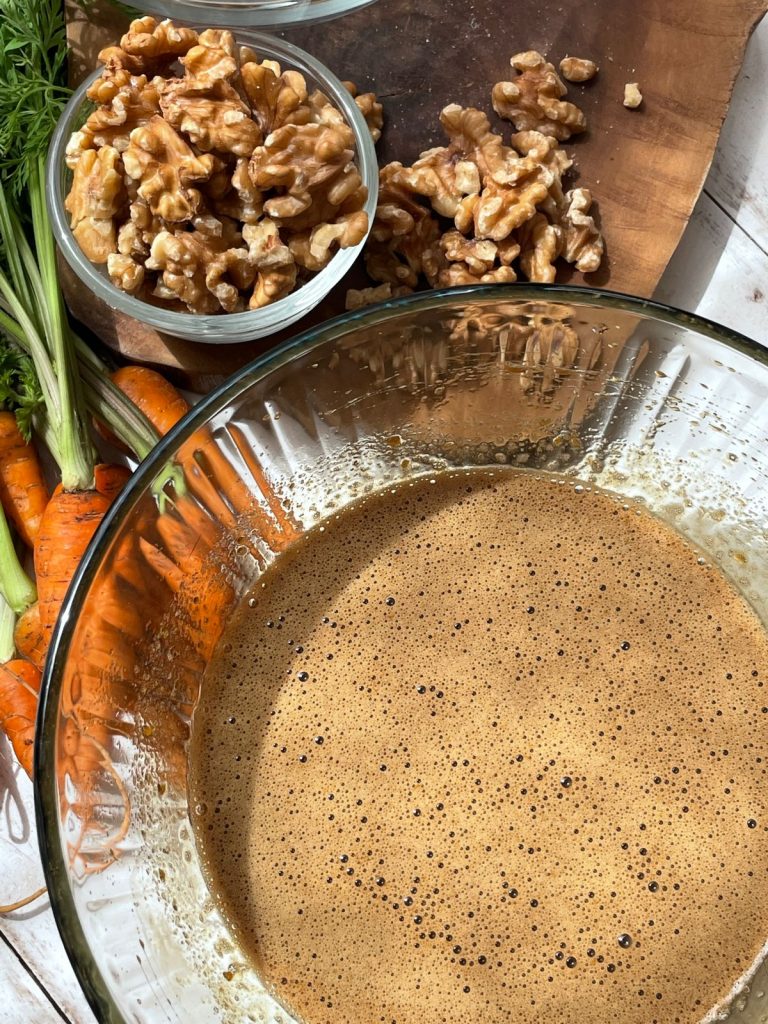 Step Three : Add Grated Carrots
Step Four : Add in oil
Step Five : Add chopped nuts and mix well.It's looking almost like a batter now
Step Six : Gradually fold in the dry ingredients mix till well combined.Make sure there are no lumps in the batter.Do not overbeat
Yes we got some help !!!
Watch him stir in my IGTV Post.
Step Seven : Transfer to an 8" lined baking tray or into two small loaf pans.
Step Eight : Bake in a preheated oven at 180' for atleast 30 minutes and reduce heat during the last 5 minutes if needed when the crust is already beautiful and golden.
Let this cool completely while you make the frosting
Cream Cheese Frosting
You Will Need
50g butter softened
200g cream cheese
100g icing sugar sifted
1 tsp vanilla
Beat the butter and cream cheese till nice and fluffy.Add vanilla
Gradually add in spoon by spoon of icing sugar and keep beating till it becomes nice and creamy.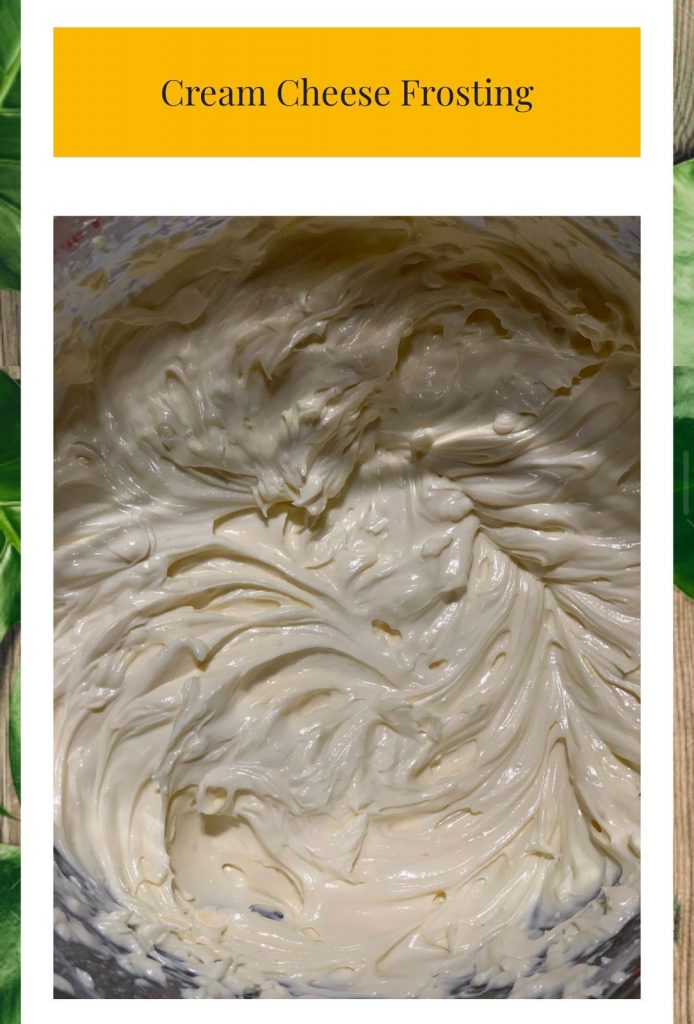 I was in a mood for something like a drizzle so I opted for that today.
I would advise you to make the Cream Cheese Frosting instead because that's the best way to serve a perfectly moist Carrot Cake like so…
This cake is an absolute treat to enjoy at anytime of the year and there are times when I would make them in the form of cupcakes too.Today I used loaf tins and this recipe has never failed to amaze me…
You're gonna love it once you try !!!
Check out my Instagram page for more cooking inspiration.Refer to link attached below :
Would love to see your remakes on this deliciousness.Be sure to tag me or send me a screenshot if your account is private so I can reshare it on my stories
Much Love ?? Nuzrath
#finchlk #kewpiesrilanka #finchlifestyle #enhanceyourlifestyle #exoticspices #finchspices #finch #finchfoods #finchsrilanka #finchtrading#srilankanfoodie #mylankanfoodjournal #colombofoodbloggers #instapic #instadaily #foodphotgraphy #eatpraylove #begrateful