Kimbula Bread Pudding is your upgraded Bread and Butter Pudding
I had some extra Kimbula Buns sitting in the refrigerator and didn't want to over do it with the kids because they had already eaten way too much sweets for the day so hid it from them.But I knew they're not gonna be so fresh after a couple of days, and I'm definitely not chucking them away because you know how much I hate food waste!!!
Thinking hat was on and improvised ingredients to create the Kimbula Bread Pudding.It's the similar method but this time with a delicious light vanilla custard sauce to go on top…
This was such a crowd pleaser and all kids and adults went crazy over this new kid in the house !!! Win win for me…
Let's Get Started
You Will Need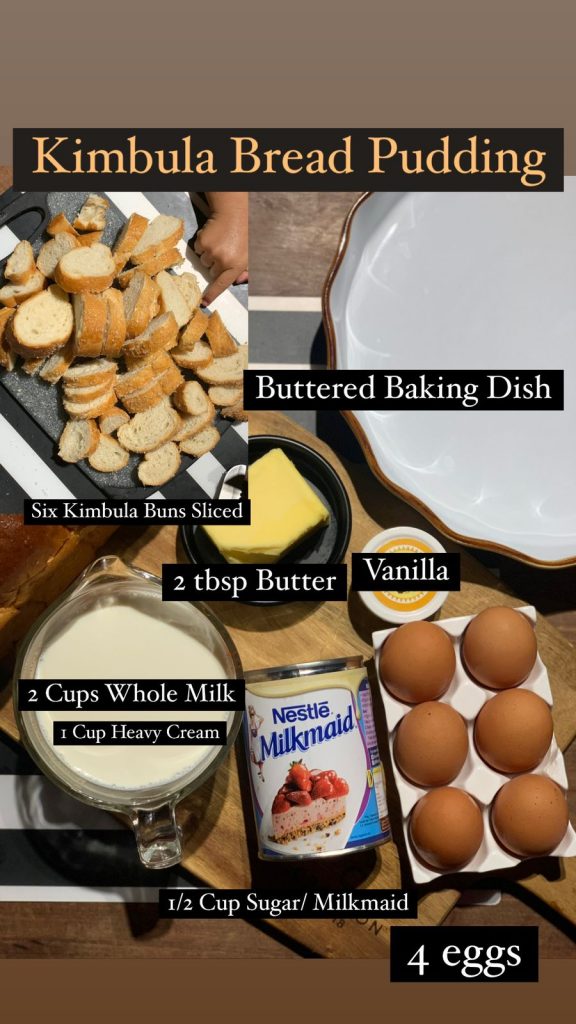 6 Kimbula Buns sliced
2 Cups Whole Milk
1 Cup Heavy Cream
4 Eggs beaten
2 tbsp Butter
1/2 Cup Sugar or Condensed Milk
1 tsp Vanilla or cardamom flavour
Step One : Slice the Kimbula buns and assemble in a buttered baking dish
Step Two : In another bowl,combine all ingredients and strain if that's what you prefer because when I use beaten eggs I like to strain it to avoid the eggy flavour.
Step Three : Pour this into the prepped baking dish with sliced Kimbula Bun.
Step Four : Let it sit for atleast 30 minutes before baking.
I made a larger batch today using leftover brioche buns
Step Five : Bake in a preheated oven at 180' for atleast 50-60 minutes or until the top is beautiful and golden.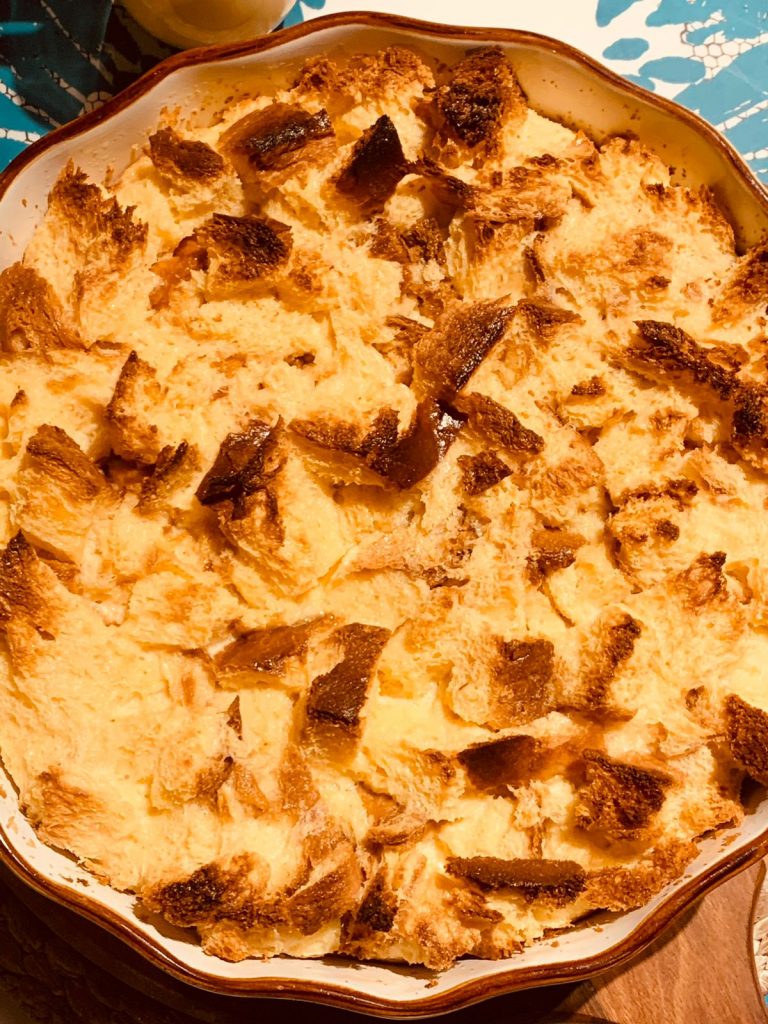 This dessert can be served cold or warm,either way it's still so delicious!!!
You can serve it plain or with a scoop of vanilla icecream but today I made an easy vanilla custard sauce to go on top.
This was requested by a special follower who had no access to cream cheese or custard powder.She said it was quite a hit and I should definitely share it in my blog site.
Vanilla Custard Sauce
500 ml Whole Milk
1/2 Cup Heavy Cream
1/2 Cup Condensed Milk or Milkmaid
2 tbsp Cornflour
1 tsp Vanilla
Splash of Orange Blossom Water (optional)
This recipe is very simple,you can do it two ways :
Mix all ingredients in a saucepan and keep on low heat till it thickens to the saucey consistency.
Mix the Cornflour with some water and create a slurry.Set this aside.Heat the remaining ingredients in a pan and whisk this right in;when the mixture comes to a slight boil.Keep whisking till you reach the consistency you need and switch off flame.
It usually thickens as it cools so remove from heat when it's a little runnier than you actually need it.
Using a whisk helps create a smoother custard sauce.
You could either serve this on the side or drizzle on top…So so light and creamy.I went a little extra and sprinkled some crushed nougat and everyone couldn't stop eating this….
Find the recipe on how to make nougat in my blog site :
Would love to see your remakes on this deliciousness.Be sure to tag me or send me a screenshot if your account is private so I can reshare it on my stories
https://www.instagram.com/my_lankan_food_journal/p/CYBZMfRo47R/?utm_medium=copy_link
Much Love ?? Nuzrath
#srilankanfoodie #mylankanfoodjournal #foodblog #colombofoodbloggers #colombolife #instadaily #bekind #begrateful #breadandbutterpudding #homemadewithlove #breadandbutterpudding #kimbulabreadpudding