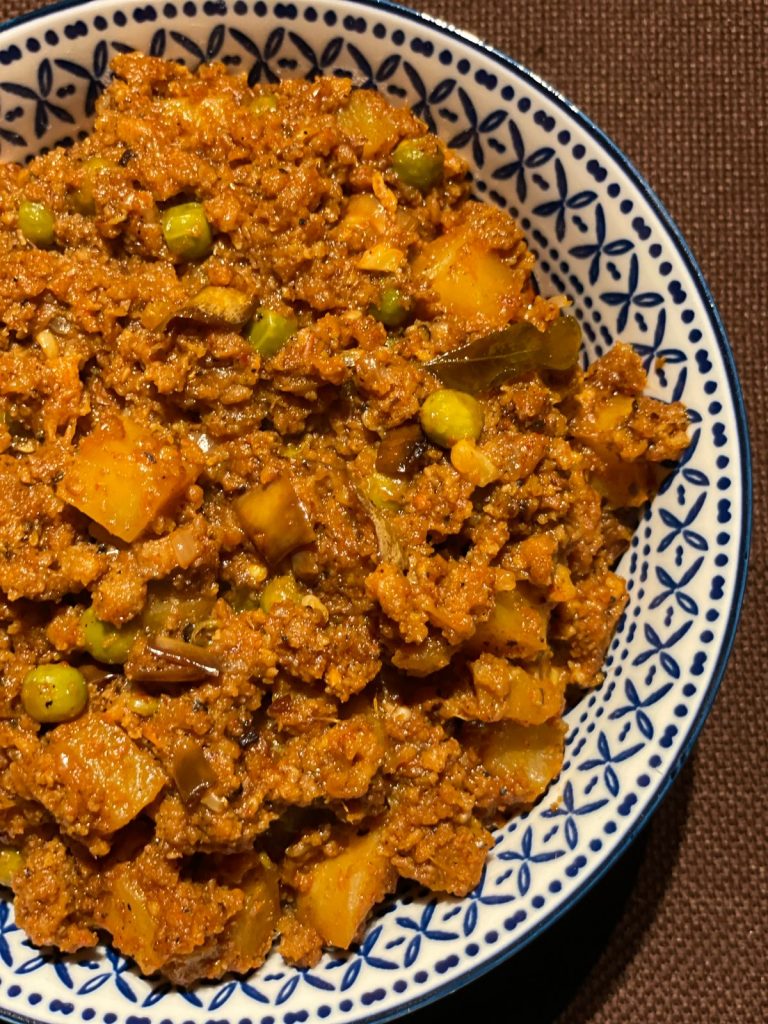 Keema Curry is an absolute favorite in our home specially when it's served with rotti…
I learnt to make a great keema curry from my sister by law Thuri.They make really good desi food and I'm glad she shared her version with me.I have tweaked things around and created my own version according to our family's palette.
When Keema is served with Channa dhal, my kids enjoy it till the last bit
This Channa Dhal is inspired by my sister who makes it the best, absolutely love her version…
Let's Get Started
You Will Need
1kg Minced Meat washed and strained off excess liquid
1 tbsp finely chopped garlic
1 tsp finely chopped ginger
1 whole B onion finely chopped
5 Curry leaves
1 tsp salt
1 tbsp Roasted Curry Powder
1 tbsp Kashmir Chilli Powder
1 tsp Garam Masala
1/2 tsp Turmeric
1 tsp Chilli Flakes
1 tsp Black Pepper Powder
1/2 Cup Frozen Green Peas
1 Cup cubed potatoes
1 cup fried brinjals
1 tbsp Tamarind Pulp
1 tbsp lime juice
2 tbsp liquid aminos(soy sauce substitute)
Fresh coriander leaves
3 tomatoes
3 coriander roots
2 green chillies
1/2 Cup Fried Onions
Blend together Tomatoes,Coriander Root,green chillies and fried onions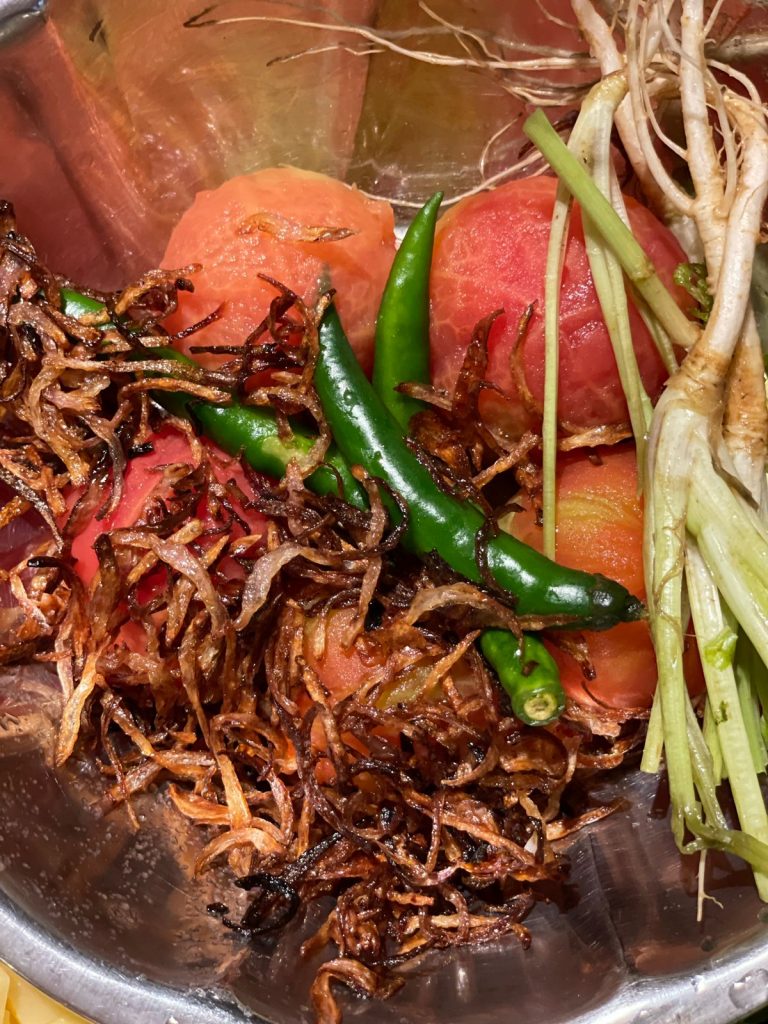 Step One : Sauté garlic in coconut oil,ghee and once this gets beautiful and golden,add in the ginger,onions and curry leaves.Sprinkle some salt
Step Two : Add spices and let this fry for few minutes till the oil comes off the edges of the pan.Splash some water if necessary…
Since I added garam masala powder I didn't add any whole spices.If you are unable to find the garam masala powder,you can use the whole spices available in your kitchen shelf.
Step Three : Add Minced Meat and Potato cubes.Mix well and increase heat to medium high.Once this starts bubbling on the sides,reduce heat and keep stirring in between to avoid creating larger lumps.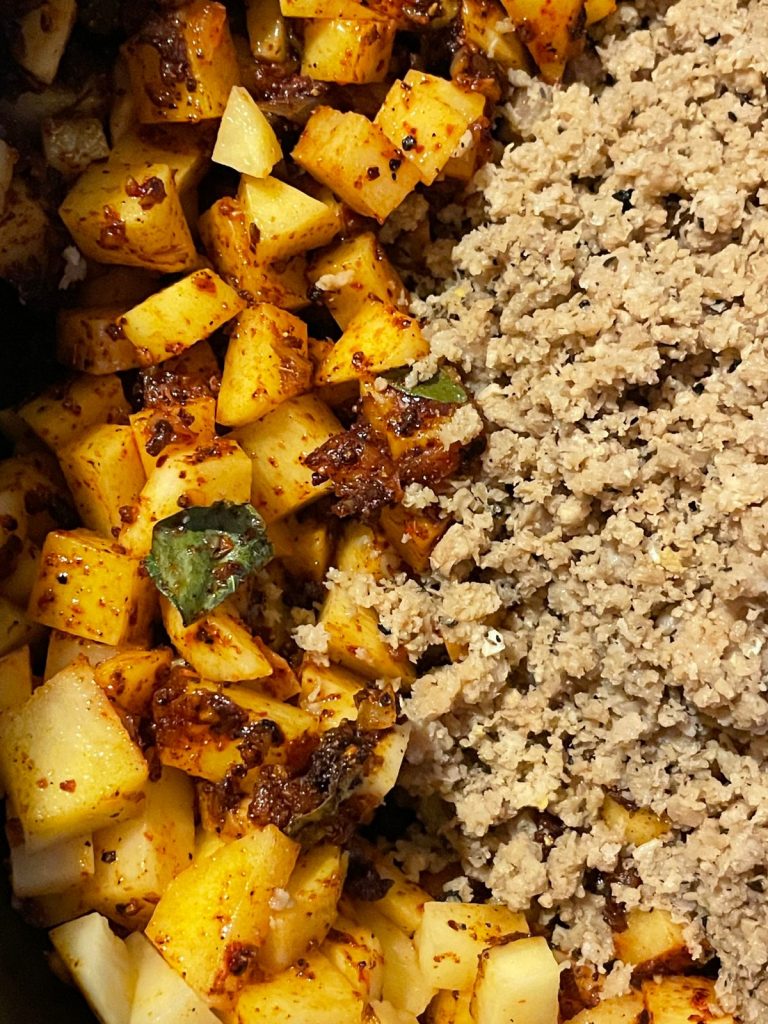 Step Four : Add liquid aminos,tamarind pulp and lime juice.Check for salt and add if needed.
Step Five : Add blended tomato mixture and mix well.
Step Six : Let this cook for at least 20 minutes on low.This allows the best flavours to release out….
Step Seven : Add frozen peas
Step Eight : Add in fried brinjals and fresh coriander leaves.By now everything smells absolutely amazing!!!
Let this sit for 10 minutes before serving.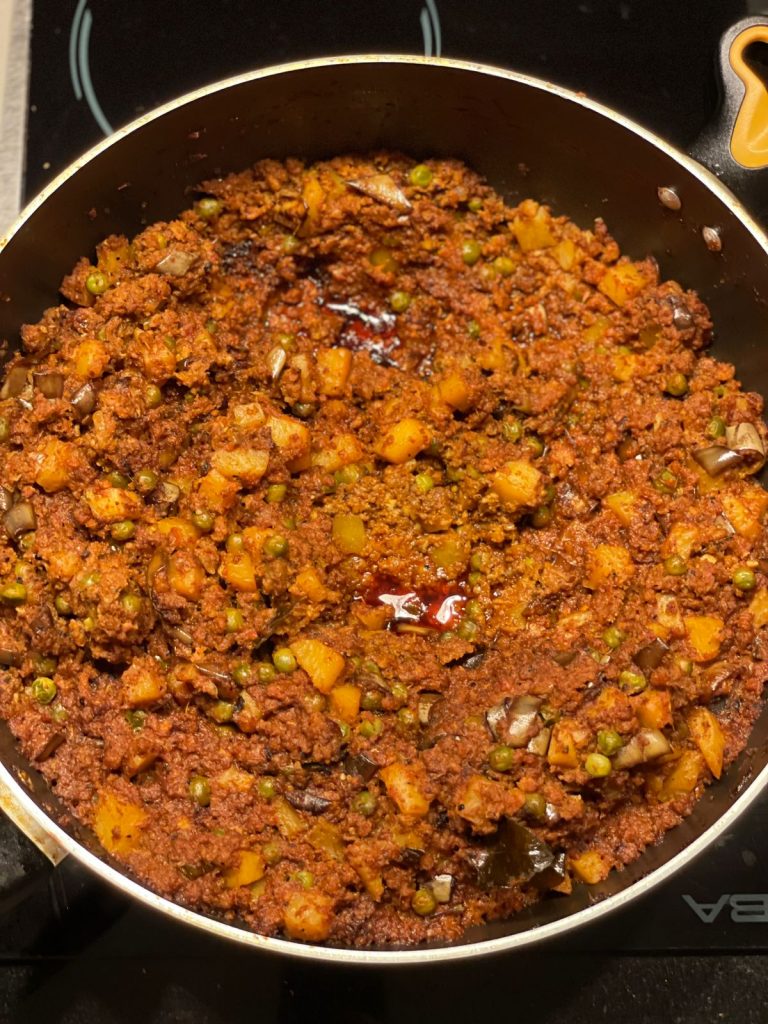 Best served while warm with buttered rotti..Yumm
This is an iftar meal we choose to make quite often Alhamdulilla.
This keema curry is so versatile,can be used as fillings for many dishes like Moussaka or even Lasagne.I make in large batches and portion it out before popping them in the freezer for later.Once it is thawed I alter it according to the dish we are having.For example if we are having Lasagne I would add more tomato paste and reheat the filling.
Would love to see your remakes on this deliciousness.Be sure to tag me or send me a screenshot if your account is private so I can reshare it on my stories
Much Love ❤️ Nuzrath
#srilankanfoodie #mylankanfoodjournal #foodblog #colombofoodbloggers #colombolife #instadaily #bekind #begrateful #keemacurry #homemadewithlove #iftarmeals #ramadan2022