Kaliya is a popular dish made using fried Eggplant,Ash Plantain and Potatoes
Ideally paired with fragrant ghee rice,dhal and meat curry accompanied with a tangy mango curry maybe…
Twice cooked means first the veggies are fried and then cooked in coconut milk based gravy.
My kids would just eat this plain,rice or not !!! I know the combination may sound a little odd but trust me you will have no regrets on giving this delightful dish a try.
Adding meat liver or chicken liver is optional and it adds a lot of flavour to the gravy making it more delicious…However if you're vegetarian you can skip this part and still enjoy some delicious Kaliya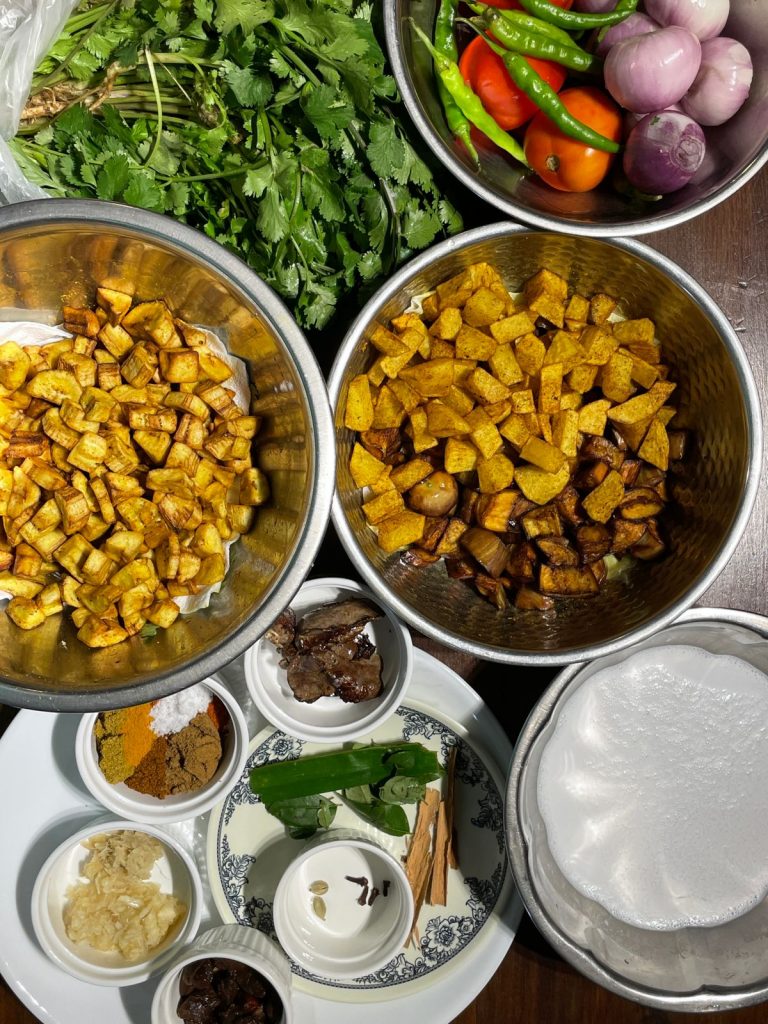 500g Egg Plant cut and deepfried
250g Ash Plantain cut and deepfried
200g Potatoes cut and deepfried
1/2 tsp turmeric into each veggie before deep frying
1 sliced B.Onion
1 Tomato chopped
2 Green Chillies slit
5 Curry Leaves
1 piece Rampe/Pandan leaf
1" Cinnamon
2 Cardamom
2 Cloves
Salt to taste
1tsp Ginger and Garlic crushed
02 Cups Thin Coconut Milk or Stock
01 Cup Thick Coconut Milk
1 tsp Chilli Powder
1 tsp Cumin Powder
1/2 tsp Black Pepper Powder
1 tsp Unoasted Curry Powder
1/2 tsp Maldive Fish Powder
1/2 tsp Turmeric
Drizzle of Lime Juice(1 tbsp)
TIP : When making the Kaliya and Rice Menu there's definitely gonna be a kind of meat dish or even fried chicken.Incase you boil it and have some stock, you could use that instead of the thin milk to make the Kaliya.But be mindful when adding salt to the Kaliya dish since the stock has already been salted.This is something that I learnt in one of the Srilankan Cookery Classes I took recently from Shamila's Cookery Academy.
It takes your dish next level
CHICKEN STOCK : Par boil chicken(500g) with 1 tsp salt, 1/2 tsp black pepper, 1/4 tsp turmeric, 1/4 tsp chilli powder, 2″ pandan leaf and 3 whole garlic cloves with skin on
Clean and cut the veggies into chunks of desired size. We usually prefer our veggie cubes in kaliya abit chunky.However in Srilanka we mostly find the small sized eggplant
When cutting the eggplant I would first remove stem and check for black spots.
Cut into half first,makes the job easier.
Then cut through the middle horizontally and start cutting thick slices (1")which would leave you with half circle shaped eggplant chunks .If that is too big for you,cut that into half because sometimes the eggplant can be be big,everything depends on the size of the eggplant.
Peel the ash plantain by cutting off both ends and from the sides till you see least amount of green skin on.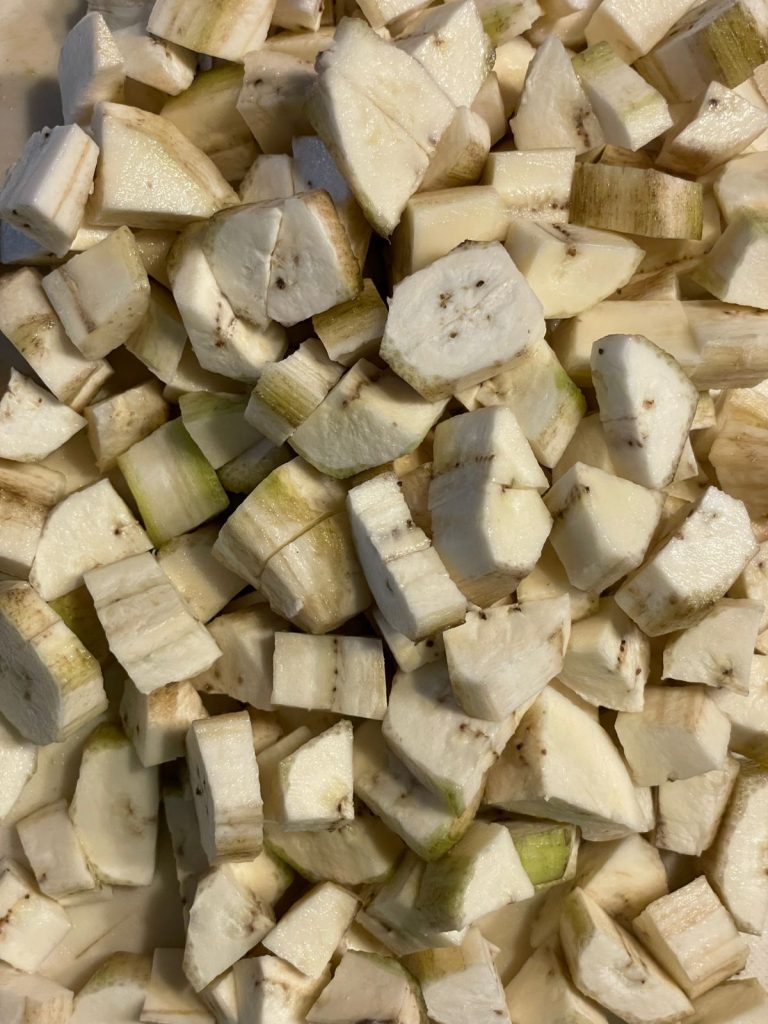 Peel the potatoes and cut them into cubes sized approximately 1 & 1/2 "
Do not boil before deep frying.
Potatoes take about 10 minutes to get done when DeepFrying,however Ash plantain takes a little longer maybe.Brinjal will take the least amount of time out of all three veggies
Once you have peeled the veggies, immerse them in cold water to avoid them from discoloring till you actually start cutting them.
Drain off water and pat dry using a kitchen towel.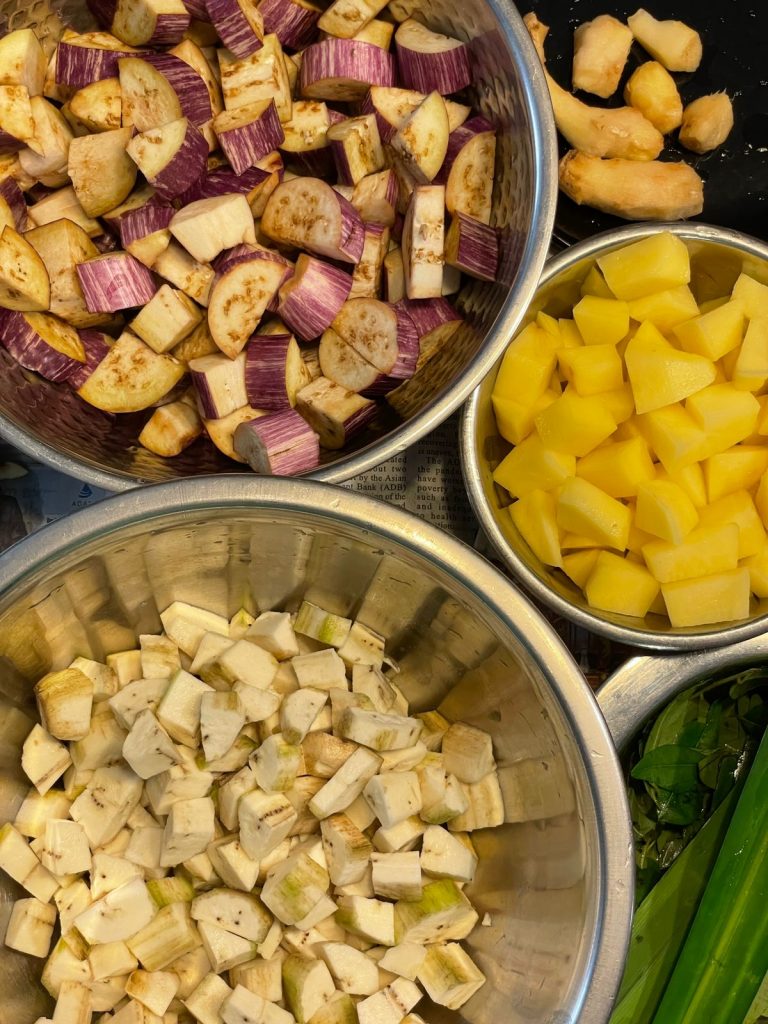 Sprinkle a tsp of turmeric powder over the cut veggies and toss it around making sure all parts are well coated.Do not add salt when frying the veggies,this absorbs more oil while deep frying and gets too soggy once fried…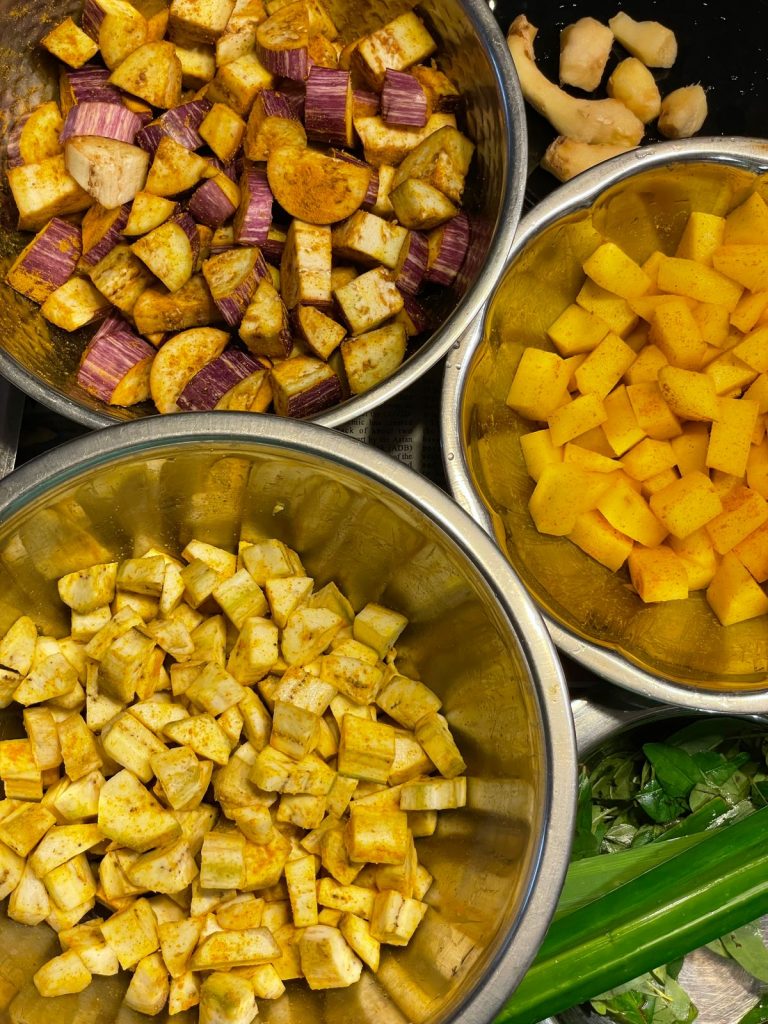 Deep fry the veggies to a beautiful golden colour by maintaining the heat in the oil.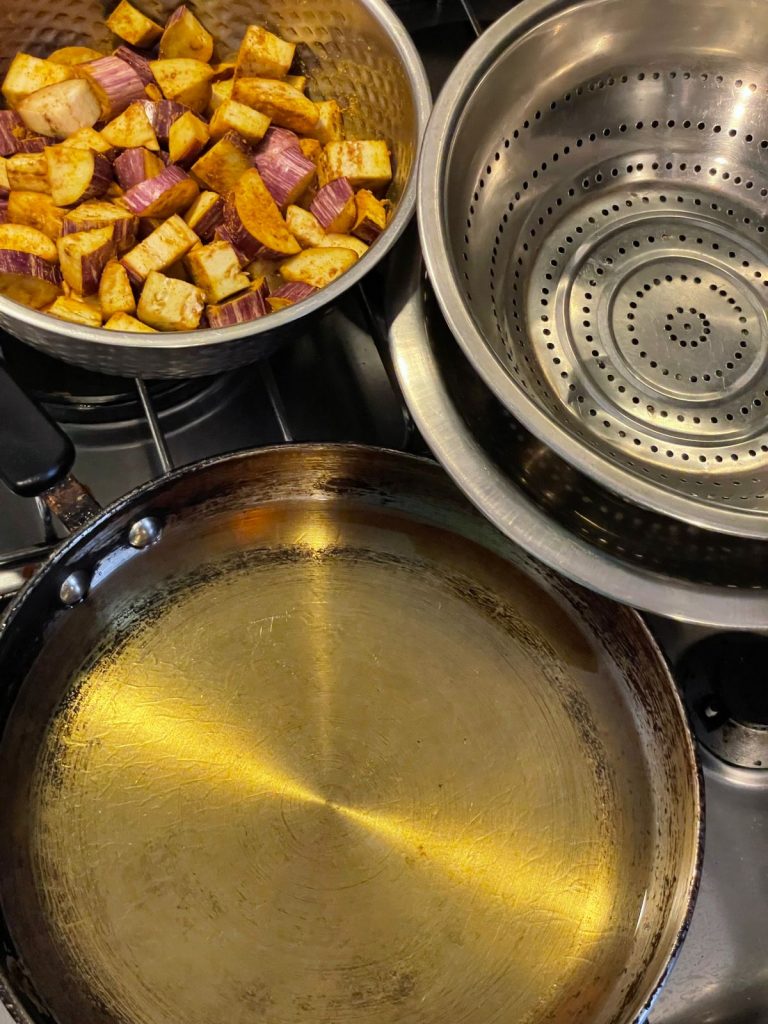 Fry each vegetable separately as each one has a different cooking timing.Stir occasionally when deep fried to make sure all sides get beautiful and golden evenly.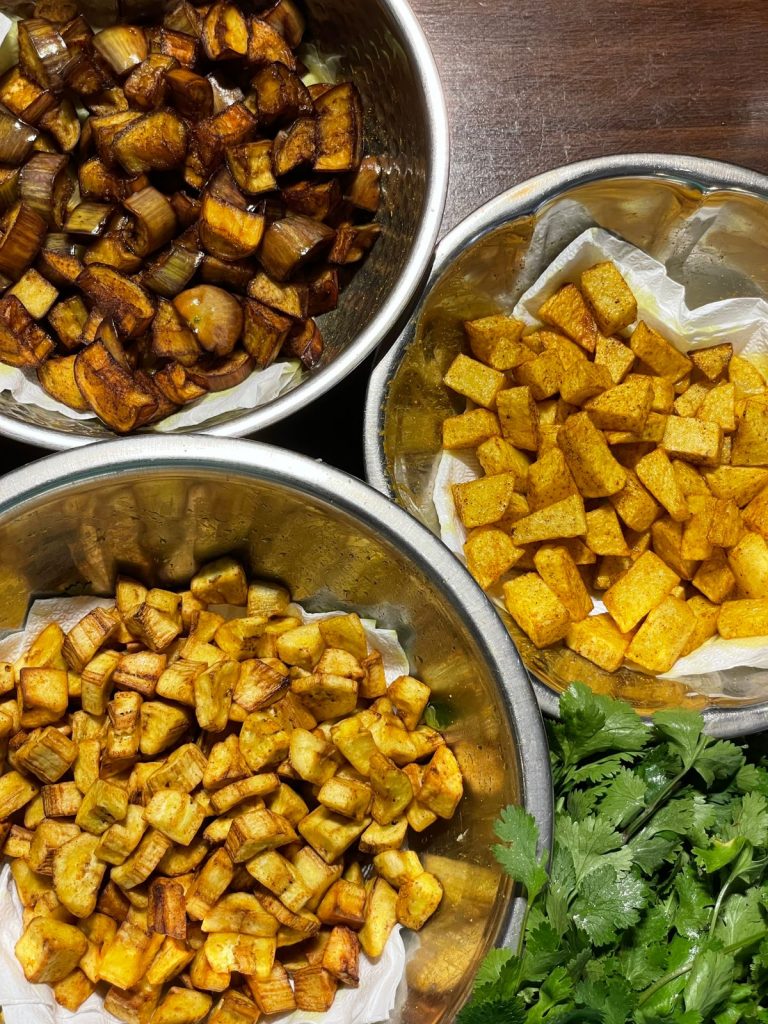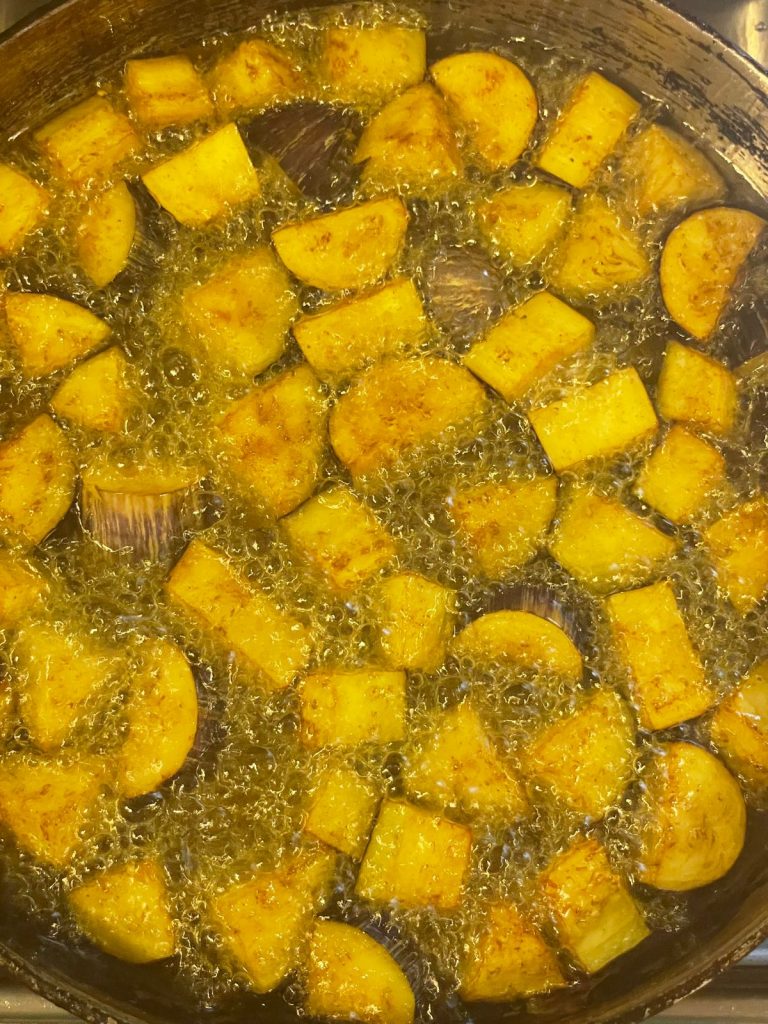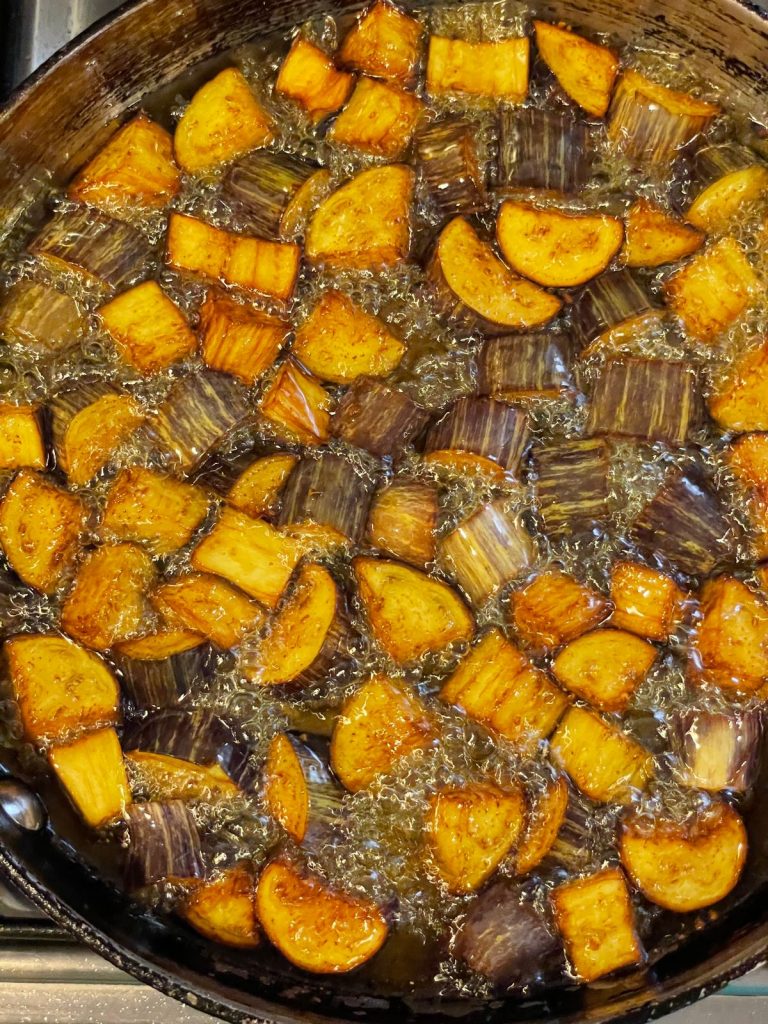 This curry can be made ahead and will last in the refrigerator for a few days.
If you're planning a party and want to prep ahead,you could fry the veggies ahead n store in the fridge to be used when needed.Make the gravy on the day of the party,this saves a lot of time when having so many things to do already !!!
Now that you have prepped the fried veggies let's move on to the gravy part.
Wash and clean the gizzard or liver if you're adding it into this dish.Boil for 10 minutes with salt,turmeric,pepper,cumin powder and tamarind pulp.Cut into small pieces and set aside to be used when adding into this dish.
I used a clay pot but you can use your regular saucepan.Add the thin coconut milk or stock with all the ingredients except the fried veggies and bring it to a boil on high flame(05 minutes)
(Onions, tomato, green chilli, ginger, garlic, maldive fish powder, curry leaves, pandan leaf, salt, unroasted curry powder, chilli powder, pepper powder, turmeric , whole spices and cashew)
Cumin Powder and Thick Milk will be added in later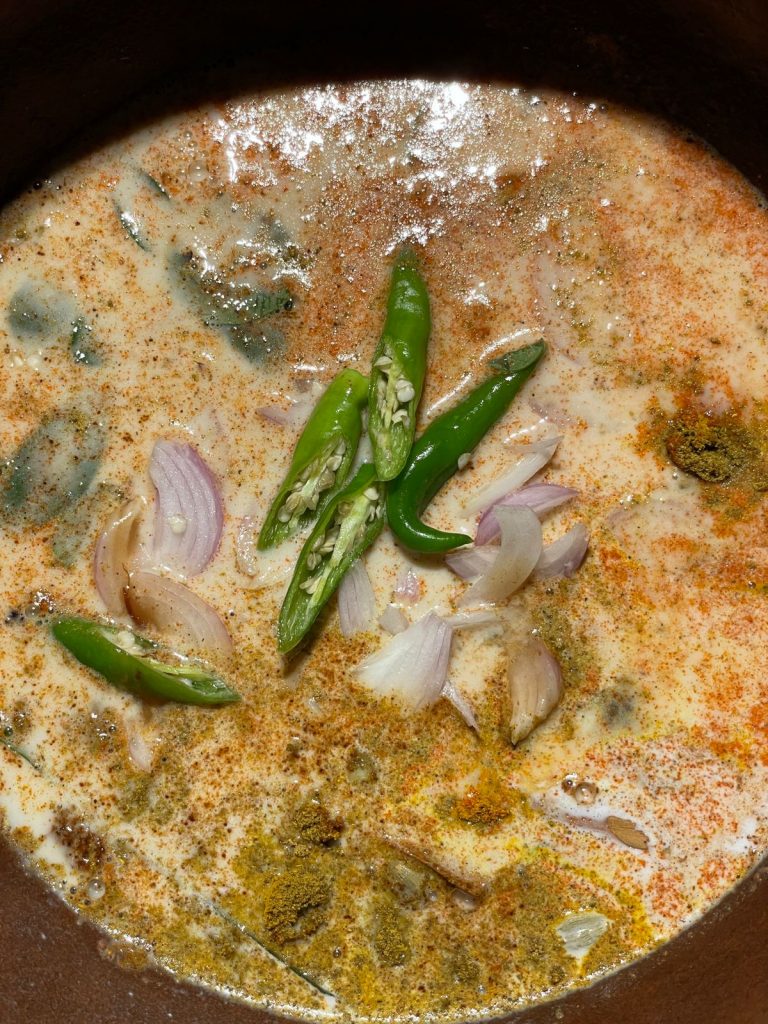 Reduce heat and cook for atleast 05 more minutes to make sure the spices are cooked with the gravy base.
Time to add the fried veggies.First add the ash plantain and potatoes
Add the brinjals and do not mix with a spoon, use the back of the spoon handle to prevent it from getting mushy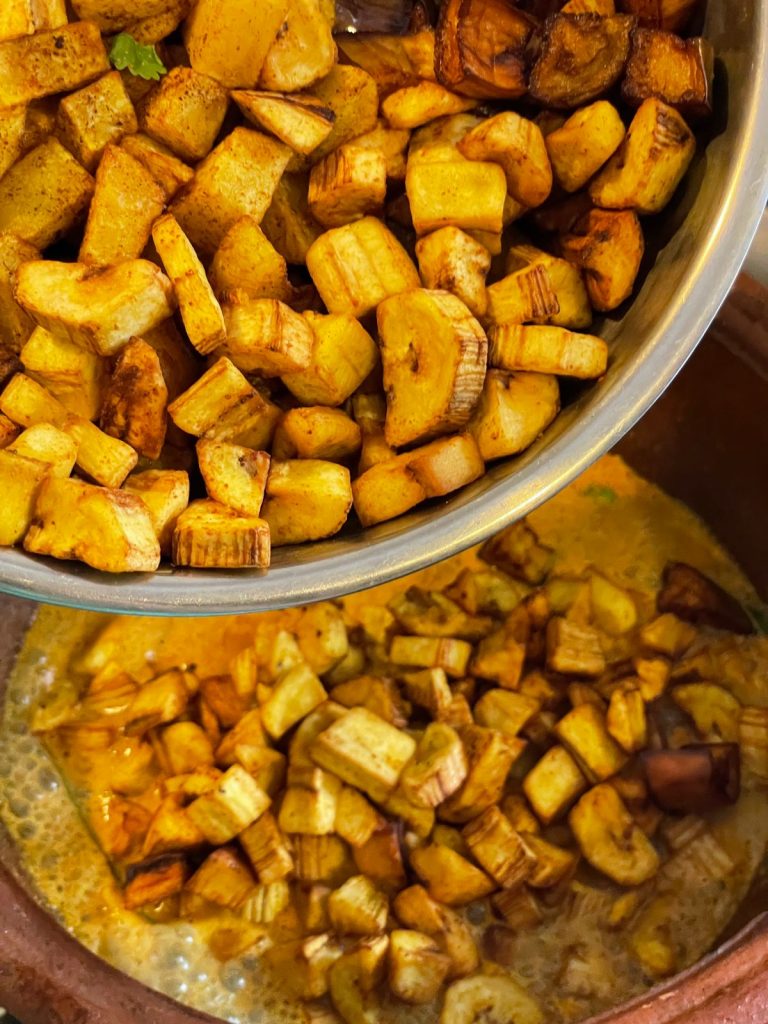 Move the pot around carefully and mix everything together gently till the gravy soaks up without smashing the veggies.
Check for salt and seasonings and adjust accordingly
Now you can sprinkle cumin powder
Let this cook on high and cook for about 03 minutes and pour the thick milk.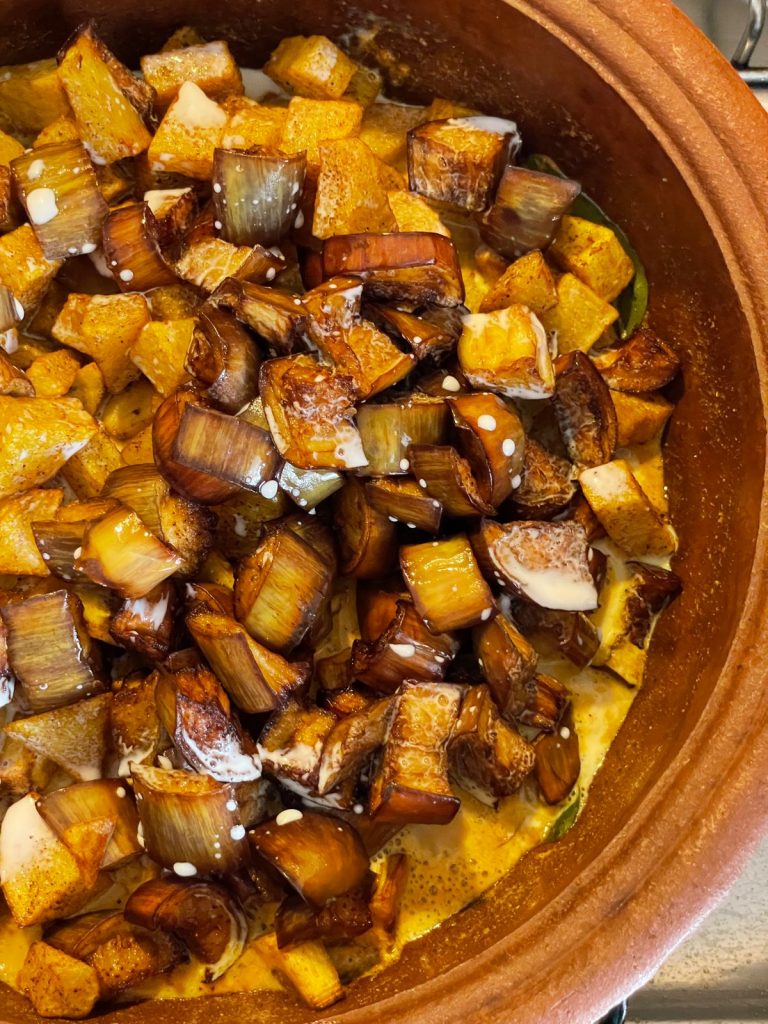 You will realize the gravy has thickened up and is absorbing all that goodness !!!
Drizzle with lime juice at the end
If the Kaliya looks like it has more gravy,keep on high flame till it simmers down to almost the consistency you prefer,as it will continue to cook for awhile even after you switch off the flame
You could garnish with fried onions and curry leaves if you're cooking for guests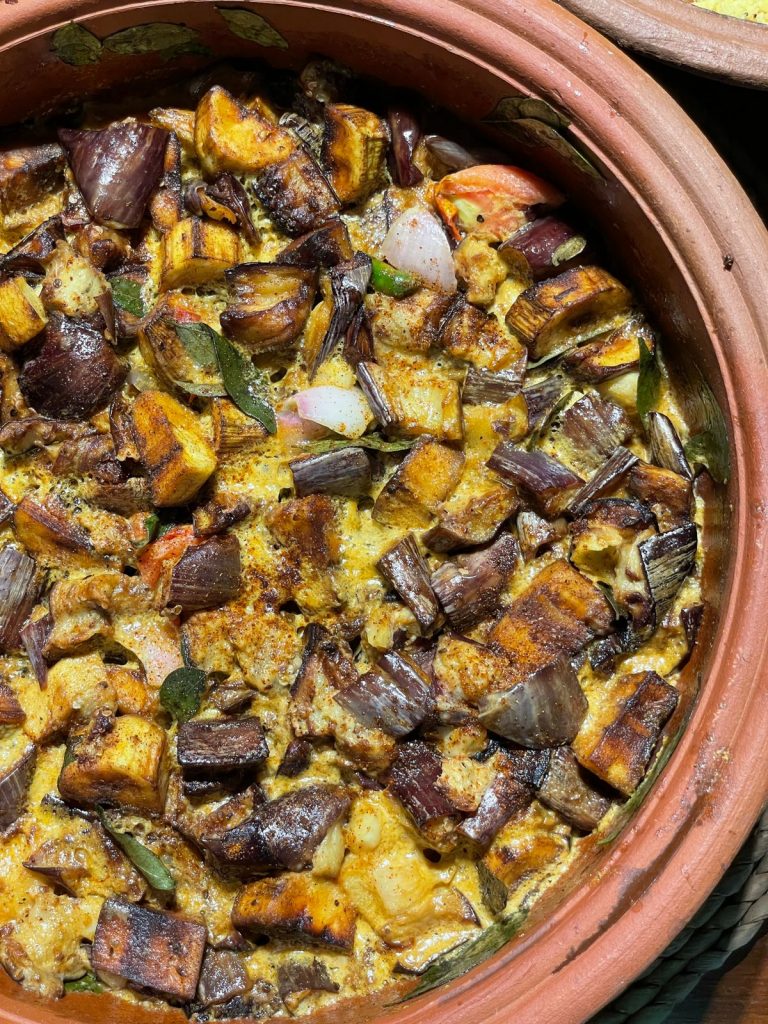 Let this sit for another 05 minutes before plating and watch how it changes to a beautiful deep brown colour within the next few minutes
The Kaliya is now ready to be devoured with your choice of Main Meal
Even though this is a vegetarian dish,it really brings out so much flavor and the deep earthiness in the gravy hits the spot !!!
Check out my Instagram page for more cooking inspiration.Today I cooked Kaliya to be served in this Traditional KIDU Menu.Isn't she a beauty ???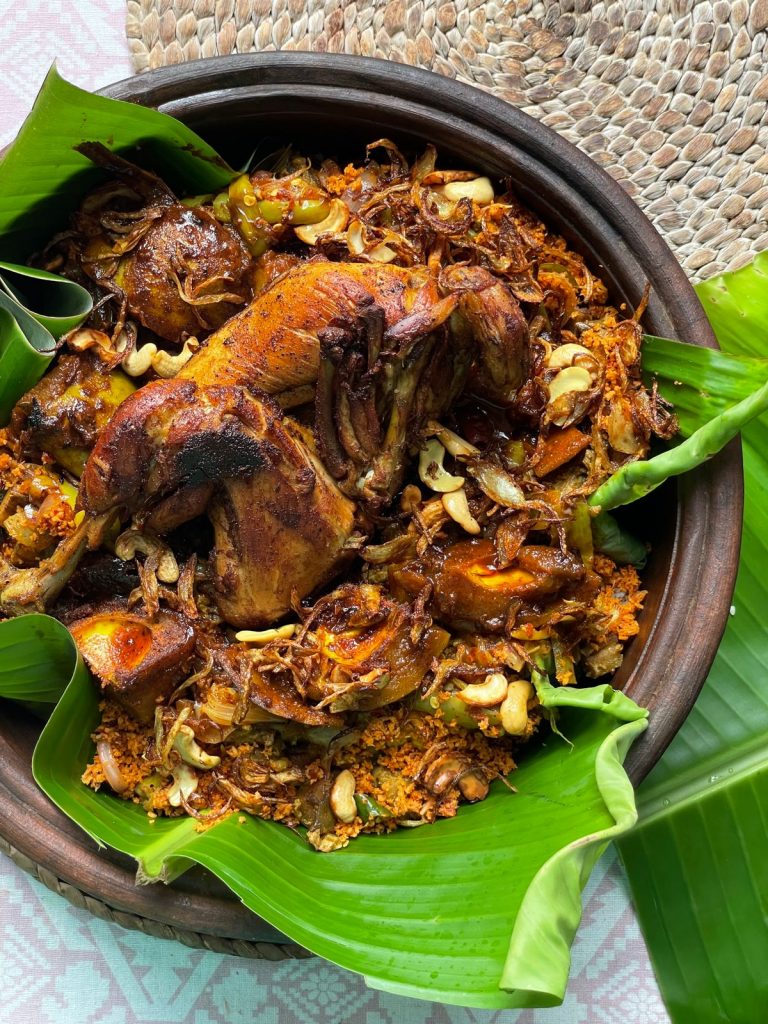 Would love to see your remakes on this deliciousness.Be sure to tag me or send me a screenshot if your account is private so I can reshare it on my stories
#srilankanfoodie #mylankanfoodjournal #foodblog #colombofoodbloggeirs #colombolife #instadaily #bekind #begrateful #kaliyacurry #srilankanmuslimfood #riceandcurry