Sprats are also called Haalmasso in Sinhala : They're the dehydrated version of the small marine fish and used most widely in Srilankan and South East Asian Cuisine.Very delicious in the form of Baduma(fried) but today's recipe is a lip smacking gravy
Sprats Curry is a delicious pairing with Local Steamed Pittu or String Hoppers
You could make it either extra spicy or mildly spicy according to your preference.
Today's recipe I have used kashmir chilli powder, which is my favorite kind of chilli powder because it gives a magnificent colour without bringing in too much fire to the dish.When having to feed my kids of all ages I have no option but to adjust the spice levels to everyone's taste buds..
Let's Get Started
You Will Need
250g Dried Sprats cleaned and washed well
3 tbsp Coconut Oil
1 B Onion sliced
Few Curry leaves/Pandan Leaves
2 Potatoes cut into cubes
1/2 tsp salt if needed
1 tbsp Jaffna Curry Powder
2 tsp kashmir chilli powder
1 tsp black pepper powder
1 large tomato cut into wedges
1 Capsicum/Banana Pepper sliced
1 green chilli sliced
1 tbsp Tamarind Pulp or Lime Juice
1 Cup Coconut Milk
Remove head off sprats and wash well.Mix with 1 tsp turmeric and 1 tsp kashmir chilli powder.Set this aside.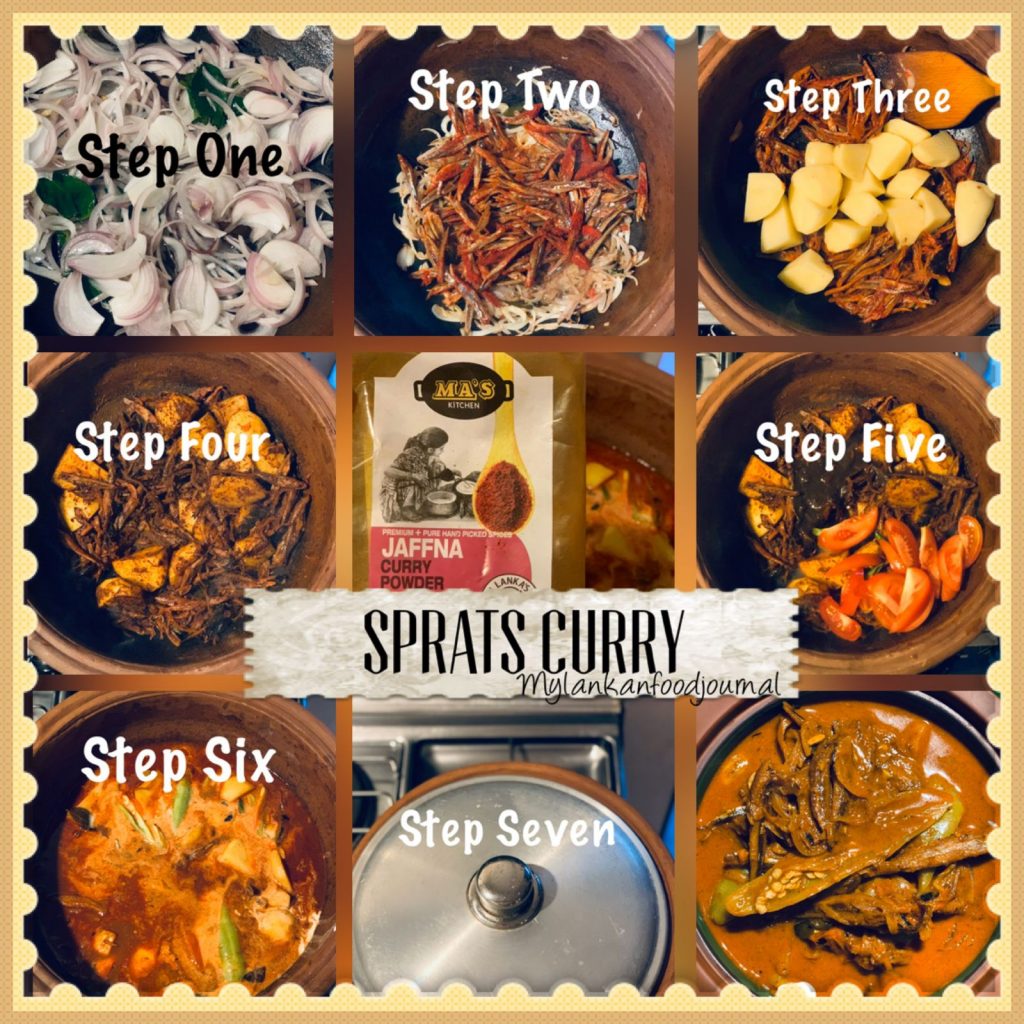 Step One : Heat oil in a pan,add sliced onions,curry leaves,Pandan leaves and let this fry till nice and golden.
Step Two : Add in sprats and mix well
Step Three : Add in potatoes
Step Four : Add in spices
Step Five : Add in tamarind pulp,tomatoes,chilli,capsicums and let this come to a boil.Keep on medium high heat,add a splash of water if necessary
Step Six : Add coconut milk and mix till well combined.
Time to let it simmer
Step Seven : Cover and cook on low for atleast 15 minutes or until the gravy has thickened and reached little runnier than the consistency you prefer.The gravy will thicken as it settles down.
Step Eight : Check for salt and adjust accordingly because the dried sprats can be a little too salty so add only if needed.
This curry tastes amazing during any time of the day with any kind of main meal.We make this atleast once a week when we are not in a mood for meat or poultry…
Would love to see your remakes on this deliciousness.Be sure to tag me or send me a screenshot if your account is private so I can reshare it on my stories
Much Love ❤️ Nuzrath
#srilankanfoodie #mylankanfoodjournal #foodblog #colombofoodbloggers #colombolife #instadaily #bekind #begrateful