Ghee Rice is a popular Rice Dish that originates from South India but we Srilankan Muslims pair this fragrant and aromatic Carbohydrate with most of our Ethnic Menus namely The KIDU OR NAAL'ADI SEERU AKA SOUP WITH RICE
Obviously Ghee is the hero of this Rice Dish,however the toppings can vary from which region you belong to : Where I come from we too with crispy fried onions,cashews,sultanas and pomegranate seeds
This rice can be eaten plain because it is so flavorful and delicious!! The Kandiri Rice if you know is also all about the Ghee Rice and it was something else!!
I'm sure as locals we all have memories of eating either one of these local menus at someone's wedding in a Sawan where 6 of us would gather around the platter and eat with our hands, while fighting for that extra piece of poricha koli!!!
Wonderful memories that I have carried all my life and now grown up to witness my children experience a fraction of it maybe !!
Let's begin by prepping for the most delicious and fragrant ghee rice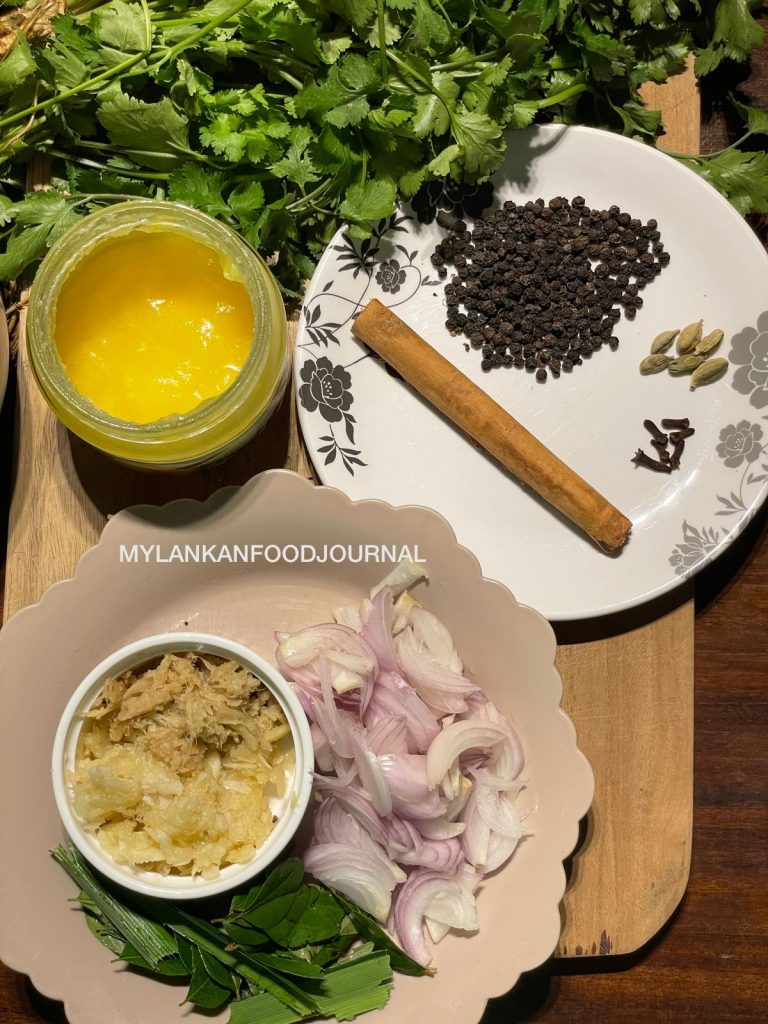 Ideally ghee rice is cooked using short grain rice like supiri keeri samba but you could definitely use long grain rice like the Basmathi if that's what is available.Today I have used Broken Keeri Samba
This rice can be adjusted according to your personal preference.For example if you are concerned about high cholesterol in the amount of ghee or coconut milk going in,you can skip that and add just coconut water instead.Since the rest of the curries are rich it would be ideal to have a lighter version of the ghee rice 🍚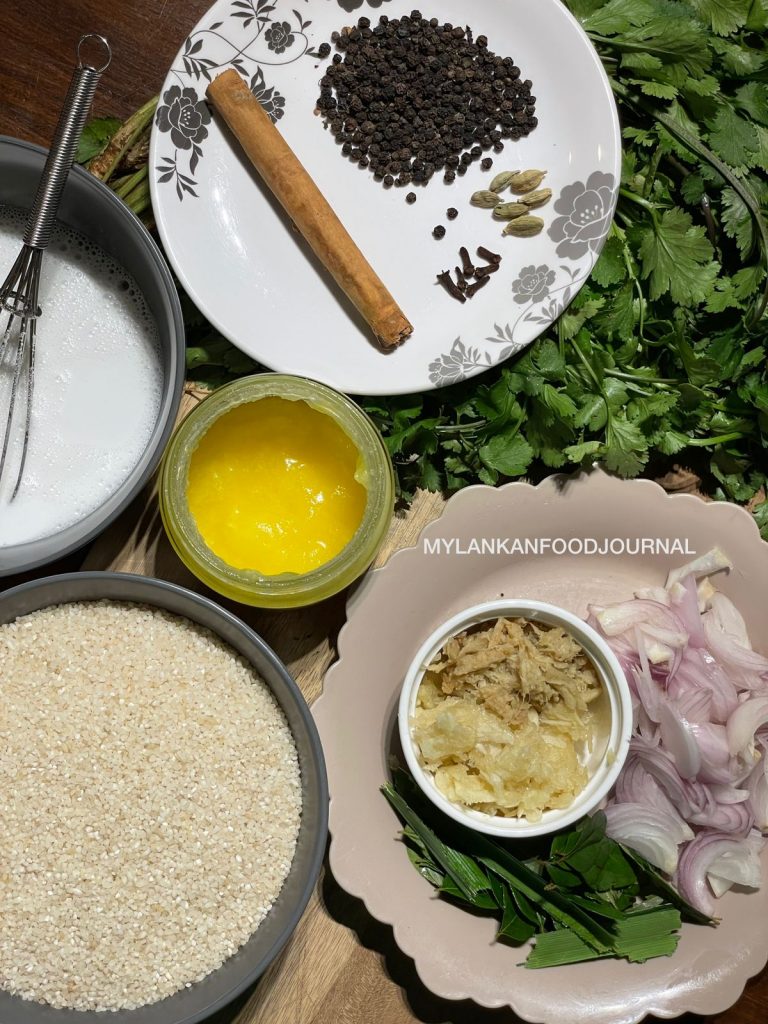 500g Supiri Keeri Samba
1/2 Cup Coconut Milk
1 1/2 Cup Water
Salt to taste
1 1/2 tbsp Ghee
I B Onion Sliced
1 tbsp freshly pounded garlic
1 tbsp freshly pounded ginger
1/2 tsp cardomom powder or 4 whole cardamom
1 large Cinnamon Stick
1 piece Pandan (2")
10 Curry leaves
2" lemon grass smashed on the stalk to extract more flavour
1 tsp Dill Seeds
1 tbsp Black Pepper Corns
1/2 tsp Cloves
Wash the rice well with running water and set aside till you start tempering the ingredients for the base of the ghee rice
Heat the ghee in the same pan you will be cooking the rice.Drizzle a little bit of oil to avoid burning of the ghee
Add crushed ginger and garlic
Let this fry till beautiful and golden.
Add onions,curry leaves,pandan leaves,lemongrass stalk and let it fry for 5 minutes or so till the onions get slightly brown.
Now you can add in the whole spices(cardamom,cinnamon,cloves,dill seeds,peppercorns and dill seeds)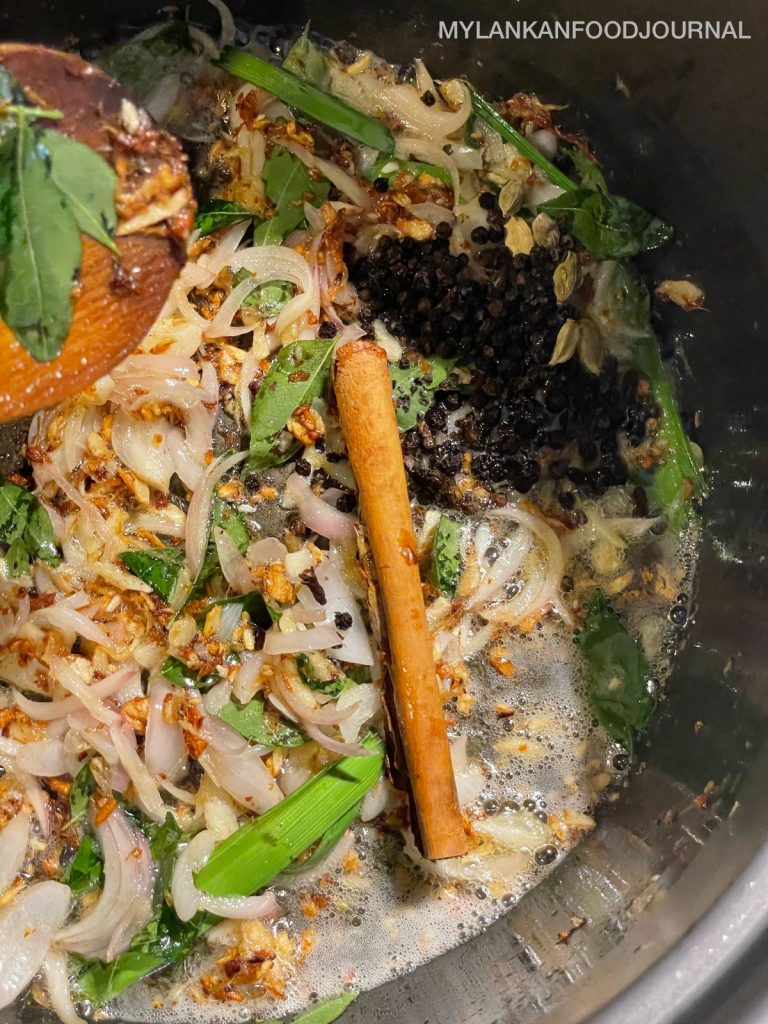 Add in washed rice and mix well making sure the rice is well coated with all that beautiful flavoring.Let this be on high for about 5 minutes before adding in the liquid
Level the rice and add in coconut milk or coconut water
Adjust the liquid levels according to the measurements of the rice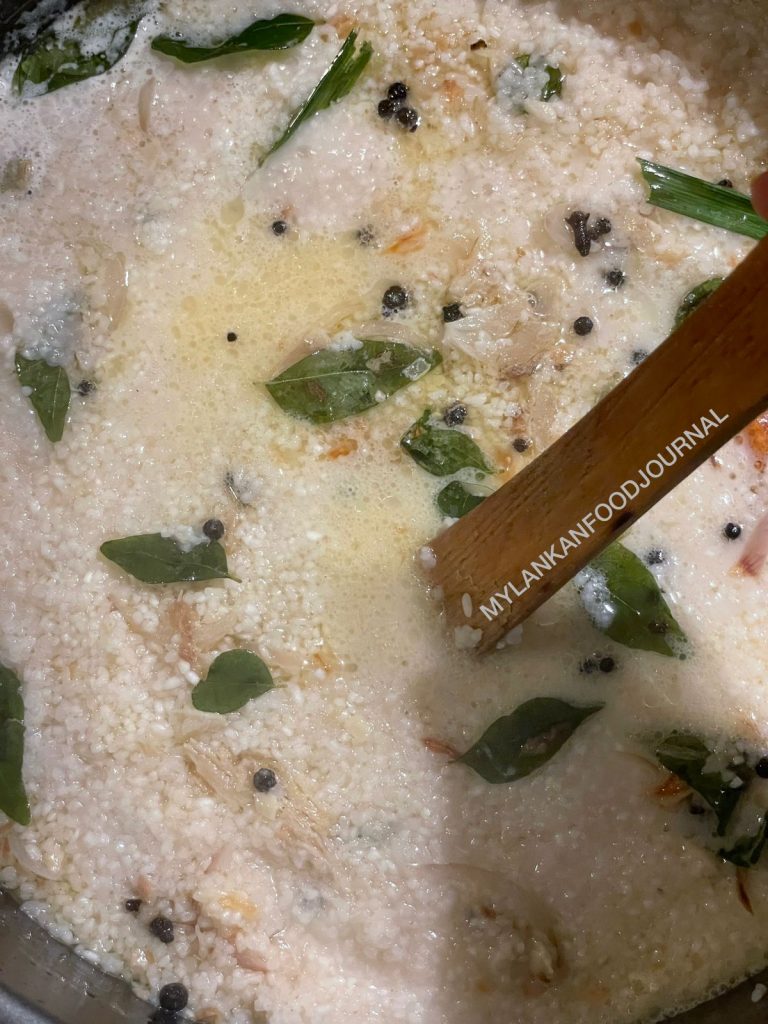 Cooking measurements:
One Cup Rice – Two Cups Water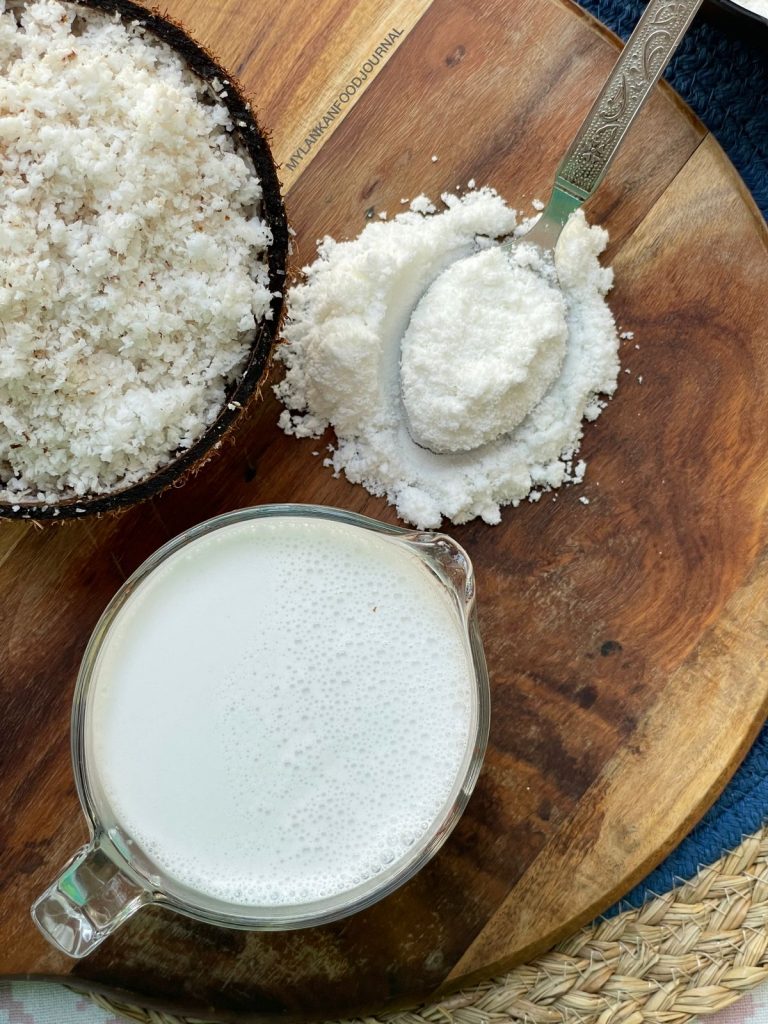 To make coconut milk I used the maggi coconut milk powder but you could definitely extract it using freshly scraped coconut if that's what you prefer and you have some extra time in your hands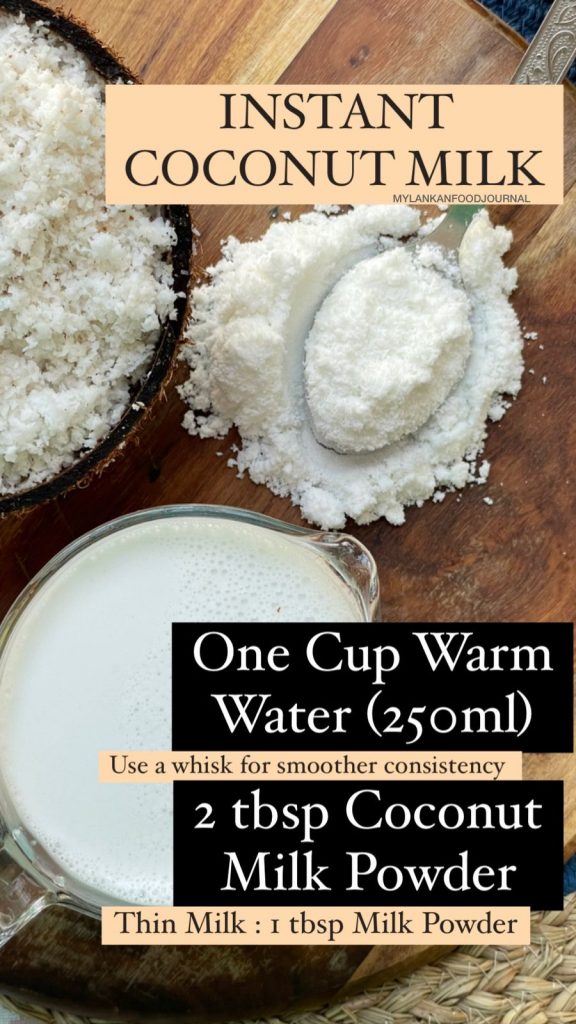 To make 01 Cup Thick Coconut Milk I used 2 tbsp Coconut Milk Powder
Thin Coconut Milk : 1 tbsp Coconut Milk Powder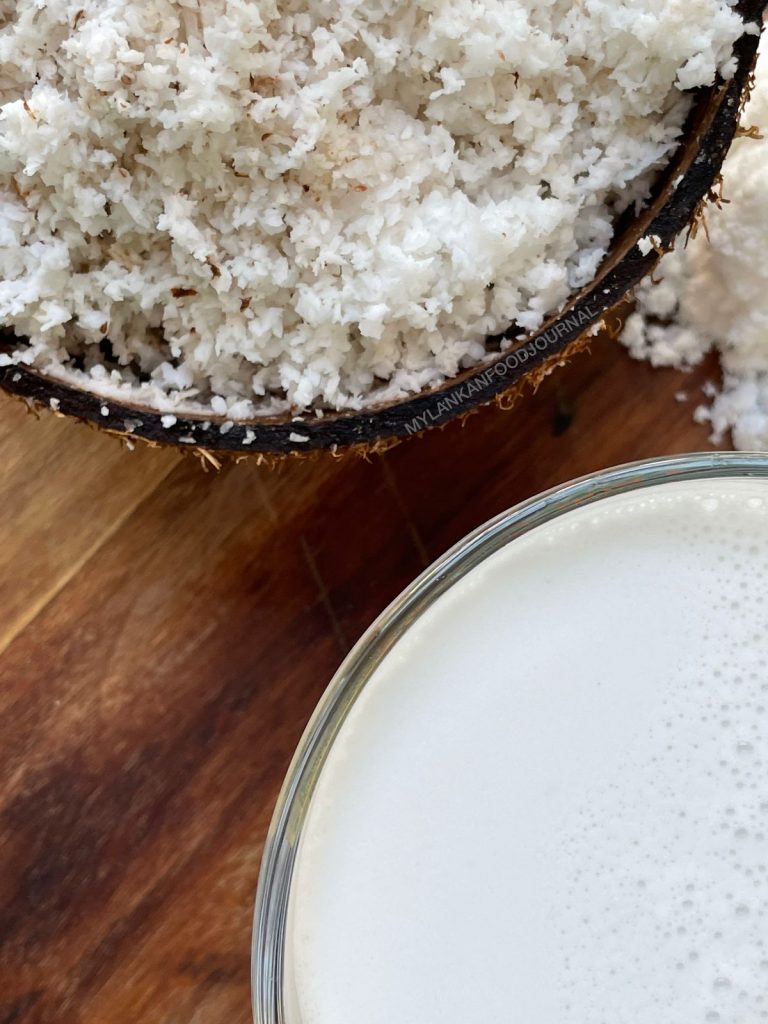 If you're making coconut milk from scratch using freshly scraped coconut
Use one large coconut or two small coconuts to make 02 Cups of Thick Milk.
The measurements in grams would be approximately 350g per coconut.
Divide the scraped coconut into half and blend in two batches for better consistency.
Add 1 & 1/2 Cups of Water if you're expecting 02 Cups of Thick Milk
Do not add salt while making the milk,add salt when needed or just before adding into making a dish
Second extraction is called Thin Milk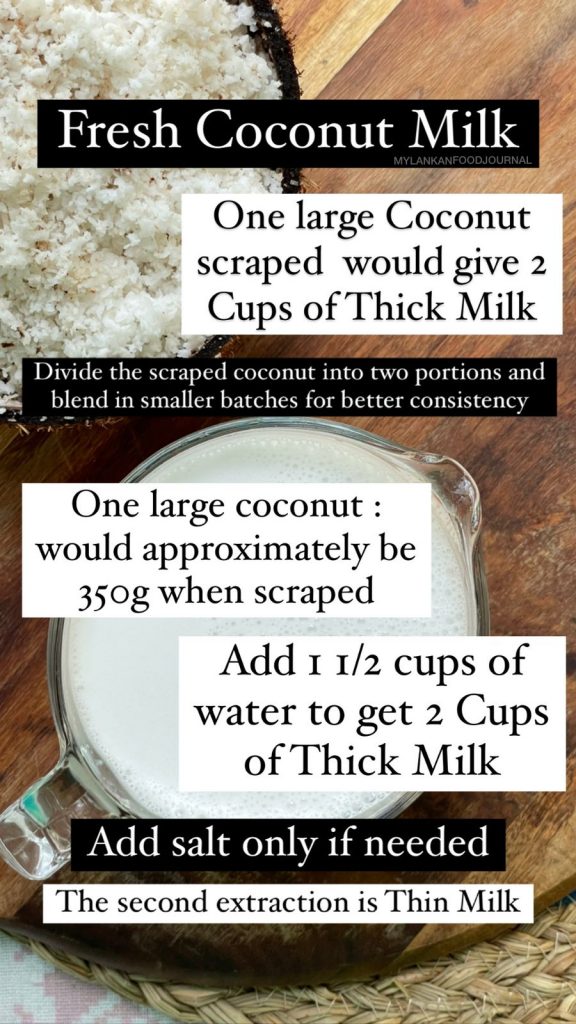 Like I mentioned earlier if you're concerned about fat content in the coconut milk,you can skip that and use the fresh coconut water instead.It would still taste absolutely amazing and fragrant with all those spices and tempering
QUICK TIP I LEARNT RECENTLY AT SHARMILA'S COOKERY ACADEMY SRILANKA
If you don't like to bite into whole spices and have fussy kids,here's a little tip for you.Use a fresh muslin cloth and bundle up all the whole spices after dry roasting them in a pan first (dill seeds,peppercorns,cloves,cinnamon,cardamom,lemon grass stalk and pandan leaves) Secure the knot and make sure it doesn't come off while cooking.Place this spice bundle into the rice cooker soon after leveling the water for cooking and all the tempering is done ☑️
Back to cooking the Ghee Rice
Bring this to a boil on high (05 minutes)
Reduce flame and let it cook while covered for at least 20 minutes or until the rice is completely done
Check occasionally to make sure the rice doesn't burn but do not stir while it's getting cooked halfway
Once the cooking is complete,let it sit for 10 more minutes for best results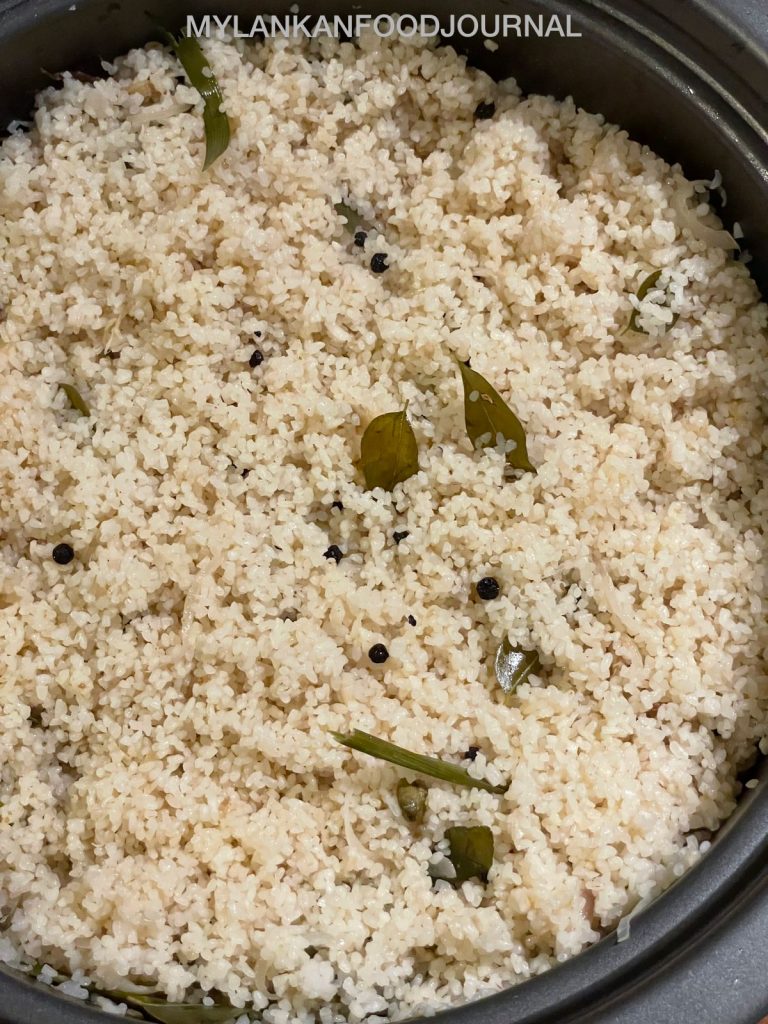 Time to fluff up the rice using a fork or the wooden stick handle
If you have added the spice bundle,remove it just before fluffing up the rice
The Rice is ready to be served and can even be eaten plain with or without a hot serving of Curry…I swear it simply melts in your mouth !!!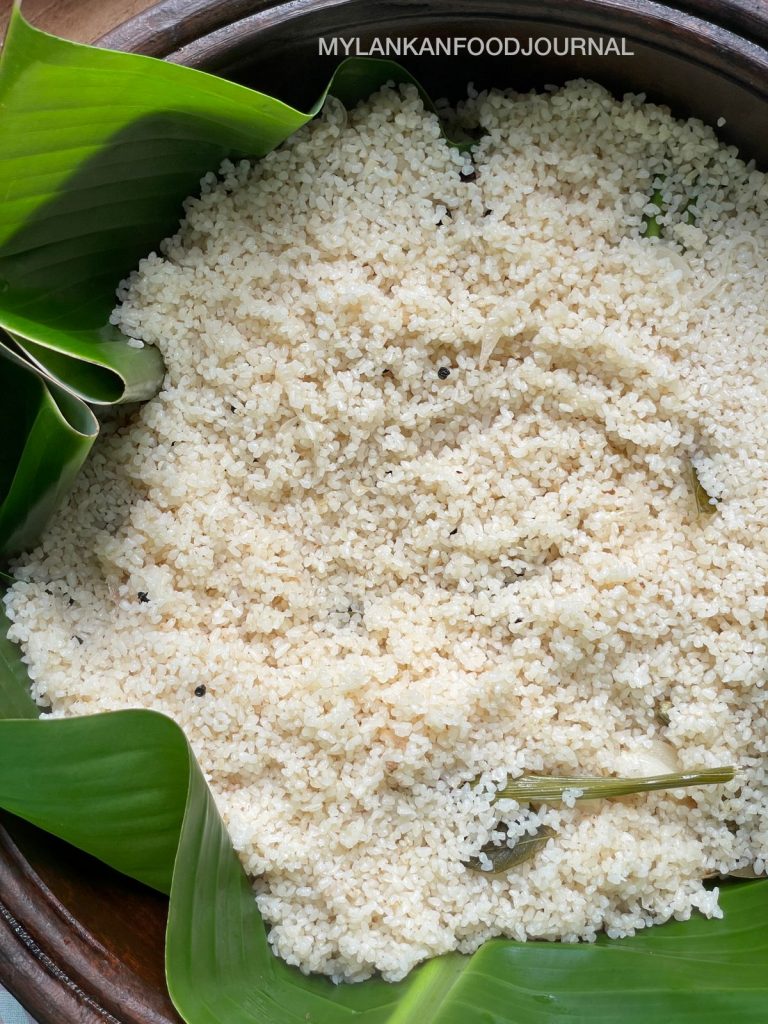 Would love to see your remakes on this deliciousness.Be sure to tag me or send me a screenshot if your account is private so I can reshare it on my stories
Check out my Instagram page for more cooking inspiration and watch the reel on how I made Ghee Rice for My KIDU MENU
Image below shows a delicious pot of KIDU made with The Ghee Rice : Isn't she a Beauty??
#srilankanfoodie #mylankanfoodjournal #foodblog #colombofoodbloggeirs #colombolife #instadaily #bekind #begrateful #gheerice #fragrantgheerice #srilankanriceandcurry #homemadewithlove #gheericekidurice