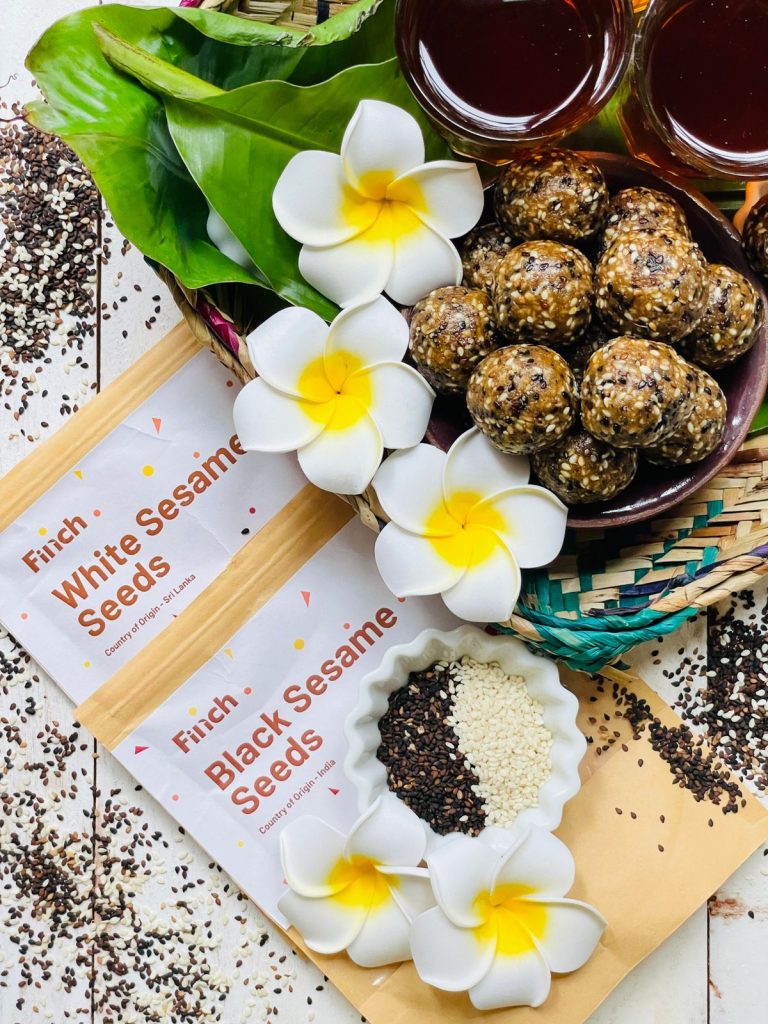 Thala Guli or Thala Bola is a traditional local sweet meat made using sesame seeds,kithul Jaggery and fresh coconut with a tiny bit of salt.
These three local ingredients bring out the most deliciously healthy energy balls and if you're Srilankan this needs no introduction.
While on any road trip my dad would make a pit stop and buy me my fav things to munch on throughout the long journey and this one's always on the top of my list…
Sesame seeds also known as gingelly seeds are naturally oil rich seeds that are high in calcium,protein,fibre and healthy fats.They also contain essential nutrients and antioxidants that maintain healthy hormonal levels in the body.
Ideally they're made using white sesame seeds but today I have mixed a combination of Finch black and white sesame seeds proving great texture while it literally melts in your mouth.
This recipe was inspired by the legend himself Peter Kuruvita.I was going through a few recipes and I found his version the most interesting.
However this is not the traditional way of making Thalaguli,I have improvised and used my food processor to create the mixture as I just didn't have the patience to use my pestle and mortar.
You could use fresh or desiccated coconut for this recipe and if you cannot find Kithul Jaggery,you could swap it with palm sugar.I also added in a pinch of salt and sprinkle of cardamom powder which really took this next level.
Try it and thank me later….
All Premium Finch products that can enrich your life with @finch.foods @finch.trading
https://instagram.com/finch.foods?utm_medium=copy_link
https://instagram.com/finch.trading?utm_medium=copy_link
You can get your favorite products delivered by placing an order on the Finch website www.finch.lk or via UberEats/PickMe
Their Premium range is also available at Keells,Cargills,SPAR,Laugfs,and GLOMARK and selected retail outlets islandwide
Check out my Instagram page for more cooking inspiration.Refer to link attached below :
Let's Get Started
You Will Need
150g White Sesame Seeds
150g Black Sesame Seeds
100g Freshly Grated Coconut
200g Kithul Jaggery
Pinch of Salt
Virgin Coconut Oil if needed
Cardamom Powder(optional)
Dry roast the freshly grated coconut in a saucepan making sure it doesn't burn by continuously stirring using a heat proof spatula.
Do not keep over the stove for too long,you just need to make sure it is no longer moist since it's fresh coconut and this way it can be stored for longer.You could use desiccated coconut if that's what is available too,not everyone has the luxury to buy fresh coconut in other parts of the world and scraping it without a coconut scraper can be quite challenging too.
When it's ready you can throw in the mixed sesame seeds.Keep stirring
When you hear it pop,it's time to switch off the stove and transfer to the food processor along with the rest of the ingredients.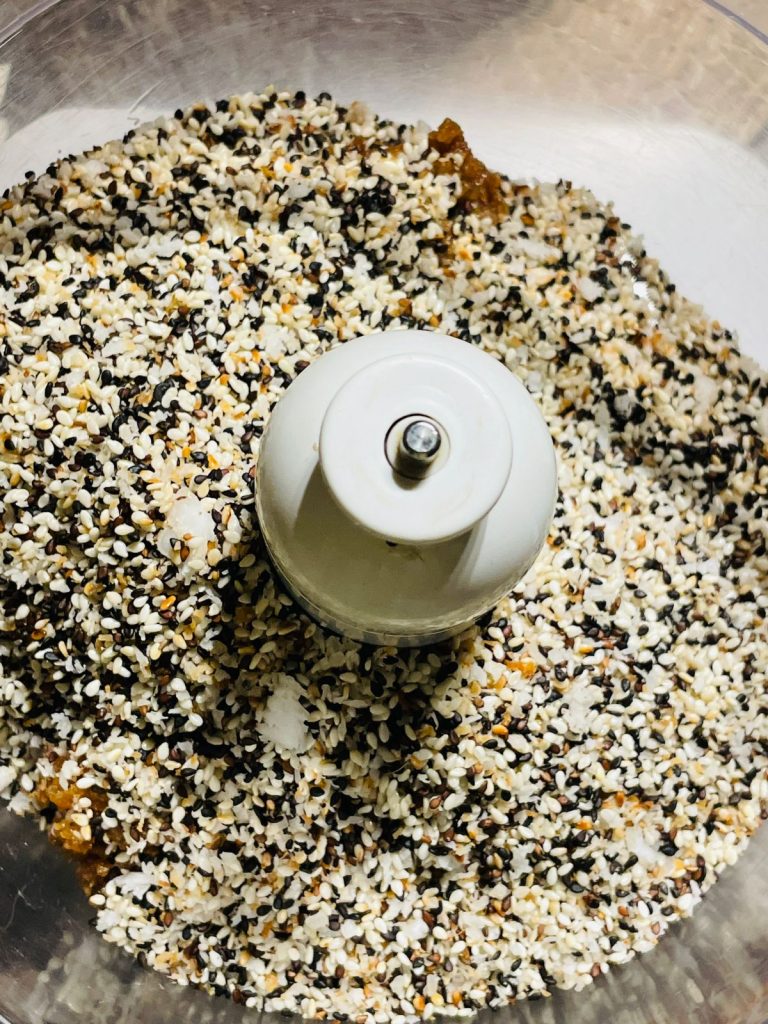 Mix salt with the Jaggery
Blitz in the processor till it's nice and combined according to the way you prefer.
Some prefer it chunky while some want it nice and smooth…
Add more palm sugar and a drizzle of virgin coconut oil if needed but I felt everything was just right??
Best done when it's warm because the oils release from the seeds and create a beautiful texture.
Adding cardamom powder is optional but we love our thalaguli spiced so we never miss this!!
Transfer to a heat proof bowl and start making the balls while mixture is still warm.This makes the job easier.
Use oiled fingers and make small bite sized balls.Repeat with the remaining mixture till it's over.Makes 18-20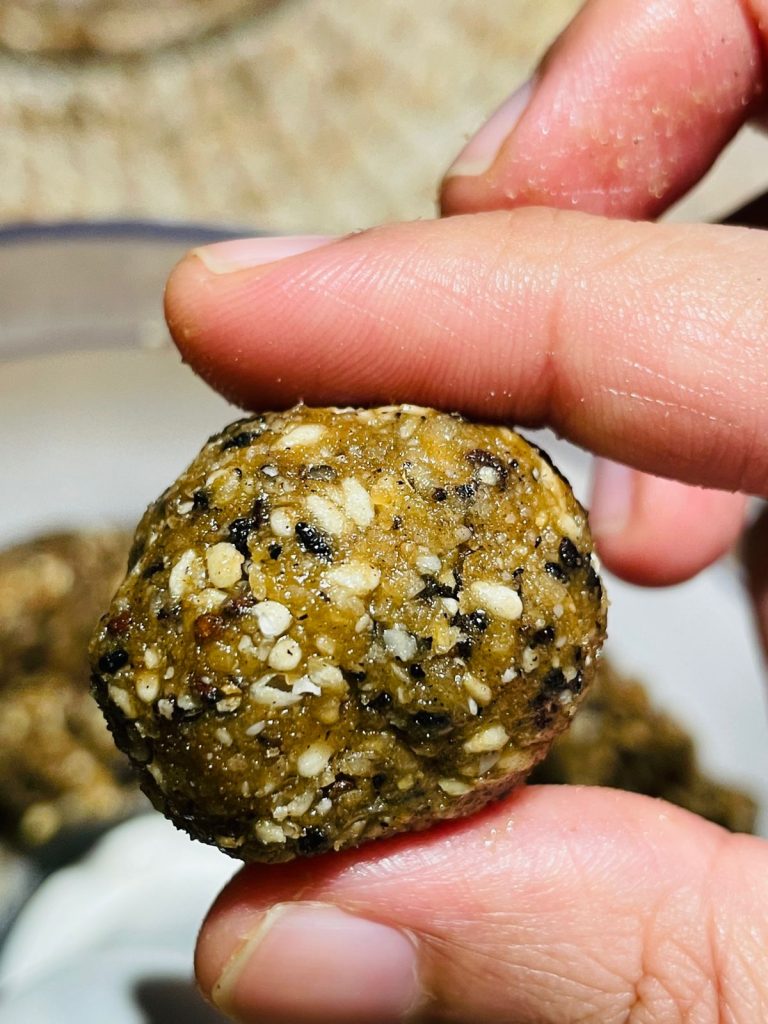 Best served with a hot cup of black tea or black coffee…Ideal for this week's gloomy weather ?????? Stay Safe and Stay Blessed
Would love to see your remakes on this deliciousness.Be sure to tag me or send me a screenshot if your account is private so I can reshare it on my stories
Much Love ?? Nuzrath
finchlk #kewpiesrilanka #finchlifestyle #enhanceyourlifestyle #exoticspices #finchspices #finch #finchfoods #finchsrilanka #finchtrading#srilankanfoodie #mylankanfoodjournal #colombofoodbloggers #instapic #instadaily #foodphotgraphy #eatpraylove #begrateful