????????????
Roasted Pepper Hummus
????????????
???????????? One Of Our Favorite Flavored Hummus Apart From The Roasted Garlic
?????????????
I'm Sure Once You Give This One A Try,This Will Be A Favorite In Your Homes Too??????
Hummus Is A Very Popular MiddleEastern/Mediterranean Dip Made With A Base Of Chickpeas Or Garbanzo Beans & Tahini/Sesame Seed Butter.This Is Blended To A Smooth Mixture Along With Few Other Ingredients That Make It So Light & Creamy!!!This Can Be Bought In Many Stores But You Can Easily Make This At Home If You Have A Blender Or Food Processor!!!
This Is The Basic Hummus Dip Ingredients:
Two Cups Boiled ChickPeas,You Could Use The Canned Ones Too
Reserve Some Of The Liquid To Use If Needed.
This Is Called Aquafaba.The Leftover Liquid From Cooked Chickpeas.This Translucent Liquid Has Many Other Important Uses.Mainly Being An EggWhite Substitute For Vegans
Next Add In 1/2 Cup Tahini
This Is Made With Sesame Seeds
Lime Juice Of One Large Lime
Tanginess Is An Important Flavour In The Hummos
Two Cloves Of Garlic? A Clove Is The Individual Segment Of A Whole Bulb Of Garlic
Pinch Of Salt
Ice Cubes Or Ice Water Helps To Make Your Hummus Light & Airy
Extra Virgin Olive Oil As Needed
A Pinch Of Cumin Pwd
Add The Ingredients Into A Food Processor One By One,& Blend Everything Together.Add Few Tbsp Of Aquafaba In While Blending.You Will Have The Most Creamiest Hummus.
Now That You Have The Basic Hummus,You Can Go To Another Level & Get Creative With The Flavours
Today I Flavoured It With A Combination ???Roasted Pepper???
AND
???Roasted Garlic? ??
Add 4 Tbsp Of Roasted Pepper Paste & A Tbsp Of Roasted Garlic Paste To Make This Concoction
It Is So Good You Need To Try To Know What I Mean ??????
You Could Add More Garlic But Today I Just Wanted It To Be More Roasted Pepper
To Make The Roasted Pepper,Grill Them Under A Broiler Untill The Skin Gets Charred.
Place Them Skin Side Down On A Lined Baking Sheet & Drizzle Some Olive Oil.
Let This Cool Down & Blend Into A Paste.
This Can Be Used To Flavour Various Other Sauces Etc.This Paste Freezes Really Well & Lasts For A Few Days In The Refrigerator.
You Could Roast Garlic In A Similar Way,Cut The Whole Bulb Into Half & Place The Skin Side Up & Grill Till Theyr Nice & Mushy On The Inside.Remove The Pastey Garlic By Squeezing The Tip Of The Garlic Bulb.It Comes Off Easily.Store This Garlic Goodness To Be Used To Flavour Your Dishes.
For The Garnish I Used My Home Made Oven Roasted Chickpeas.Made These With The Other Half Of The Chickpeas That Were Leftover After Making The Hummus.I Usually Make Them Wit Leftover Chickpeas.An Awesome Crispy Snack & So Easy To Make.I Use Them As A Substitute For Croutons Over My Salads Too.
Just Mix In Olive Oil,Salt,Pepper,Paprika,Lime Juice & I Used Zaatar(Optional) & Place Them On A Lined Baking Sheet
Bake In A PreHeated Oven Till It's Nice & Perfectly Brown On The Outside But Not Too Hard On The Insides. This Was A Common Quarantine Snack In Our Homes
The Kids Just Loved To Munch On These & Was Such A Win Win Cz It Was A Much Healthier Alternative To Anything Else.They Would Usually Find It Boring To Eat Plain Boiled Chickpeas,I Mean Who Wouldn't??? lol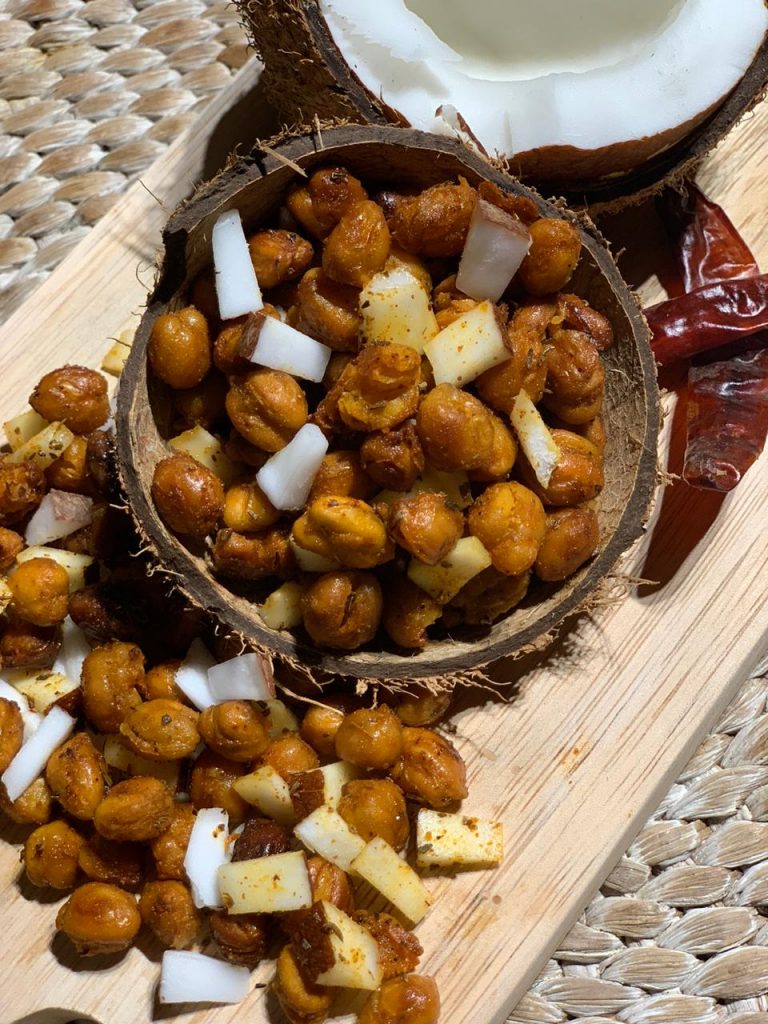 Anyway Each Time I Made I Would Change A Few Flavours So It's Not The Same Old Thing Again.If You Have Kids You Would Know They Get Bored So Quickly Specially When It Comes To Food
Do Give This Recipe A Try & Lemme Knw How You Like It
Would Love To See Your Remakes
Stay Safe ? Stay Home ? Stay Sane
srilankanfoodie #mylankanfoodjournal #colombofoodbloggers #homemadewithlove #ramadanseries #ramadanwithme #ramadanvibes #quarantineandchill #roastedpepperhummus #hummus #socialdistancingcooking #instafood #feedfeed #huffposttaste #onthetable #instadaily #foodphotgraphy #foodstagram #foodphotgraphy #eatpraylove #begrateful #positivevibesonly#alhamdulillaforeverything?