Making Breakfast Sweeter with Buckwheat Granola
This version is gluten free and ideal if you're trying to stay focused on healthier eating specially when you find it hard to overcome those sweet cravings…instead of reaching out for a bag full of sweetened nuts that have hidden calories
This recipe is so versatile and can be customised according to your preference whether you like it over some cold milk or vanilla Greek yogurt and fresh fruit.
You could use it as a crunchy topping over your smoothie bowl.
Or simply snack on them all day like we do!!!The possibilities are endless…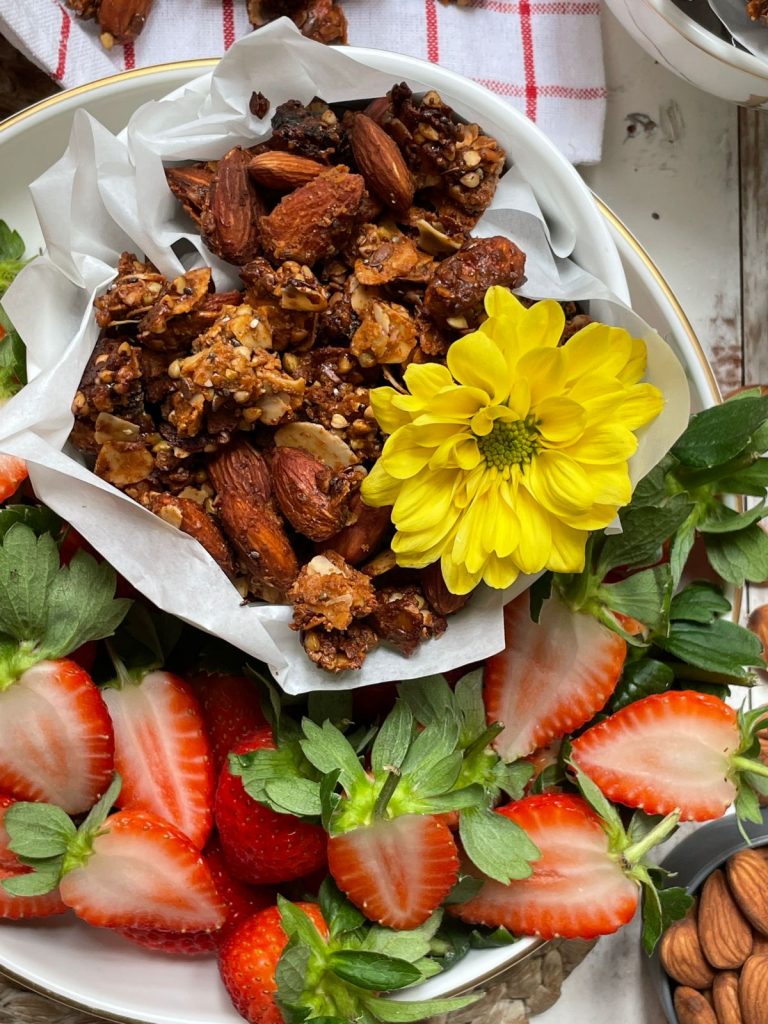 I have used All Things Finch to make this deliciously crunchy granola…Made using natural ingredients and no nasties,sweetened with natural bees honey and home made nut butter.
The recipe for home made nut butter is available in my blog site, refer to link attached below :
For this batch I have used the combination of raw almonds and dried cranberries with a hint of cinnamon to bring in fall vibes.
All Premium Finch products that can enrich your life with @finch.foods @finch.trading
https://instagram.com/finch.foods?utm_medium=copy_link
https://instagram.com/finch.trading?utm_medium=copy_link
You can get your favorite products delivered by placing an order on the Finch website www.finch.lk or via UberEats/PickMe
Their Premium range is also available at Keells,Cargills,SPAR,Laugfs,and GLOMARK and selected retail outlets islandwide
Check out my Instagram page for more cooking inspiration
Let's Get Started
You Will Need
3 Cups Finch Raw Buckwheat Kernals
1 Cup Finch Raw Almonds
1 Cup Finch Dehydrated Cranberries
1 tsp Finch Cinnamon Powder
1/4 Cup All Natural Almond Butter made using Finch Raw Almonds
1/4 Cup Finch Natural Bees Honey
1/4 Cup Finch Virgin Coconut Oil
2 tbsp Finch Black Chia Seeds/Flax Seeds
Pinch Of Finch Pink Himalayan Salt
1/4 Cup Chocolate Chips (Optional)
If you prefer adding in rolled oats you can definitely do so by adding equal parts of Rolled Oats and Buckwheat Kernels.
[1.5 Cups Rolled Oats & 1.5 Cups Buckwheat Kernels]
To make a standard granola you need Four components
The base : Rolled Oats/Buckwheat Kernels
The binder : Nut Butter,Coconut Oil and liquid sweetener
The fillings that make up the flavour of your granola like nuts seeds and dried fruits.
Spices and Flavourings like Cinnamon, Pumpkin Spice, Nutmeg
Step One : Mix all dry ingredients in a bowl [except chocolate chips if you're adding them in because it will melt]
Set this aside till you make the binding liquid.
Step Two : In a saucepan heat the wet ingredients until melted and well combined.
Forest Bees Honey,Almond Butter and Virgin Coconut Oil
Step Three : Pour the warm liquid over dry ingredients and use a heat proof spatula to mix till everything is well coated.You can use your fingers if the heat is ok to handle.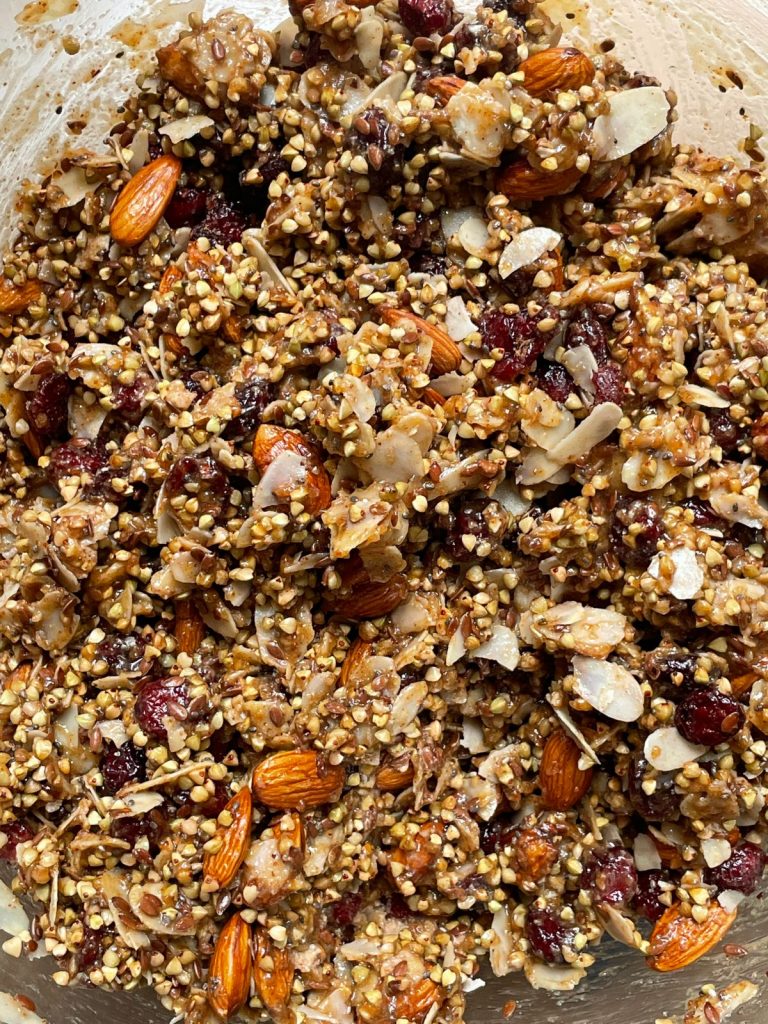 Step Four : Transfer to a lined baking tray and spread the mixture out as much you can to the same level.
Do not over crowd the tray and bake for 20-30 minutes or until this turns fragrant and beautifully golden.Stirring in between to make sure all parts are well done
Everything in my kitchen smells like fall…
Let this cool completely and store in airtight jars to keep it fresh.Can be refrigerated and frozen if made in larger batches too because this comes handy for many such situations…
Would love to hear from you if you give my recipe a try.Don't forget to tag me on social media or send me a screenshot if your account is private so I can reshare it on my stories.
Much Love ?? Nuzrath
#finchlk #kewpiesrilanka #finchlifestyle #enhanceyourlifestyle #exoticspices #finchspices #finch #finchfoods #finchsrilanka #finchtrading#srilankanfoodie #mylankanfoodjournal #colombofoodbloggers #instapic #instadaily #foodphotgraphy #eatpraylove #homemadegranola #buckwheatgranola