The Most Loved English Trifle is still one of our family favorites
Takes me back to wonderful memories with my grandmother who taught us a lot about western food….Allah grant her the highest level of Jannah ?? Aameen
The English Trifle is a classic dessert layered with soaked cake,vanilla custard,fruit jelly and topped with cream and fruits or berries of choice.Each family has a recipe of their own and this one's ours….
I have altered things according to the ingredients available in our country and this ones inspired by my beautiful friend Shafi
She layered using the butter sponge cake from Tiara and I think it really made things easy for me by not having to make my cake layer from scratch
Let's Get Started
You Will Need
Layer One : Vanilla Sponge of choice (I used store-bought today )
Layer Two : Vanilla Custard
Layer Three : Fruit flavoured Jelly
Layer Four : Fresh or canned berries
Toppings : Nougat and Whipped Cream (optional)
Layer One : Vanilla Sponge
You will need maximum of 250g of Vanilla Sponge to make one quantity but I used Swiss roll and butter sponge because I was making a larger batch
I have a recipe for Srilankan Butter Cake and Swiss Roll if you're in a mood to make fresh cake for the trifle or if you're unable to purchase ready made cake.Ideally the cake should be abit old when using for a trifle…
I also used the vanilla Swiss Roll as you can see from the layers to make it look pretty…Ain't she a beauty???
I have a recipe for Swiss roll available in the blog site.It is Biscoff inspired but you could definitely make it a plain vanilla sponge and use for layering the trifle.Refer to link below :
Layer Two : Vanilla Custard
You Will Need
500ml Fresh Milk
2 tbsp vanilla custard powder
Milkmaid condensed milk as sweetener or sugar 1/2 cup
1 tsp vanilla extract
1/2 cup heavy cream
I made twice this quantity because I was making a large batch.This custard quantity would be enough for a serving dish for at least 6-8 persons
Step One : Mix the custard powder with water and make a slurry.Set this aside and make sure you keep stirring it if you're not gonna use it within a few minutes.As the mixture tends to sink to the bottom after a few minutes if not used…
I used Motha Brand today
Step Two : Heat the milk in a saucepan with sugar or condensed milk
I used Milkmaid today
Step Three : Just before it comes to a boil, add in the slurry and keep stirring continuously to avoid lumps.Using a whisk at this point would make the task easier.
Step Four : Keep stirring slowly till you reach a smooth and glossy texture.Check my instagram post to see the video on the consistency of the delicious vanilla custard.Refer to link attached below :
https://www.instagram.com/p/CLea_PNBRRk/?igshid=1gulpc8ozuiqm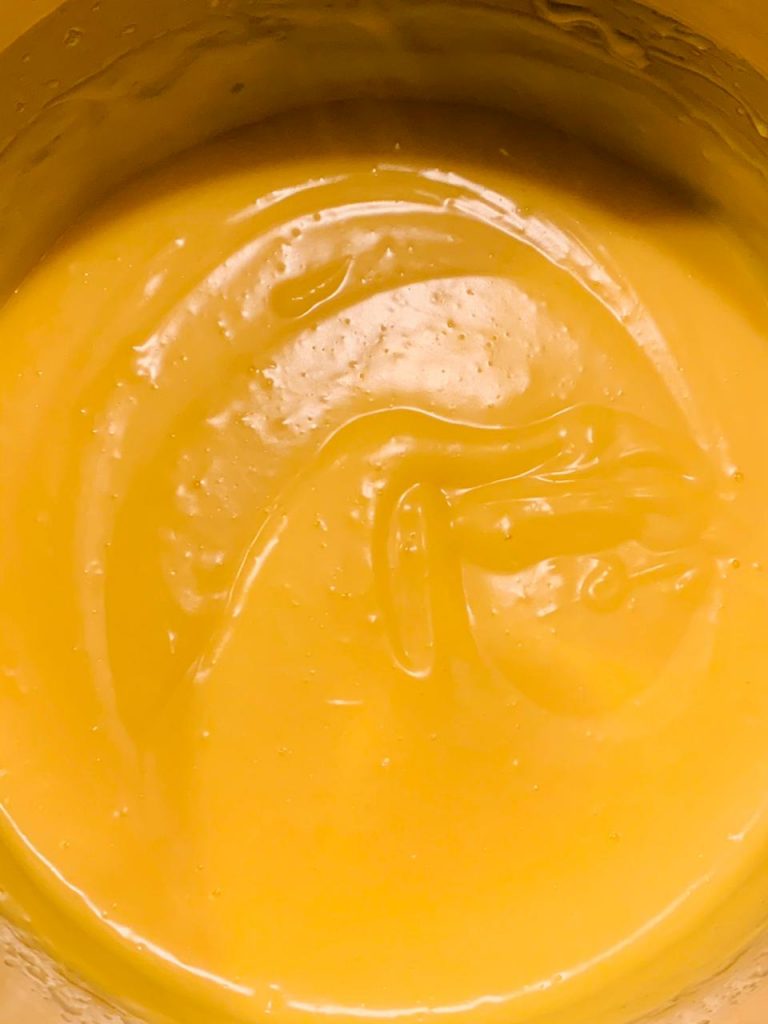 Step Five : Switch off flame and add heavy cream
The Custard is ready to be cooled.Cover the top with cling wrap to avoid forming a layer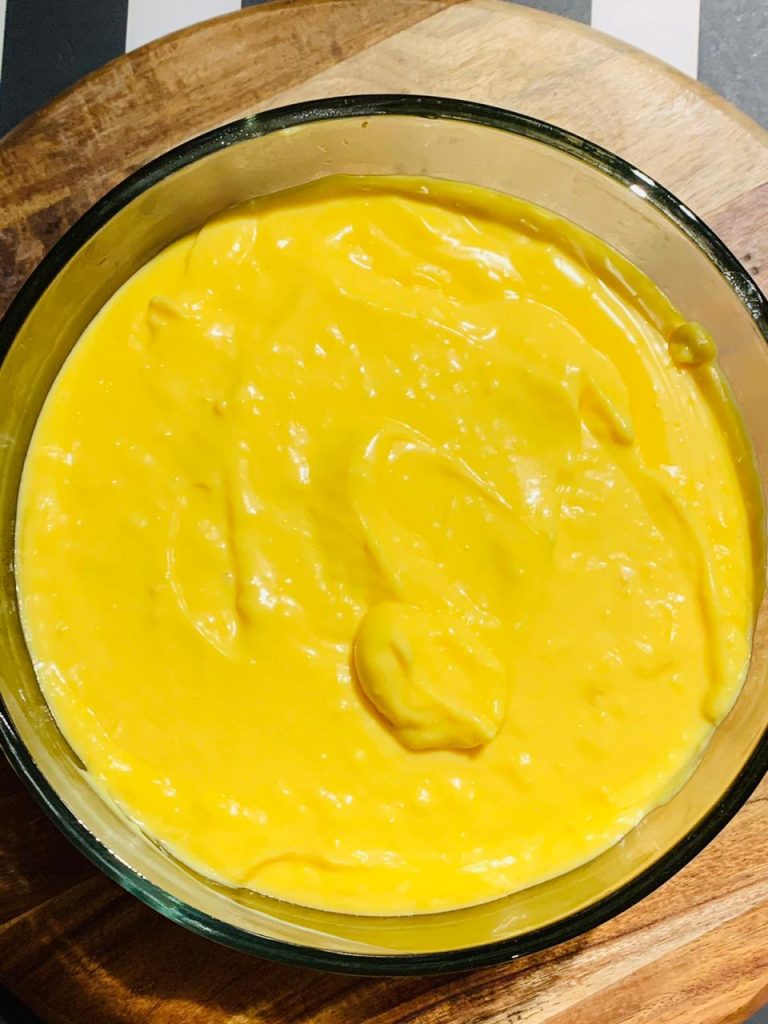 Layer Three : Fruit Flavoured Jelly
I used Motha brand Berry flavoured Jelly today but you could use whatever that works for you.Read instructions on the packet and make the jelly accordingly.
If you're prepping for the trifle the jelly has to be made the night before otherwise there will be no time to set..
Some prefer to skip the jelly layer , you could definitely do according to your preference…
Layer Four : Canned Fruits or Berries
I used a can of fruit cocktail and fresh berries that were available but if they're not available just use what works for you
Do not throw away the syrup from the canned fruit, use it to soak the cake
Nougat
You could either make yours or use store bought : whatever works for you
This is completely optional you could easily skip this step if you don't like to add nougat or you have any nut allergies but thankfully we have no one with nut allergies in the house and we just love em' nuts on almost everything!!!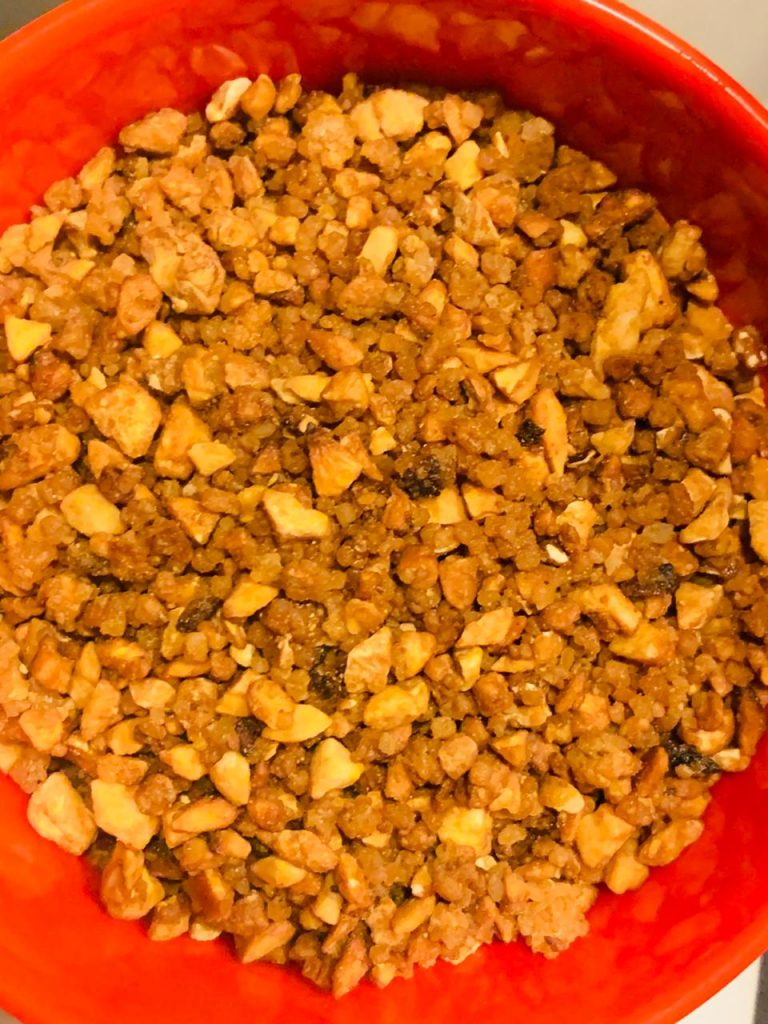 Time To Assemble
Get everything ready and start the process to save you some time
I used a traditional trifle dish which was gifted to me by Fizna from Canada (My sister's sil) but you could use any ceramic or pyrex dish available on hand.
Layer One : I layered with Vanilla Swiss Roll on the sides just to make it look pretty in the transparent trifle dish.
Layer Two : Cake soaked with fruit syrup that we reserved from the canned fruit
If you don't have the canned syrup even fruit juice or simple syrup would work too
Layer Three : Canned fruits
Layer Four : Half of the cooled Vanilla Custard
Layer Five : Set Jelly
Layer Six : Nougat and I let it refrigerate for about 30 minutes just to make sure jelly is completely firm.You don't have to do this step if you have less time.
Layer Seven : More fruits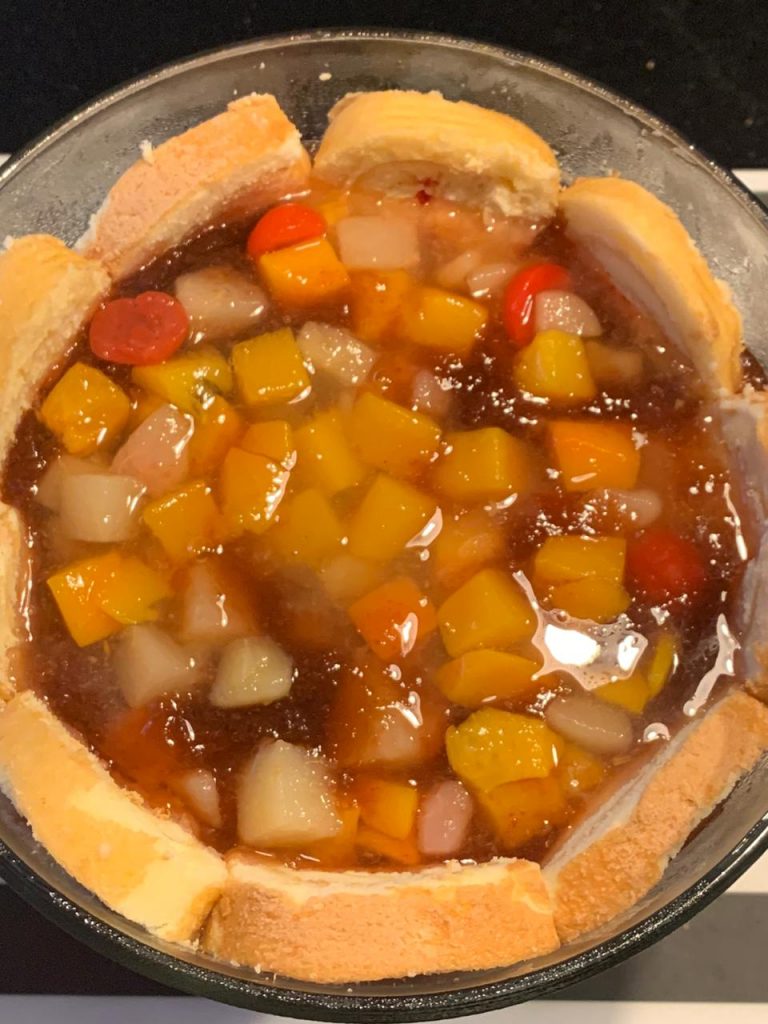 Layer Eight : Sponge Cake
Layer Nine : The other half of vanilla custard
Chill this for at least another few hours or best served after left overnight
Toppings
Whipped Cream : This layer is optional but it definitely tastes better when topped with some light and fluffy cloud like cream that compliments the rest of the trifle layers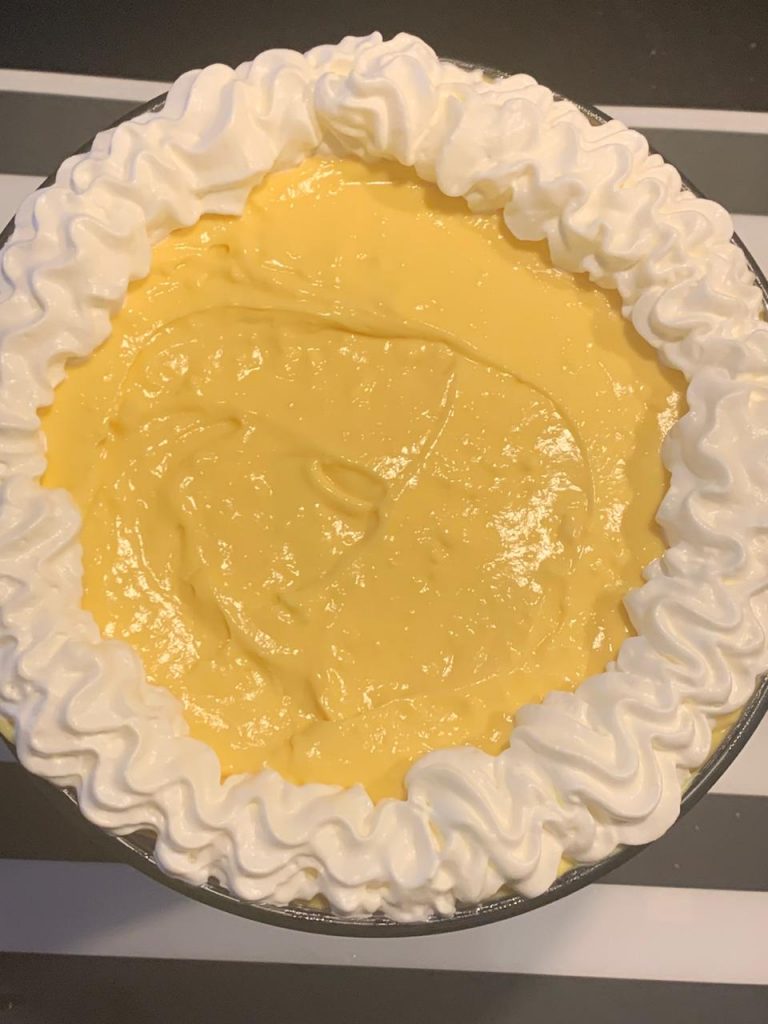 Final Layer : Top with fresh berries or fruits of choice
Look at all those amazing layers.
I feel like diving right into the screen….yummm
Would love to see your remakes on this deliciousness.Be sure to tag me on social media and send me a screenshot if you're account is private so I can re share them in my stories
Wishing everyone a wonderful day and peaceful week!!!
Much Love ? Nuzrath
srilankanfoodie #mylankanfoodjournal #foodblog #colombofoodbloggers #colombolife #foodiesofintsagram#onthetable #instadaily #igers #eatpraylove #positivevibesonly#alhamdulillaforeverything?