Peanut Butter Bars are so delicious paired with some black tea or coffee. Made using real ingredients that really bring out some amazing flavours to this delightful creation
Let's Get Started
You Will Need
Ingredients
225g Butter
1 1/2 Cups Brown Sugar
2 Large Eggs
2 1/2 Cups Peanut Butter
1 tsp Vanilla
3 Cups All Purpose Flour
1 tsp Baking Powder
1/2 tsp Salt
1/2 Cup Chocolate Chips
Fillings of Choice
1 Cup Crushed nougat or Crushed salted Peanuts
1 1/2 Cups Chocolate Chips
Step One : Beat Butter and Sugar till pale
Step Two : Add in Eggs one at a time
Step Three : Add in Peanut Butter and Vanilla
Step Four : Add in spoonfuls of the dry ingredients and make sure everything is well combined.
Step Five : Divide dough into half and set aside. Chill this for atleast an hour or overnight for best results.
Step Six : Spread one part of the dough on a lined baking tray. I used a square 8" by 8"
Use your fingers and if you feel it's too sticky you can place a piece of parchment paper on top while spreading the dough.Neaten the edges using a small rolling pin and make sure the layer is in one level.
Step Seven : Sprinkle your choice of filling
Step Eight : Drop portions of the remaining dough on top.This does not need to look nice and even.It needs to look more like a crumble on top.Make sure you have covered almost the whole area.Use flour if needed to break through the dough and crumble.Sprinkle more chocolate chips on top if you prefer
Step Nine : Bake in a preheated oven at 180' for atleast 45 minutes.This ones quite a thick layer of cookie dough so it will take longer to get completely done.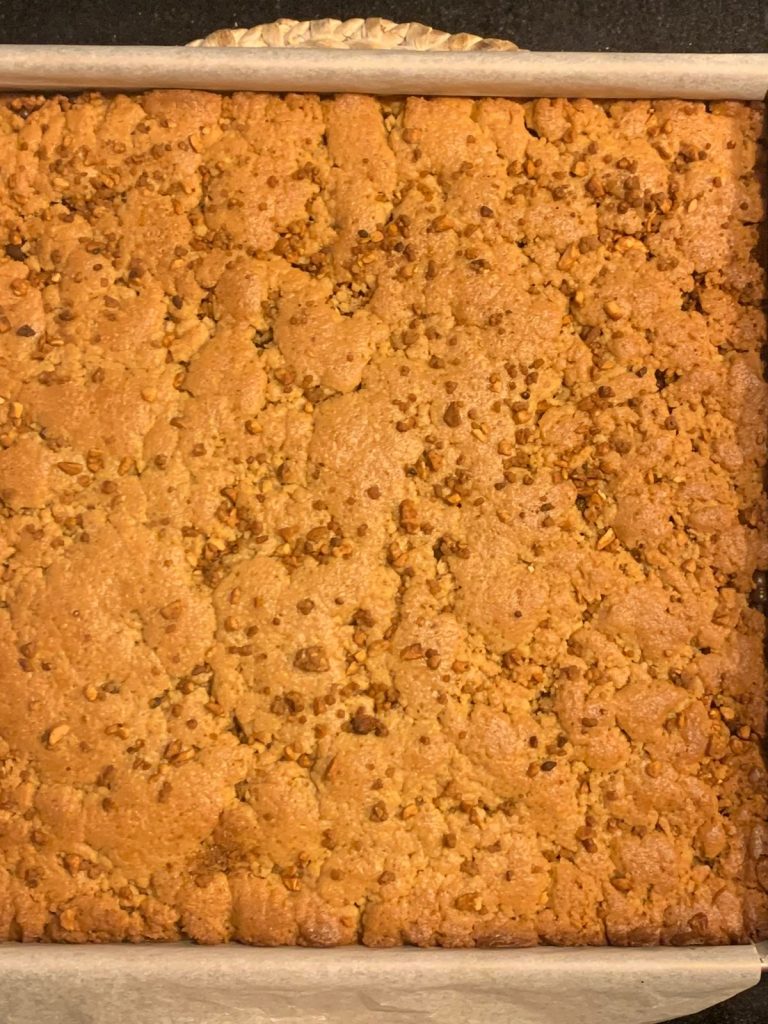 Let this cool down before starting slice them up.
Remove from baking tray and use a serrated knife to cut through this delicious Peanut Bar Bars
These slices are quite rich so having one will really fill u up.
Would love to see your remakes on this deliciousness.Be sure to tag me or send me a screenshot if your account is private so I can reshare it on my stories
Much Love ❤️ Nuzrath
#srilankanfoodie #mylankanfoodjournal #foodblog #colombofoodbloggers #colombolife #instadaily #bekind #begrateful