Harissa is a North African Hot Chilli Paste that has different kinds of red Chillies and peppers,fresh herbs and spices.Mostly complimented with olive oil to intensify the deep rich flavour
It is ideally used as a marinade or dip just like the most popular Nando's Sauces and Marinade
Today I have use almost all Finch Products to create my very own Harissa inspired marinade and I would like to share the process with you…
If you like your food spicy then this one's definitely a keeper !!!
To balance out the heat I paired it with the most creamy hummus three ways,fresh salad and watermelon ??? A perfect Iftar Meal to feed a decently large family like ours…
Saving fresh herbs and spices has always been a challenge for me specially when it comes to fresh greens and vegetables in this humidity so I try to buy only when I need them for a dish to avoid food waste.
Choosing Finch has been such a game changer because they have almost all the herbs and spices in dehydrated form : Check out their website to see the list of all their products…So many to choose from
Many more Premium products that can enrich your life @finch_lk
You can get your favorite products delivered by placing an order on the Finch website www.finch.lk or via UberEats/PickMe
Their premium products are also available at selected Keells, Cargills, Laugfs, SPAR, Glomark and other retail outlets island wide.
Let's Get Started
You Will Need for Harissa Paste
Two large Bell Peppers charred and de skinned or oven baked and then blended into a paste.This method is in more detail in my recipe for roasted pepper hummus.Link is attached below with the rest of the other accompaniments and details of this menu.If you can't find this you could just add two fresh chillies for some heat
1/2 Cup Coconut Oil/OLive Oil
5 Garlic Cloves or Garlic Powder 1 tbsp
Finely grated Ginger or Ginger Powder 1 tsp
1 medium sized onion or Onion Powder 1 tbsp
1 tbsp Kashmir Chilli Powder
1/2 tsp Nai Miris Powder
1/2 tsp Nai Miris Flakes
1 tbsp Cumin Seeds/Caraway Seeds
1 tbsp Coriander Seeds
1 tbsp Apple Cider Vinegar
1 tbsp Liquid Aminos (Soy Sauce Substitute)
1/2 Cup Sriracha Hot Sauce
1/2 Cup Sun-dried Tomatoes
1/2 Cup Walnuts
1 tsp Salt
Lime Juice of One Lime
2 tbsp Tamarind Pulp
Blend all this together and make a smooth paste
This paste lasts in the refrigerator for at least a week and for months in the freezer
I used one whole chicken but you could definitely use parts of the chicken or even any other meat or seafood depending on what you and your family prefer
Watch the video in my Instagram feed to see spice rub demonstrations for this recipe
https://www.instagram.com/tv/CN2uogmBtMo/?igshid=3kw4z1aq3dvn
Place in an oven proof baking tray and bake in a preheated oven at 180 for at least an hour or till you feel the top is nice and beautifully crisped up.I placed it on the vertical stand that I purchased from NUZUTA Homes.Check them for some great seasonal deals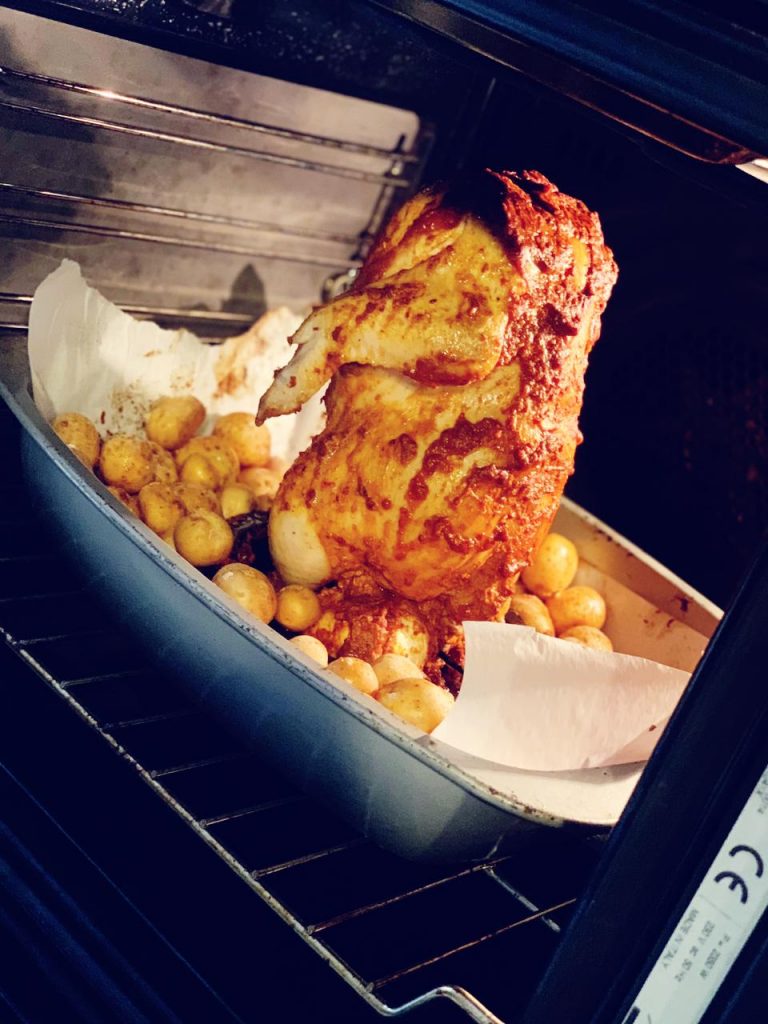 I also baked the baby potatoes along with the chicken in the same pan for more flavour.I only added salt, pepper and finely chopped garlic with a generous drizzle of olive oil.Leaving the skin on really elevated the flavours on this dish.
Remove from oven in-between and baste the chicken with butter or coconut oil to get the perfect crisp outside.
Once the Chicken is completely cooked let it sit for at least 30 minutes before serving.This really helps to keep the chicken flesh on the insides more moist
Now it's time to assemble the rest of the items with the Baked Chicken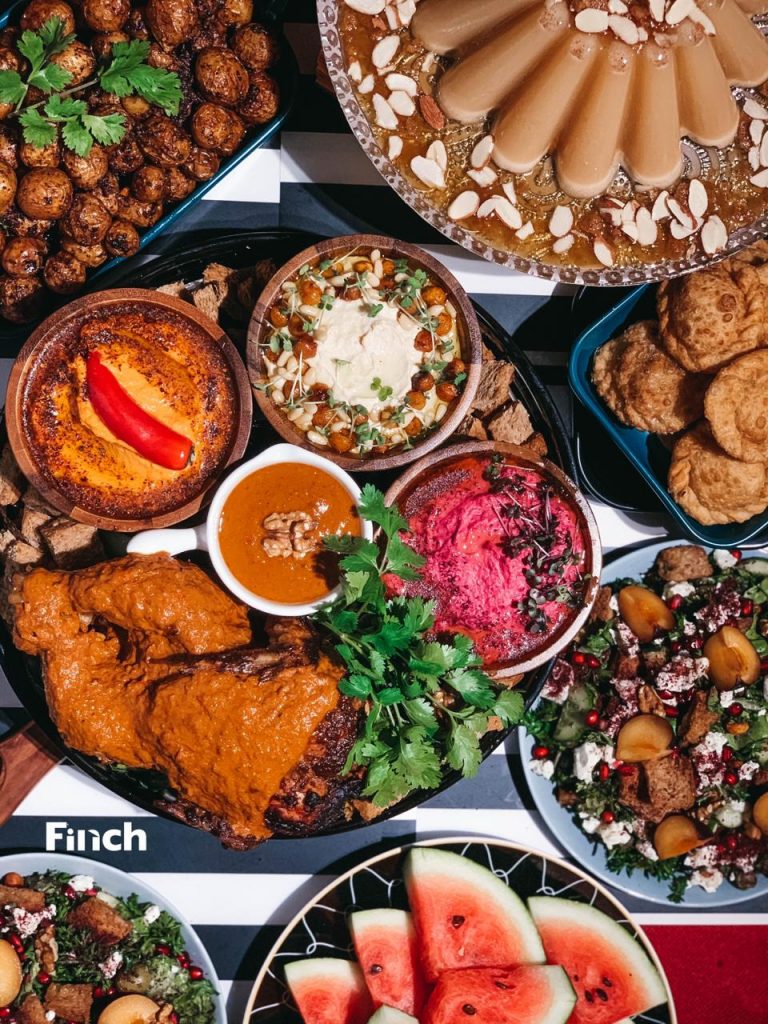 I also made a simple sauce using the same paste to have on the side or pour on top while serving
Step One : Add the paste into a pan with oil and keep on low for few minutes till it slightly changes colour and sprinkle some brown sugar to balance out the flavours
Step Two : Add in water, stock or coconut milk and thicken your sauce on high and let it simmer till it comes to the perfect gravy consistency
Thats all you need to do to make a lip smacking Harissa Sauce
Let's Get Serving
The Recipes for the rest of the items on this frame are attached below
Hummus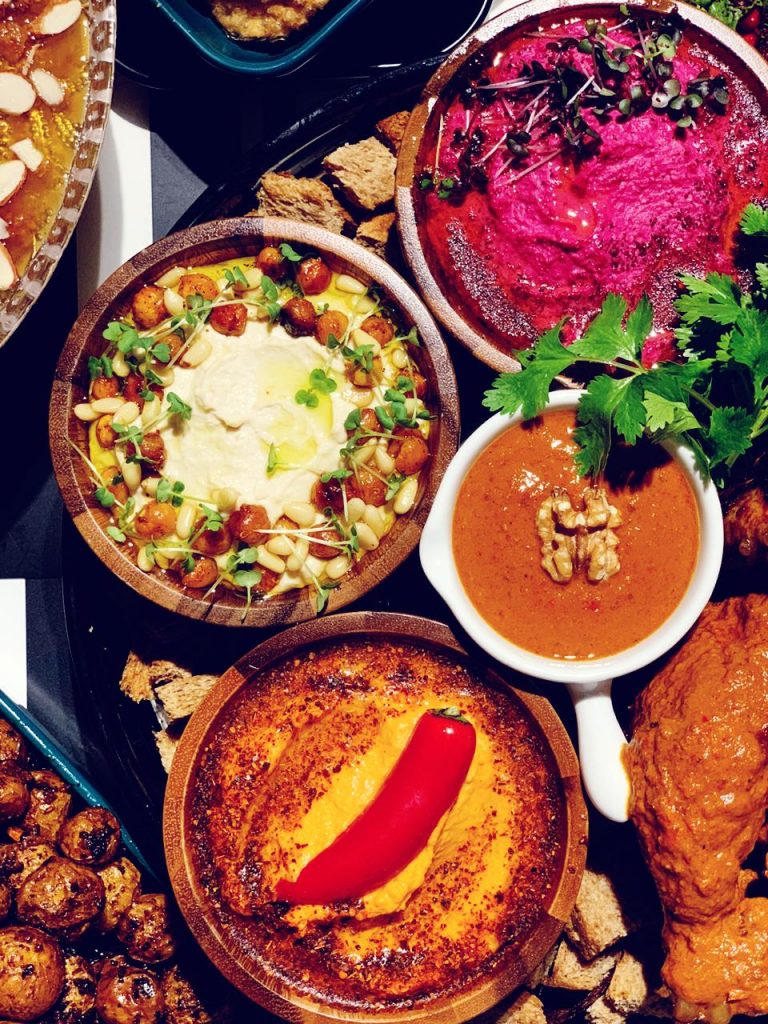 The Fresh Salad
This fresh salad contained very few ingredients but full of flavour and texture
Base : Mix of Fresh Salad leaves and chopped parsley
Cucumber
Fresh Plums
Crumbled Feta Cheese
Pomegranate
Walnuts
Home Made Bread Croutons using leftover bread
Dressing : Sprinkle of Sumac and Drizzle of Pomegranate Molasses
Oven Baked Baby Potatoes
We also served oven baked baby potatoes skin on with a drizzle of Finch Roasted Sesame Dressing.It is so rich in flavour and it pairs really well with baked potatoes or other grilled vegetables
Healthy Agar Agar Dessert
Dessert was a healthy Agar Agar Dessert made using fresh coconut milk and Kithul jaggery.
Find the link to recipe attached below :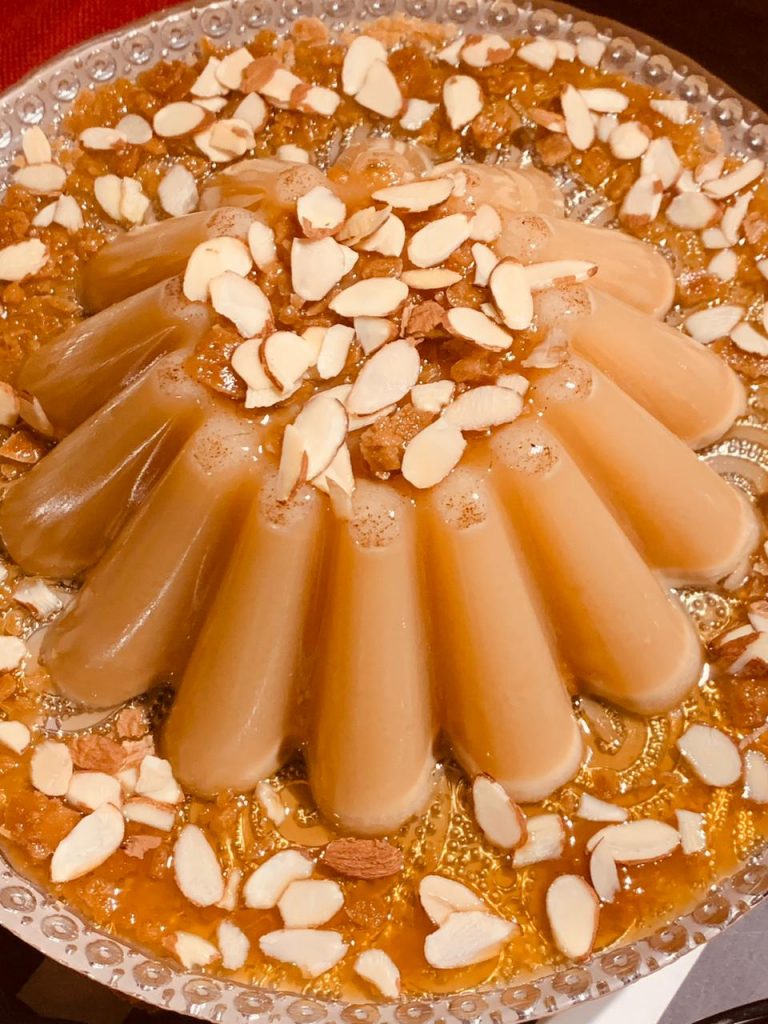 There's another recipe available for the Agar Agar Milk Pudding if you prefer to make it the regular way.Refer to link attached below :
Would love to see your remakes on this deliciousness.Be sure to tag me on social media or send me a screenshot of your post if your account is private so I can re share them on my stories
Much Love ?? Nuzrath
finchlk #kewpiesrilanka #finchlifestyle #enhanceyourlifestyle #exoticspices #finchspices #finch #finchfoods #finchsrilanka#srilankanfoodie #mylankanfoodjournal #colombofoodbloggers #instapic #instadaily #foodphotgraphy #eatpraylove #begrateful