Perfect Snack on a Rainy Evening…Crispy Samosas
This one's inspired by my good friend Shalima : couldn't find her recipe but I've always wanted to make this particular Samosa after seeing it on her page
Made it twice within a week because they wanted more 🥟🥟🥟
Punjabi Samosas are slightly different to the regular samosas that you would find commonly everywhere.The Punjabi samosa consists of a flaky dough made using butter or ghee,while the regular kind are made using phlyo pastry-ish strips of dough.Of course it's much richer in flavour and texture than the regular ones.
Here I have used finch caraway seeds that really elevates the flavour on the flaky pastry.Caraway seeds are also known as Fennel or Cumin, commonly used in most cuisines all around the world.This has numerous health benefits that aid in better digestion and cure for stomach ailments.
Adding this to the dough gives an amazing aroma when the samosas are fried and makes every bite enjoyable.
Many more Premium spices and products that can enrich your life with @finch.foods
https://instagram.com/finch.foods?utm_medium=copy_link
You can get your favorite products delivered by placing an order on the Finch website www.finch.lk or via UberEats/PickMe
Their Premium range is also available at Keells,Cargills,SPAR,Laugfs,and GLOMARK and selected retail outlets islandwide
Let's Get Started
You Will Need
The Dough
Ingredients
2 Cups of All Purpose Flour
1/4 Cup Melted Ghee
1 tsp salt
1 tsp Finch Caraway Seeds
1/4 Cup plain water
Step One : Mix ghee with the flour and salt
Step Two : Mix well using your fingers and create sand like texture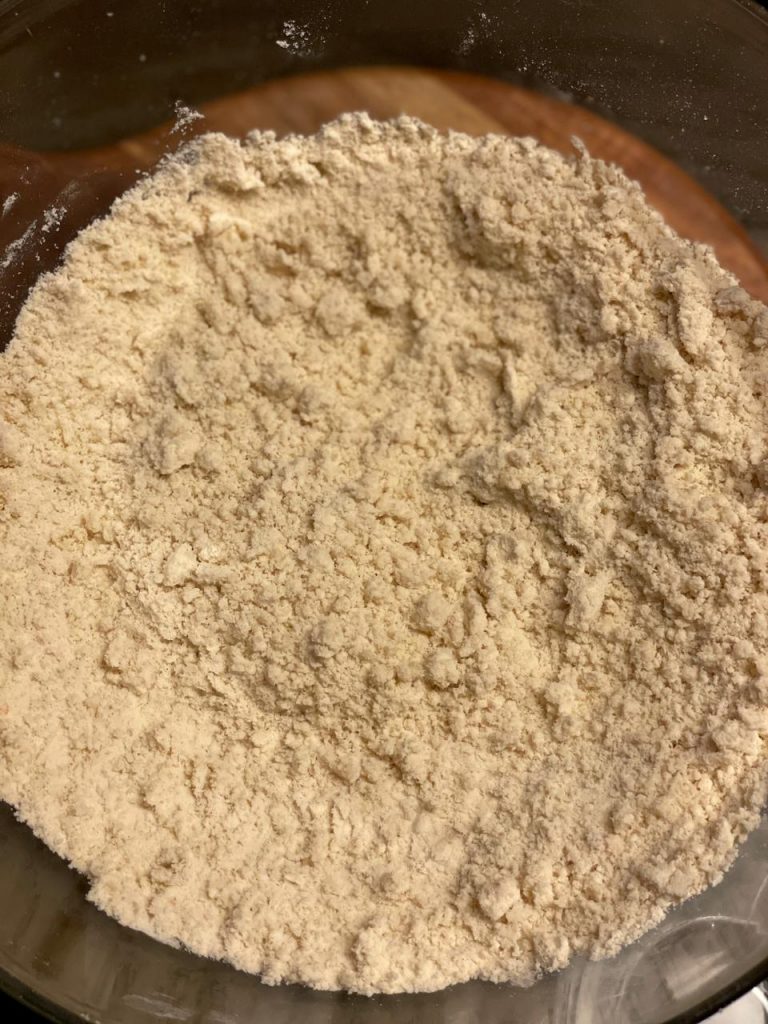 Step Three : Add finch caraway seeds.You could also add in black sesame seeds if it's available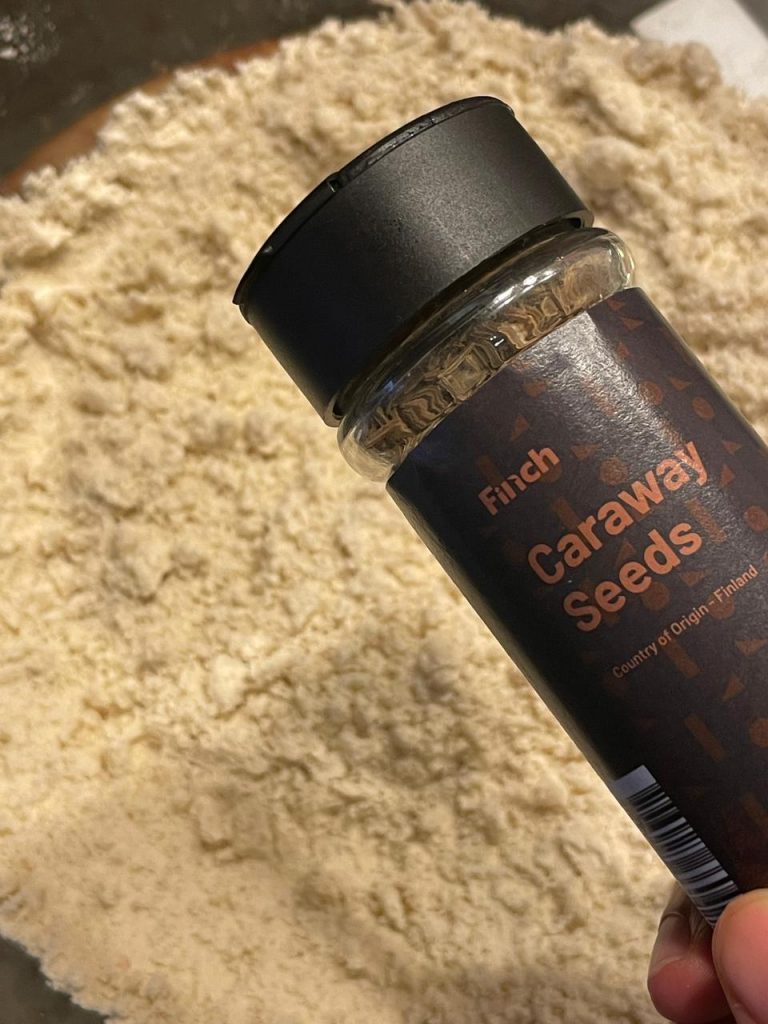 Step Four : Add water as needed and create into a smooth dough
Step Five : Divide into half first and keep dividing till you get 10-12 medium sized balls
Let this rest for at least 30 minutes
In the meantime let's prep for the filling
Potato Filling
Ingredients
2 B Onions finely chopped
1 tbsp Garlic finely chopped
1 tsp Ginger grated
Few Curry leaves
2 Green Chillies chopped
1 tsp salt
1 tsp Kashmir Chilli Powder
1/4 tsp Turmeric
1 tsp Chilli Flakes
1 tsp Black Pepper Powder
1/2 tsp Cumin Powder
1 tsp Garam Masala
Lime Juice of one lime
1 tbsp Liquid Aminos/Soy Sauce
1 tbsp Tamarind Pulp
200g Boiled and mashed potatoes
1/2 Cup Frozen Peas
Handful of fresh coriander leaves
Step One : Sauté onions,ginger,garlic and curry leaves till nice and golden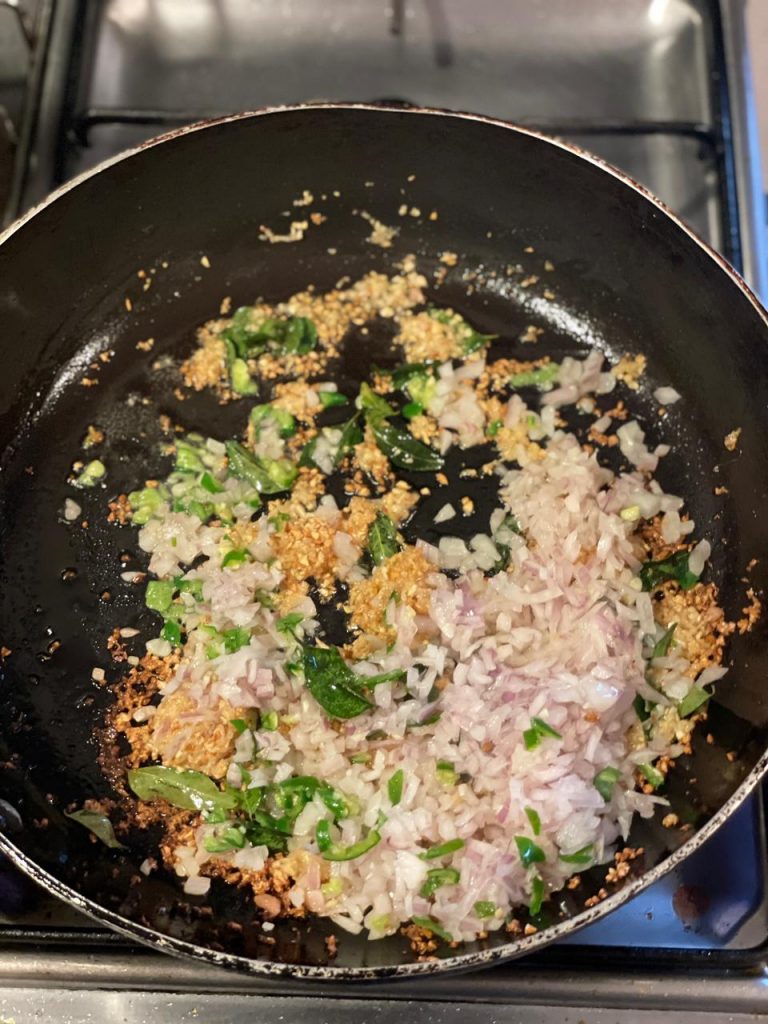 Step Two : Add spices
Step Three : Add a splash of water if it's too dry and add in like juice,tamarind and liquid aminos.This helps absorb maximum flavour when adding the potatoes in as potatoes are usually a bland vegetable.
Step Four : Add mashed potatoes
Step Five : Add Frozen Peas and fried onions for more texture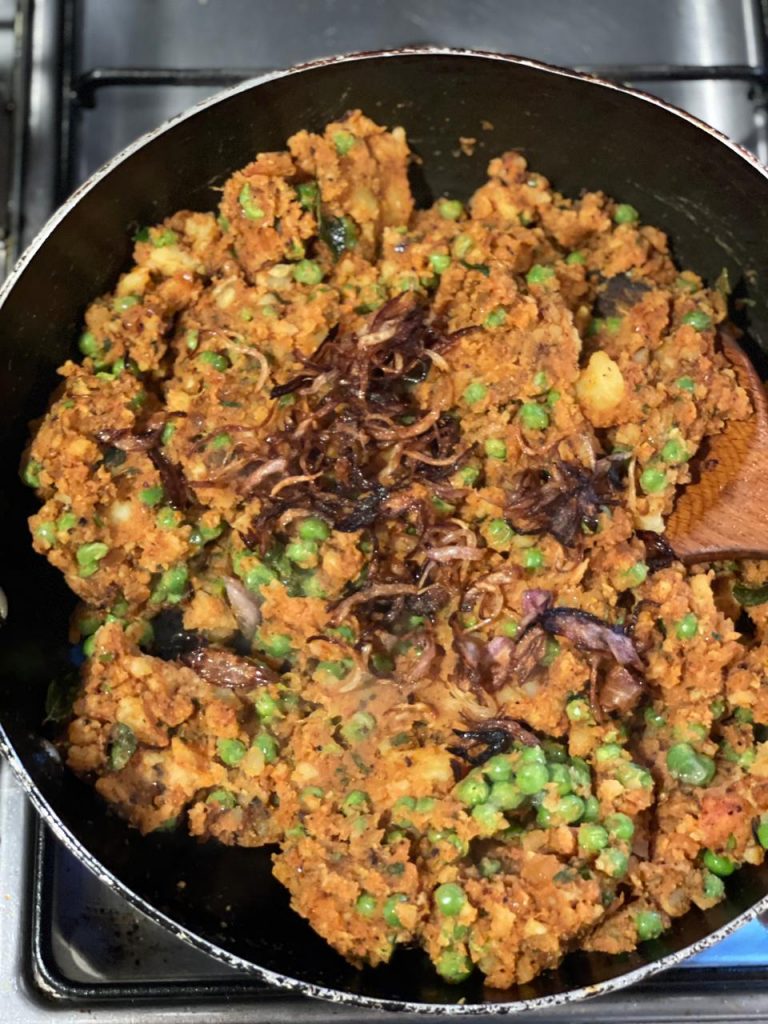 Step Six : At this point you can add any kind of minced meat if you prefer this as a non vegetarian filling.I used boiled prawns and it was delicious
Step Seven : Check for salt and spices and adjust accordingly.Finish with fresh coriander leaves.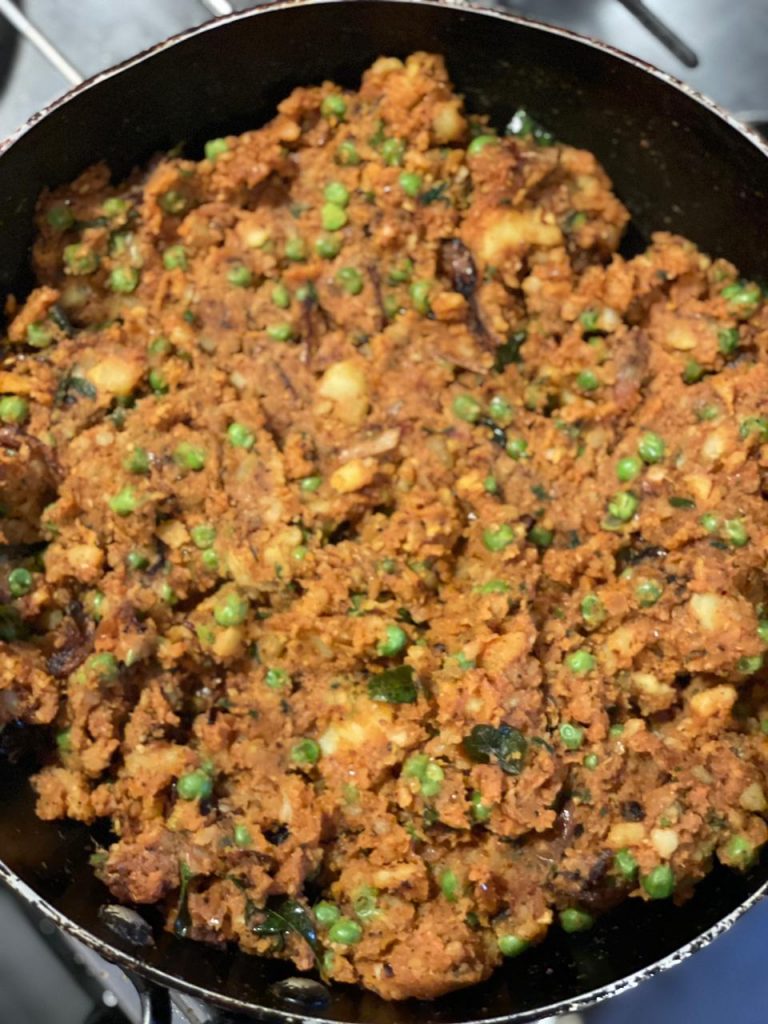 The filling is now ready
Let's Start Making The Samosas
Watch my IGTV on my Instagram feed to see the video demonstration on how I made these bad boys.Refer to link attached below :
Each one has a different method to making the samosa but I just made an easy fold and since it was my first time I tried out a few different folds.Let me show you step by step on one very easy way to make your samosas.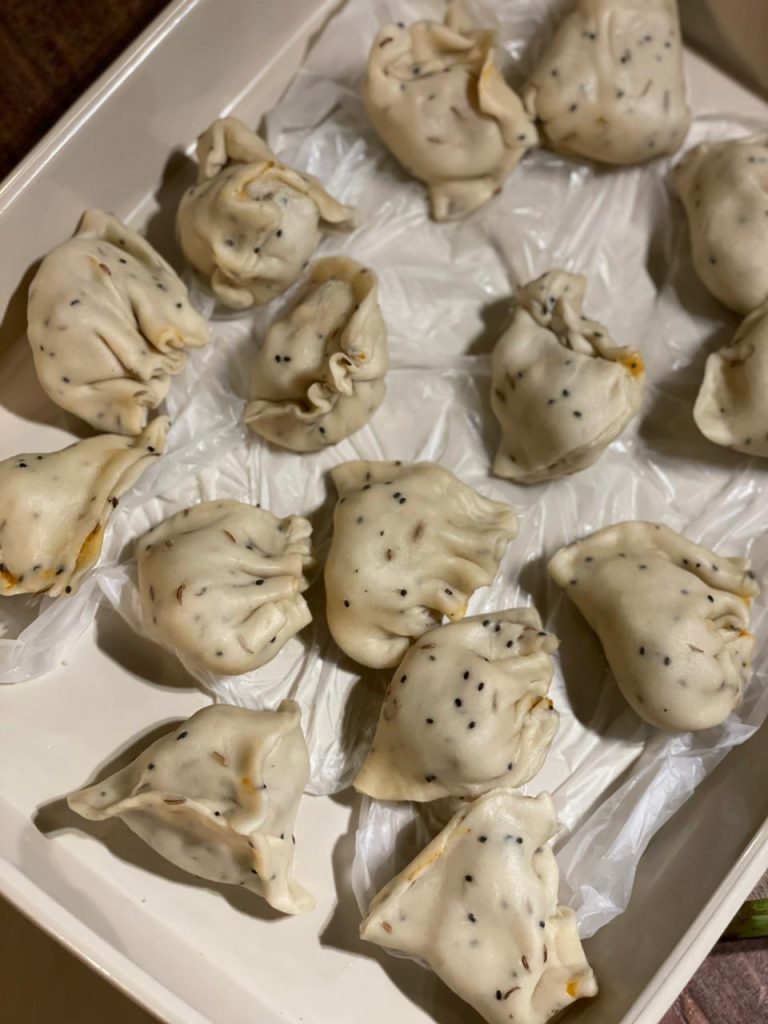 Step One : Roll out one ball on a flat surface using a floured rolling pin.Use more flour if needed but I didn't really need much.
Step Two : Roll thinner and into an oval shape
Step Three : Place a cut to divide this into two
Brushing plain water along the edges helps the dough bind when sealing the edges
Step Four : Use one half and over lap one side to the other.Follow the image below
Step Five : As you can see it's similar to a cone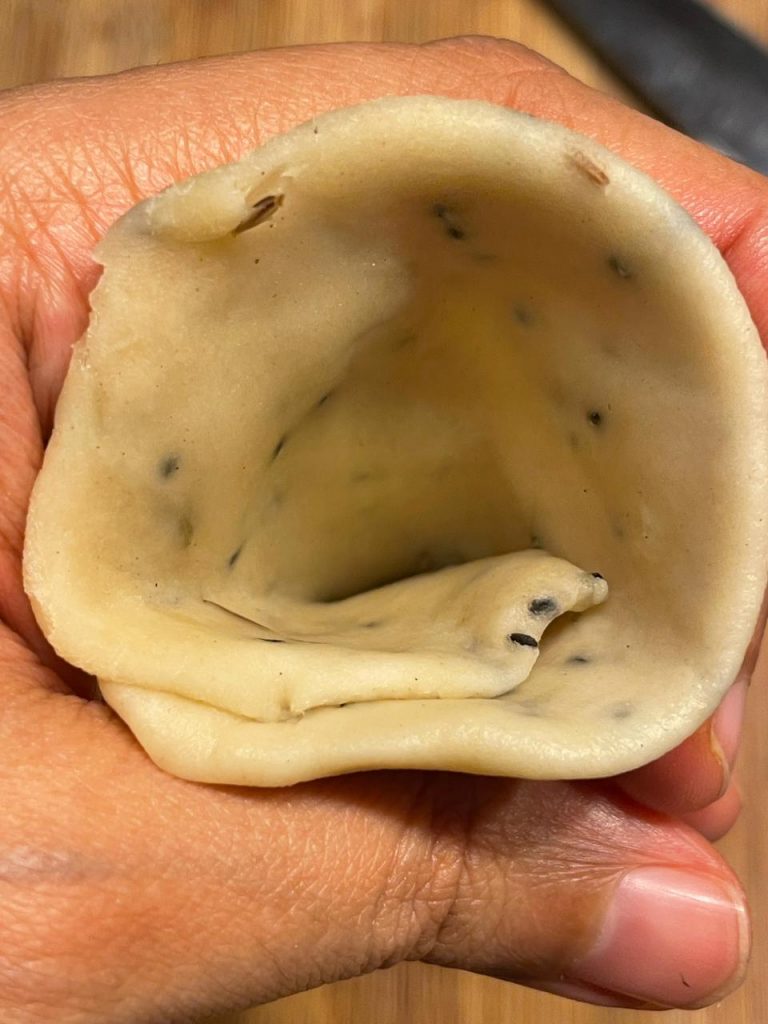 Step Six : Place a tsp filling in the space formed and press the filling in using the back of the spoon or you could use the tip of your fingers
Step Seven : Seal the edges over the top by gently pinching it in.
Step Eight : You could use the fork and press the pattern if you like to make it look more pretty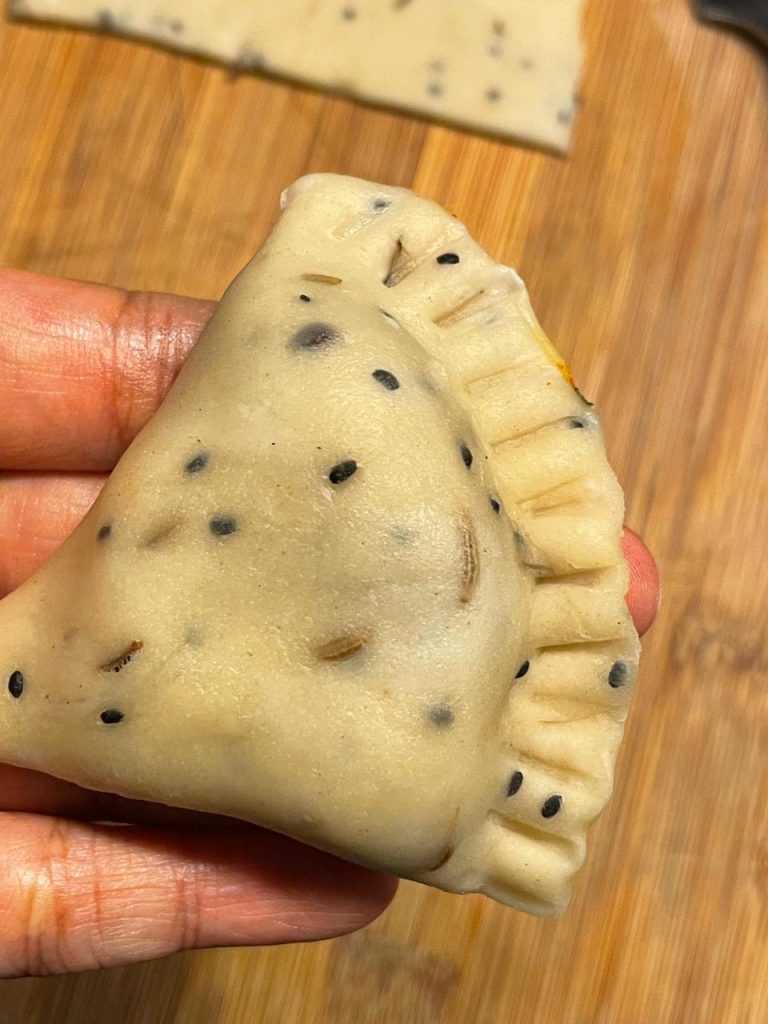 Place them on a lined tray and chill for at least 30 minutes before deepfrying.
This freezes really well too if you want to make them in large batches.
Deep fry in warm oil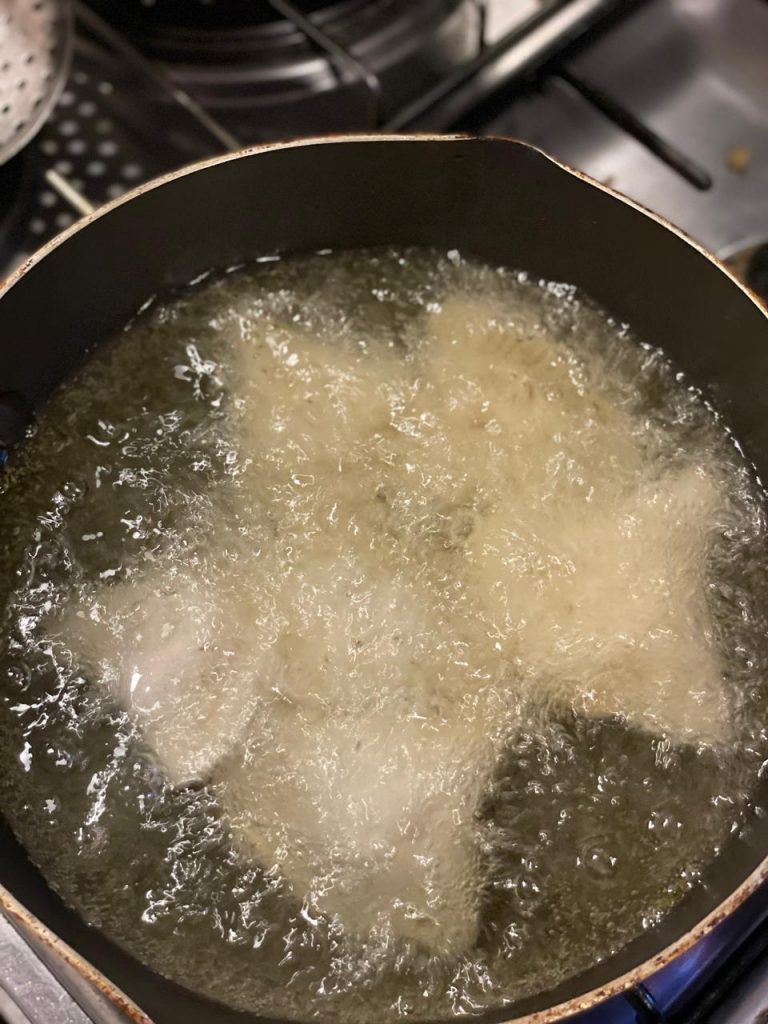 Cook both sides well
Do not attempt to drop into hot oil,this will cause the samosas to cook only on the outside and the insides would still remain raw and that's definitely not gonna be a pleasant experience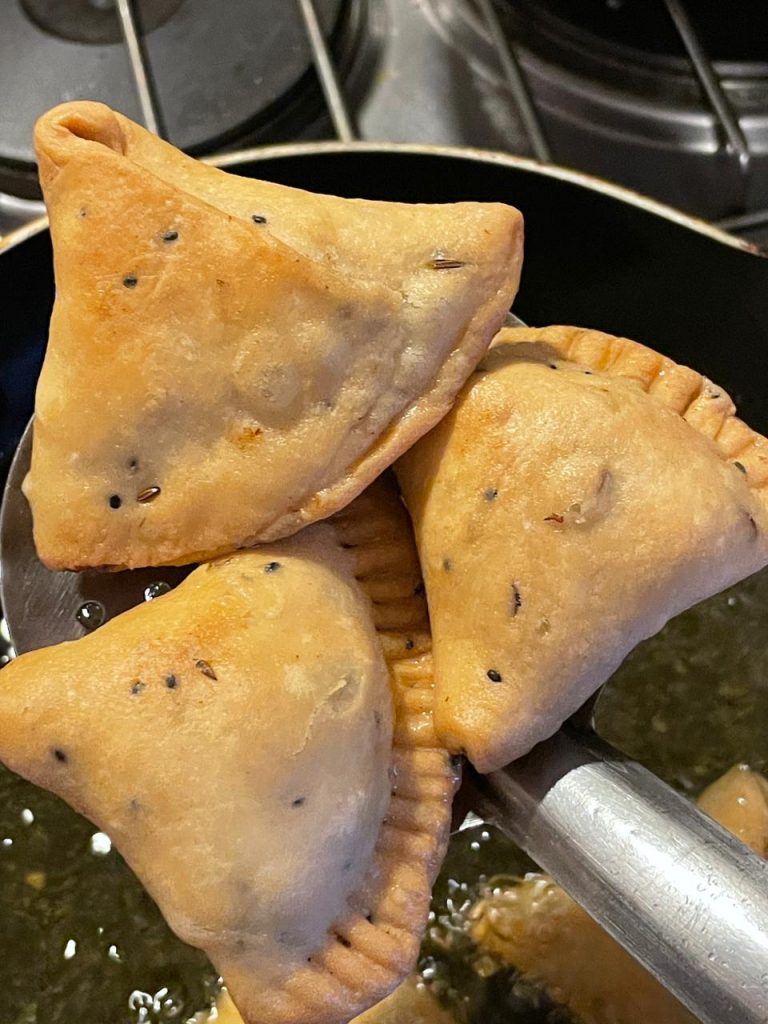 This might take awhile but I promise you,you're gonna enjoy every bite!!!
Drain the fried samosas over a paper towel before transferring to the serving plate
This is ideally served with tamarind chutney or green chutney
Today I served with both and it was such a crowd pleaser
The recipe for the tamarind chutney and green chutney is available in the blog site.Refer to link attached below :
Tamarind Chutney
Green Chutney
Would love to see your remakes on this deliciousness.Be sure to tag me on social media or send me a screenshot if your account is private so I can re share it in my stories.
Stay Safe and Stay Sane
Much Love ❤️ Nuzrath
#srilankanfoodie #mylankanfoodjournal #foodblog #colombofoodbloggers #colombolife #finch #finchsrilanka #finchspices #finchherbsandspices #finchfoods #finchhealthyliving #finchwithme #foodiesofintsagram#onthetable #instadaily #igers #eatpraylove #positivevibesonly