When I Finally Got My Hands On Some Fresh Herbs I Didn't Want To Let It Go To Waste.
Wanted To Makesure I Used Them All So I
Decided To Make Green Chutney
🌿Green Chutney Is A Great Combination Of Fresh Herbs 🌿
It Is One Of The Most Basic Indian Sauces That Accompany Many Snacks & Dishes.It Also Helps In Digestion
The Green Chutney Base Stores Well In An Airtight Jar Refrigerated,For Upto A Week Atleast
You Could Freeze Them In Portions For Longer,This Ones Useful For Marinades.
Let's Make The Base First:
200G Fresh Corriander Leaves
100G Fresh Mint Leaves
Fresh Ginger 1/2 Inch
Garlic Two Cloves(Avoid If You Do Not Like Raw Garlic Flavour)
2-3 Green Chillies For Heat(Optional)
Lime Juice Of One Lime
Salt As Needed
Dried Mango Small Piece
Pinch Of Cumin Pwd
Adding Two Tbsp Roasted Channa Dhal Or Roasted Nut Pwd To This Chutney Helps Bind Everything Together & Avoids Seperation.But It's Completely Optional
Blend Everything Well In A Blended Till You Get A Smooth Paste,Add Water If Needed
The Colour Of The Chutney May Change As It Tends To Oxidize Over Time But There Will Be No Difference In Taste For Sure
And Whenever I Wanted I Would Take A Portion Of This Green Goodness & Adjust With Few Additions To My Preference For That Day
There Are Many Variations For This Versatile Chutney
For Example One Day I Would Add Unsweetened Yogurt Or Curd,Then Another Day I Would Mix With Freshly Grated Coconut,Some Blended Tomatoes & Onions,Fresh Amberella Or Raw Mangoes,Raw Papaya,
Depending On What I'm Really In A Mood For On That Day!!!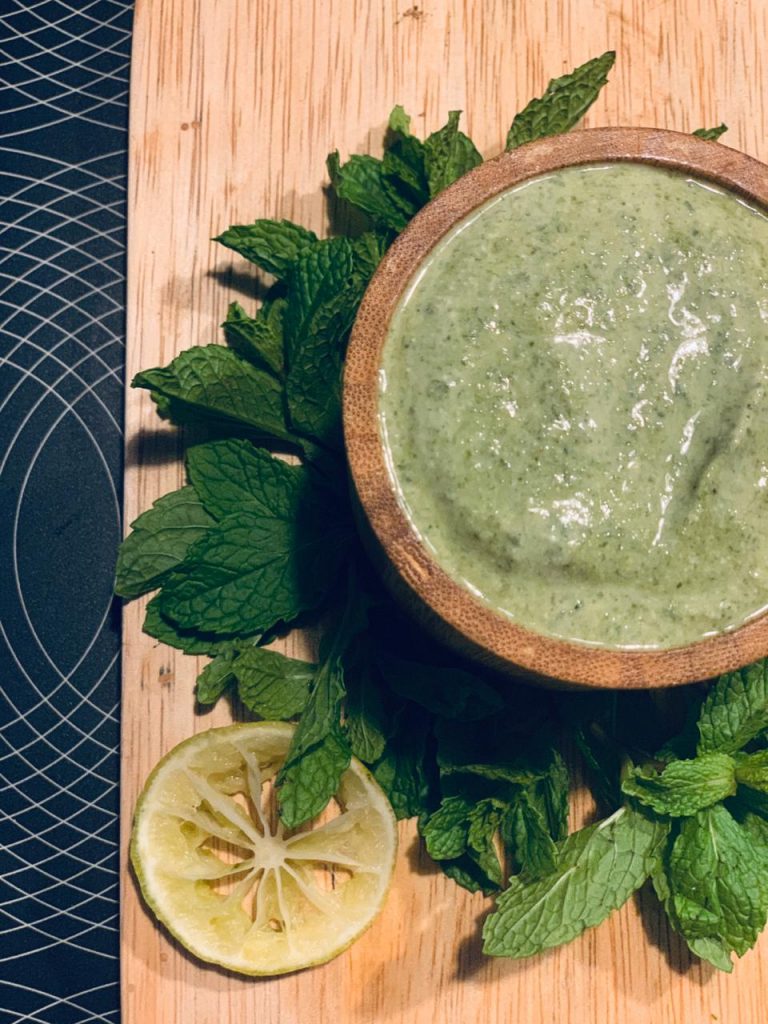 Anyway Hope This Recipe Will Be Useful For You During This Month
Please Do Give It A Try & Lemme Know How You Prefer Yours???
Would Love To See Your Remakes
Stay Safe💕Stay Home💕Stay Sane💕
srilankanfoodie #mylankanfoodjournal #colombofoodbloggers #greenchutney #indiansauce #freshcorrianderleaves #freshmintleaves #homemadewithlove #ramadanseries #ramadanwithme #ramadanvibes #quarantineandchill #socialdistancingcooking #instafood #feedfeed #huffposttaste #onthetable #instadaily #foodphotgraphy #foodstagram #foodphotgraphy #eatpraylove #begrateful #positivevibesonly#alhamdulillaforeverything💕