Braided Nutella Bread
The Perfect Treat For My Babies During This Beautiful Month
I Mean Who Doesn't Love Nutella OverLoad Yummers
I Cheated & Took A ShortCut Today
By Opting For StoreBought Pastry Dough,But You Could Definitely Make The Dough From Scratch.
The Basic Dinner Rolls Recipe On My Blog Would Work Perfectly With This Combination.
??Anyway Let's Get To Making This Beauty??
First Let The Pastry Thaw Out If Frozen,Then Transfer To A Floured Work Surface,& Roll Out Into About 10" Rectangular Shape 1/2 cm Thickness
Leave Some Space On The Edges & Smear The Surface With As Much Or As Less Nutella As You Want!!!Get Creative & Sprinkle Nuts Or More Chocolate Chips Etc
You Could Even Apply Another Kind Of Spread Or Combine Two Kinds,Do According To What's Available
Then Roll It Tightly Away From You like You Would When Making A Swiss Roll
Cut This Loaf in Half Lengthwise,Turn Them Upwards(The Inside Layers Would Be Exposed) & Start Braiding
Place This On A Lined Baking Sheet & Bake In A Pre Heated Oven @180' For Atleast 30 Minutes Or Untill Its Nice & Crisp On The Outside
I Drizzled Some Extra Sauce While Serving & That Bread Didnt Even Last Another Hour Past Iftar ??????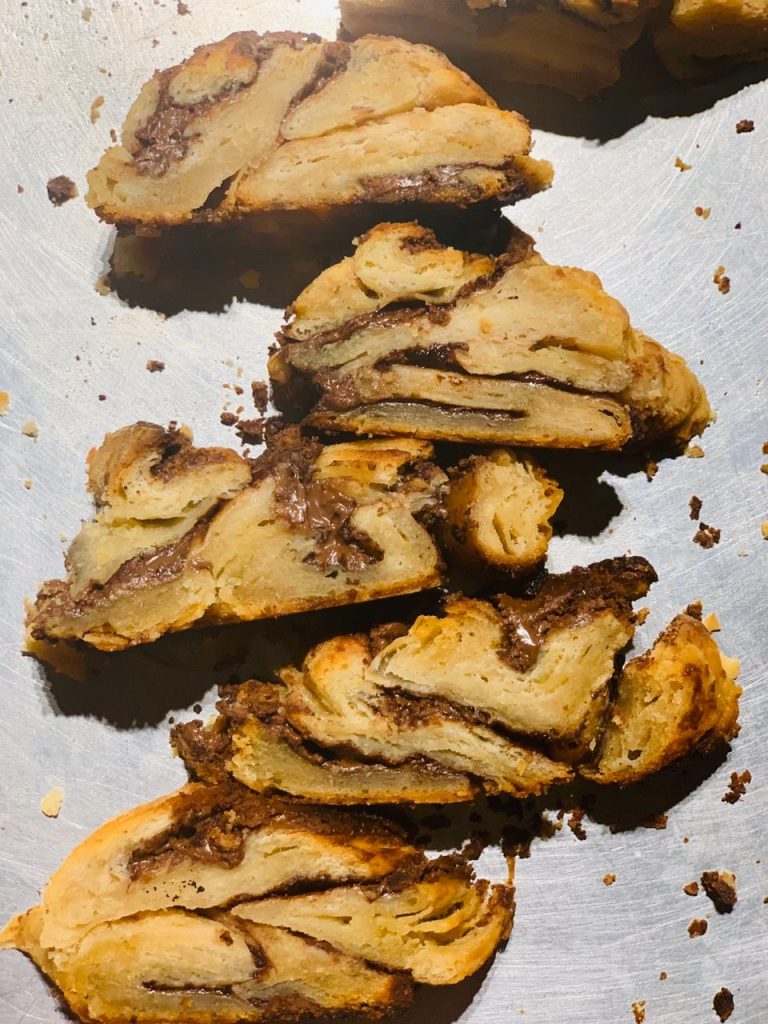 This Is Such A Quick & Easy Recipe To Try!!!
Would Love To See Your Remakes On This
Another Great Variation To Apply On This Is Crushed Leftover Cake.Sometimes When We Have Extra Cake I Crush Them & Freeze Them In Ziplock Bags To Make Cake Pops Or Use As Fillings For Sweet Pastries.You Could Melt In Some Dark Chocolate So The Crumbs Become Pasty & Apply This On The Surface Of The Pastry.Do The Tight Roll & Freeze Till Needed.Then Slice Them Up & Bake.We Make This For Eid & Its A Favourite Amongst Kids. We Call It Danish Pastry ??????
Stay Safe?Stay Home ?Stay Sane?
srilankanfoodie #mylankanfoodjournal #colombofoodbloggers #homemadewithlove #ramadanseries #ramadanwithme #ramadanvibes #quarantineandchill #nutellabread #danishpastry #socialdistancingcooking #instafood #feedfeed #huffposttaste #onthetable #instadaily #foodphotgraphy #foodstagram #foodphotgraphy #eatpraylove #begrateful #positivevibesonly#alhamdulillaforeverything?