MAQLOUBA literally means " Upside Down"
It is a traditional Middle Eastern One Pot Rice dish that consists of meat,rice and fried vegetables cooked in stock and then flipped upside down when served to form an impressive look!!!Hence the name " Maqlouba"
This can be made using any meat but today I have used beef chops because that's one of our favourites….
Check my Recipe on Keema Rice to see how I made a Maqlouba version using minced meat!!!Follow Link attached Below
I also made a similar version earlier with Full Chicken and that Maqlouba attempt was all done by my daughter Juwairiya.Shes 11 years old and she had to present a cooking project for her Girl Guide Challenge.Watch out for the next post!!!
This Dish Was Inspired By Two Amazingly Talented Ladies @cookwithdena & @walla_abueid
They Bring So Much Joy & Tradition Into Food That It Makes You Want To Give It A Try Somehow.Check out their instagram pages for more Middle Eastern inspiration ?
https://instagram.com/walla_abueid?igshid=1d4pc7sxwcbc4
https://instagram.com/cookwithdena?igshid=1gfcz7wt7cqs0
My version is not the most authentic I must say because I have altered it according to our flavours!!!
Let's Get Started
You Will Need
Five Beef Chops
Home Made Stock
1 kg Long Grain Rice
Layer of sautéed onions
Sliced Fresh Tomatoes
Deep fried Potato Slices
Deep Fried Aubergine Slices
Deep Fried Cauliflower Florets
Beef Chops
For this Special Maqlouba I used beef chops.
Marinated them,then pan seared them for the colour before layering them in.Do not discard the drippings, they will add so much flavour into your maqlouba!!!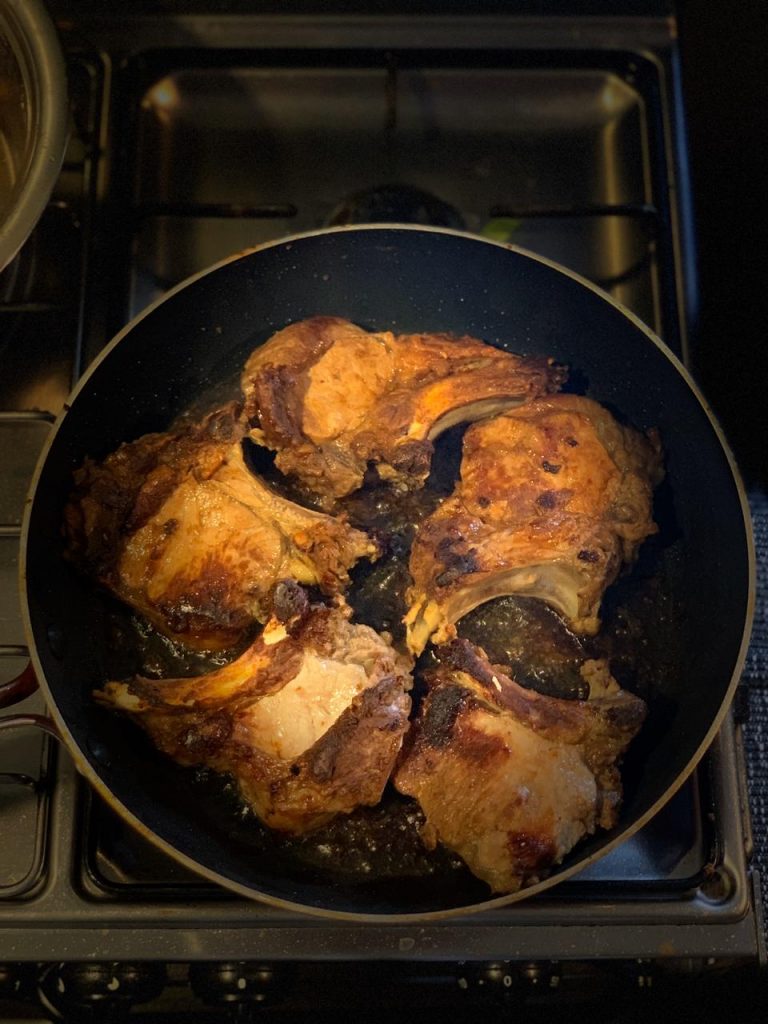 Home Made No Waste Stock
Refer to the following link and you will find the recipe for my version of "no waste stock"
You would also find the recipe for vermicelli and rice.That can be used in this recipe too after being roasted in ghee
Fried Vegetables
Today I used what was available.You could decide less or more of the vegetables you would want to use for this dish!!Go according to your preference…
You could even opt to baking them instead of deepfrying them
Time To Assemble This Beauty!!!
Refer to the image for steps
Step One : Sliced Tomatoes At The Bottom Of A Wide Pan that you will be using to cook the rice in.You could even use the rice cooker for this or even the instant pot.Spread the sautéd onions over this.
Step Two : Place the meat chops & pour the drippings over
Step Three : Deep fried Cauliflower & Carrots
Step Four: DeepFried Potato Slices
Step Five: DeepFried Aubergine Slices
Step Six: Washed Soaked Long Grain Rice
Step Seven : Home Made Stock enough to cook the rice,add hot water if needed
Once the water comes to a boil,reduce heat & cook covered till it's done…
Step Eight : When The Rice Is Done,Time To Flip It!!!!
That's The Tricky Part,Be Extremely Careful Bcz It's Really Hot ?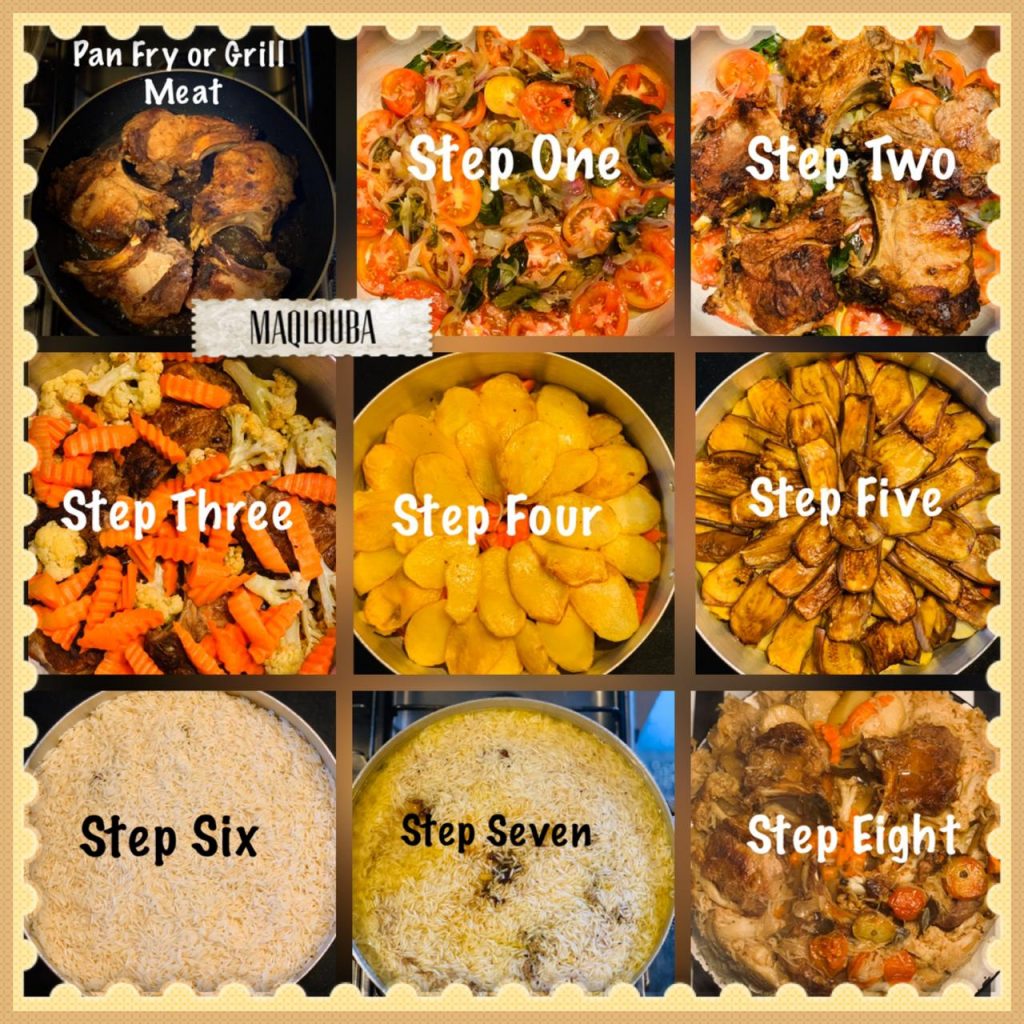 Swipe To Watch Me Do It in my instagram post!!!yay!!!
Garnish With Fresh Corriander Leaves & Fried Onions,Fried Nuts.I Used Pine Nuts & Almond Flakes.
This dish is rich on its own and needs no accompaniments!!!Enjoy Warm..
Would Love To See Your Remakes on this Fabulous Rice Dish!!!
Much Love Nuzrath ?
#srilankanfoodie #mylankanfoodjournal #colombofoodbloggers #homemadewithlove #comfortfood #maqlouba #ramadanseries #ramadan2020 #ramadanwithme #instafood #instadaily #foodphotgraphy #foodstagram #eatpraylove #begrateful #positivevibesonly #alhamdulillahforeverything?