This Chicken Maqlouba was made by Juwairiya.She had to perform a cooking project for the challenge hosted by The Girl Guides Association Srilanka.
She did almost everything on her own.The cutting of the vegetables to frying them, layering and marination of the meat etc….
Watch my instagram highlights to see the videos on her prepping
https://www.instagram.com/s/aGlnaGxpZ2h0OjE3ODU1OTUwNzIwODM0OTc5?igshid=il3amsxb5h9n&story_media_id=2285082955074621992
Maqlouba literally means "Upside Down".It is a delicious Middle Eastern One Pot Rice Dish that consists of meat, rice and fried vegetables layered and cooked in home made stock for more flavour.After cooked this rice is flipped over on the serving dish, hence the name Maqlouba…It is made with different kinds of meat, today Juwairiya decides to use Chicken.
Lets get Started
Ideally the meat is cooked with the rice and veggies but today we baked the chicken and served on top but the rice was cooked in chicken stock.
These are the vegetables we used for today's Maqlouba
Fried Brinjals/Aubergine
Fried Cauliflower Florets
Fried Potato Slices
Sliced Capsicums
Sliced Tomatoes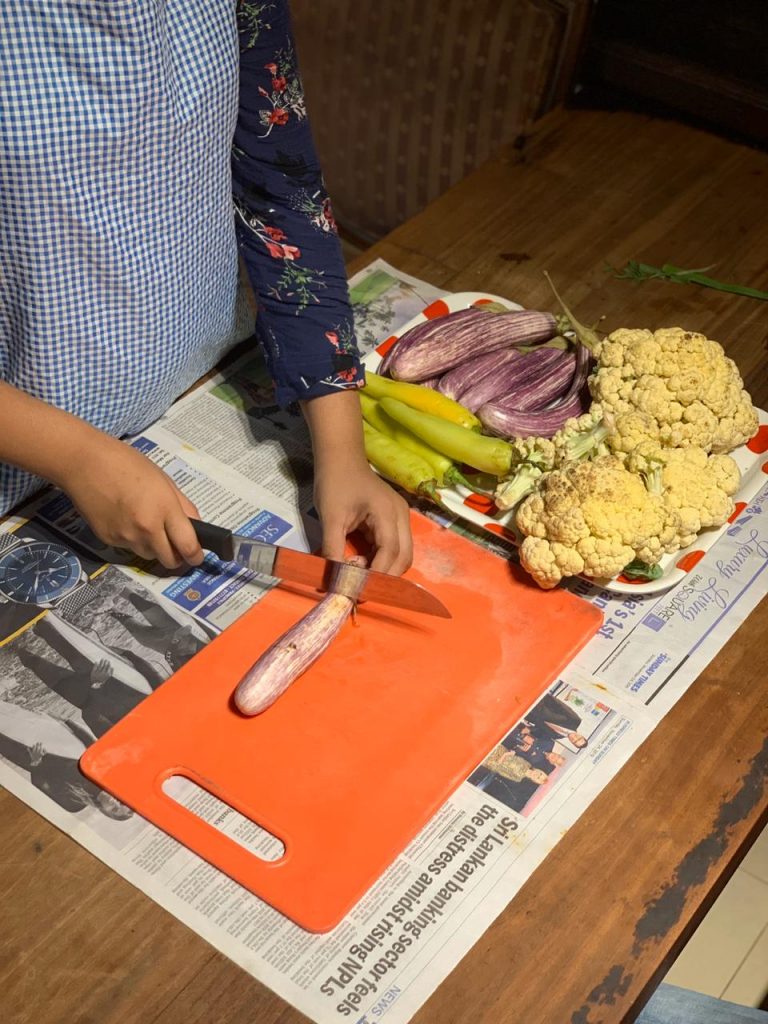 Baked Full Chicken
Marination
A Tbsp salt
1 Tbsp Black Pepper
Tumeric
1 Tbsp Kashmir Chilli Powder
1 Tbsp Chilli Flakes
1 Tbsp Roasted Curry Powder
1 Tbsp Coconut Aminos/Cooking Sauce/Soy Sauce
Melted butter or Olive Oil
1 Tbsp Ginger and Garlic Paste
2 Tbsp Hot Sauce
Tamarind,Lime Juice
1/2 Cup beaten curd
Bake in a preheated oven @180′ for at least 45 minutes or until the full chicken looks beautiful and golden.Remove chicken drippings and make a quick sauce.
Heat some butter/oil and add in the roasted garlic pulp or some finely chopped garlic.Let this get beautiful and golden, then add in the drippings and keep on high.Now add some water or heavy cream to make a nice and flavoured sauce.Add lime juice and if needed.The sauce is ready!!!
Let's Make The Rice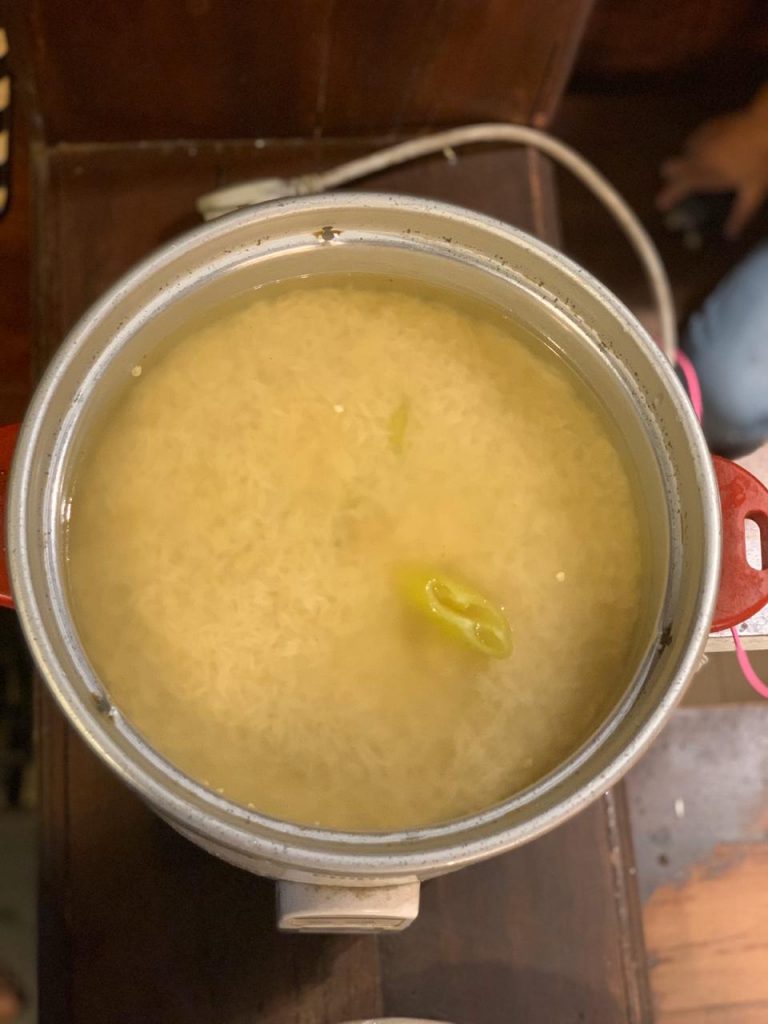 The video of her layering the whole thing is on my instagram page highlights.The link is attached previously.
If you refer to my previous post on the original Maqlouba you can see the steps in detail.Refer to link attached Below…
Layer One : Sliced Tomatoes
Layer Two : Fried Cauliflower Florets and Sliced Capsicums
Layer Three : Deep Fried Potato Slices
Layer Four : Deep Fried Aubergine/Brinjal Slices
Layer Five : Washed and Soaked Long Grain Rice
Layer Six : Stock enough to cook the rice.Add boiling water if needed.
DONE!!!!
Time To Flip The Rice
Then Place the Baked Chicken on Top and Pour the Sauce over this!!!Yummm
CHICKEN MAQLOUBA MADE BY JUWAIRIYA!!!!
COOKING CHALLENGE COMPLETED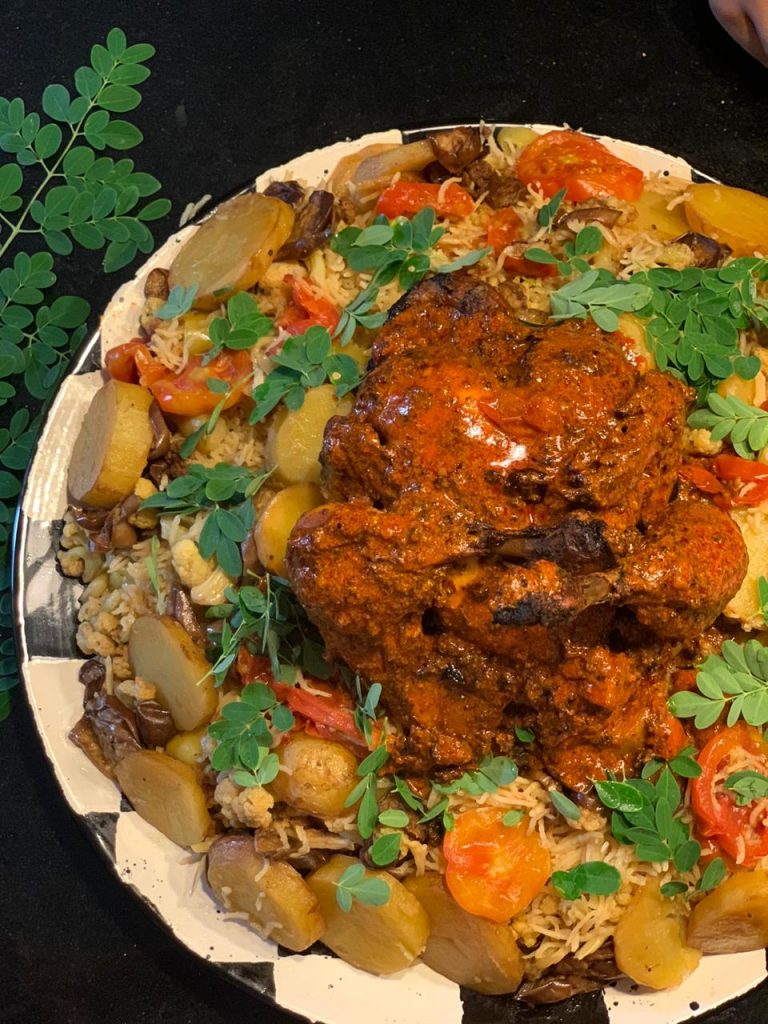 DOESN'T THIS LOOK DELICIOUS?
Would love to see your remakes on this!!!
Much Love Nuzrath 💕