This is a delicious biryani made with fresh Seafood that I purchased from The Middle Cut Company!!They make no compromises when it comes to the quality…Not Frozen Only Fresh!!! Check Out their page on instagram and Facebook for more details…The link is attached below :
Let's Get Started On The Recipe
I was inspired to make this Fish Biryani when I saw it on Sister Shalimas Page.She made it using fresh Salmon, unfortunately in Srilanka we don't have access to fresh Pink Salmon yet…We find the frozen one but we are not big fans of frozen fish!!!That's why we choose The Middle Cut Company…..They only serve the Fresh Kind!!!
Check out Sister Shalimas Instagram page to find many more Bangladeshi Recipes!!!Love everything on her page!!!
https://instagram.com/shalimaskitchen?igshid=1pxk1fpkncms4
What You Need :
Fresh Seer Fish Slices 1 kg marinated in salt, pepper,kashmir chilli pwd and lime juice.
Mixed Fried Vegetables
500g Potato Cubes
500g Carrot Cubes
Fried Aubergine slices/Brinjals
Moringa leaves (optional)
Other things you need :
Cooked Rice for Layering
Gravy For Layering
Fresh Onion Rings and Lime Slices for Garnish
Fish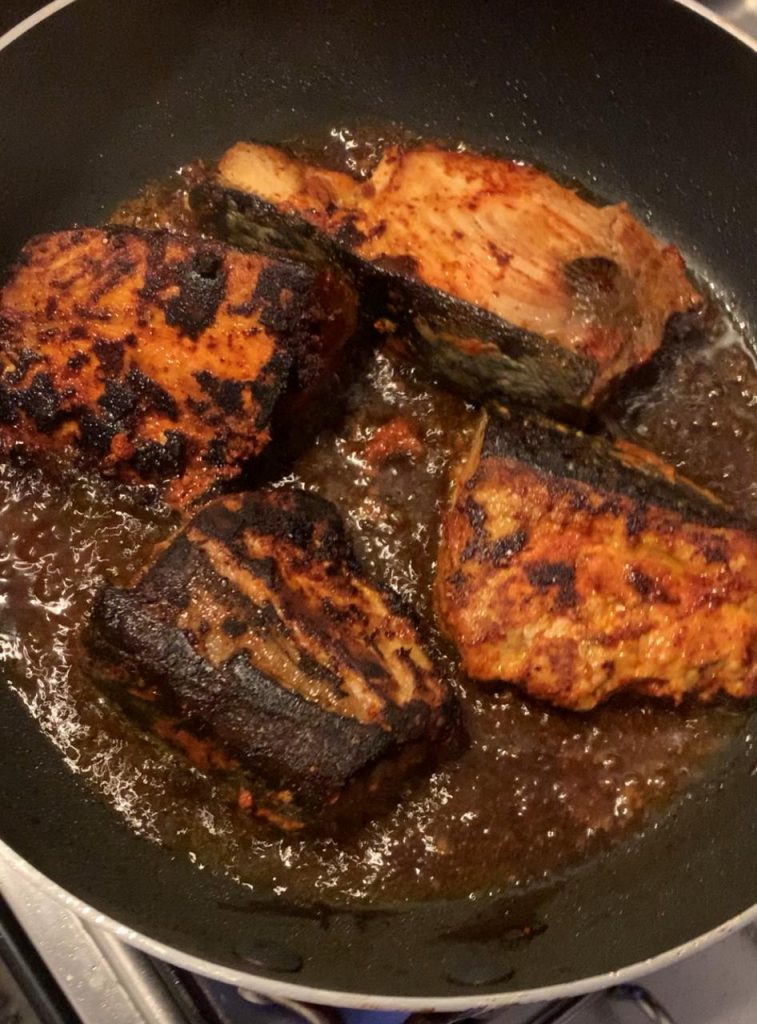 Heat oil in a pan and pan fry both sides of the marinated fish on medium high.Fish cooks quite fast….Do not over crowd the pan, this will not give the beautiful crisp colour on the outside.It will steam the fish instead.You could also bake or grill the fish on both sides.Whatever suits your way,Go ahead!
DO NOT DISCARD THAT FLAVOURED OIL!!!
Use it to Stirfry the potatoes and carrots
Mixed Fried Vegetable Layer
That flavoured oil helps season the potatoes well
After the potatoes are done, add in the carrots ???
Add in the Fried Brinjals and mix well…
I didn't have other fresh leaves so I added moringa leaves from the garden
Mixed Fried Vegetable Layer is ready!!!
Rice
You can use any kind of rice you prefer, but for this recipe I cooked Coconut Rice, because that's how we like our special weekend rice dishes!!!
Check the link attached below to see how I made my simple coconut rice!!!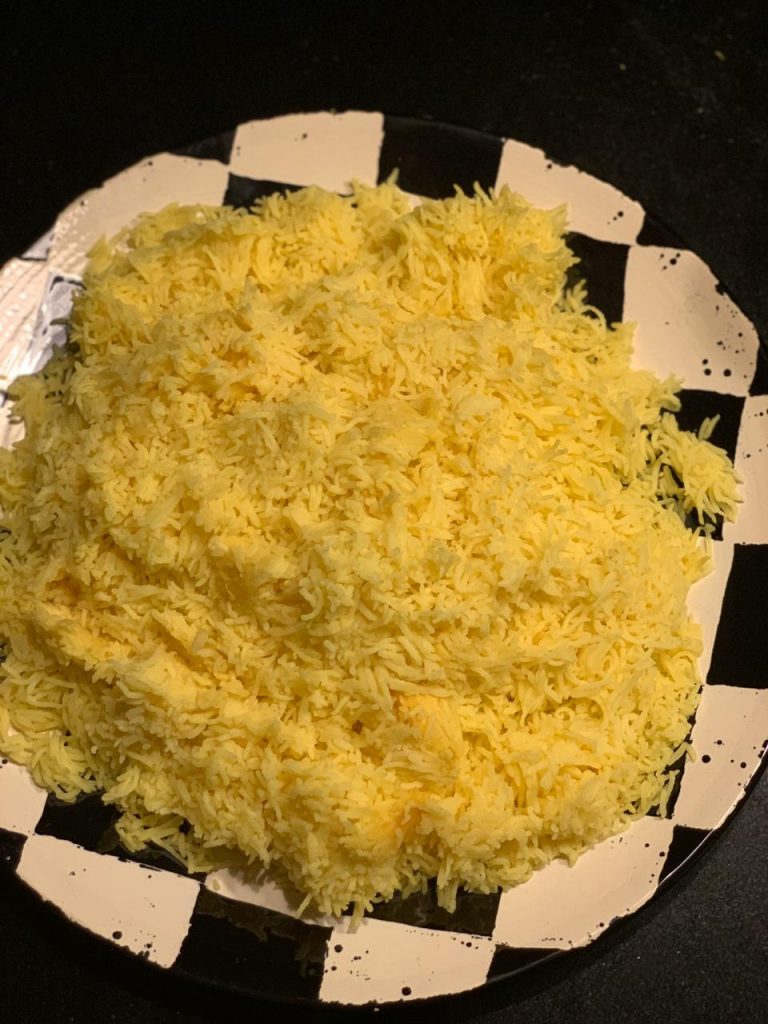 You could also use Long Grain Rice for this Dish…
Fish Gravy
This simple gravy can be made using basic ingredients
One Sliced B onion
Curry leaves, Pandan Leaves
Cardomom
Cinnamon
Ginger and Garlic Finely Chopped
A tbsp Kashmir chilli powder
turmeric
A tbsp Black pepper powder
A tbsp Jaffna Curry powder
A tbsp Chilli Flakes
3 finely chopped tomatoes or blended
Tamarind,Lime Juice
2 Fresh green chillies for heat
3 Fresh Capsicums sliced
One cup coconut milk
Fresh Mint and Coriander Leaves
Fried Onions
Heat oil in a pan,add in sliced onions,let this get nice and golden.Add in curry leaves and whole spices.Then add in ginger and garlic, let this brown up slightly on medium low.Next add in spice powders and let this fry for few minutes before adding in crushed tomatoes.You could add few prawns for a seafood flavour, but this step is completely optional. Add the rest of the ingredients and let this come to a simmer according to the thickness you preferFinally sprinkle some fresh greens and fried onions.Check for salt and spice and adjust accordingly.
The gravy is ready!!!
Let's Assemble This Dish!!!
Layer One : Coconut Rice
Layer Two : Gravy
Layer Three : Mixed Fried Vegetables
Layer Four : Grilled Fish and more gravy.
Last Layer : Garnish with Fresh Onion Rings,Fresh greens and lime wedges
Watch my instagram post for the video on how I assembled this delicious Dish!!
Refer to Link Attached Below :
Would love to see your remakes on this delicious Fish Biryani!!!
Much Love Nuzrath ?