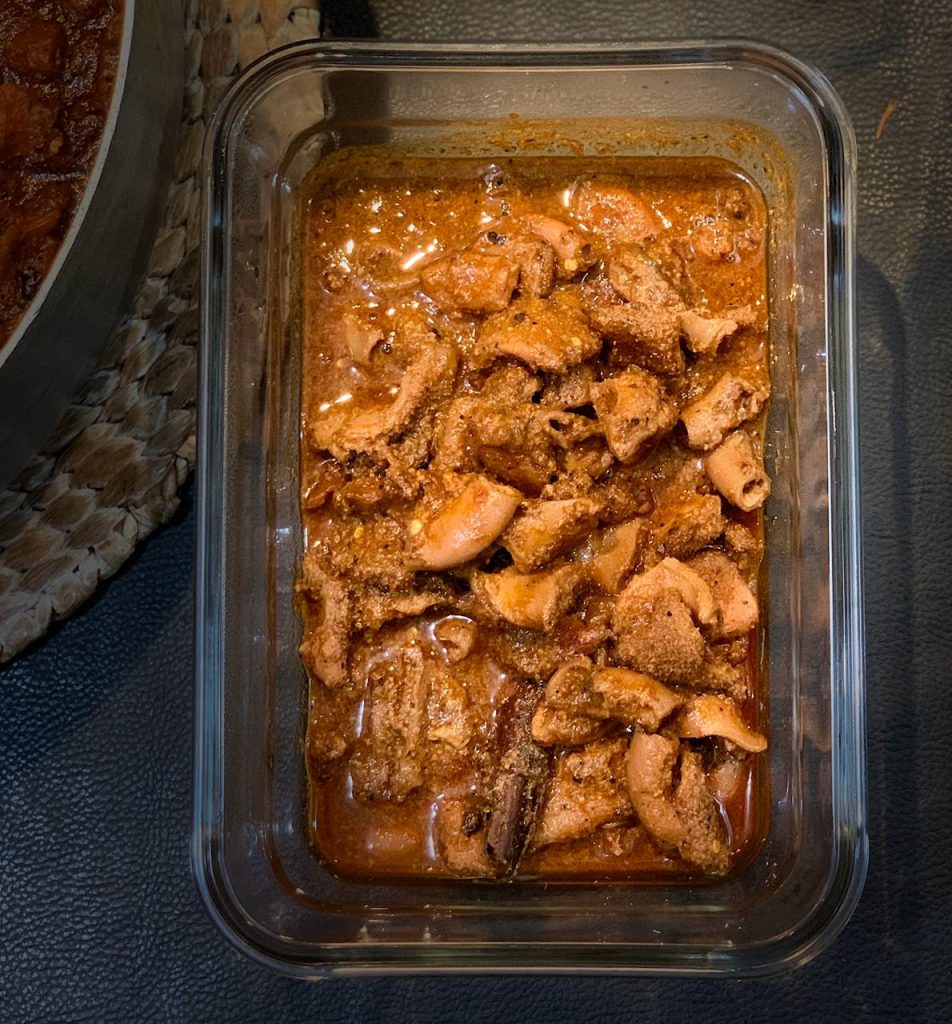 Tripe refers to the stomach of the cow and it's also called Baabath in Srilanka!!Kodal Baabath is directly translated to intestines and stomach in Tamil.It is a popular dish in the Malay streets!!Tripe is commonly found in many cuisines around the world, only those with a certain palette can tolerate this though!!! Pasthol is also made using these parts of the cow.
Refer to my recipe for Pasthol in another post :
Its Yay or Nay!!!
So if you guys are not fans please look away…
Let's Get Started
The Tripe Curry
Ingredients :
Tripe and intestines mixed 1kg
B Onion Sliced
Green Chillies for heat
Curry leaves, Pandan Leaves,lemon grass
Whole spices,cardamom,cinnamon,fenugreek,cumin seeds
Blended Fresh Coconut Paste
1 cup coconut milk
1 tbsp cashew powder(optional)
Three chopped or blended tomatoes
Tamarind pulp
Lime Juice
1 Tsp Kashmir Chilli Pwd
1 Tsp Chilli Flakes
1/2 Tsp Tumeric
1 Tsp Black Pepper Pwd
2 Tsp Jaffna Curry Pwd
1 Tsp Corriander Pwd
Salt
Fresh coriander leaves
Fried Onions
1kg Tripe Boiled Ahead & Cut Into Preferred Size.
Boil Wit salt pepper chilli flakes and goraka(garcinia)
Discard the water
In a Pan Heat 1/2 Cup Oil & Sauté The Meat,Keep Stirring Occasionally.
Remove this and set aside.
Follow Image for Steps
Step One : In The same pan,sauté B onions till nice & golden.Then add chopped greenchillies & whole spices.When this gets nice & fragrant,then add In spice powders.
Add crushed tomatoes ??? & mix well
If you have fresh spices you could dry roast & blend them fresh
that would b the best but I don't knw how convenient it will be for u
I would usually mix the spices together with tamarind pulp,& lime Juice to make a paste before adding them in.
Step Two : Add in fresh coconut paste & mix.
Step Three : Add tamarind and some water to prevent from burning & keep on low & cook covered for at least five minutes.You could also add sliced capsicums or even few potatoes if you prefer at this point.
Step Four : Then add in the stir fried tripe & mix well.Since it is already cooked till tender theres no need to keep for too long but to get a thicker gravy you must keep on low fire for a few extra minutes.
add in one cup coconut milk & cashew pwd. check for salt & adjust accordingly.
(Optional)Add beaten curd or cream if you want a lighter gravy.
Step Five : When the thickness of the curry has reached to the consistency you prefer & drizzle lime juice.
Switch Off Fire & Let It Settle For Atleast Five Minutes
Remember The Curry Thickens A Little Bit Even After The Fire Is Off.
Finally Sprinkle Fresh Corriander Leaves & Fried Onions On Top
This Curry is ideally paired with SriLankan Mani Pittu and Spicy Katta Sambol!!! The mani pittu is also drizzled with some thick coconut milk…Yummmm Leftovers are so delicious with some roast paan and pol sambol too….
How do you like to enjoy your baabath curry???
Would love to see your remakes on this Unique Dish!!!
There's many more unique dishes that are not everyone's cup of tea!!!Like the image below : Cow Brain And Liver….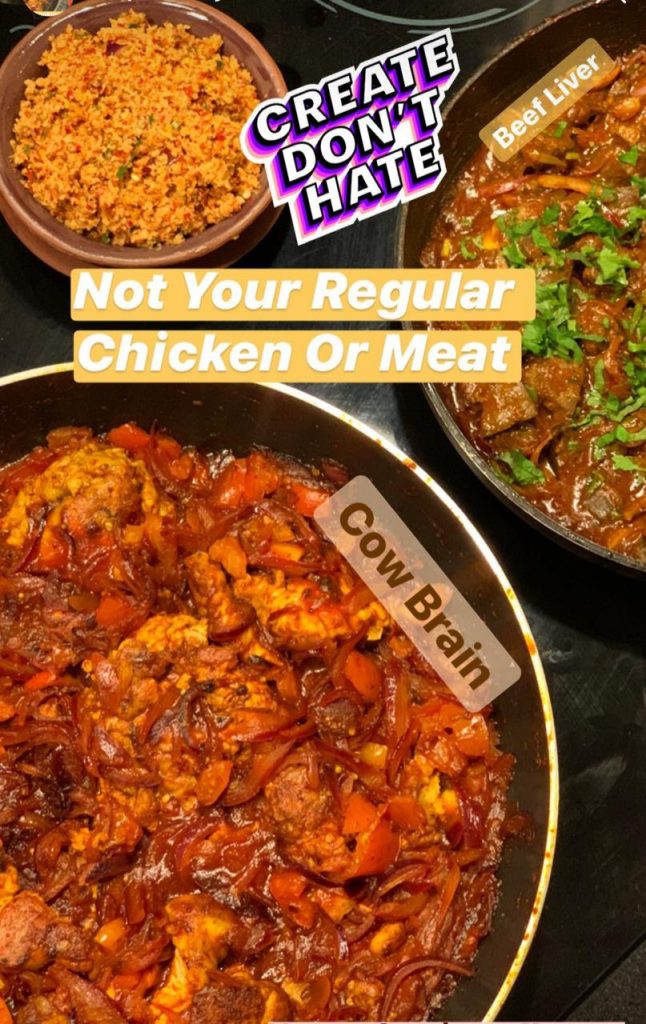 Everyday is a learning Journey for me!!!I love experiencing new flavours!!
Keep Checking For More Of My Recipes that come from my heart to yours!!
Much Love Nuzrath ?