This Keema Rice is a delicious One Pot Dish made up of spiced minced meat and long grain basmati rice that is cooked in home made stock.
My Version consists of a few layers inspired by the Arabic Dish " Maqlouba"
"MAQLOUBA" literally means upside down rice.This rice dish is cooked to perfection and then flipped before serving.There are many versions I have previously tried.Recipes will be posted soon.
Keep scrolling to see how I make my "Keema Rice"
Let's Get Started
You Will Need
Keema Filling
Home Made Stock
Long Grain Rice and Vermicelli
Sliced Tomatoes
Deep Fried Potato Slices
Deep Fried Aubergines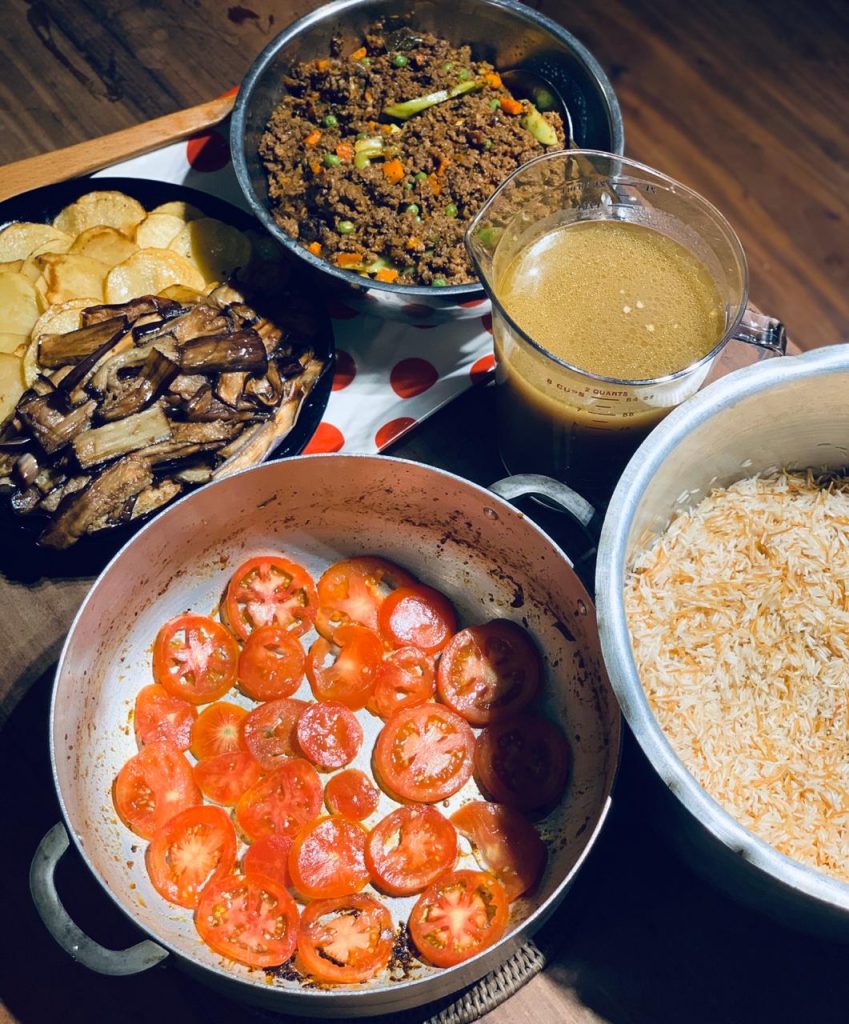 Keema Filling
Ingredients
Minced Meat 1 kg marinated with spices : salt, pepper,kahmir chilli powder, home made roasted curry powder(refer image for more details), turmeric,
Ghee and Oil
2 Sliced B Onions
Curry Leaves
Ginger and Garlic Paste
4 Fresh Tomatoes finely chopped or blended
Tamarind
Lime Juice of one large lime
Coconut Aminos
Sliced green chillies
3 Capsicums sliced
Fried Onions
Fresh Coriander and Mint Leaves
Follow Image For Steps On How To Make The Keema
Step One : Heat some ghee and oil in a pan.Let the onions get nice and golden.curry leaves
Step Two : Add in ginger and garlic paste.
Step Three : Add chopped tomatoes
Step Four : Add tamarind, lime juice, coconut aminos and mix well.
Step Five : Add a splash of water if you feel its getting too dry but not too much because when you add in the minced meat, it sweats out a lot of liquid flavours.If you're adding veges add them at this point.I added some carrot cubes, and peas.You could add potatoes, corn,etc
Step Six : Add in sliced green chillies for heat.Avoid if you don't like it too spicy.
Step Seven : Mix all the spices with the minced meat.
Step Eight : Add in minced meat and mix well.Keep breaking it using the back of the spoon to avoid clumping.
Step Nine : Add in sliced capsicums.Finally add Fresh coriander and mint leaves, fried onions.Check for salt and spices.Adjust accordingly.Keema is ready!!!!
This can be had on its own with some rotti!!! Today we used it for a Rice Dish!!
Rice And Vermicelli
For One kg Meat I use 1 kg Long Grain Rice and 1/2 cup vermicelli
In my previous post I have shown how to cook rice and vermicelli but today we are cooking the rice and vermicelli with these layers.So we will sauté them in ghee and oil and set aside for the layering.Refer to previous post to see more details…
No Waste Stock
Other ingredients are vegetables of choice
Sliced Fresh Tomatoes
Deep Fried Potato Slices
Deep Fried Aubergine Slices
Deep Fried Cauliflower Florets
Fried Onions,Fresh Coriander and Mint Leaves,Roasted Nuts,Sultanas For Garnish
Time To Assemble The Rice Dish
Follow The Image below For Step By Step Reference
Step One : Use the pan that you're gonna cook the rice in.Works well in my instant pot as well.Layer with sliced tomatoes
Step Two : Fried Aubergines
Step Three : Sliced deep-fried Potatoes
Step Four : Keema Filling.Fresh coriander and mint leaves, fried onions and roasted nuts or sultanas
Step Five : Rice and Vermicelli that was roasted in ghee
Step Six : Pour Stock enough to cook this rice.Add water if not enough stock.
Step Seven : Let it come to a boil, then reduce heat to medium low, cover and cook till the rice is done.(20-30 minutes)
Final Step : Once rice is cooked let it sit covered for about 10 minutes.This helps to fluff it up abit!!!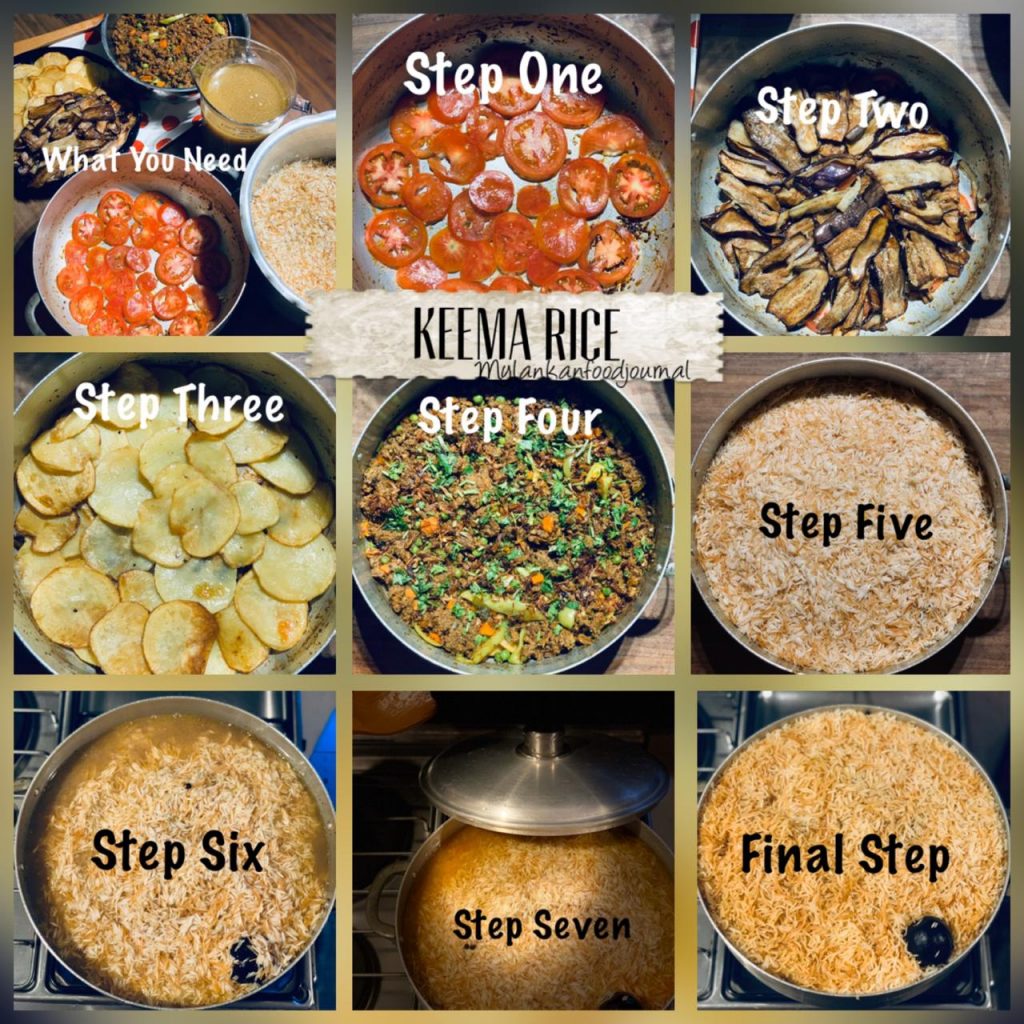 Time to flip and Serve!!!
Serve Warm with freshly sliced tomatoes 🍅🍅🍅🍅🍅
Garnish with fresh coriander and mint leaves, roasted nuts and fried onions
This is a delicious meal by itself..Amazing flavours and textures all in one!!
Watch out for the next few recipes of my different versions of the Maqlouba Dish
Check my instagram post for videos on this keema rice
Would love to see your remakes on this
Much Love Nuzrath 💕