Lentil Milk Rice or Dhal Kiribath is quite popular amongst the locals from the south of my beautiful island
We spent a weekend in the same area and what better time to post my version of this recipe on the blog, while I wanted to re live the memories as a child coming to this place in search of seashells and long walks with my father
I tried this for the first time at my big sister's house(Zahara) and she was the first one to be married off in the entire family.Since then it's become a favorite to make along with the regular kiribath during The New Year Traditions
Ideally served with Gravy or Acharu but today I've served with Egg Bhuna and Katta Sambol and the kids couldn't get enough of it !!! Such a crowd pleaser because of the additional tempering of the garlic and onions
The recipe for Egg Bhuna and Katta Sambol is available on the blog site.Refer to link attached below :
Egg Bhuna
Katta Sambol
Let's Get Started
I used White Basmathi Rice but you could use any kind of rice that you prefer.Raw Rice etc
The lentil I used today was Mysore Dhal,you could use green gram, channa dhal etc.
Like I always say : Do what you and your family prefers and adjust accordingly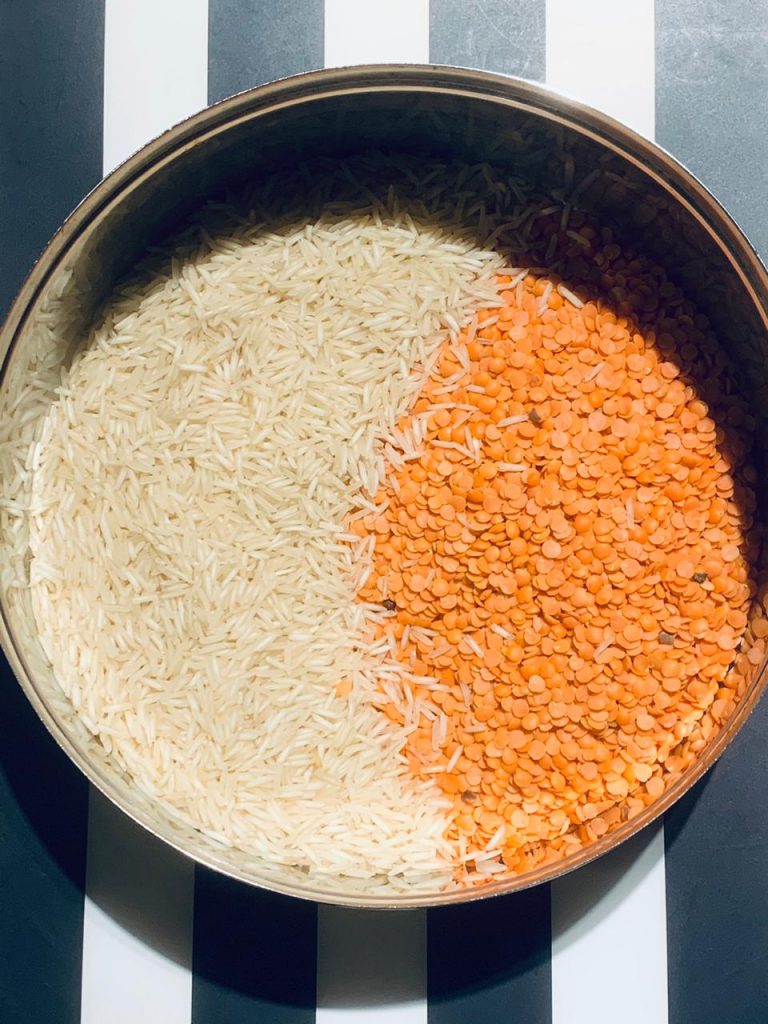 You Will Need
One Cup Long Grain Rice
One Cup Mysore Dhal
Four cups thin milk or coconut water
salt to taste
Two cups Thick Coconut Milk
2″ Pandan Leaves
Few CurryLeaves
2 Small Red Onions
2 Whole cloves of garlic
For tempering : 3 tbsp Butter/Ghee, 5 red onions sliced/1 B onion sliced and 2 tbsp of chopped garlic, curry leaves
Step One : Wash and clean the rice and dhal thoroughly.
Step Two : Cook the rice and dhal together with coconut water, pinch of salt, whole garlic, whole small red onions,pandan leaves and curry leaves
You could also add in a few peppercorns if you prefer
Step Three : Let this come to a boil,then reduce heat and simmer till its almost dry
Mix more salt into the thick coconut milk and set aside
Step Four : Add in thick coconut milk, cover and keep on low till it simmers down to the consistency you prefer.(5 minutes)
Some prefer a little watery while some enjoy it sliced up in firm blocks
Remember it thickens as it cools so switch off flame at least 5 minutes before reaching the preferred consistency
Step Five : In another pan heat the ghee and start the tempering.I started with the onions browning, then added in the rest of the ingredients
Step Six : Pour this aromatic tarka into the cooked milk rice mixture.
Image does not show curry leaves, dried red chilies.Feel free to add anything extra to make it more flavourful.
You could also add minced meat if you prefer it to be one complete meal
Step Seven : Transfer this onto your serving plate and flatten it out smoothly using a spatula.
You could also transfer to a lined baking tray like I did and cut it out into squares or diamond shaped blocks.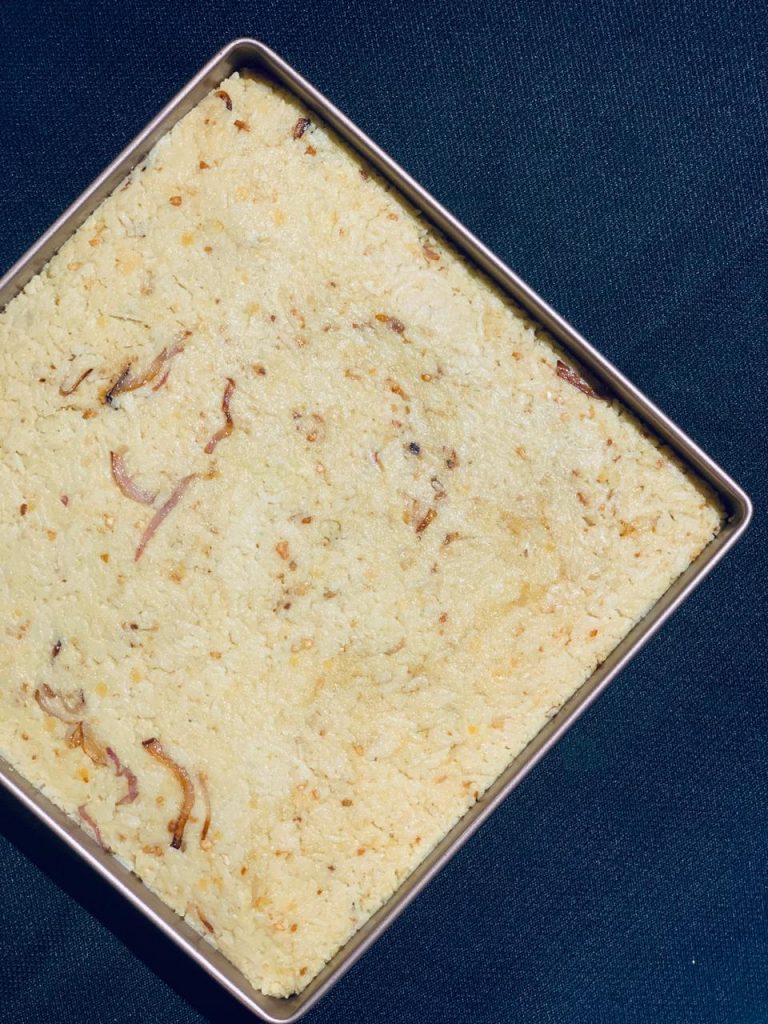 Serve it with preferred choice of condiments.Refer to image below and see how I served it in two ways
Egg Bhuna and Katta Sambol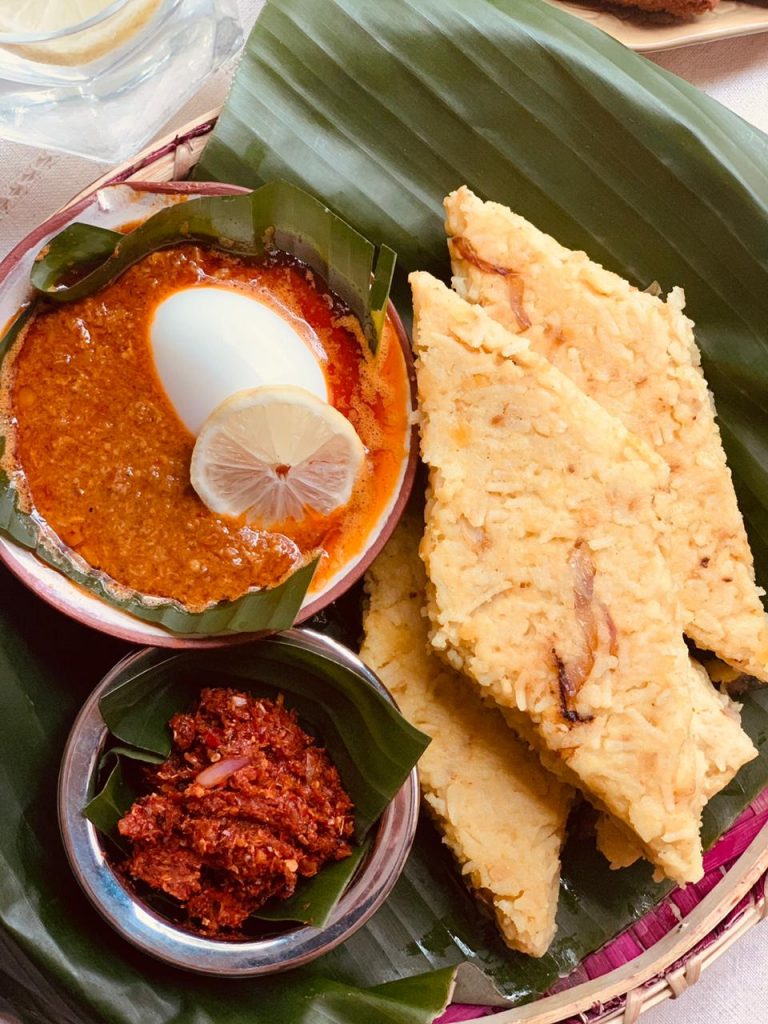 A platter of two kinds of milk rice with some Srilankan Garlic Prawns from The Middle Cut Company : Plain Milk Rice and Lentil Milk Rice along with all the other sweet meats on the first day of 2021
The recipe for regular Milk Rice or Kiribath is up on the blog site too.Refer to link attached below
Hope everyone's enjoying a pleasant weekend
Getting our laptop restored with no lost data made everything better for us this week???
It's been like a baby to us because that's where all my recipe sharing started and I couldn't publish anything without having access to the page…Alhamdulilla
Stay safe and Be Responsible
Much Love ? Nuzrath
srilankanfoodie #mylankanfoodjournal #foodblog #colombofoodbloggers #colombolife #foodiesofintsagram#onthetable #instadaily #igers #eatpraylove #positivevibesonly#alhamdulillaforeverything?