"Egg Bhuna" is a yummy thick gravy-sih dish which is incredibly easy to make & can be paired with almost anything,rice,rotti,bread.
We enjoyed this dish with an amazing home made bread no yeast no knead recipe which I will sharing in another post.
So beginners,here's your chance,take notes📝 watch my saved highlights for details etc
Ideal comfort food that gives you a reason to eat eggs more often
Definitely another smart way of starting your morning.so simple yet so fulfilling & satisfying Alhamdulilla
I saw this once on Beautiful sister Shalimas Page,& have seen my Indian friends make this often,Always wanted to try,never really got a chance to write down a proper recipe though,but last night when I saw it on stories,It just made me crave for it!!!
Check out her page for more wonderful Bangladeshi recipes
https://instagram.com/shalimaskitchen?igshid=1pxk1fpkncms4
I Did Use The Black Garlic Just Like Sister Shalima Did Bcz It Just Takes The Flavours To Another Level 👌🏻👌🏻👌🏻
She's the first person to introduce me to the black garlic and she was so kind she gifted me one whole pack from the Original Black Garlic Company in the UK.
Check their page out if you're living in the UK
https://instagram.com/originalblackgarlicuk?igshid=ooayrmzkstzu
For the first time in Srilanka the Black Garlic is available.
Below is the link to their page
https://instagram.com/ceylon.blackgarlic?igshid=14blxbi5nbzcq
Black garlic is a type of fermented or aged garlic that has many health benefits including its strong antioxidant nature to its potential role in cancer treatment.
Getting back to the recipe:
start by boiling the eggs, cleaning them & setting them aside while you make the masala to soak them babies in…
Sauté finely chopped onions & both garlic, curry leaves in coconut oil & let this get nice & golden. then add in the spices(kashmir chilli pwd, chilli flakes, tumeric, Jaffna curry pwd, salt)Maldive fish flakes(optional)
finely chopped tomatoes & green chillies if you prefer heat. If you don't have kashmir chilli pwd or Jaffna curry pwd pls use regular spices or whatever is available in your shelf, just make it personal & it surely tastes better.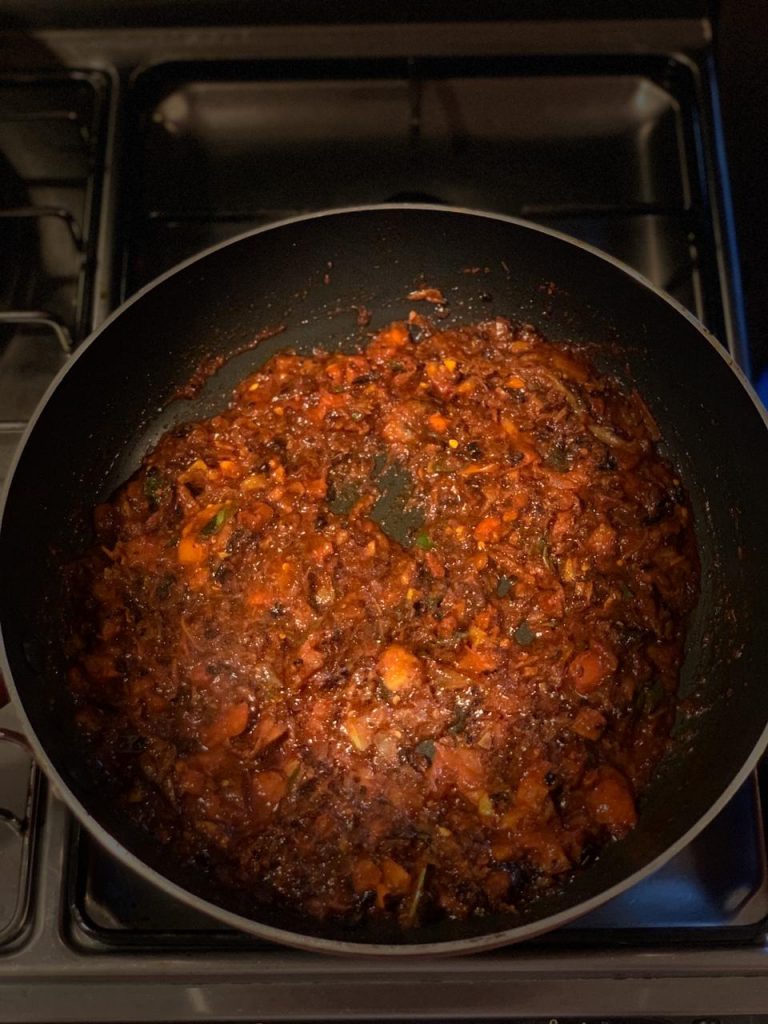 Then mix well & add a splash of water to avoid burning, you could also add in lime juice or tamarind pulp. while adding in tomatoes, kinda mash this up so the flavours get soaked in thoroughly.
You could also blend this for smoother texture but my fam prefers it chunky so that's what we do!!!
Next add in some beaten curd & thick coconut milk just to gravy this masala up abit because like i said this is how my fam likes It : gravy babies!!!!
I had curd today, if I didn't I would'v just used coconut milk only or even just water, whatever is available cz you can't really expect much these days…aren't we all trying to barely survive but always grateful for what we have right now alhamdulilla.
Time to drop the boiled egg-beauties into this delicious gravy yumm!!!
Let this simmer according to your level of gravyish consistency. And your dish is ready to be enjoyed!!!!
fresh corriander leaves on top would be 👌🏻👌🏻👌🏻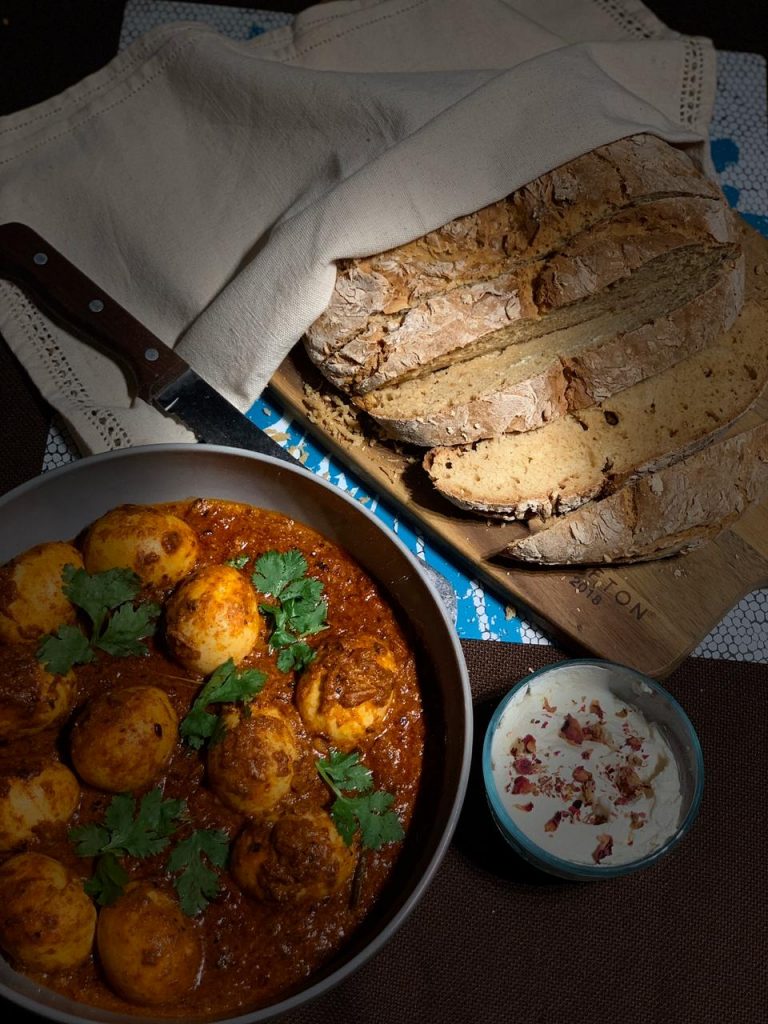 We enjoyed this warm with home made no yeast no knead bread. Recipe was shared by the most talented Sav Perera.Another one of my favourite recipe creators!!!Love love her work…If you're ever living in Adelaide you should definitely try out her delicious food…
https://instagram.com/savisquishles?igshid=1m005ifo1qik5
I will share my version of the recipe because I tweaked the original one a little bit.Still I believe the credit should go to her, she was kind enough to share it with me in the first place!!!!
Would love to see your remakes
Much Love Nuzrath 💕