There are some days when you just don't feel like eating meat or poultry.There are also days when you're out of stock or have been delaying to buy meats and poultry because you just want to make sure you have made use of all the leftovers….Specially during trying times like the past few months where the entire globe was affected…That's when your real creativity is manifested!!!A whole Pantry Raid Situation!!!Or What I would call "Smart Cooking"
That's when dishes like this becomes useful!!!
This is my contribution to the #fridgeraid challenge hosted by Hafsa Nazar.Check her page out on instagram
https://instagram.com/my_baking_journal?igshid=1gsp4d5qq4cu9
This dish reminds me so much of my mother because she used to make this often, over the weekends, specially when we had unexpected guests for breakfast which used to happen quite often…lol!!! This dish comes together so quickly with minimal ingredients and at the same time looks a tad bit more fancier than the regular kiri hodhi!!
The base of this dish is a regular kiri hodhi but when the steamed egg custard is added in and serve together it becomes one complete dish!!
Kiri Hodhi is a staple mild yellow gravy that is eaten with almost every Srilankan Breakfast Main dish whether it be string hoppers,pittu,bread or even rice!!! Most kids love this plain as this has a rich and creamy taste due to the coconut milk.But while maintaining the gravy texture with no spice.This simple yellow gravy compliments and balances any other spicy gravy so well!!!For sure give it a go at least once!!!We also drop in hard boiled eggs or boiled potatoes as a variation…Even fresh shrimps makes a delicious addition!!
Let's Get Started
You Will Need :
Kiri Hodhi
Steamed Savoury Egg Custard
For Tempering : Sliced small onions and finely chopped garlic with mustard seeds and dried whole red chilies sliced
Basic Kiri Hodhi
It is so easy to make, just a matter of getting the texture right!!
2 Cups Thin Coconut Milk
1 Cup Thick Coconut Milk
Small onions 5
1 Green chilli,1 Tomato Sliced
Curry leaves, Pandan Leaves
Salt,Turmeric,
Lime Juice
Mix all the ingredients for kiri hodhi, except thick milk and lime juice and keep on high flame.When the mixture is cooked well and simmers down abit, add in thick coconut milk and keep stirring while fire is on medium.Drizzle lime juice finally and remember to keep stirring continuously for atleast 2-3 minutes.Otherwise your kirihodhi will separate or curdle!!Not what you want eh?
Now The Kiri Hodhi is ready!!!!Let this rest while you make the Steamed Savoury Egg Custard
Steamed Savoury Egg Custard
5 eggs
1/2 Cup Coconut Milk
salt, white pepper,turmeric,
Sliced green chillies for heat
Fresh coriander leaves(optional)
Onions can be added raw but I prefer to sauté them in some oil with spices and maldive fish etc,
Saute onions, till golden brown.Then add in one clove of chopped garlic and curry leaves,maldive fish, salt.
Next, add in some chilli flakes and mix well
MIX ALL THE INGREDIENTS WITH THE BEATEN EGGS.USE THE SAME BOWL YOURE GONNA STEAM IT IN…
Add this sautéed onion mix to the beaten egg mixture
Steam For at least 30 minutes or Bake in a preheated oven over a water bath till the centre comes out clean when poked with a toothpick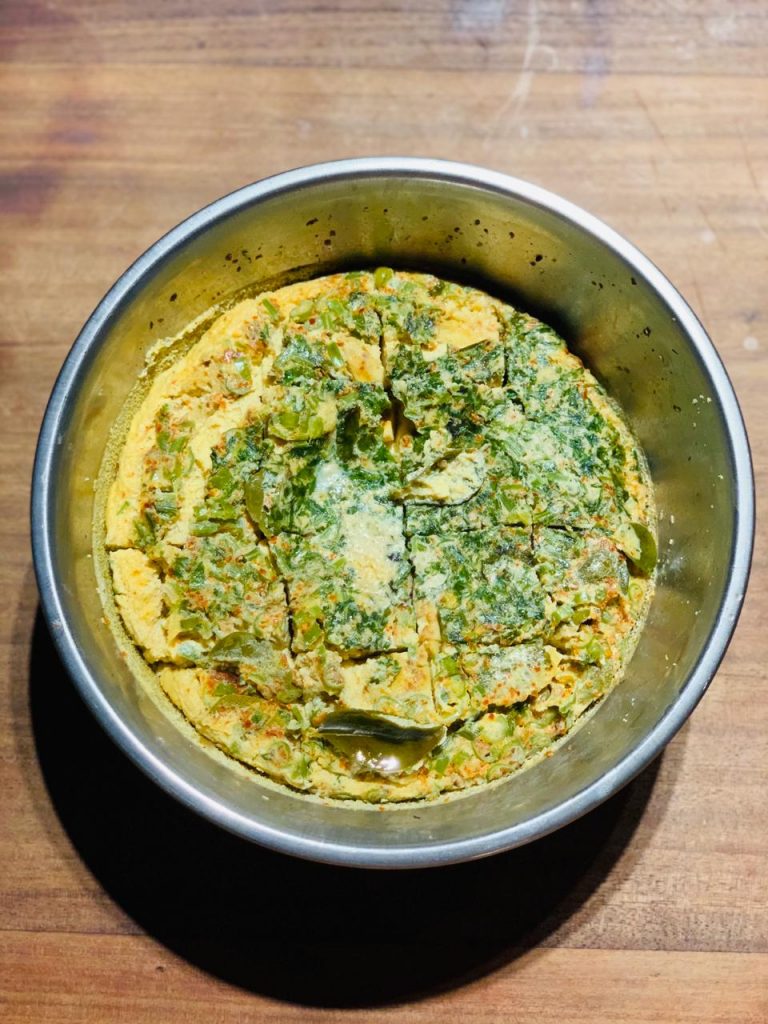 Now place the sliced egg custard in your serving bowl and pour the prepared yellow gravy on top.This is ready to eat!!!
You could do one additional step and do a tempering like I did!!Soooo good!!
What better way to enjoy this than with some Fresh Roast Paan and Pol Sambol!!!
Would love to see your remakes!!!
Much Love Nuzrath 💕