Lemon Rice on a Sunday with Fresh Baby Pomfret from The Middle Cut Company
Check out their page to get your fresh purchase on the seafood.Refer to link attached below :
https://instagram.com/middle.cut?igshid=b36e0xb13jju
So Flavorful and no one will even realize that you made this deliciousness using leftovers.I prepared the seasoning and mixed it into the cooked rice that was soaking up in tamarind pulp and salt.Served with some fishy cutlets that I made using fresh sail fish also from The Middle Cut Company
Our Sunday meals are complete when served over a fresh banana leaf….whatta combination!!!
Lemon Rice
Fried Fish Cutlets
Dried Fish and Baby Shrimps Tempered
Pol Sambol
Fresh Heirloom Tomatoes with Onions and Lemon
Check out My recipe for Srilankan Fish Cutlets in my next Post.Refer to link attached below :
The Recipe for Pol Sambol or Coconut Sambol is attached below.Follow the Link :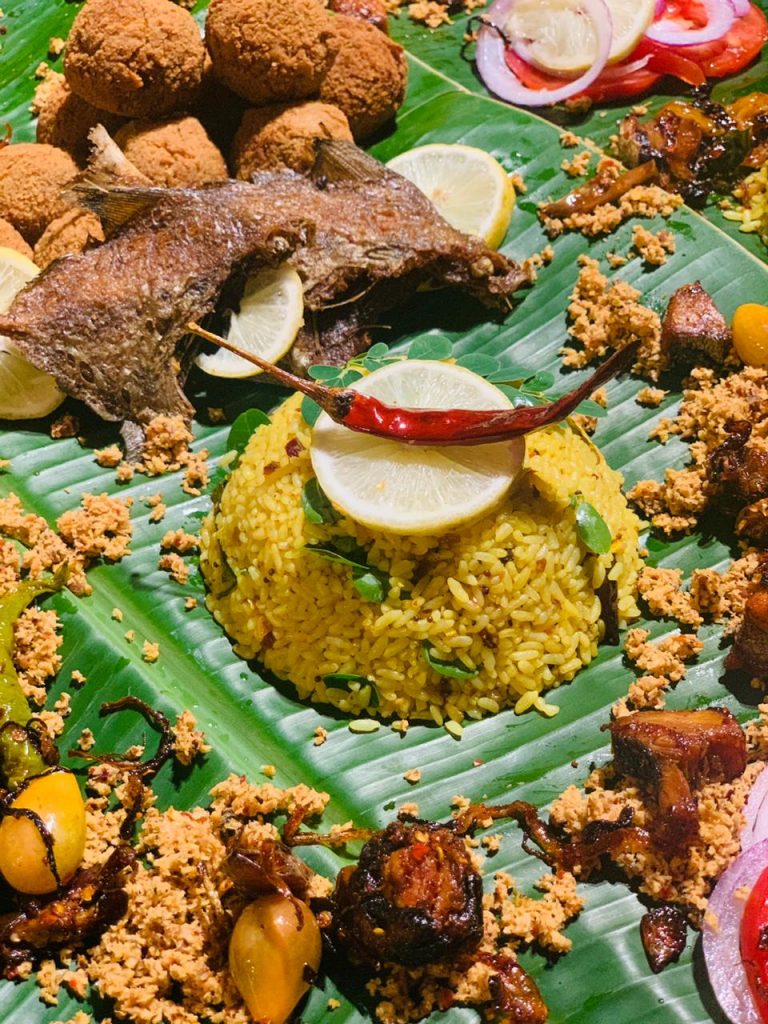 Let's Get Started
You Will Need
1kg Cooked Rice mixed with 1/2 cup tamarind pulp
20 Small red onions
Curry leaves
2 tbsp Garlic finely chopped
2 Dried red chillies
2 tbsp Maldive fish flakes
Lime juice of 3 limes
1 tbsp Mustard seeds
1 tbsp Turmeric powder
1 tbsp Chillie Flakes
Salt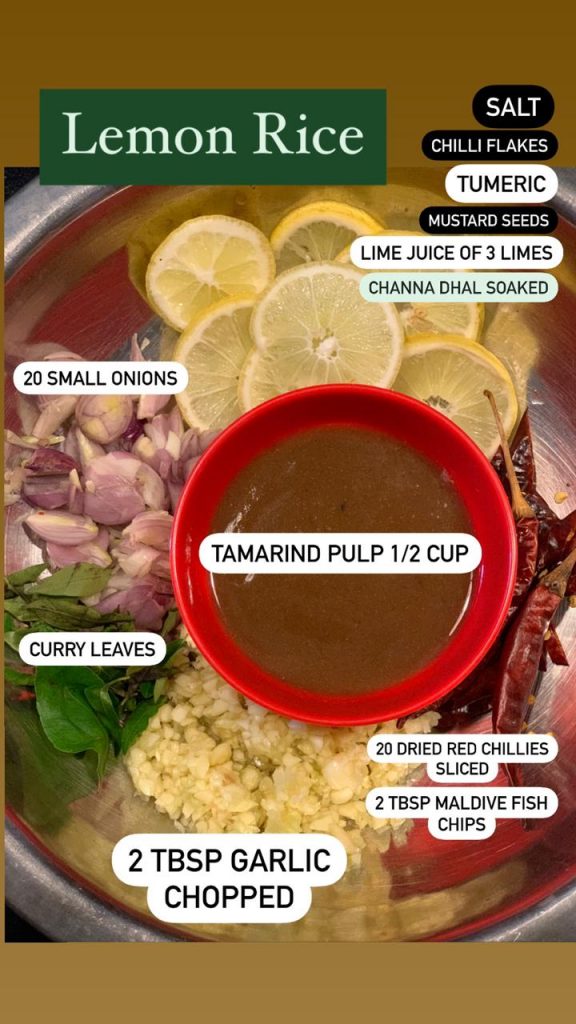 Step One : Mix the cooked rice with tamarind and salt and set aside before you start the tempering so it soaks up all that tanginess
Step Two : In another pan, sauté the garlic till it's nice and golden.Then add in sliced onions and curry leaves and let it fry…
Step Three : Add in dried chillies and soaked channa dhal
Step Four : Add mustard seeds, Maldive fish chips, turmeric and chilli flakes.
Finally add in lime juice and combine
Make sure this does not burn while frying
This has to be on medium high flame
Step Five : Now mix this in with the rice that was soaking with tamarind and salt.You could also add in left over gravy for a nicer flavour…
This Lemon Rice is ready to be enjoyed even plain because it is that good!!!
Check out my instagram page and show some love.Would love to see your remakes on this Deliciousness.Be sure to tag me or send me a screenshot of your post if your account is private.So I can re share them on my stories.Refer to link attached below :
https://www.instagram.com/p/CIK-oc5hCMV/?igshid=1xus4v2ajdxfo
Hope everyone's having a good weekend indoors and spending time with family
Stay Safe Everyone and Please Be Responsible
Much Love 💕 Nuzrath
srilankanfoodie #mylankanfoodjournal #foodblog #colombofoodbloggers #colombolife #foodiesofintsagram#onthetable #instadaily #igers #eatpraylove #positivevibesonly#alhamdulillaforeverything💕