Ambul Thiyal directly translates to "Sour Fish"and is a must try Local Dish if you are fond of seafood
True to it's name this is a distinct dish that says Ambul Thiyal in Sinhalese…made using a blend of whole spices and ingredients like goraka (brindle berry ) that not only gives the dish a unique blackened colour & sour flavour but also acts as a means of preserving this cooked dish for a longer period of time with no refrigeration required.
Hence why most people travel with this particular cooked fish packed specially for loved ones who enjoy some local dishes from back home…Ideal for long distance travel if packed properly
The best kinds of fish to make this would be : Yellow Fin Tuna or Sail Fish ,any kind of firm fish would do
Today I have used Yellow Fin Tuna also known as Kelawalla from The Middle Cut Company.
They deliver the most amazing fresh seafood to your door step with no hassle.What makes them special is their neat packaging : makes life so much easier when having to store fresh seafood in the freezer…Try them and Thank me later!!!
They only do delivery on Pre orders so contact them atleast a few days ahead to place your order because they don't sell anything frozen : Everything is as fresh as it can get, purchased the same day of delivery
Do contact them for more details :
+94 (76) 246 5494
Follow the link attached below
https://www.instagram.com/p/CHFnFjcBVCY/?igshid=10i5k8bou7tjc
Anyway, Do Check Out my instagram Post and show some love and support
https://www.instagram.com/p/CIGu9pwhAm7/?igshid=12xy0ndh5v3fb
Not the original or authentic version because I have tweaked things up abit according to my preference
Let's Get Started
You Will Need
1kg Fish
100g Goraka soaked in warm water and rock salt
2 tbsp Peppercorns
1″ Ginger
6 Pods Garlic
2 Fresh Green Chillies
2 Dried Red Chillies
15 Red Onions
Curry Leaves/Pandan Leaves
05 Cardamom
1 whole Cinnamon Stick
1 tbsp Cumin Seeds
1 tsp Tumeric
Lime Juice of One Lime
Soak Goraka in warm water for 30 minutes with a tsp of Rock salt
Goraka also known as Brindleberry has many health benefits.Apart from other medicinal values it Aids in digestion and weightloss.If you cannot find goraka you can certainly use tamarind in moderation as too much of it may cause the fish to go bitter from being too sour.However tamarind is more suitable for meat and chicken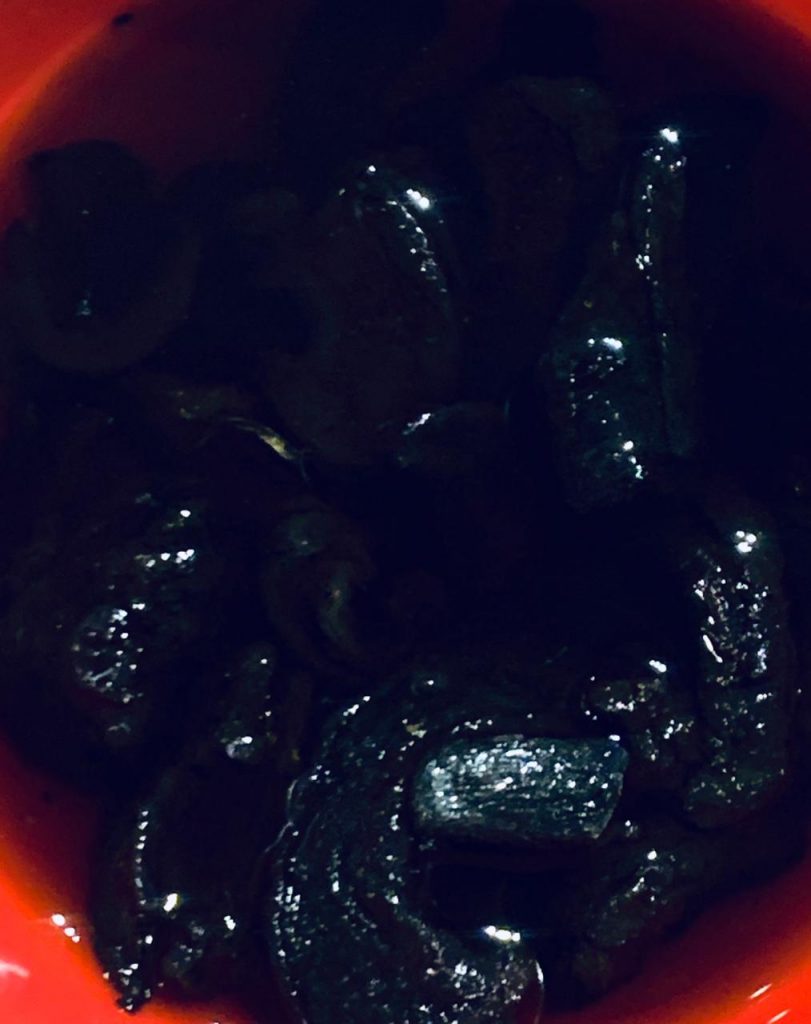 Add some oil and stirfry everything in a pan till nice and fragrant(Except Goraka,Turmeric and Lime Juice)
Blend this into a paste with soaked goraka and add in turmeric and lime juice.Traditionally they would use a pestle and mortar but you could definitely blitz it up in the food processor as well.
Combine the paste with the fish.Set aside for at least 30 minutes before cooking
You could cook this in a regular pan but ideally should be cooked in a traditional clay pot lined with fresh banana leaf..Makes a difference if you want to feel the original flavour
Lining the bottom of your pan with banana leaf also stops the fish from sticking to the bottom of the pan once done.And that subtle flavour really takes the fish flavours next level….
Cook on low flame for at least 30 minutes or until everything has dried up.
Do not mix things around too much using a spoon.This will cause the fish to break.
Makesure the paste has coated all the parts of the fish before laying them in the pot for cooking.
Use a fairly wide pan, this allows the fish too cook evenly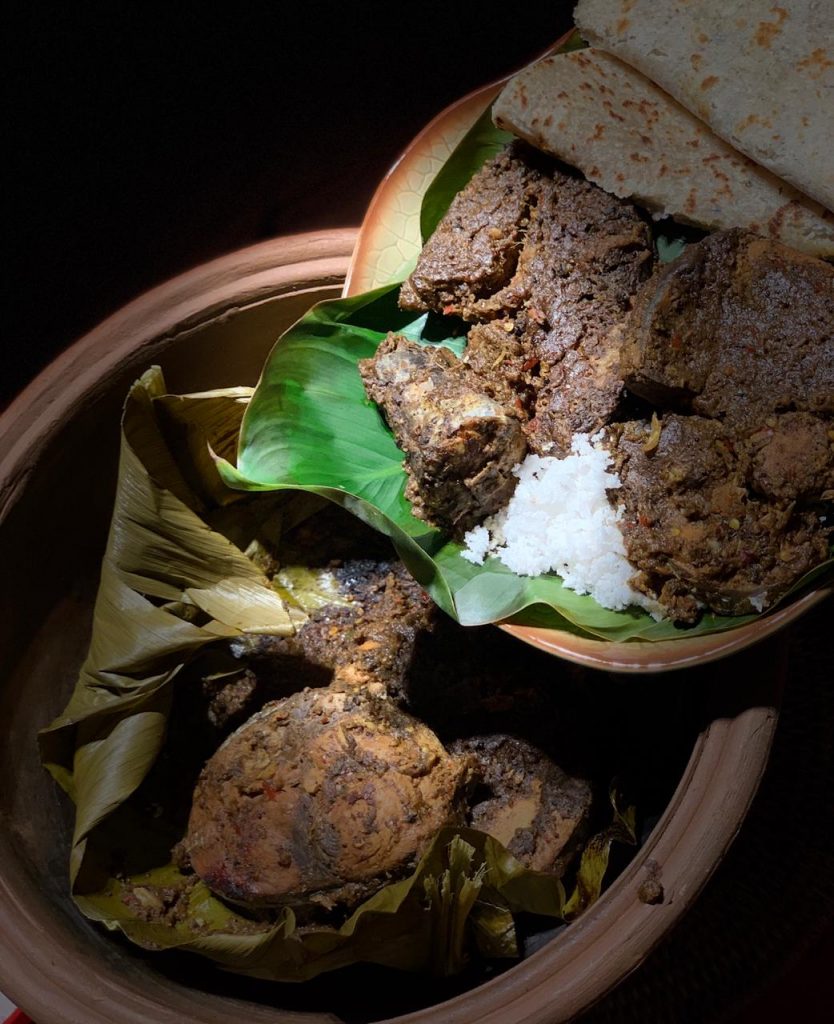 Let this cool completely before serving.Helps retain all the amazing flavours together!!!
This can survive with no refrigeration if stored in air tight container and handled well with spoons with no contamination for awhile and freezes really well too
Here I have served with freshly grated coconut and warm Pol Rotti or Coconut Flat Bread.You can find my recipe for Pol Rotti in the previous post.
Refer to link attached below
Would love to see the remakes of this amazing Local Dish.Be sure to tag me on social media or send me a screenshot if your account is private so I can re share them on my stories
Stay Safe ? Stay Home ? Stay Sane ? Be Responsible
Much Love ? Nuzrath
srilankanfoodie #mylankanfoodjournal #foodblog #colombofoodbloggers #colombolife #foodiesofintsagram#onthetable #instadaily #igers #eatpraylove #positivevibesonly#alhamdulillaforeverything?