Warm and Creamy Mushroom Soup is one of our favorite soups, hence the repeated appearance in most of our meal times…
Hubster prefers it infused with garlic and served on the side with Garlic Bread or there are times we also serve with Roast Potato and Bread Salad…The combination pairs so well with this creamy deliciousness 👌🏻
Let's Get Started
You Will Need
300g Button Mushrooms Sliced
100g Chopped Fresh Garlic
2 Tbsp of Butter
Olive Oil
Pinch of Salt
1 tsp White Pepper
1 tsp mustard paste
One cup Heavy Cream or Coconut Milk
Herbs of choice : Fresh Basil,Rosemary,Parsley
2 Litres Chicken Stock with Celery or you could use vegetable stock
1 tbsp Cornflour with few tbsp of water to make a slurry
One egg beaten
Step One : Heat olive oil and stir fry the onions and garlic till they get nice and golden
Step Two : Add in the mushrooms batch by batch and let this brown up on high while adding in the knob of butter
Also add in salt,mustard paste and white pepper
Step Three : This Will release a lot of liquid so let it simmer down completely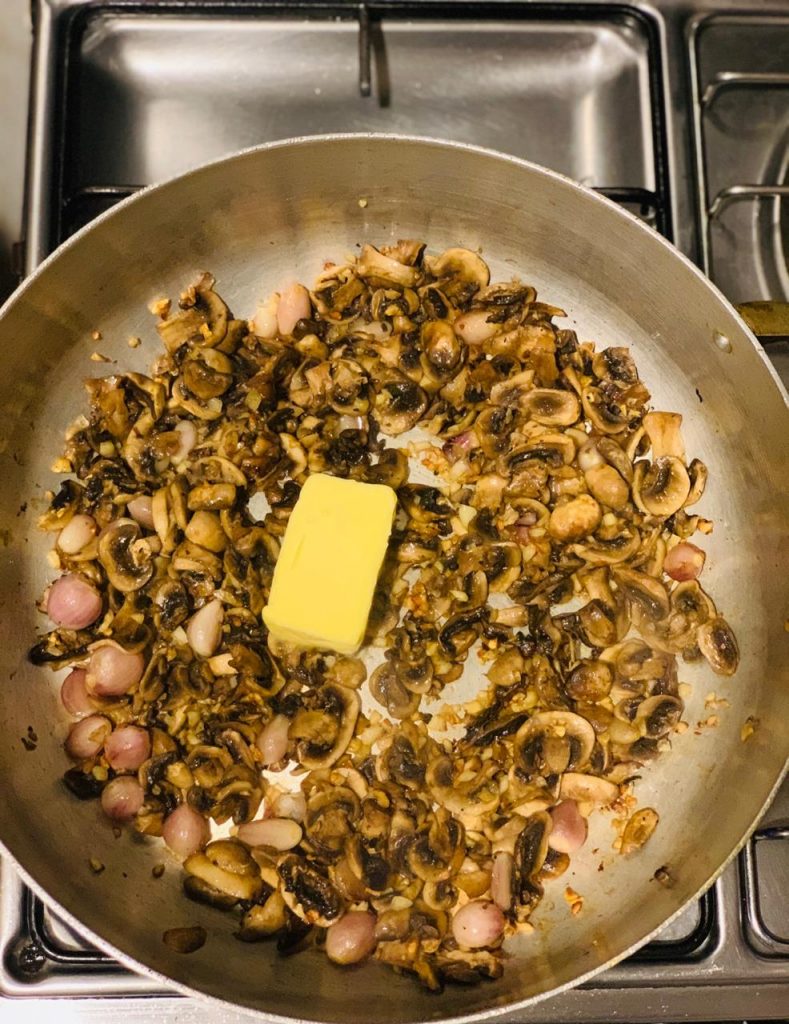 Step Four : Keep stirring occasionally to make sure all the mushrooms get slightly browned up but still moist and soft in the Centre
Step Five : Add in Stock and mix well.If you don't have stock you can add even water or soup cubes,vegeta.I have a recipe to make your own no waste stock with vegetables scraps etc
Link is attached below :
Step Six : Blend using a stick blender or let it cool for abit and blend in a food processor till it's nice and creamy
Step Seven : Transfer this back to the pan add fresh herbs and bring to a boil,add in cornflour slurry and keep stirring till it thickens
You can remove the whole herbs if you prefer now
Step Eight : Add Heavy Cream or Coconut Milk now and mix well
Step Nine : Finally drizzle the beaten egg and whisk well to avoid big clumps
Switch off flame and Check for salt and adjust accordingly
The Warm and Comforting Creamy Mushroom Soup is Ready !!!
Served with Toasted Bread with Garlic Butter…Yumm
If you want to try making your own I have recipe for Easy Lazy Garlic Bread : Link is attached below
Also don't forget to check out my instagram post : Refer to link attached below
https://www.instagram.com/p/CJECd5ThJVt/?igshid=j38pxpwohx1l
Would love to see your remakes on this creamy Deliciousness.Be sure to tag me on social media or send me a screen shot if your account is private so I can re share them on my stories
Stay Safe 💕 Stay Home 💕 Stay Sane 💕 Be Responsible
Much love 💕 Nuzrath