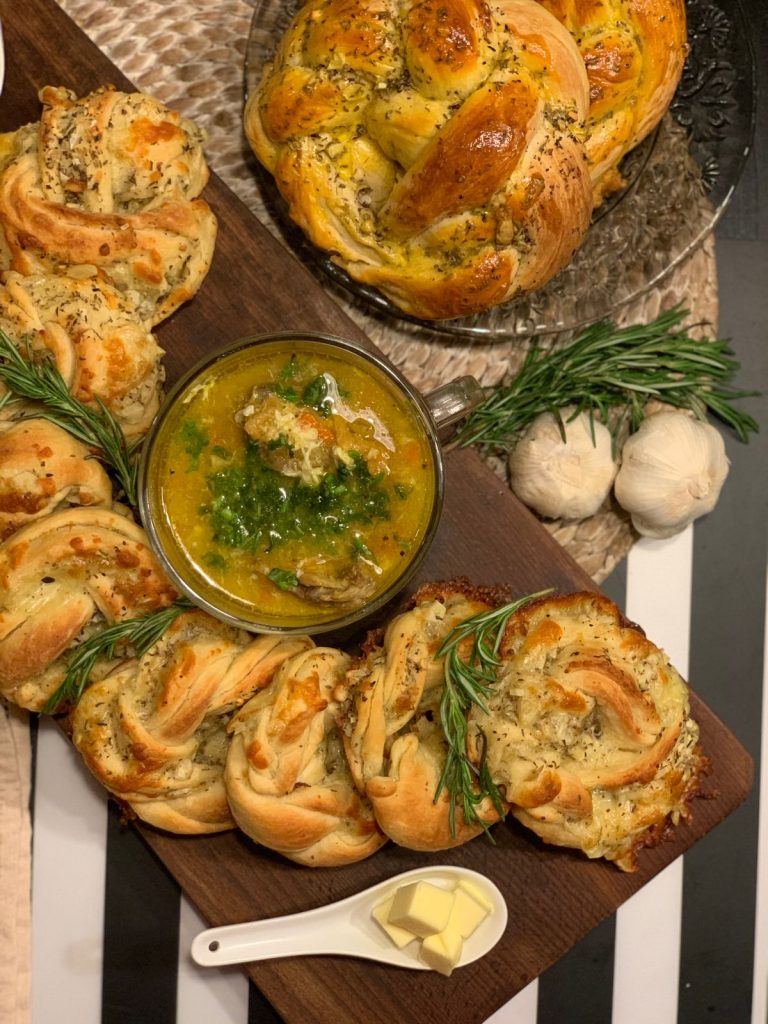 Roasted Cauliflower Soup is so light and creamy.
This time I added some pumpkin that was sitting in the fridge with the same tray the cauliflower was baking because I didn't want it to go to waste
Food waste is something that I strongly disapprove and I do my best not to trash any kind of food even if it's kids leftovers.I always advise the kids to serve less on their plates and they always have the choice to go for seconds if they want more instead of leaving food back on the plate and no one's gonna touch that !!!
The combination of cauliflower and pumpkin compliment each other well.It is so creamy,garlicky and slightly nutty,no cheese required.
Exactly what you need on cold nights during the holidays.
Comfort food at its best !!
This low carb and healthy version of soup requires minimal ingredients and comes together under 30 minutes,isn't that amazing??
I know the sound of cauliflower may not tempt you if you have never tried before but trust me this one's a winner..
I have been hankering for warm soups lately…If you've noticed I have been trying out quite a few soups during the past few weeks,mostly clear soups when we have a heavy lunch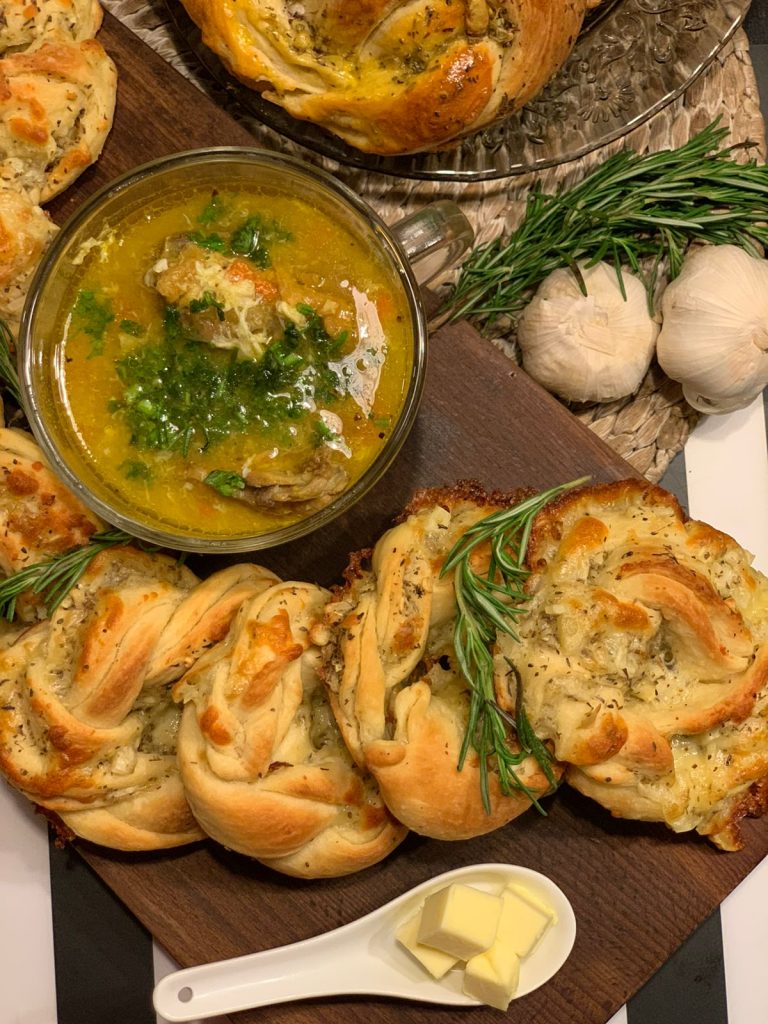 This soup is so delicious on its own but it pairs really well with some crispy garlic bread.My recipe for "Easy Lazy Garlic Bread" is available in the blog site.Refer to the link attached below :
This soup freezes really well too so I make in a large batch and portion it out before going into the freezer.
Let's Get Started
You Will Need
1 kg Cauliflower cleaned and cut into florets
1 B.Onion chopped finely
2 cloves garlic minced
Four Cups of Stock(Home Made or Add vegeta and make some stock)
2 tbsp Butter
1 tbsp Lime juice
1 tsp Salt and Pepper
Fresh coriander leaves or parsley
Splash of Heavy Cream or Coconut Cream(Optional)
Step One : Roast the Cauliflower
You can add an extra vege like I did with the pumpkin but if you prefer only cauliflower then just stick to that vegetable alone.
Roast the cauliflower in the oven with a drizzle of olive oil – no salt
Throw in a few garlic cloves too and remove after baking if you find the flavour too strong.
180' for atleast 40 minutes
Roasting the cauliflower is the key to getting the best flavours of this dish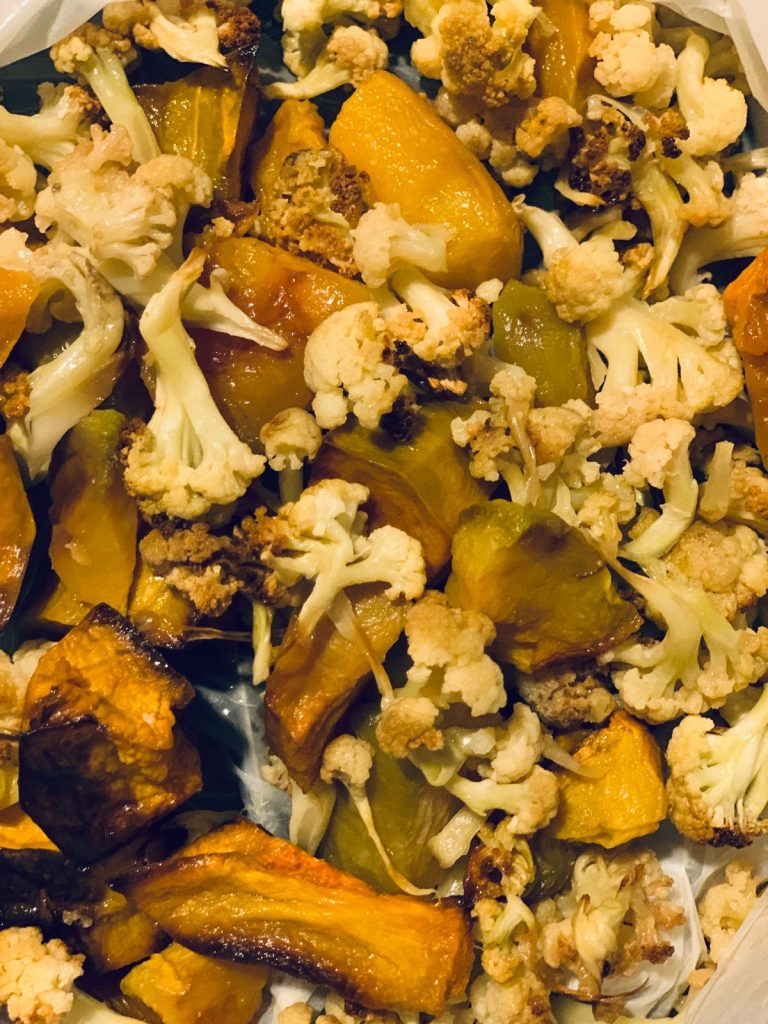 You could do it two way : Blend soon after the Veges are out of the oven or blend it towards the end,the choice is yours.
Be very cautious while blending because it can get really hot and if not held on to the lid tightly : can cause accidental sprays of hot liquid.
Today I blended this into a puree after roasting and its cooled down abit.I also added in a splash of heavy cream while blending to make it more smooth.
Set this thick purée- ish liquid aside till you prep the base of the soup
Step Two : Cook onions in butter till soft and translucent on medium low flame.
Step Three : Add in cauliflower and pumpkin purée,stock and seasonings.Let this come to a boil and keep on low flame for 5 minutes till it simmers and all those flavours have absorbed to create a wonderful texture.
Check for salt and adjust accordingly
Step Four : Switch off flame and allow to cool slightly before serving unless you want it piping hot.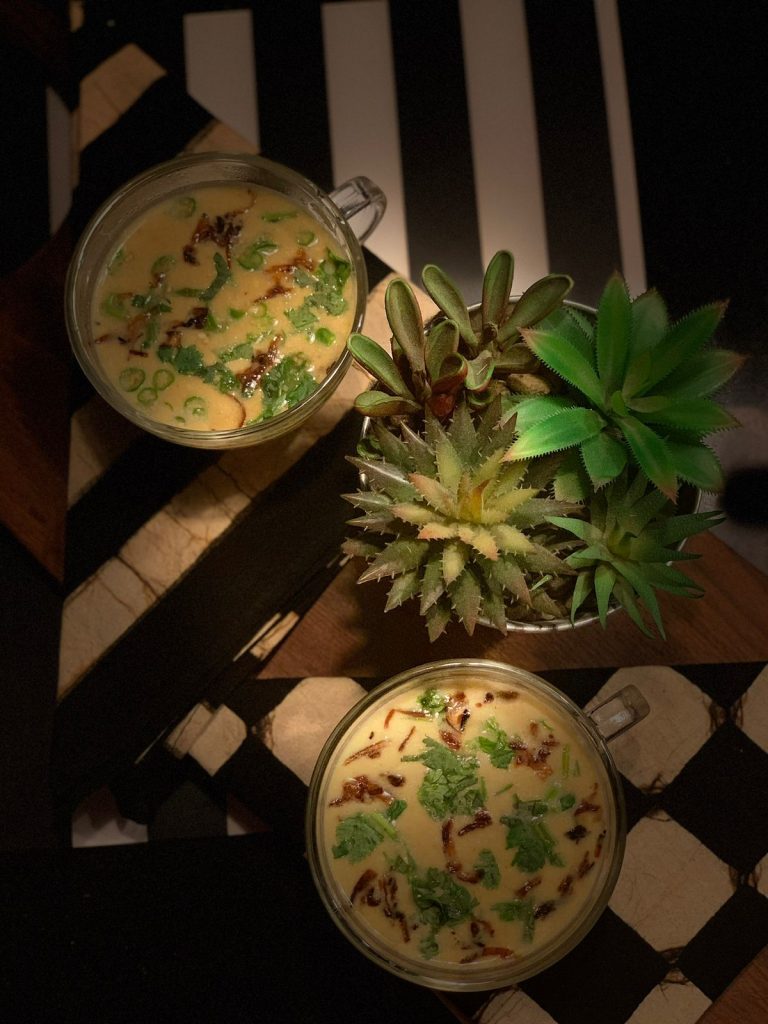 Garnish with fresh herbs and enjoy !!!
Would love to see your remakes on this deliciousness.Be sure to tag me or send me a screenshot if your account is private so I can reshare it on my stories
Much Love ?? Nuzrath
#srilankanfoodie #mylankanfoodjournal #foodblog #colombofoodbloggers #colombolife #instadaily #bekind #begrateful