There's much more you can do with Chillies/Peppers than just adding them into your meals : You can actually stuff them with a mushy filling and deep fry them to be eaten as a short eat !!!
That's right !!
If you're Srilankan you cannot miss this savoury : Stuffed Banana Peppers/Capsicums/Maalu Miris
This is one of my dad's favorite dishes on the menu specially during the month of Ramadan.It's Banana Peppers stuffed with a light fish filling,crumb coated,then deep fried till nice and crispy…
I have not really been satisfied by any place that serves the ones that tasted as crispy as the ones my mom used to make for us so I decided to give it a try myself with a few tweaks on the original version.
Each element in the process of making this an unforgettable treat..This dish is not everyone's cup of tea rather I would say it's more of an adult favorite.As a child I would pick and eat the filling off the stuffed peppers but later I grew fond of the whole thing and it's definitely something worth giving a try !!!
When you bite into the soft skin while also feeling that crust mixed with the yummy home made filling….oh so amazing !!
Usually when coating the stuffed capsicums I've realised most of you guys complain about the batter and crumbs slipping off the skin of the capsicum.So I decided to try it this way and that was such a game changer!!! I wrapped the capsicum with a thin layer of dough before the crumb coat : I call it the mummie wrap.You're gonna thank me for this !!!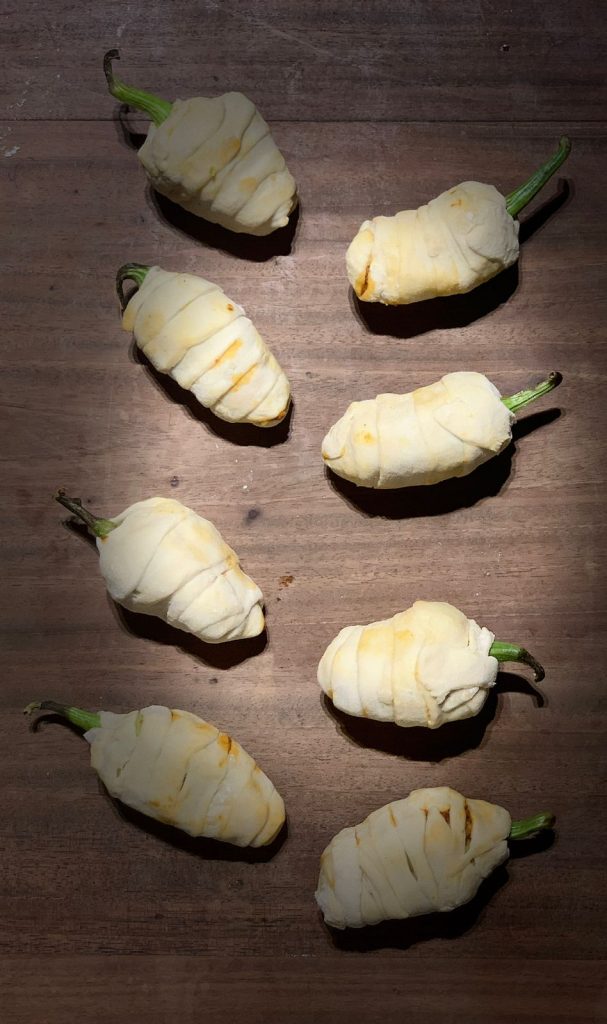 SCROLL DOWN
Let me explain how this is made Step by Step
You Will Need:
10-12 Banana Peppers washed and prepped.
The Filling
The Dough for mummie wrap
The Crumb Coat
Coconut Oil for DeepFrying
To Prep the Capsicums:
Slit a clean cut through one side lengthwise to make it easier to spoon the filling in.Make sure you don't remove stem.
Remove seeds carefully: I would advise to wear gloves when doing this to avoid burns on the skin.All kinds of Chillies and Peppers get the fiery heat from their seeds,so when you remove seeds you can actually eat the pepper or chilli without running your tongue under ice…
The Filling
Ideally this is stuffed using Tuna Filling or any other kind of canned fish filling.
You could even make your filling vegetarian by using only potatoes instead of the fish.Still works well because not everyone is a fan of fish I know…
I make a standard filling for most of my local short eats.I have made two kinds of fillings for the Srilankan Patties : Beef and Chicken,just switch either of the protein in the recipes to parboiled fish or canned tuna and follow the rest of the steps to make a delicious fish filling.
My recipe for the filling is available in the blog site,refer to link attached below:
Dough for Mummie Wrap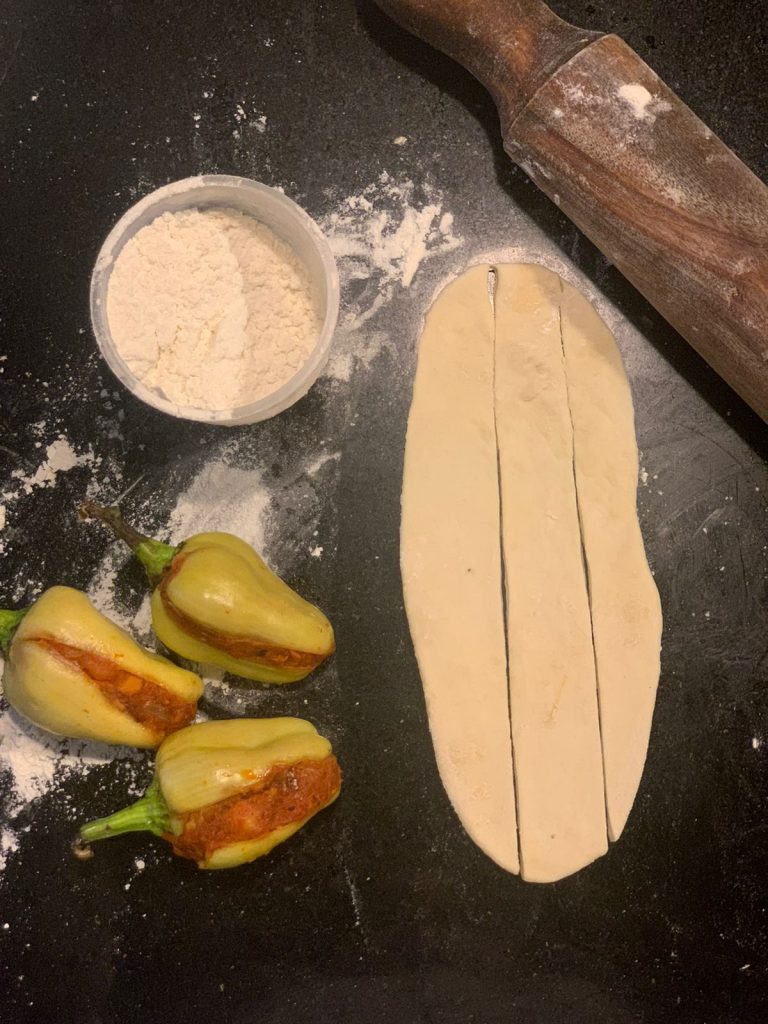 Basic Dough made using Flour,Oil and water to use as a wrap over the stuffed capsicum before crumb coating.
If you want an exact recipe,you can follow mine in the blog site.
Refer to my Patty Dough recipe available in the blog site :
Crumb Coat
Beaten Eggs
Fresh or Dried Breadcrumbs
Let's Get Started
Step One : Depending on the size of your capsicums,take spoons full of the filling and carefully stuff this in.I used mini sized ones today but I'm not always lucky to get this size.
Be gentle and make sure you do not remove stem while doing this and also remember not to over stuff the capsicum : might cause them to tear apart,definitely not a pleasant experience.
Step Two : Once you have filled them all up,it's time for the next most important method.Let's wrap them into mummies….
Roll out the dough on a floured flat surface and cut into thin long strips (1cm wide)
Using your fingers and a lot of patience,carefully wrap these bad boys completely and make sure they are covered up resembling mummies.
Step Three : Time for an egg bath and then a coating of bread crumbs
Step Four : Chill this for atleast an hour before deepfrying for best results
Step Five : When deep frying do not overcrowd the pan,try to use a wider nonstick pan.
Deep fry in medium heat and serve with your choice of sauce.We prefer it plain most of the time but today I served it with some green chutney because that's all I had on me.
This can be frozen for atleast a few weeks and lasts for awhile in the refrigerator too
Check out my Instagram page for more cooking inspiration and see how I do the capsicum mummies wrap.
Refer to link attached below :
Would love to see your remakes on this deliciousness.Be sure to tag me or send me a screenshot if your account is private so I can reshare it on my stories
Much Love ❤️ Nuzrath
#srilankanfoodie #mylankanfoodjournal #foodblog #colombofoodbloggers #colombolife #instadaily #bekind #begrateful