No Iftar table is complete without the "Ramadan Porridge" also known as "Nombu Kanji" in Tamil or "Nombi Kandhe" in Sinhalese
This has been one of my most requested Ramadan Recipes
We usually have it with Red Coconut Chutney just like the way my mom would make but some have it with the Green Chutney and I guess it depends from person to person and how they've grown up having kanji with whatever their family preferred.
Find the recipe for the Coconut Chutney at the end of this post and I'd love to know how you like the pairing because even my husband who was brought up eating the green coconut chutney has officially converted after trying this version of mine ??
So my kids and hubs have this habit of dipping their short eats in their kanji ?
And I think it's grown into everyone by now…
This Ramadan Kanji is something very close to our hearts because each family has their own version and most of the time it's the mother of the house who has adjusted the recipe according to the preference of the family.
For example some like more whole wheat,some use broken wheat,some want more rice than whole wheat,some want only whole wheat or broken wheat,some even add dhal into their kanji,some prefer it thick and pulpy,some like it blended but still runny and so on so forth…
However don't stress over this too much,just adjust according to the consistency that suits you and your family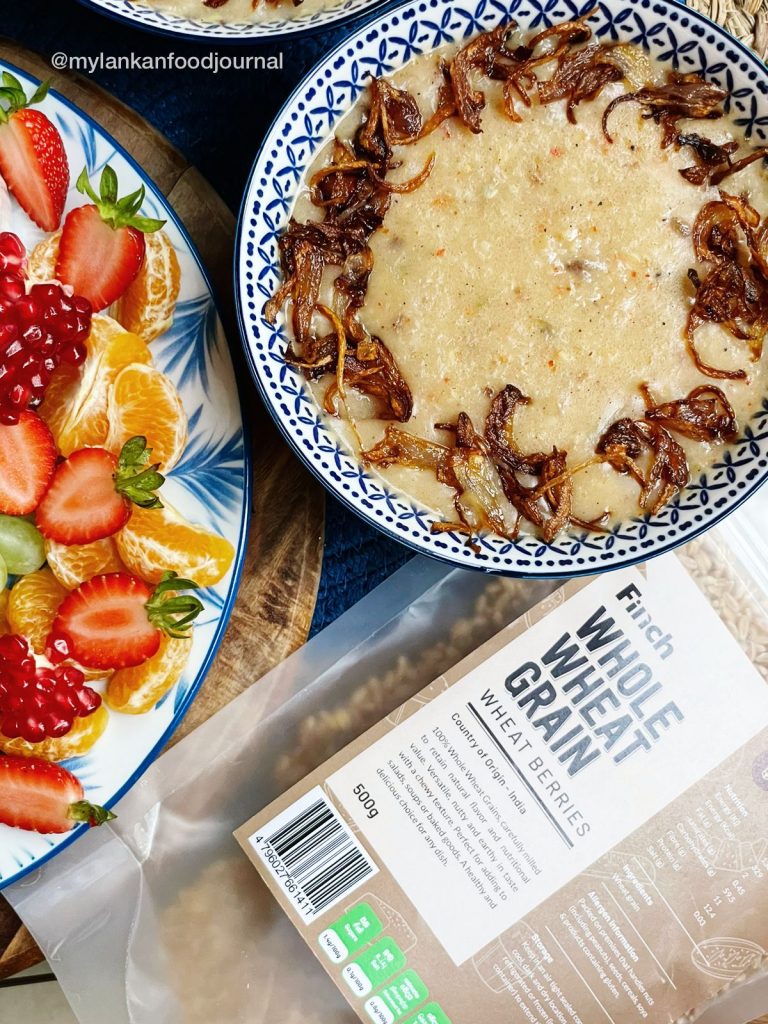 I have shared a recent REEL in my instagram page with a detailed demo on how I make my version of the Ramadan Porridge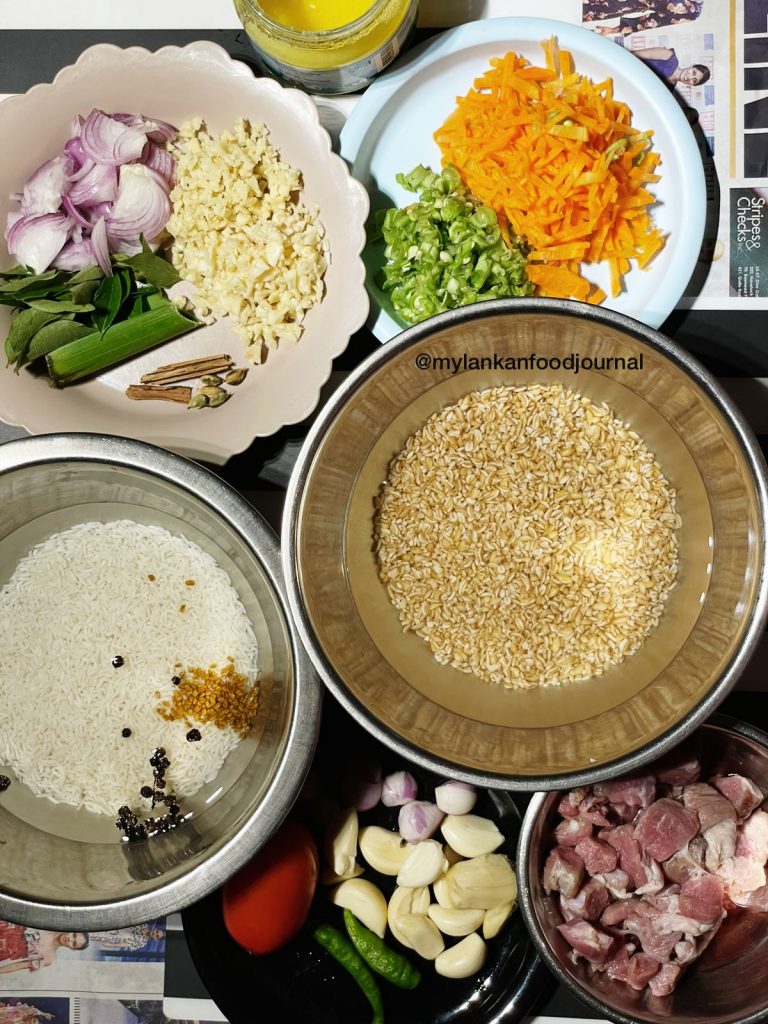 Let's Get Started
Part One : Boil the Whole Wheat and Rice
This quantity easily feeds 2-4 persons
I always use long grain Basmathi Rice but you could use White Raw Rice as well
I use equal parts of Whole Wheat and Rice but on some days I would reduce the Whole Wheat or swap to Broken Wheat which still works out fine for me
This Kanji is a hearty meal that feeds your soul after a long fast and I'm sure if you're the one cooking you will be able to figure out how your family will enjoy the kanji so go with your instinct and no woman can go wrong with her intuition specially during this month !!!
I have also tried a healthy version by using part quinoa and part rolled oats,still tastes absolutely delicious ?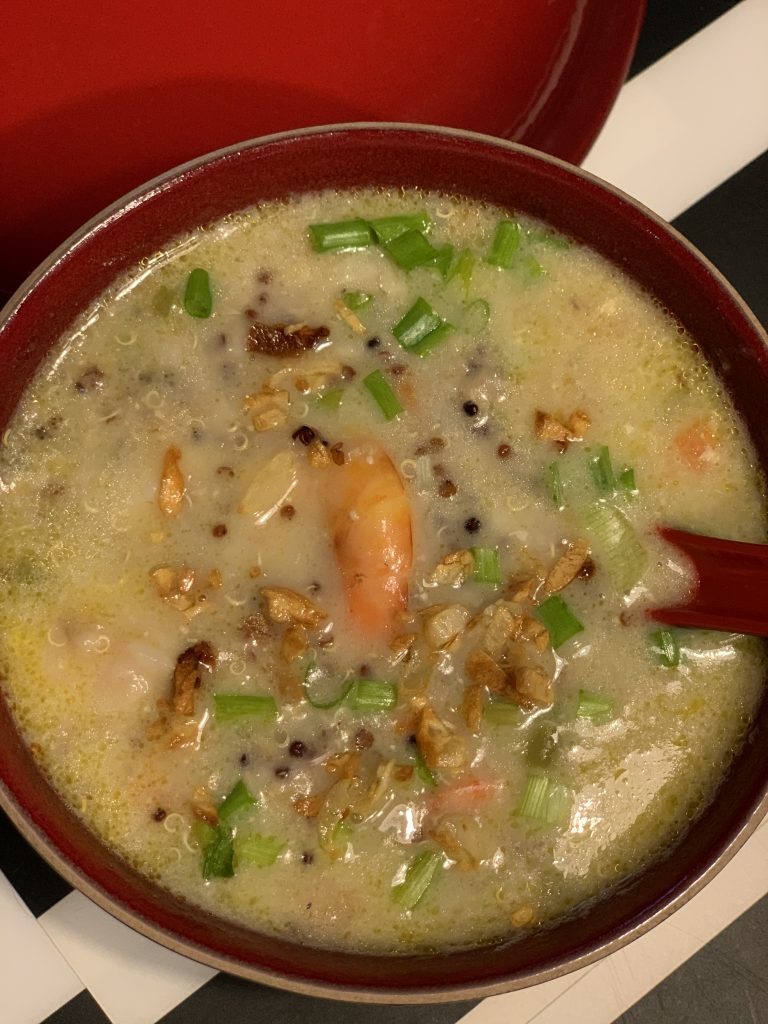 One cup soaked whole wheat
One cup Basmathi Rice
1/4 tsp Dill seeds
10 Peppercorns
1" Pandan Leaf
05 Whole Garlic Cloves
01" Sliced Ginger
01 tsp Salt
05 Whole Red Onions
01 Small Tomato cut in half
02 Whole Green Chillies slit in the middle
One Cup Meat of choice preferably with bone on for best results
You could also do a vegetarian version using vegetable stock to cook this instead of the meat
One Cup Thick Coconut Milk
One Cup Thin Coconut Milk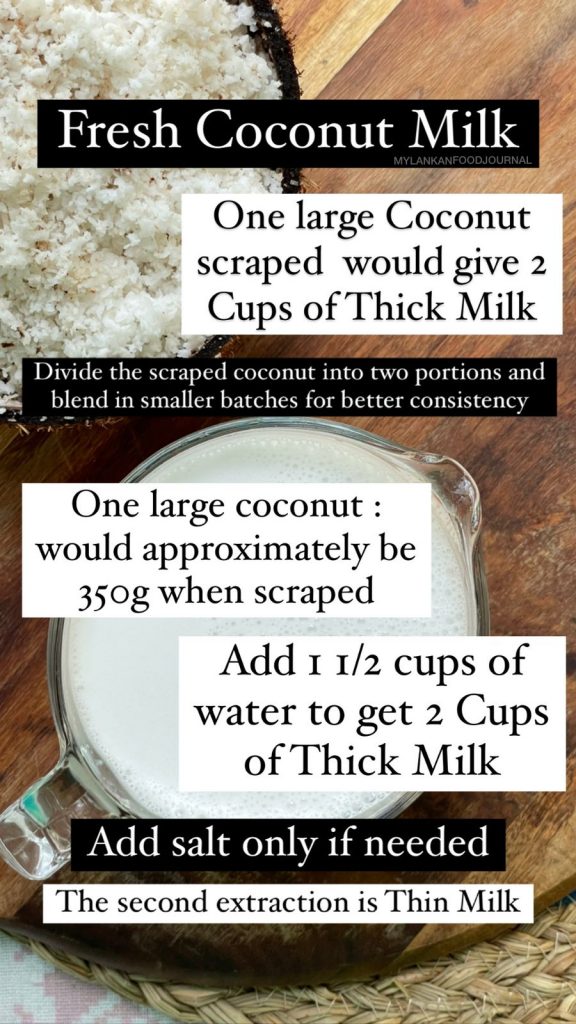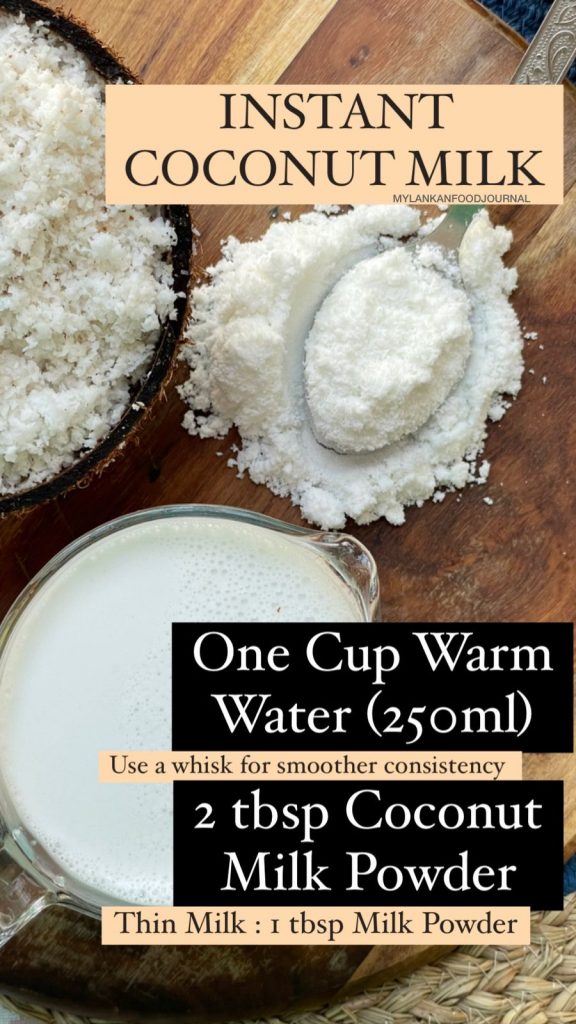 Step One : Add all ingredients except coconut milk into a saucepan with 06 Cups of Water and bring to a boil on high heat then reduce and cook while covered for at least 30 minutes if you are using red meat but white meat like chicken would cook much faster maybe 20 minutes.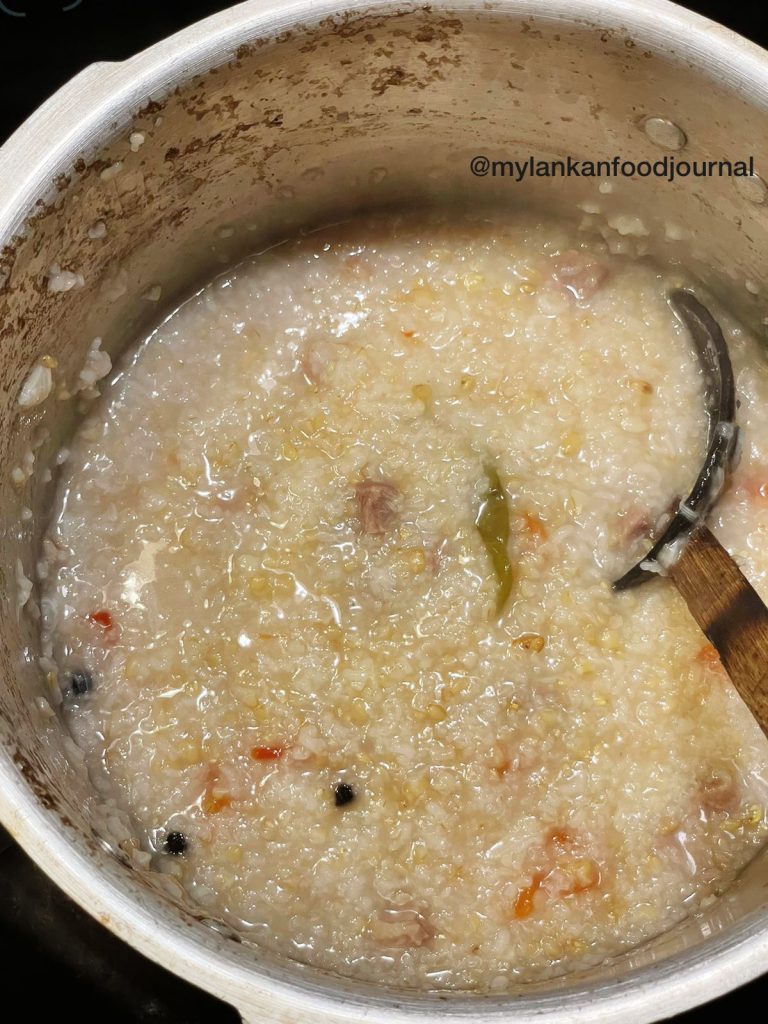 Step Two : Add in the coconut milks both thick and thin and keep on medium heat to let it simmer down to a little runnier than you would want it to be when serving because this kanji will thicken as it cools down.In case it does get pulpy don't worry,just add more water and reheat but check on the salt and adjust accordingly
This kanji can be served as it is but if you know me I always like things extra so I'm gonna take it next level by doing a TARKA or Tempering
If you're worried about the additional oil or ghee due to high cholesterol issues,it's best you avoid the Tarka.However I promise you that you won't regret this extra step ?? and your family wouldn't prefer it otherwise…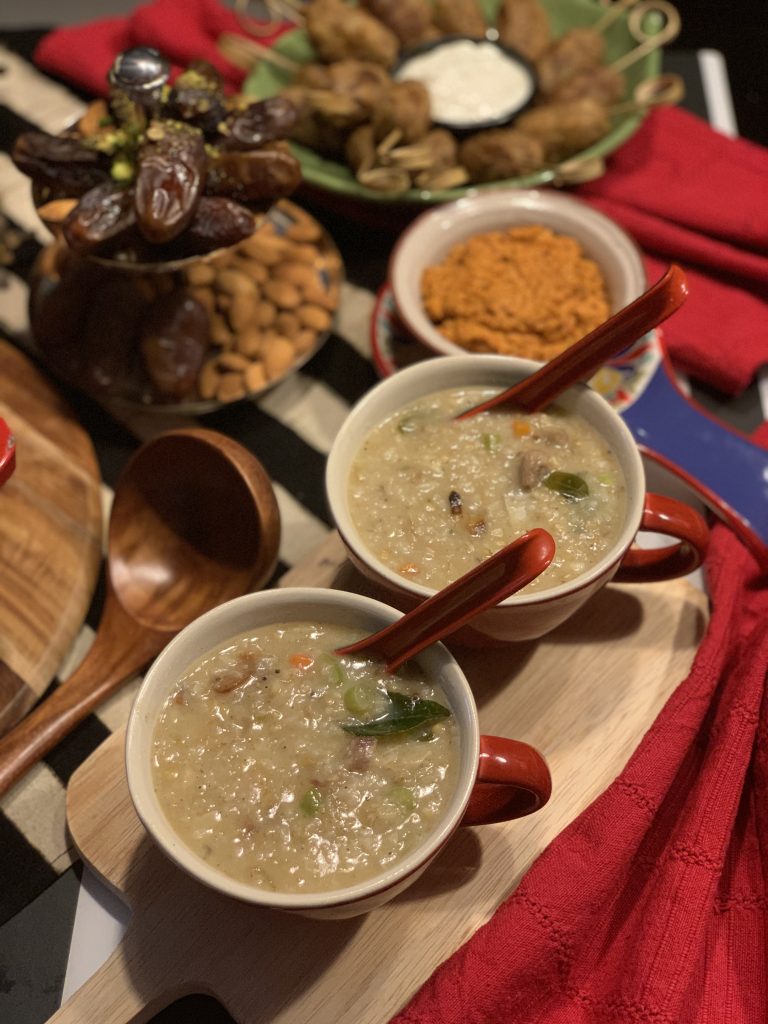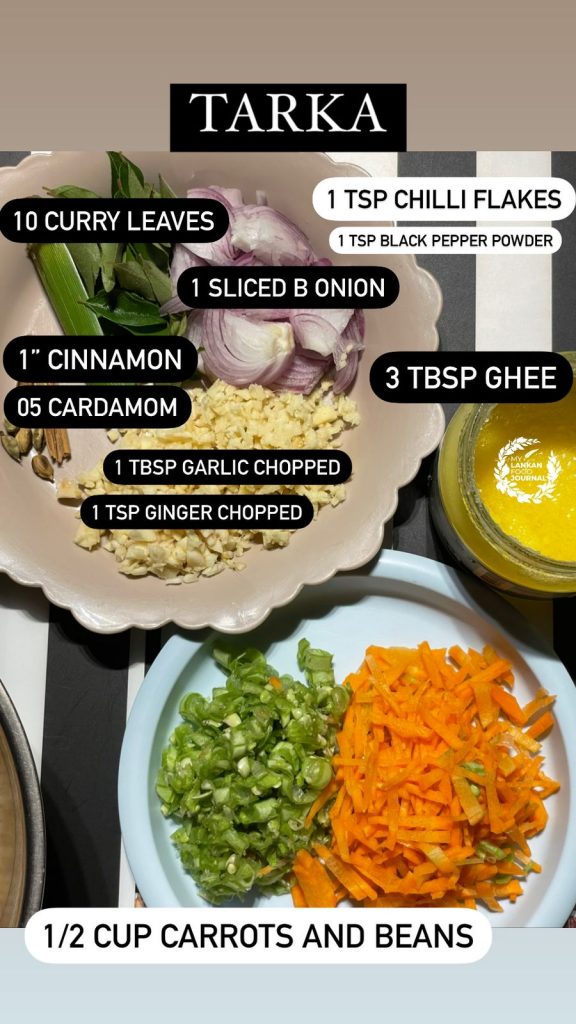 3 tbsp Ghee
1 tbsp Garlic chopped
1 tsp Ginger chopped
10 Curry Leaves
One Sliced B onion or small onions
1/2" Cinnamon
05 Cardamom
1 tsp Chilli Flakes
1 tsp Pepper
Pinch of turmeric(optional)
No Chilli Powder
1/2 Cup Carrots and Beans(if you're like me and want to sneak in some veggies for the kids)
Step One : Heat ghee in a pan and add the garlic and let it get beautiful and golden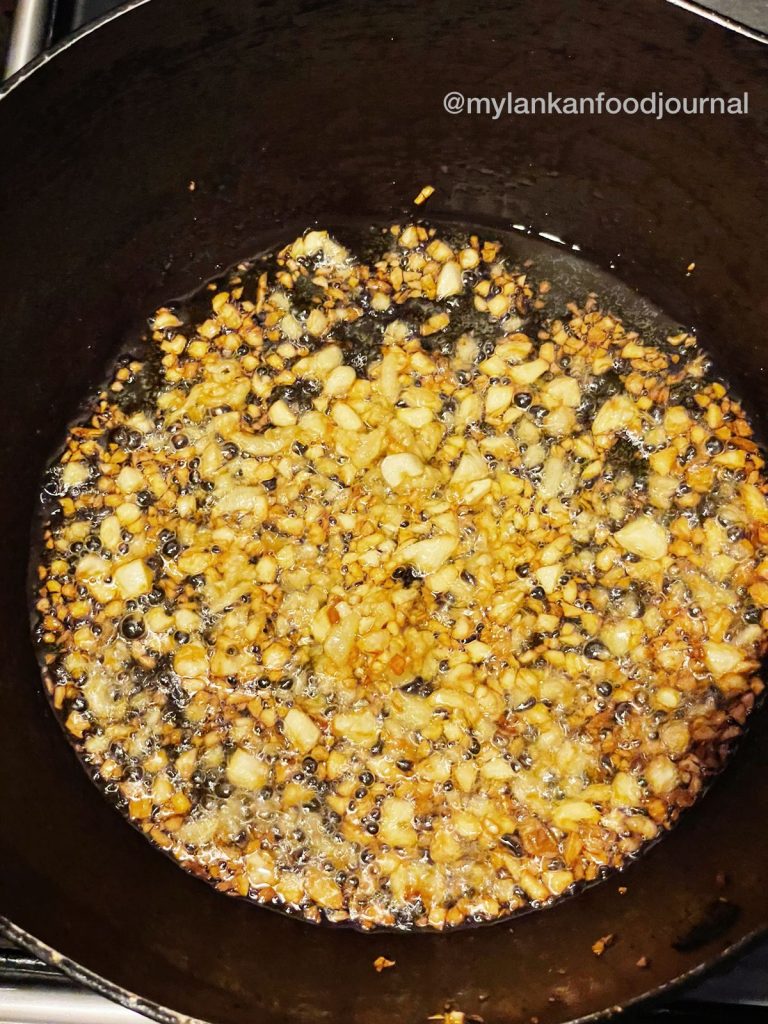 Step Two : Add in ginger and sliced onions,curry leaves and whole spices
Step Three : Add in spice powders
Step Four : The veggies go in last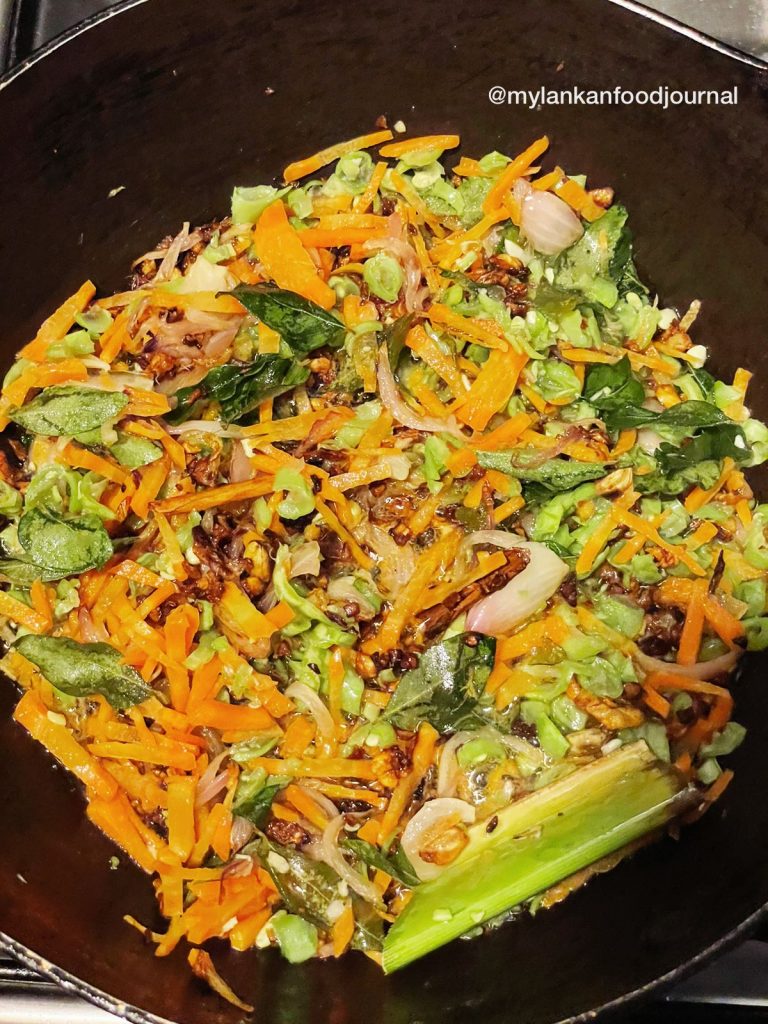 Final Step : Drizzle this over the cooked wheat and rice mixture and mix well to combine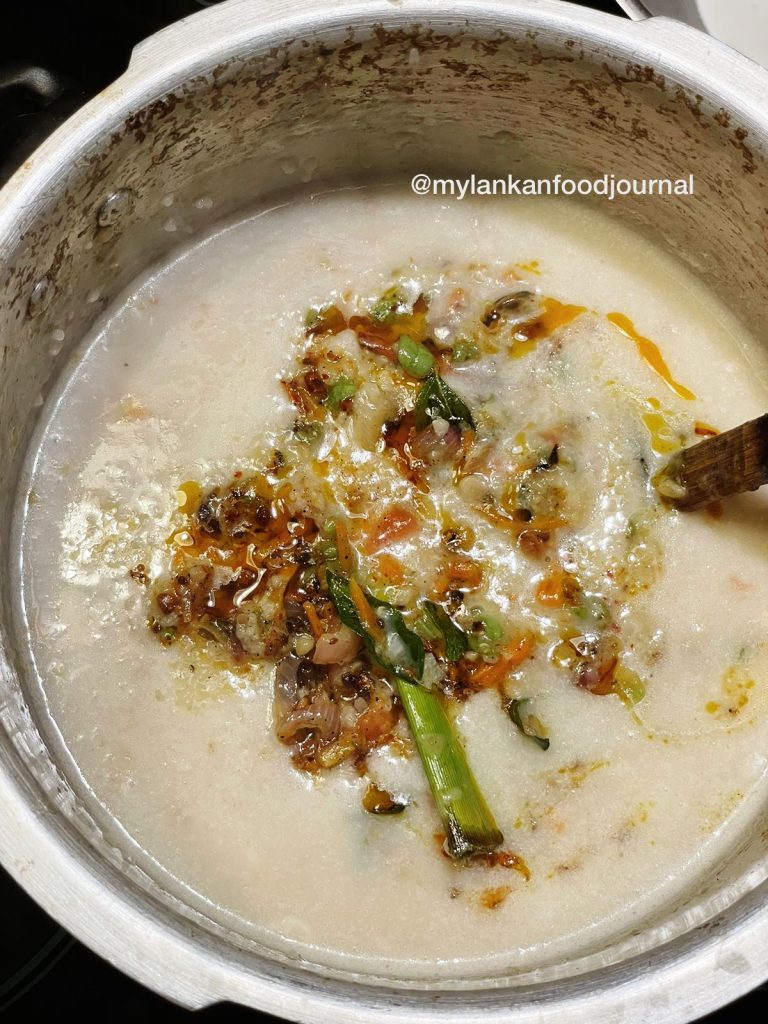 Additionally I would add some fried onions for some extra texture and flavour but this step is completely optional
This porridge or Kanji is mandatory on the Iftar table in most Muslim Homes ideally paired with the mandatory chutney and below is the recipe for my most humble but deliciously tangy Red Coconut Chutney
One Cup packed Freshly Scraped Coconut
1/2 tsp salt
1 tsp Kashmir Chilli Powder
1 tsp Chilli Flakes
2 tbsp Tamarind Pulp
01 tbsp Chopped Garlic
02 Red Onions or 1 tbsp Chopped B Onions
01 Kochi Miris/Scotch Bonnet Pepper(optional)
Lime juice of one whole lime
Blitz everything in a food processor or dry blender with no additional water because you don't want it getting too watery
Keep pulsing till you have a smooth and non watery texture
This Chutney goes well with most other Kanjis or even Pol Rotti ??
I also have the recipe for White Kanji with condiments on the blog site :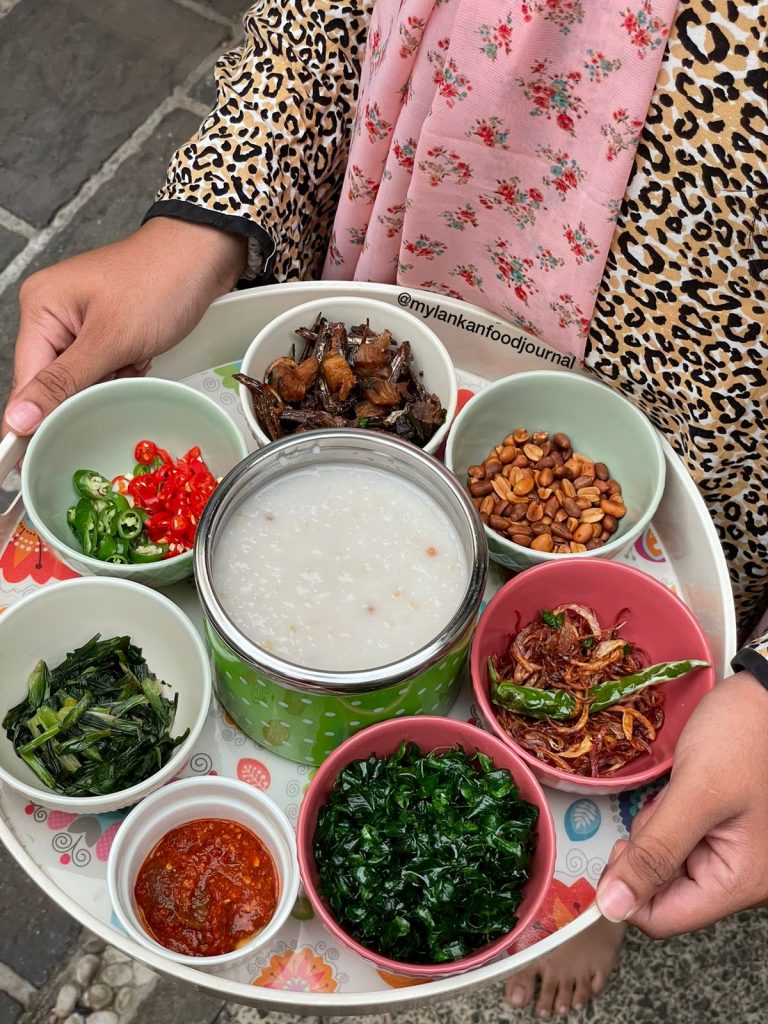 Would love to see your remakes on this deliciousness.Be sure to tag me or send me a screenshot if your account is private so I can reshare it on my stories
Let's experience the spirit of this blessed month by serving a little extra to one fasting person from whatever you cook for your family and remember that you're rewarded multiple times for every good deed only during Ramadan
Prophet Muhammad (PBUH) "Whoever feeds the person who is breaking his fast, he will have his reward (for his fasting) without decreasing anything from the reward of the fasting person." [Al-Tirmidhi, Ibn Maajah]
Prophet Muhammad (PBUH) said, "If a person gives Iftar to a fasting person in this month, his sins will be forgiven. And he will be given as many rewards as has that fasting person." He later added, "The rewards will be given even to a person who gives a date as the Iftar or who provides water to break the fast or who offers a little milk."
In another instance, Prophet Muhammad (PBUH) said, "He who gives water as Iftar to a fasting person in Ramadan becomes as sinless as the day his mother bore him," the Companions asked him, "Is it so when water is scarce and precious?" He said to them in response, "The case is the same even if he gives it by a river."
In another event, Abu Dharr (RA) narrated that the Messenger (PBUH) of Allah SWT said, "When you make some soup, make a good amount by adding plenty of liquid, and give some to your neighbours." Related by Muslims. [Bulugh al-Maram]
Feeding the hungry is one of the most significant actions in Islam. The Messenger (SAW) of Allah SWT guided Muslims to take care of one another by providing them with food and giving Sadaqah. Throughout Islamic history, there are countless events that prove that Prophet Muhammad (PBUH) would never let a person leave his house without offering him food and water.
Therefore, sharing food is an excellent way of bringing the community together and taking care of the vulnerable. To help you better understand the rewards of feeding others in Islam, we have compiled a list of the top five benefits that you can gain, as mentioned in the Sunnah and the Holy Quran:
Ibn Khuzaimah (RA) reported that Prophet Muhammad (PBUH) said, "Whoever provides Iftar for a fasting person in it (i.e., in Ramadan), then that shall be forgiven for his sins and freedom from the Fire. And for such a feeder shall be the same reward as the one who fasted (whom he fed), without that person's reward being decreased in the least." [Ibn Khuzaimah and others]
The Messenger (PBUH) of Allah SWT said, "Whoever feeds the person who is breaking his fast, he will have his reward (for his fasting) without decreasing anything from the reward of the fasting person." [Al-Tirmidhi, Ibn Maajah]
In another narration, it is mentioned that Prophet Muhammad (PBUH) said, "The one who feeds a fasting person with permissible food or water, the Angels will seek forgiveness for him during Ramadan, and Jibril (AS) will seek forgiveness for him on the Night of Power."
May Allah accept our Amals during this month of Ramadan and make this a blessed one ?? Aameen
#srilankanfoodie #mylankanfoodjournal #foodblog #colombofoodbloggers #foodiesofintsagram#onthetable #instadaily #igers #eatpraylove #positivevibesonly #ramadan #ramadankanji #ramadanporridge #homemadewithlove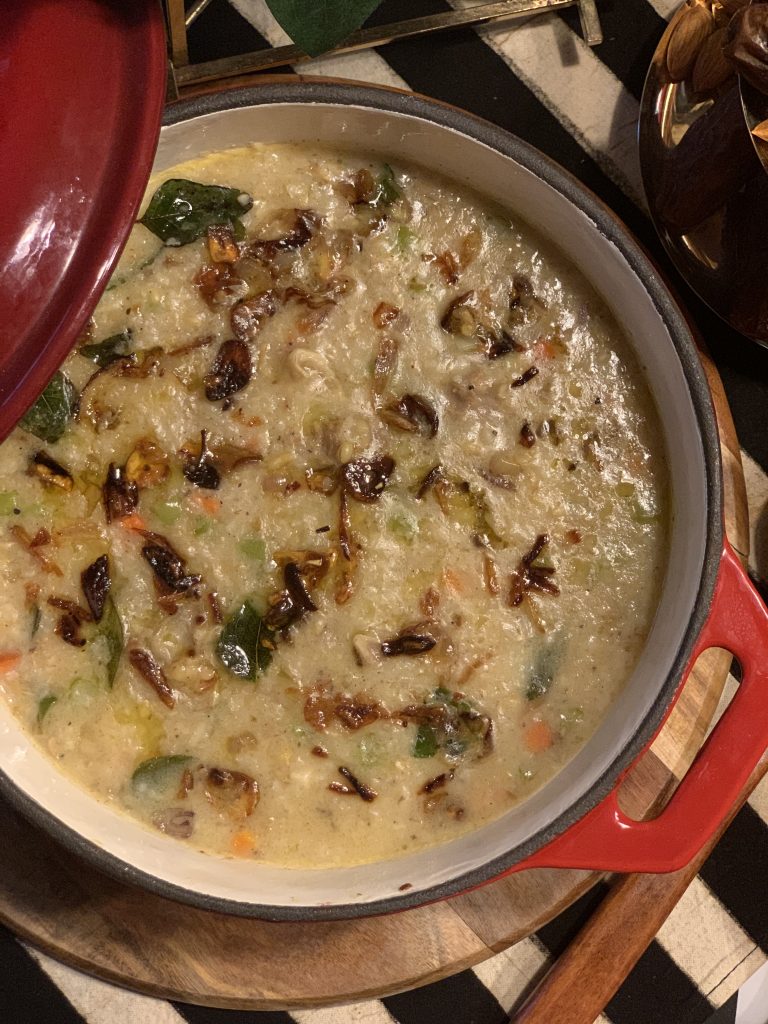 .