This Is An Ideal One Dish Meal For Ramadan Inspired By The Talented @catastrophicchef on Instagram
"Fatteh"
This Is My Version With The Limited Ingredients In My Kitchen
This Dish Was Assembled On One Plate So It Falls Into The Smart Cooking Category Which Is What We Are All Looking Forward To These Days
Layer One:
Home Made Atta Flat Bread, Sliced Them Up,Drizzled Olive Oil & Salt & Baked Them Instead Of Deepfrying Them
Layer Two:
DeepFried Aubergine(Brinjals)Slices & Chopped Tomatoes
Layer Three:
Leftover Home Made MeatBalls With My Budget Friendly Pasta Sauce
Basic Meatballs
500gMinced Chicken
salt, Pepper ,1Tbsp Kashmir Chilli/Paprika,Ceylon Coconut Company Coconut Aminos(Soy Sauce Substitute),Lime Juice,Garlic Pwd/Fresh Minced Ginger & Garlic,Onion Pwd/Fried Sliced Onions,One Beaten Egg,Dried Or Fresh Herbs,One Tbsp Almond Pwd(Optional),CornFlour(Optional),Oil If Needed.Mix Well & Make Into Small Circular Shaped Balls.Then PanFry Untill Both Sides Are Cooked Well While Browned Outside.
BUDGET FRIENDLY PASTA SAUCE:
500g Sliced Onions,500g Tomatoes Chopped,1 Tbsp Chopped Ginger & Garlic Or Paste,1 Tsp Salt,Pepper,Kashmir Chilli Pwd,Paprika,3 Tbsp Tamarind Pulp,2TbspCoconut Aminos/Soy Sauce,2 Tbsp Sriracha Hot Sauce
Method: Sauté Onions In Half Cup Coconut Oil,& Bay Leaf Or Curry Leaves,When This Gets Nice & Golden,Add In The Spices & Mix Well.Then Add In Crushed Tomatoes & The Rest Of The Ingredients,Keep On Low & Cook Covered For Atleast 15Minutes.Add Water If Needed.Let This Cool Completely & Then Blend Well.This Is Your Fresh Home Made Pasta Sauce Made Easy.
For A Vegetarian Version You Could Use Cooked Or Baked ChickPeas With The Same Sauce Instead Of The Meat
Layer Four
Beaten Curd With Minced Garlic
If You Dont Have Curd You Could Make A Bechamel Sauce With Coconut Milk & CornFlour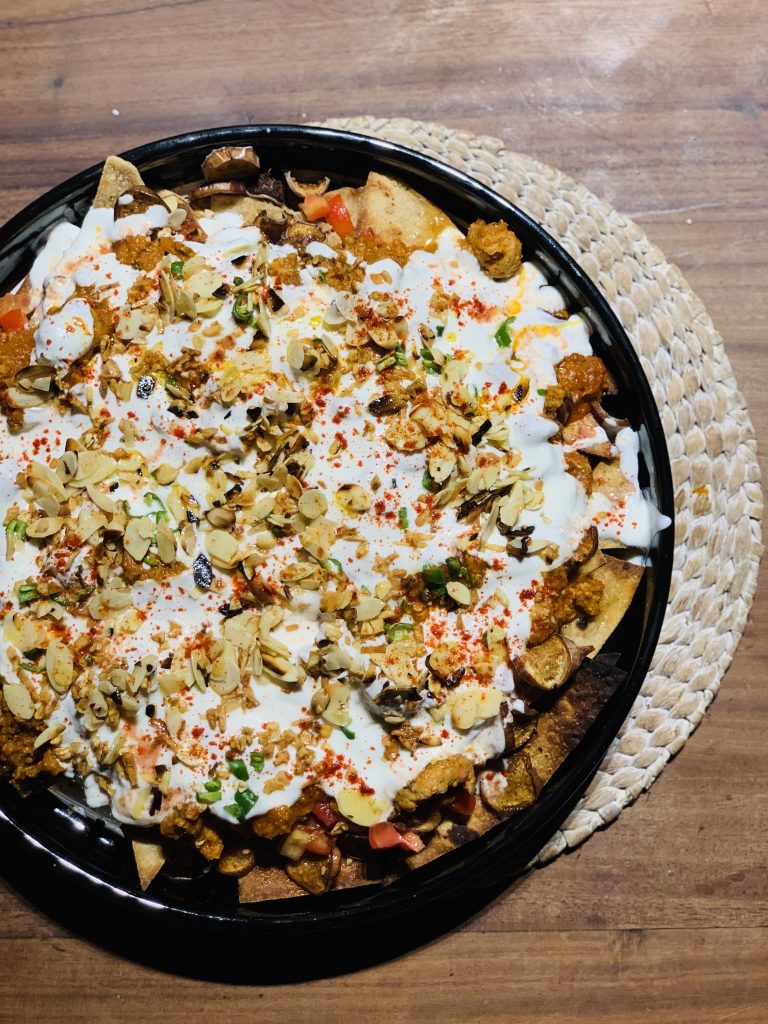 Last & Layer Five
Sliced Green Chillies,I Used Only One For The Husband Just For Some Heat
Fresh Corriander Leaves Or Parsley Would Be Ideal But Today I Didn't Have Them
Roasted Nuts
Minced Fried Garlic
Fried Onions Or Fresh Sliced Onion Rings
You Could Be Generous With Your Layers But I Just Made It According To Our Preference & Ingredients 
You Should Definitely Give This One A Try!!!
Would Love To See Your Remakes
Stay Safe💕Stay Home💕Stay Sane💕
Much Love Nuzrath