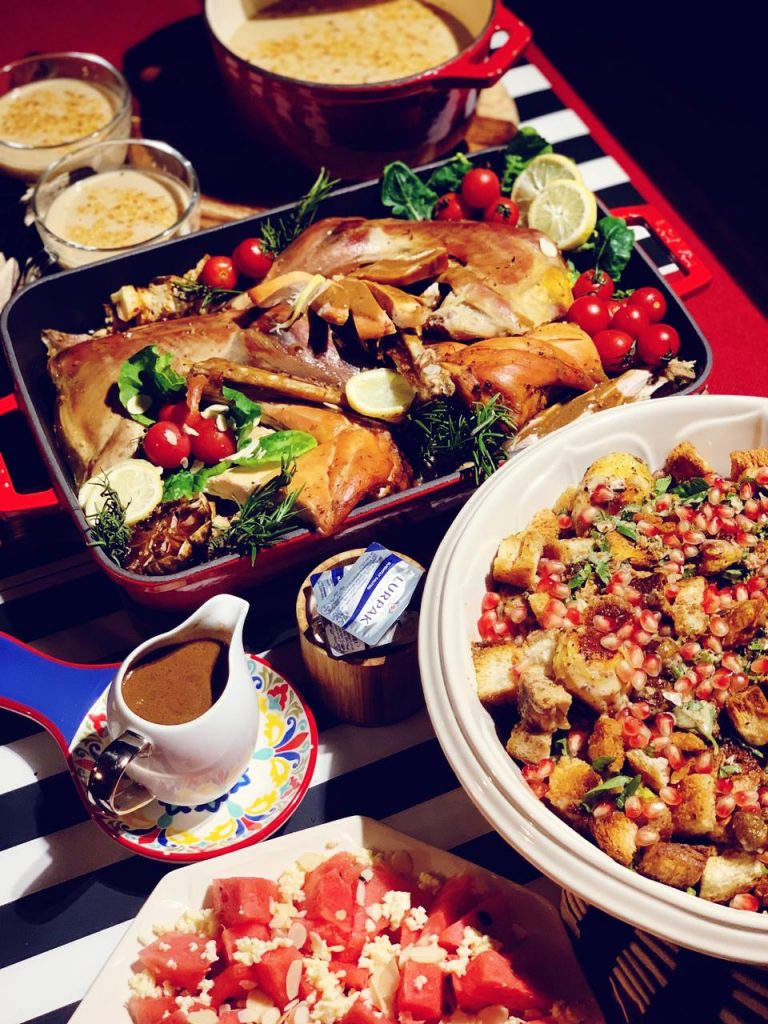 What better time to have this Big Bird than during The "Thanksgiving Season"
Was a coincidence we made Oven Roasted Turkey and Pumpkin Pie in the same month !!!
This Large bird was sourced from king creek farms.If requested they give you with skin on but I forgot to mention that this time…next time we are doing skin on !!! Still we managed to get a Juicy Roast on this one ??
Check Out their instagram page to place an order for your next Turkey Roast.Refer to link below :
https://instagram.com/kingcreek_farms_?igshid=xp703ffrzv1m
I did a simple Garlic Butter Rub for the Turkey with a rich gravy to go over the Golden Bird.
For Sides we had a warm and comforting Mushroom and Garlic Soup with Crouton and Potato Salad
Watermelon Slices with Ricotta
The Link attached below has the recipe to My Warm Mushroom Soup
Get your fresh Fruits and Veges from SunnyBees.Refer to link attached below :
https://instagram.com/sunnybees.lk?igshid=9o5q9gbunh14
Let's Get Started
Oven Roasted Turkey
Get everything ready and start to prep the bird, You Will Need :
(01) TURKEY : This particular bird was almost 4kg.Cooking time is usually 30 minutes for every kilo of meat.Ideally it should be skin on but I forgot to mention so next time you buy make sure you buy with skin on…
You could use any kind of bird if Turkey is too big for you but Cooking timings will be different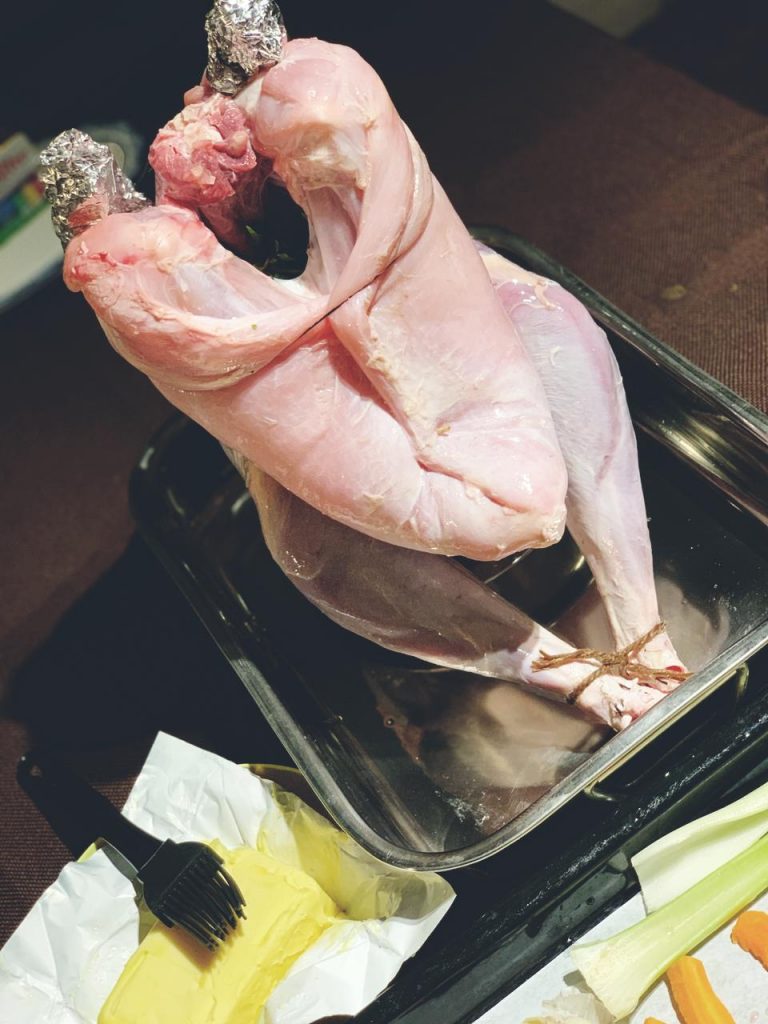 Common Tips and Tricks I gathered about Roasting a Large Bird
Wash and clean the bird well with salt and water.
Then I drained off all the excess water and wiped the bird with a paper towel.
I had a vertical stand to place my bird on while in the oven but you can just lay it flat in the lined baking tray over the veges and giblets.
I covered the wings of the bird with aluminium foil to avoid charring because it was close to the top heating rod of my oven and almost touching being vertical.
I used a twine and tied the legs and around the body to hold shape while on the stand
Rub salt all over the bird before rubbing the Garlic Butter
Watch the video to see the rub on the Turkey ?????? in my instagram post.Refer to link attached below :
https://www.instagram.com/p/CIJEdubhp7t/?igshid=1tyd14rgbjwyx
(02) Large Oven Proof Tray lined to place the giblets,parts,herbs and veges under the turkey while roasting.This is what's gonna pack flavour for "The Gravy"
Neck and Giblets, parts of the Turkey that is not needed
Rosemary
Thyme
Carrot Sticks
Celery Sticks
Garlic cut in half
Whole Onion cut into half
(03) Garlic Butter Rub : I used 400g Butter softened with Garlic Granules or finely chopped fresh garlic
(04) Vegetable Stuffing for the inside of the bird : I used whole garlic, whole onion, and fresh celery
Let's Prep this Bird for the oven
Rub the Garlic Butter all over the Bird inside out.Do not use up all the butter as you will need more while basting the bird in-between.
Stuff the inside with a whole onion and celery
Place on the Stand
Place this stand over the line tray with all the fresh veges, herbs, giblets parts
Carefully transfer the whole tray into the preheated oven.
Every 30 minutes, remove from oven and baste the Bird with the butter using a brush.Then return to oven.
Time according to weight of the bird, 30 minutes for every one kilo
Once timing is done, remove from oven and cover the cooked bird with aluminium foil and let it rest for at least one hour.This is a very important step because all the flavours start gathering while the turkey is resting and the liquids that releases makes it remain moist and juicy.
In the meantime you can start making the gravy using the residue left at the bottom charred veges and herbs.They may look like they're burnt but there's so much flavour in all that charring.
Time To Bake
First 30 Minutes later…
One Hour Later…
One hour and 30 minutes later…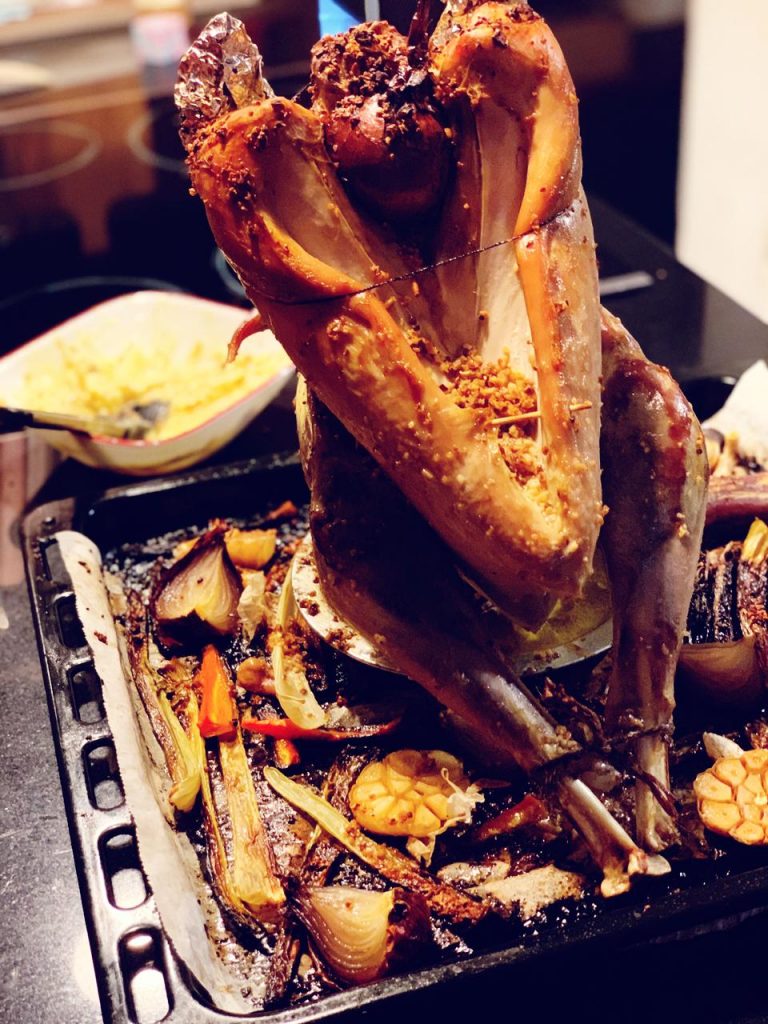 Almost Two Hours and Done ?
Now, let this rest for another 60 minutes while covered in a kitchen towel or aluminium foil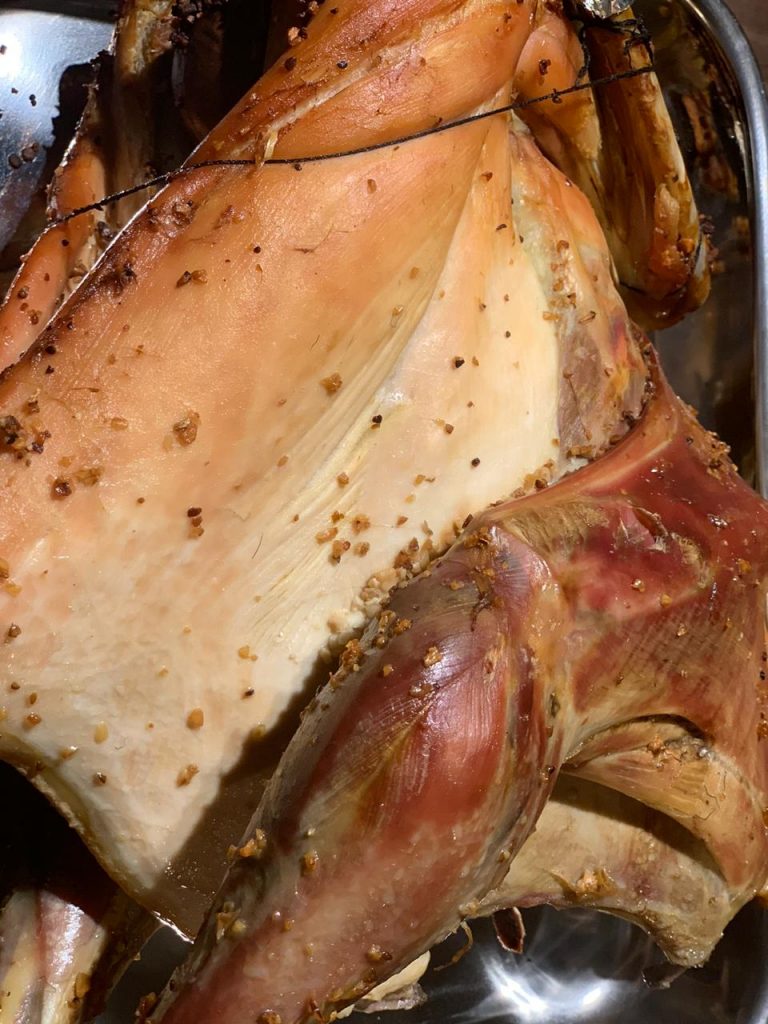 Let's Make The Gravy
You Will Need
Reminants after baking mixed with water.Squeeze out the garlic and mash them to bring out all the flavours.
1 Tbsp Cornflour for every one cup of Gravy
One Cup Heavy Cream
Lime Juice of one lime
Heat this liquid over medium high flame and keep mashing to bring out all those juicy flavour.Strain this and discard solids.
Place the liquid remains over medium high heat and bring to a boil.Drop some whole fresh herbs if you have
Add Cornflour Slurry and keep stirring till it forms a thick and rich gravy.You could add Heavy Cream or Coconut Milk if you prefer.Check for salt and spices and adjust accordingly
Your Rich and Flavourful Gravy is Ready
Warm Crouton and Baked Potatoes Salad
I used leftover bread to make some Oven Roasted Croutons.Then I baked seasoned potatoes and mixed them both to make a warm and delicious salad
Oven Roasted Croutons
Season the cubed bread and place on a lined baking tray.
Seasonings : olive oil, garlic granules,salt,pepper and dried herbs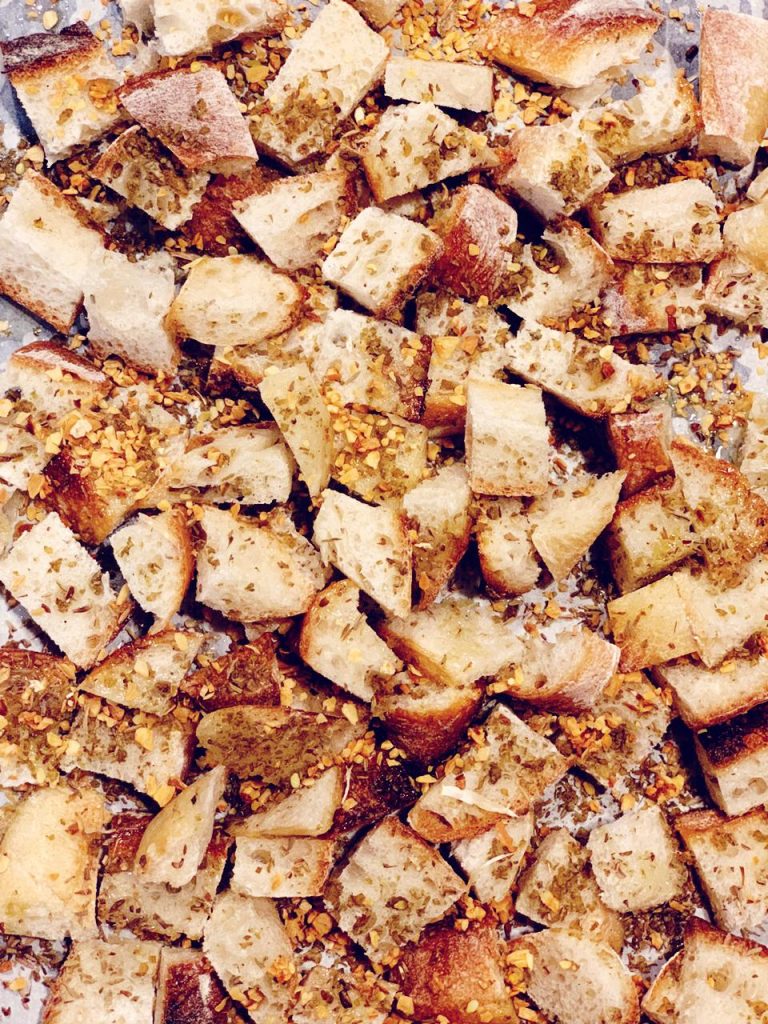 DO SAME SEASONINGS WITH THE POTATOES
I used a mixture of baby potatoes and regular potatoes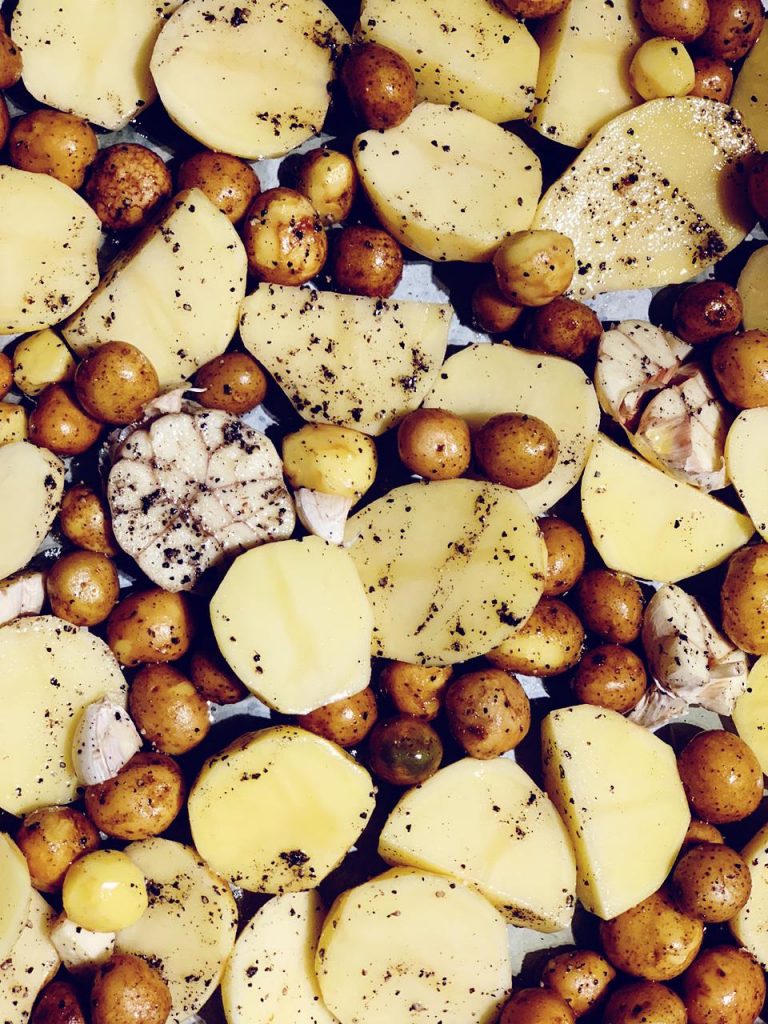 Mix both together with freshly sliced basil leaves and pomegranate seeds and you got yourself a great bowl of Deliciousness!!! I drizzled Kewpie Roasted Sesame Dressing and it paired so well
Time To Serve The Turkey Roast
I carved the whole bird and made it look pretty by assembling it in one serving plate.Served it with the gravy on the side to avoid wastage.This whole bird was anyway too big for us so I made sure that I stored the leftovers to make something for the next day….
Made it much easier with the kids but you could definitely do the whole bird if you're serving for guests
Await the Modified Dish in my next post
Those Cherry Tomatoes were soo good, literally the "once you pop you can't stop kind"
I just crumbled some ricotta and almond flakes over fresh watermelonThe kids really enjoyed this…
However messy it maybe with so many kids, Having Meals together as a family is always a Beautiful feeling
Always make sure you have at least one sit down meal together as a family
Hope everyone's having a good weekend indoors : we are looking at a good one because we have finally gotten the opportunity to spend some quality time with my father after a while
Would love to see your remakes on this amazing meal.Be sure to tag me on social media or send me a screenshot if your account is private so I can re share on my stories
Stay Safe Everyone and Please Be Responsible
Much Love ? Nuzrath
srilankanfoodie #mylankanfoodjournal #foodblog #colombofoodbloggers #colombolife #foodiesofintsagram#onthetable #instadaily #igers #eatpraylove #positivevibesonly#alhamdulillaforeverything?