Anyone else been missing my All Things Biscoff posts ???
I'm so touched when the instafam sends me Biscoff related stuff because that reminds y'all of me???
Biscoff Obsession is still alive but lately I've been staying away from sweets and it's quite challenging when I have a room full of Biscoff things which I've locked away for good reason??????
Had to make this because I just couldn't handle it anymore…Year End holidays have ended and mummy needs a break
Am I right ???
CHOCOLATE BISCOFF PUDDING : Silky chocolate mousse inbetween Lotus Biscoff Cookies…drizzled with more Lotus Biscoff sauce
Can it get better than this y'all !!!
Experimenting recipes combined with Chocolate and Biscoff has always pleased me more than having Biscoff on its own
Mainly because Biscoff Cookie Spread has a very subtle flavour and when combined with the right thing brings out the best !!!
I also tried a dark chocolate cookie stuffed with Lotus Biscoff Spread…So so good
Recipe for my Dark Chocolate Biscoff Cookie is available in the blog site.Refer to link attached below :
For this particular pudding I use the same silky dark chocolate mousse or dark chocolate pudding inbetween the layers but of course with layers and layers of Biscoff goodness !!
Simply switch the Marie biscuit to Lotus cookies with drizzles of Biscoff Cookie Spread inbetween
Anyway hope everyone's getting back to routine with hybrid school sessions.We are kinda used to it but it is challenging to keep everything together…I'm just praying the kids get back home safely
May this year be a good one for the kids and US !!!!
Let's Get Started
You Will Need
Cake Base : Store bought Chocolate Swiss Roll
Dark Chocolate Mousse OR
Dark Chocolate Pudding
Lotus Biscoff Cookies 300g
Melted Lotus Biscoff Spread : approximately half a jar
Cup of Warm milk with a tsp of instant coffee to soak the biscuits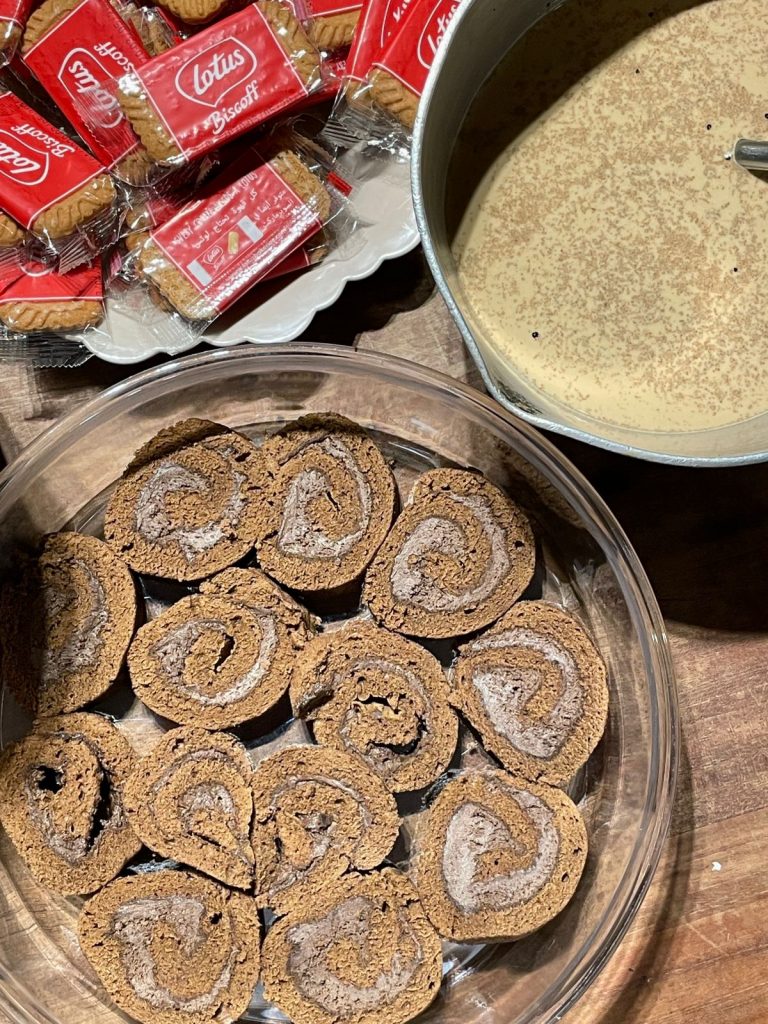 You can use store bought Chocolate Swiss Roll to save you a lot of time but if you would prefer the home made version,don't stop yourself.This layer is completely optional too.I just love biting into a layer of cake when enjoying this dessert.
Refer to the recipe available for both the recipes
Dark Chocolate Mousse
Dark Chocolate Pudding
Time To Assemble
Layer One : Cake Base
Soak with coffee and milk
Sprinkle crushed lotus biscuits
Drizzle melted cookie spread
Layer Two : Dark Chocolate Mousse
Layer Three : Soaked Lotus Biscuits
Layer Four : Dark Chocolate Mousse
Repeat till the Chocolate Mixture is done…
You can layer this as many or as less as you like.I layered it in a lined loaf pan and sliced it because I was serving it for a special guest,but you could just assemble in a regular large Pyrex and serve just like that.
Since I set in a loaf pan, I unmoulded it and sliced it like shown in the image below
Decorate with more melted cookie spread and crushed Biscoff cookies…divinely yum
Chill overnight for best results and plate it while it's still cold…
Still so so delicious I promise !!!
This Dark Chocolate Mousse and Dark Chocolate Pudding is very versatile and can be switched around to create many delicious desserts that will leave your guests impressed for sure…
Check out my Instagram page for more cooking inspiration.Refer to link attached below :
https://www.instagram.com/p/CThFSNAh6ud/?utm_medium=copy_link
Would love to see your remakes on this deliciousness.Be sure to tag me or send me a screenshot if your account is private so I can reshare it on my stories
Much Love ?? Nuzrath
#srilankanfoodie #mylankanfoodjournal #foodblog #colombofoodbloggers #colombolife #instadaily #bekind #begrateful #allthingsbiscoff #biscoffspread #lotusbiscoff #lotusbiscoffdessert #biscoffobsession #homemadewithlove #chocolatebiscoffpudding #feedfeed #foodstyle #foodiegram #loveforbiscoff #covid_19 #lockdownlife