This is one of those things that Srilankans never get tired of eating.CBP,Steamed Caramel Pudding, Watalappan, Custard or Trifle were amongst many other delicious local favourites.A classic Chocolate Biscuit Pudding consists of the most rich and decadent choc buttercream sandwiched in-between milk dipped Marie biscuits and topped with cashew nuts.An absolute treat with every scoop, wonderful memories of my childhood where my mom would make this for us whenever we had special guests because she learnt this from her posh cousins… SUCH A CROWD PLEASER !!
Today I have made a variation from the original version by using two flavours for the Biscuit Pudding Filling but you could definitely choose to make either one exclusively by layering the entire pudding with only one kind of flavour.With each time I make a slightly different variation by adding nuts or chocolate chips etc….Can you ever get bored with toppings over a decadent rich chocolate dessert like this !!!
Read below to see how my version is different to other recipes you would find online and why I think this one's surely a keeper !!
I know the original version asks for a Chocolate Buttercream but I find it too sweet so I decided to make a light and creamy mousse-ish filling and that has been a GAME CHANGER ever since.So easy to make and comes together quickly with little or less ingredients compared to a heavy butter cream.
I used local Marie biscuits when living in Srilanka but if its not available in the area you live in, you can use any kind of malt based biscuits.I have tried using Lotus Biscoff Cookies, Arnotts cookies, graham crackers and it works well too.
The original recipe calls for biscuits dipped in fresh cold milk but I like to add some instant coffee into my milk mixture for that extra oomph, after all when it comes to desserts,Chocolate and Coffee pairs so well in the best possible way
In most of my dessert recipes you would notice I always have a cake base and most often I would take the shortcut by using store bought Swiss Roll (Little Lion has to be my favourite brand or even Cafe on the 5th : Tasty Caterers make a fresh version).For this particular recipe I used the chocolate Swiss roll and not having it any other way !!
Marie Biscuits 500g
500ml Fresh Milk mixed
2 tsp instant coffee powder
Layer One : Dark Choc Pudding
Layer Two : White Chocolate Pudding
Extra Chocolate Chips
Crushed Nougat
500g Dark Chocolate
3 Eggs separated
1 Cup Heavy Cream
Vanilla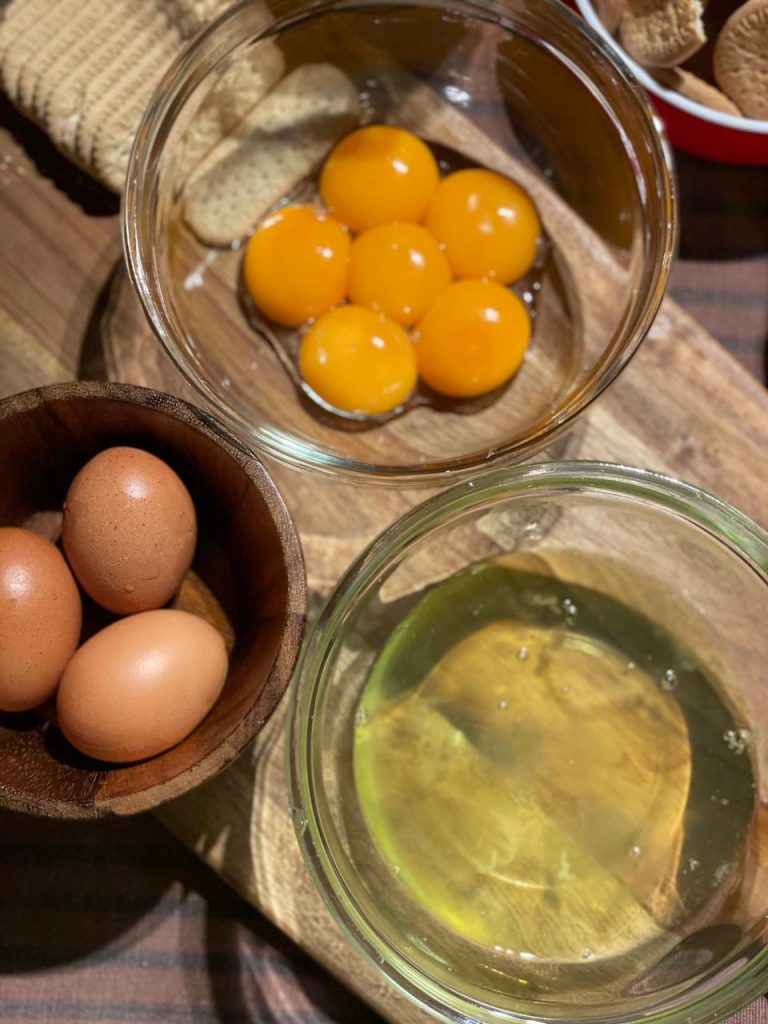 Step One : First beat the egg whites and set aside.Make sure the bowl and every attachment used is nice and dry otherwise you will not achieve best results on your stiffly beaten egg whites.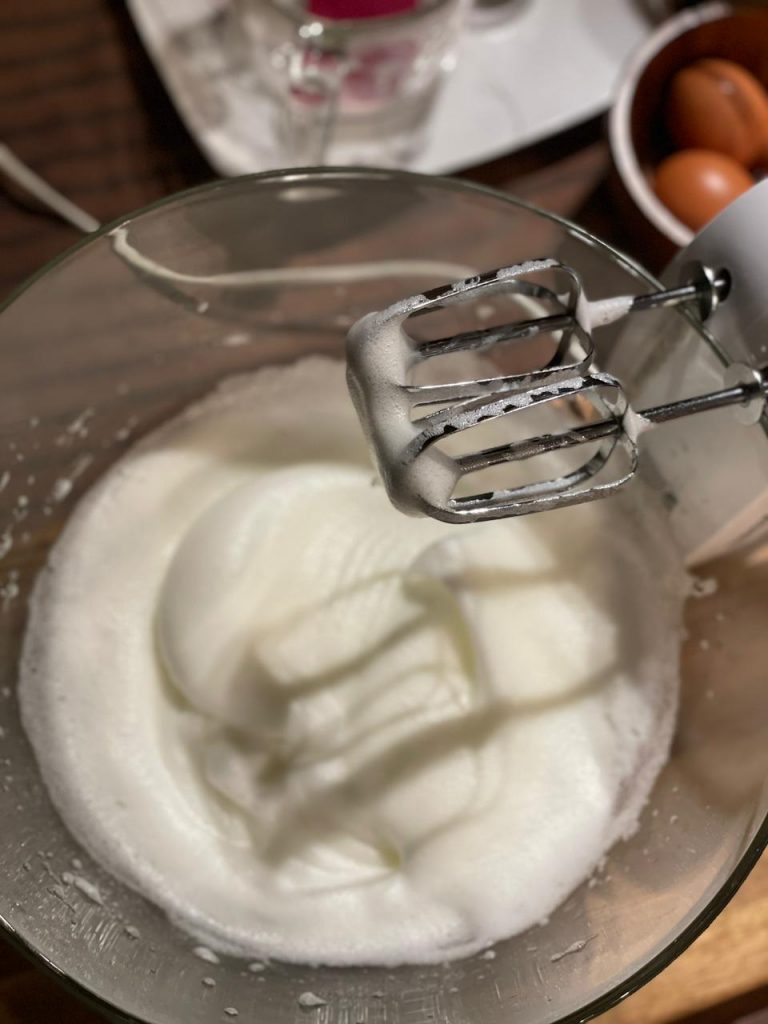 Beat egg yolks in a seperate bowl using a whisk.
Step Two : Melt Dark Chocolate with heavy cream and whisk using a fork.You could melt in the microwave or use a double boiler,either will work.If you're using a saucepan over stove top then place over very low flame to avoid burning the mixture.
Step Three : While the chocolate mixture is still slightly warm add in the beaten yolks and continue to beat this to avoid the yolks from scrambling inbetween.Add vanilla
Step Four : Finally fold in the stiffly beaten egg whites and combine well.
During Summer which almost all the time in Srilanka, leave this Rich Chocolate mixture in the chiller for at least an hour before using to layer the dessert.
This can be served as a regular Chocolate Mousse if you're not in a mood for layering with biscuits.
Let me tell you a little secret : This above version may be the safest way to make the Mousse or Chocolate Filling for the Chocolate Biscuit Pudding because there are eggs involved.But if you're like ME and have no allergies then I'd highly recommend you try my 3 ingredient mousse which is the easiest route and whips up in less than 15 minutes I promise !!
You will need 3 whole eggs,01 packet(500g) of Dark Cooking Chocolate and 01 Cup Heavy Cream.
Step One : Melt the dark chocolate in the microwave(use a heat proof bowl and cover with cling wrap to be safe)Let this cool completely before adding anything else in..remember this is the actual waiting process because you dont want scrambled eggs in your chocolate…
Step Two : Beat the eggs till light and fluffy.YES YES you read it right, no cooking or separation involved.As afraid to to try this then,NOW I wouldn't make this any other way for my family : unless we are having guests and they may have allergies.I swear its been over 10 years and we have never experienced any sort of reaction to this mousse.
Step Three : Now mix the beaten eggs and slightly warm chocolate mixture wishing the eggs would warm up during this concoction and mix well.Immediately add in the heavy cream and beat for few minutes till everything is well combined…Add vanilla to remove the eggy flavour and thats it !! THE FASTEST YOU WILL EVER MAKE CHOCOLATE MOUSSE IN YOIUR LIFE.
500ml Fresh Milk
2 tbsp Cornflour
1/2 Cup White Chocolate Chips
1/2 Cup Heavy Cream
1/2 Cup Sugar/Condensed Milk
3 Egg Yolks
1 tsp Vanilla
Step One : Melt Sugar and White Chocolate with Warm milk and Heavy Cream in a heavy bottom saucepan over medium flame.Add vanilla
Step Two : Make a cornflour slurry using 1/4 Cup water or milk.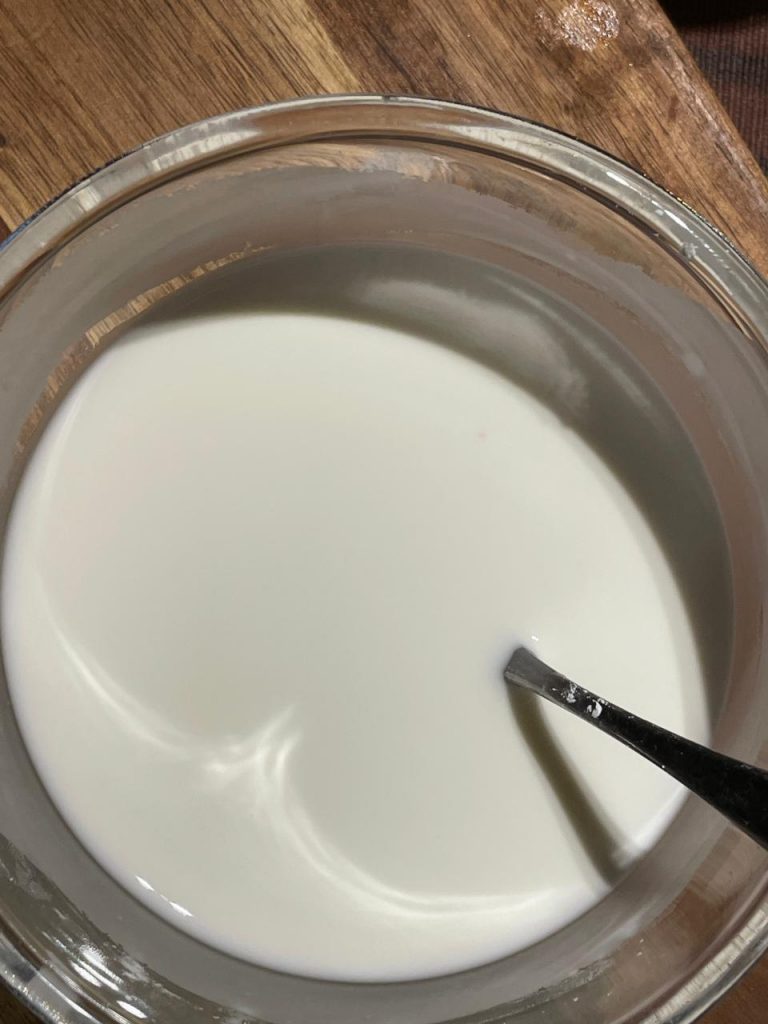 Step Three : Let the milk come to a boil
Step Four : Add in cornflour slurry and keep whisking continuously to prevent forming of lumps in your mixture.
Switch off flame or keep on very low flame to avoid burning or thick splatter.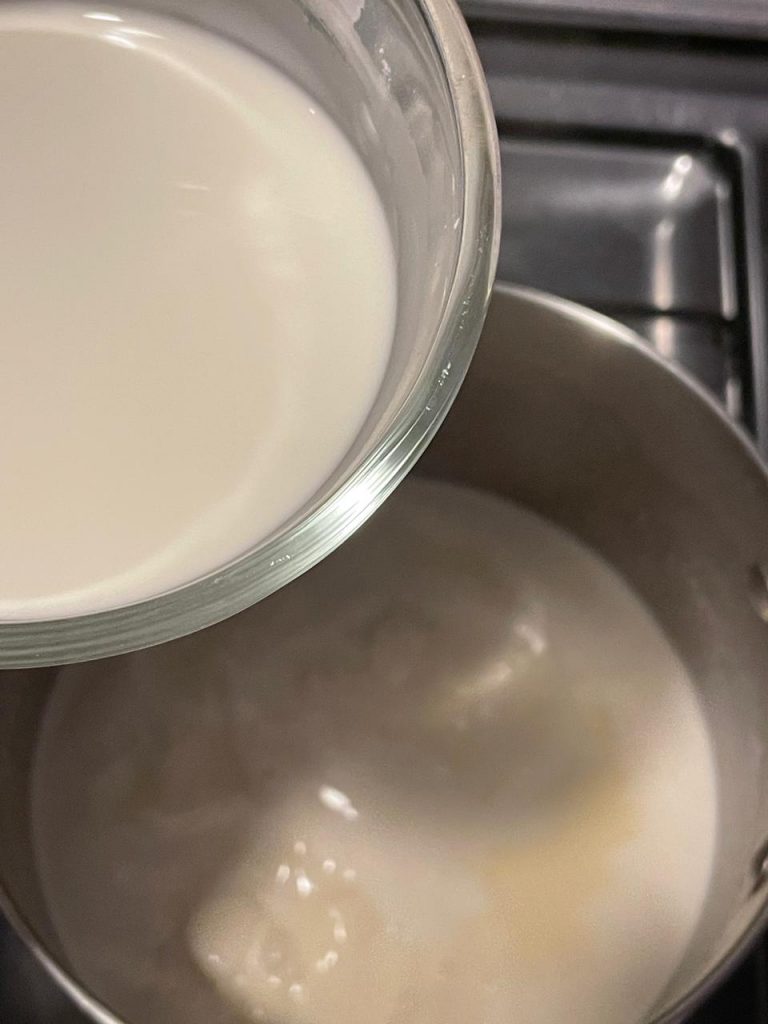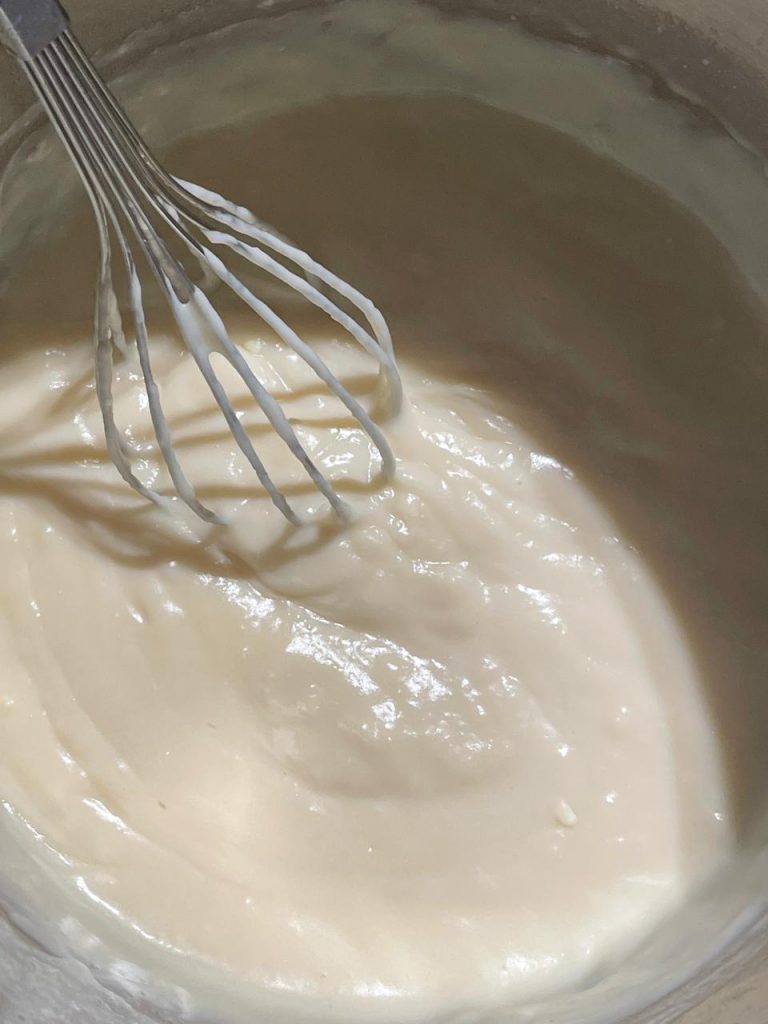 Step Five : Remove about one cup of the warm custard and add into the beaten yolks and whisk well.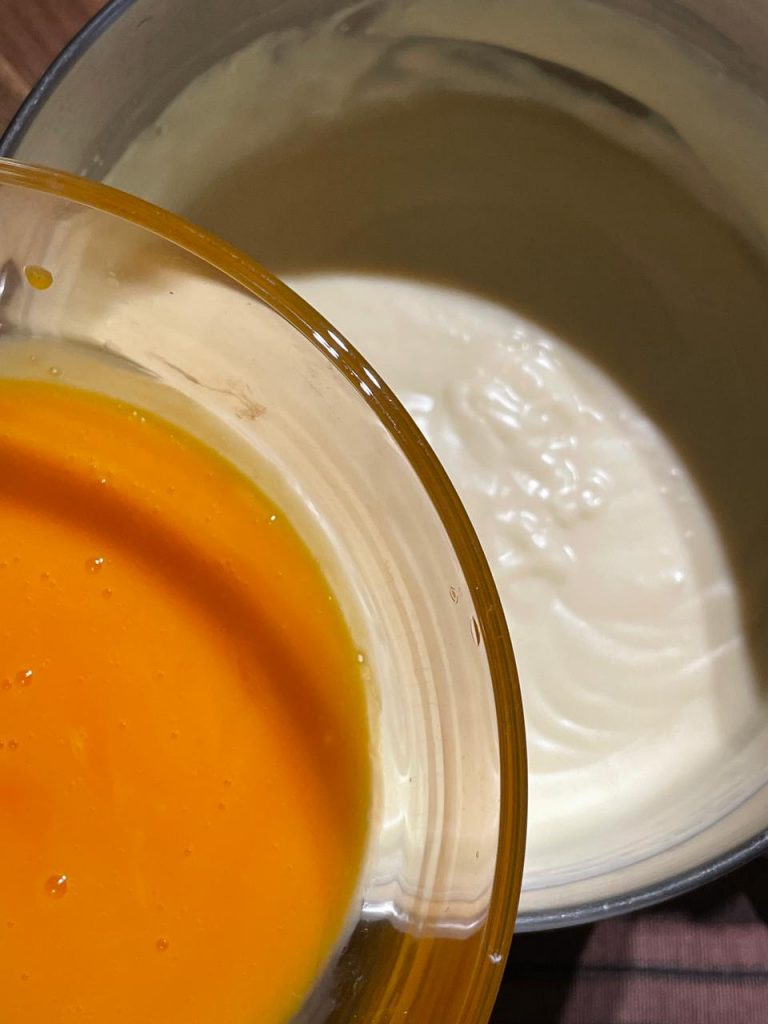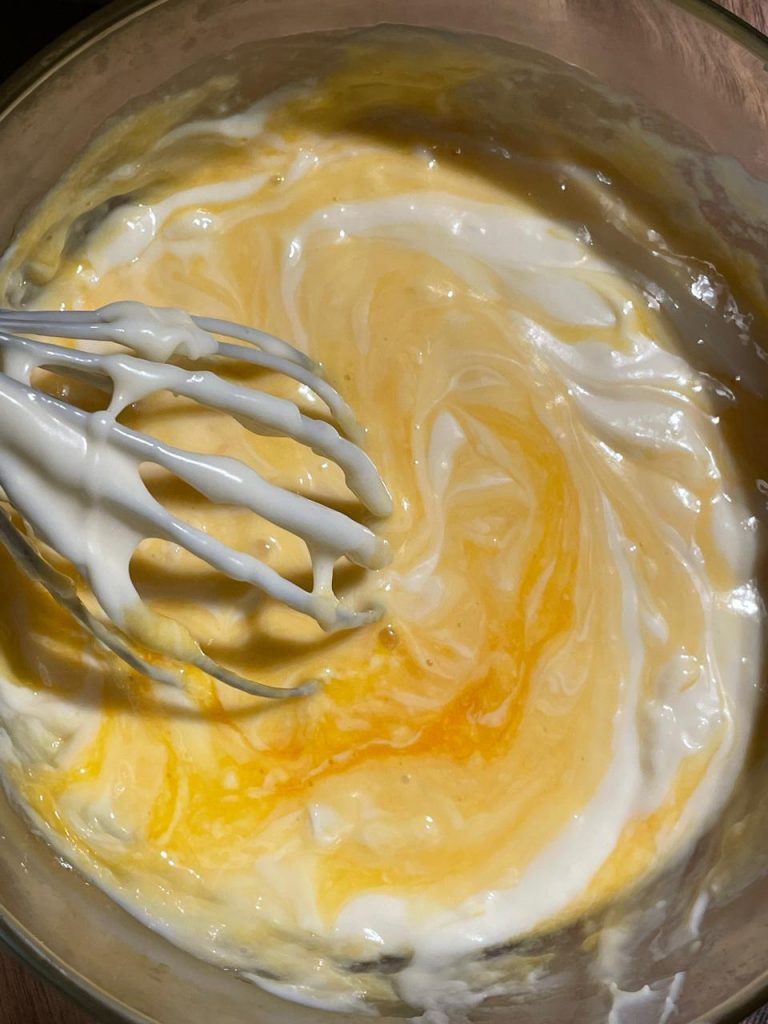 Step Six : Now add this yolk mixture back into the white custard
Keep on very low flame for 5 minutes while stirring continuously until the mixture gets nice and thickened up.
The reason for not adding yolks directly into hot pan is to avoid the yolks from scrambling in the custard.
By adding warm custard into the beaten yolks you're actually warming them up which means they're no longer raw and fit for consumption.However this is not advisable if you're sensitive to raw eggs or prone to allergies so please skip this step if this doesn't work for you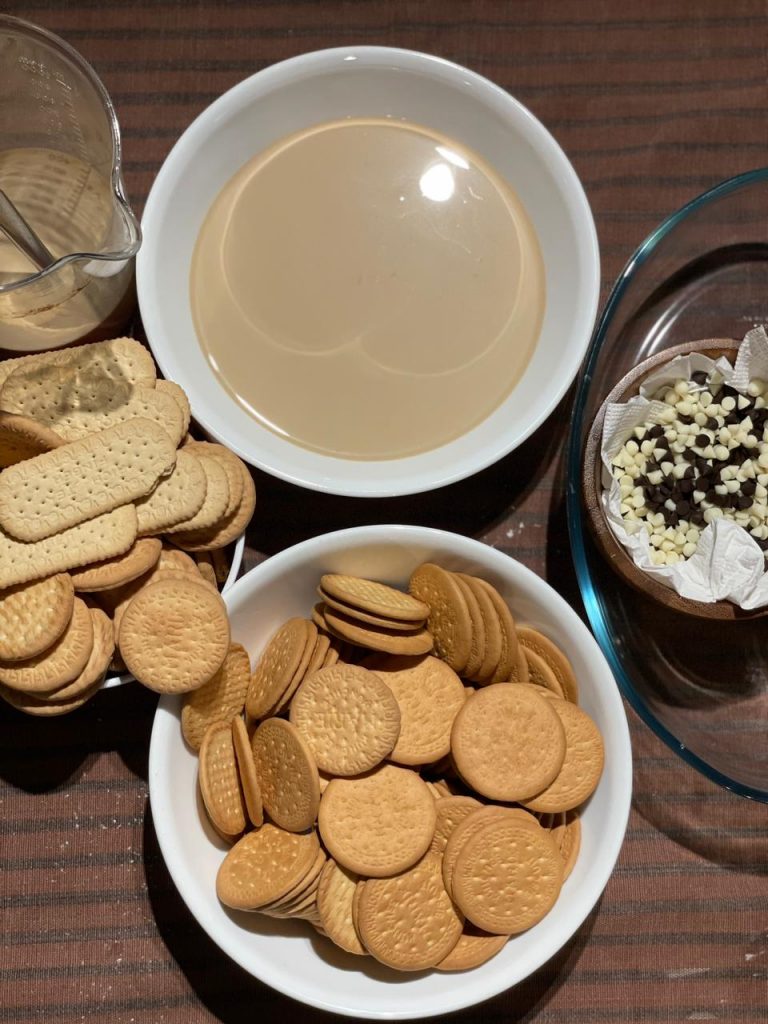 Mix Milk and instant coffee together
I used a medium oval Pyrex Dish but you could use your choice of serving dish
Ideally Layer One would be a cake base drenched in milk coffee, specifically chocolate swiss roll slices but today I was unable to get Swiss roll,hence no image to show as well.Remember to soak the cake with coffee and milk mixture before layering with mousse filling
Layer One : Soaked Biscuits
Layer Two : Dark Chocolate Pudding
You can add crushed nougat or extra chocolate chips in between each layer for more texture, get creative and use what's available to create your own version of this deliciousness..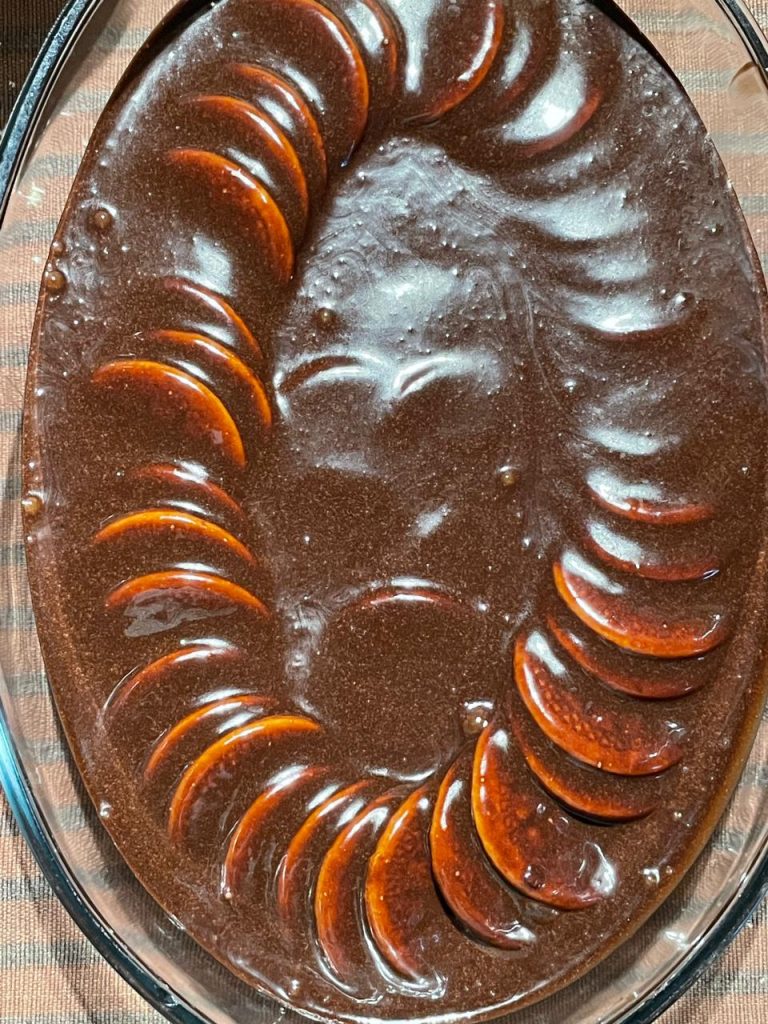 Layer Three : Soaked Biscuits
Layer Four : White Chocolate Pudding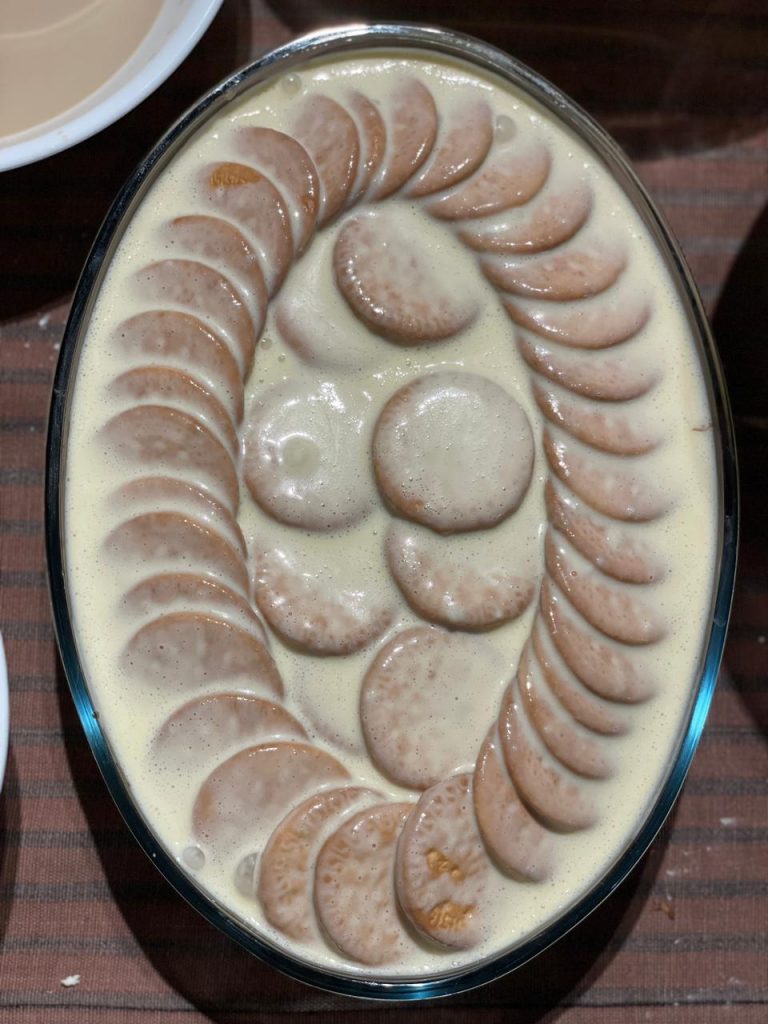 Layer Five : More Dark Chocolate Pudding
Repeat till the top of the serving dish is full and let this set in the chiller for at least 2-4 hours before serving or overnight.
Today I was rushing for time so it has not really set well.Not too happy with the images today as well…
Topping : Crushed Nougat or Mixed Chocolate Chips(Optional)
Today I used Pistachio Butter to add a bit of contrast to the dish.
Would love to see your remakes on this deliciousness.Be sure to tag me on social media or send me a screenshot if your account is private so I can re share it on my stories