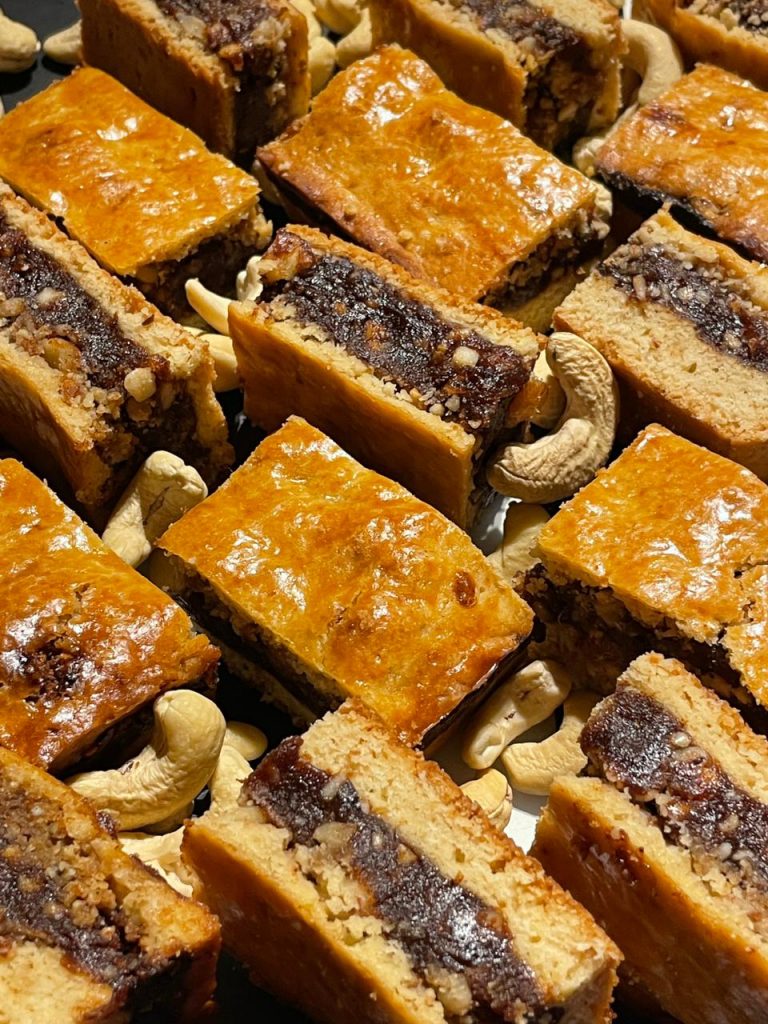 Date Bars are a wonderfully sweet yet earthy treat that pairs perfectly with a hot cup of Ceylon Tea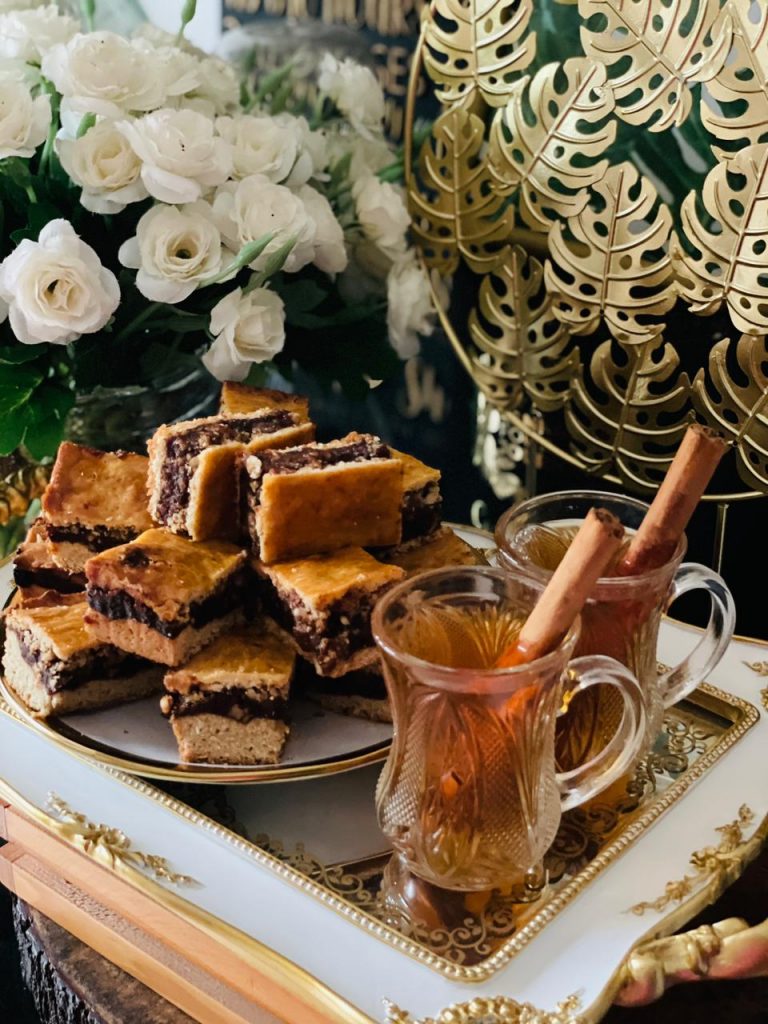 I remember every Eid my sisters would be in charge of making the sweets and being the youngest little brat in the house🤣🤣🤣they used to chase me away because I would sneak a few for cousins even before Eid…Our Eid table had most of our family favorites with Humble Recipes that have been passed down from person to person and we are happy to share with others because we believe that sharing our knowledge is a form of charity…
Having said that, I know that this may not work for everyone because some cannot share and I totally respect that when you're doing a business it doesn't make sense to throw your recipe around after all the hard work that has gone into actually creating a particular recipe,some are under contract etc…no judging pls
These delightful date bars were so good and mostly made during Eid because we had quite the stock from the dates we get during the month of Ramadan.I usually store the dates in the refrigerator by removing the seeds because it makes it easier to use when needed.Dates are a perfect substitute for sugar and you would see I use them a lot in my recipes
Those days, having no luxury of access to a food processor we would do everything from scratch : clean the dates and mash them either manually or using the stone machine we used to grind rice flour.Getting the paste off the stone would be a major task.
However I have made a few changes and made this as easy as I can because I now own a food processor and a cake maker Alhamdulilla and I'm so grateful for that because it saves so much time and effort…
Anyway am sure most of you must've tried this at least once during Eid Visits and each family had a recipe of their own.Who doesn't enjoy a treat like this on cold days like today…
Let's Get Started
You Will Need
Pastry Dough
Date Filling
Pastry Dough
500g All Purpose Flour(a little more if needed)
2 tsp baking powder
250g Butter
250g Sugar
4 eggs
1 tsp Vanilla extract
Step One : Beat Butter and Sugar till light and fluffy
Step Two : Add eggs one by one and beat each for a minute
Step Three : Add Vanilla and mix well
(Sift the flour together with baking powder)
Step Four : Add dry ingredients gradually
Add more flour if needed to make a smooth cookie dough like texture
Let this rest for at least 30 minutes in the refrigerator before rolling out.This dough can be made ahead and frozen for months too but thaw for 1 hour before using.
While it's chilling let's make the filling
Date filling
Ingredients
750g Pitted Dates mashed up
50g Butter
1/4 Nutmeg powder
1/4 Cardamom powder
1/2 Cinnamon powder
100g Chopped Cashew
Step One : Wash and clean dates well before making the paste
I had the paste pre made in my refrigerator so I used it conveniently otherwise most days I would make it fresh when needed
Step Two : Add butter and nuts into the bowl with the dates and heat this to make sure it's well incorporated.You could either do it over the fire in a heavy bottom pan or simply microwave it for 30-50 seconds
Step Three : Add spice powders if you prefer otherwise you could simply skip this step because not everyone enjoys spice in their sweet dishes.However the spice balances the sweetness of the dates and creates an amazing combination.
The filling is now ready.
Let's Assemble This
Divide the dough into two portions and then into two again.Use two for each baking tray
I flattened the dough by rolling inbetween two lunch sheets.This makes it easier to handle and you won't need too much flour for dusting. 2cm thickness would be ideal
Transfer this to the base of a lined baking tray (10" by 10" )
You can use the lunch sheet over this as well to make the job easier and smooth out the layer using a small rolling pin like mine
Spread the date filling evenly
This is an extra step and you can skip this if you are not a big fan of nuts but we love nuts over anything so added extra
I sprinkled a layer of pistachio powder over the date filling
I also spread a layer of crushed mixed nuts over the other batch I made
You could choose either and add any extra topping you prefer at this point.Chopped nuts,dried fruits etc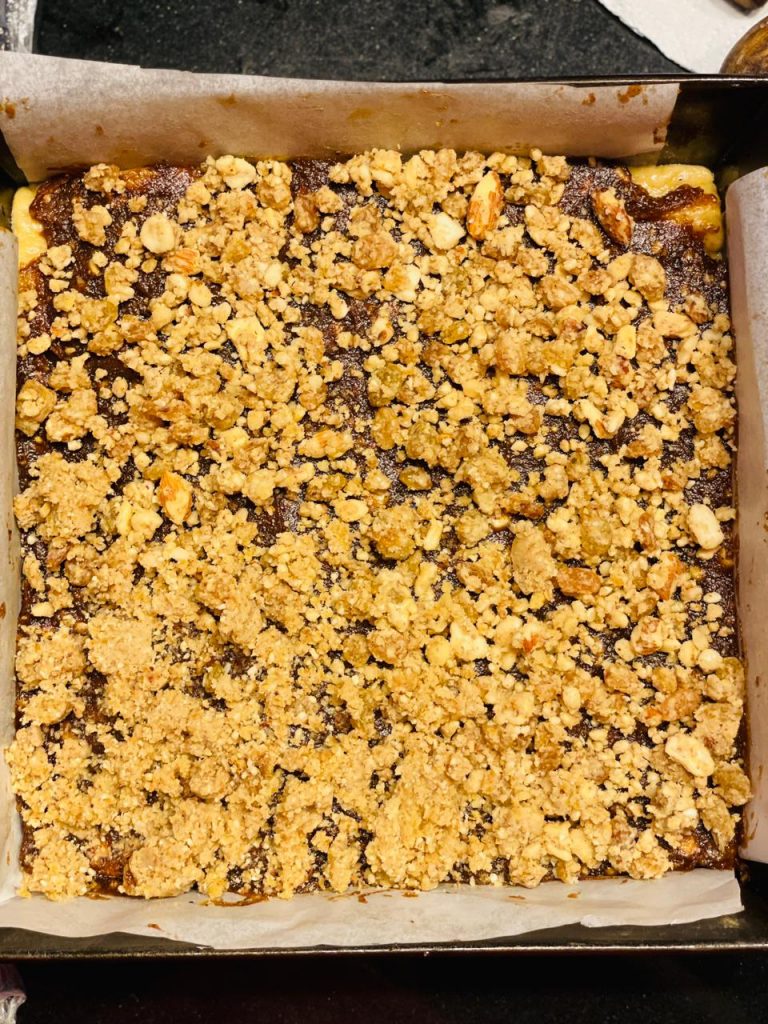 Top with another layer of rolled out dough
and smoothen it out.Remove excess off the edges
Egg wash using a beaten egg with some milk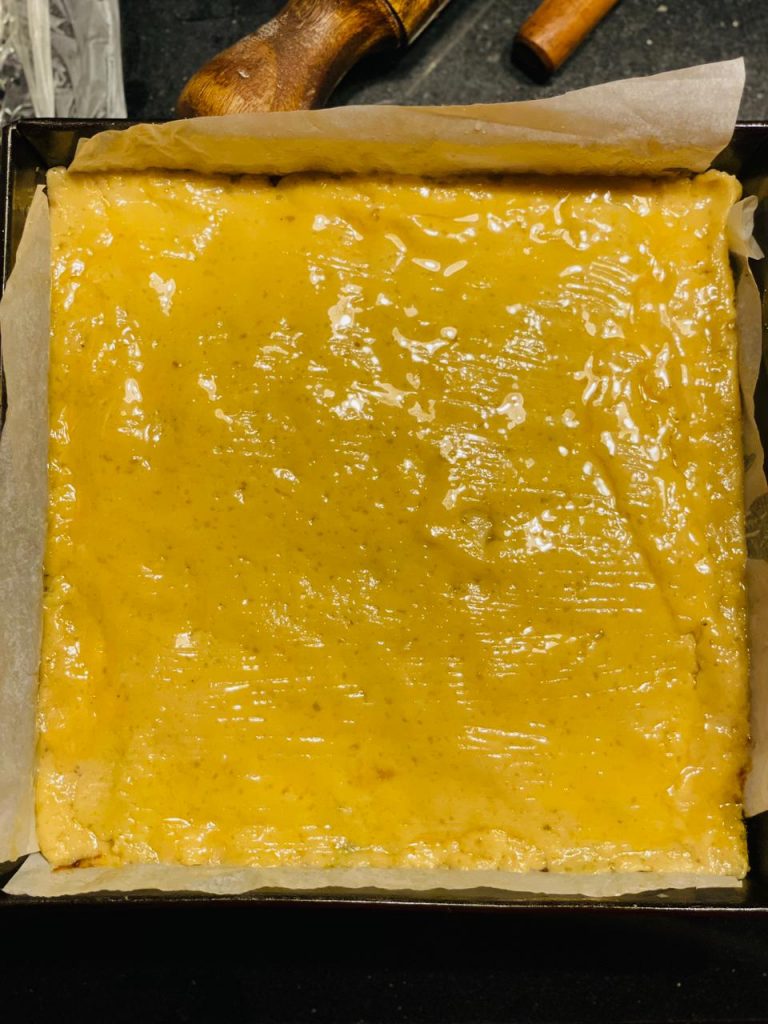 Bake in a preheated oven for 30-35 minutes at 180" or until the top is beautiful and golden
Once done let it cool down before slicing them up
The date bars are ready to be enjoyed
Rainy Days call for treats like this eh???
Would love to see your remakes on this deliciousness.Be sure to tag me on social media or send me a screenshot if your account is private so I can re share them on my stories
Stay Safe ❤️ Stay Home ♥️ Stay Responsible
Much Love ❤️ Nuzrath
#srilankanfoodie #mylankanfoodjournal #foodblog #colombofoodbloggers #colombolife #instadaily #bekind #begrateful