When It's The Season Of "Watalappan" & Buriyaani !!!!
As You Read In My Previous Post About The Most Wanted Dish During Eid!!! "The Biryani or Buriyaani" The perfect sweet match for this dish of royalty is "Watalappan or Watalaapam" as we muslims call it.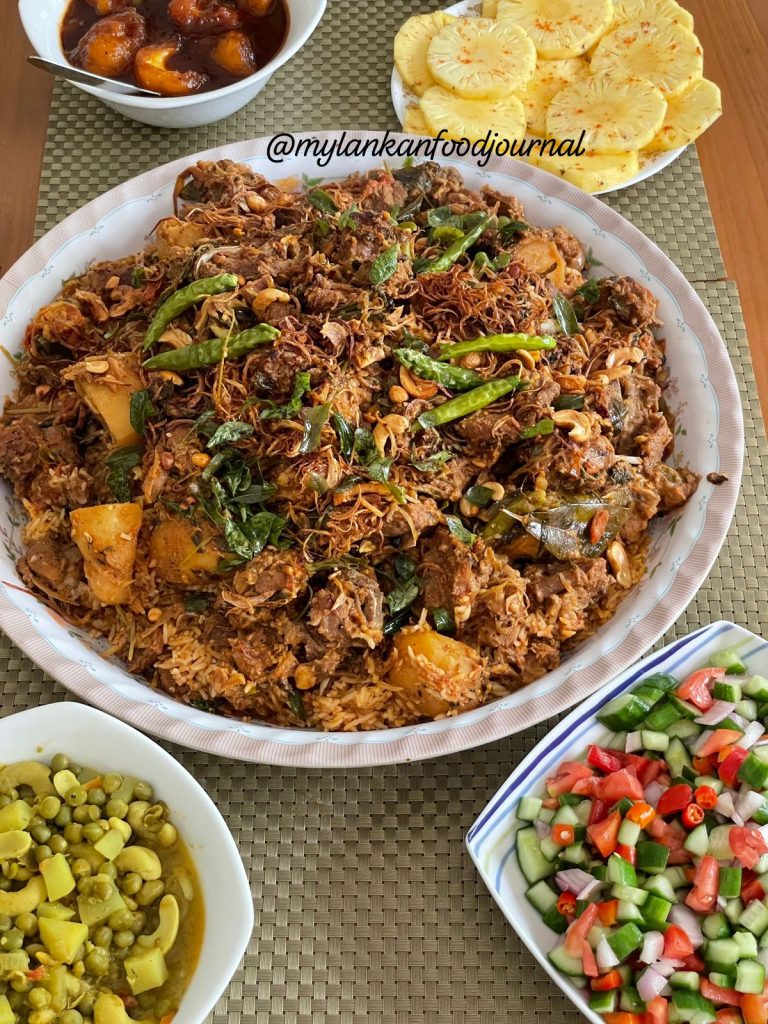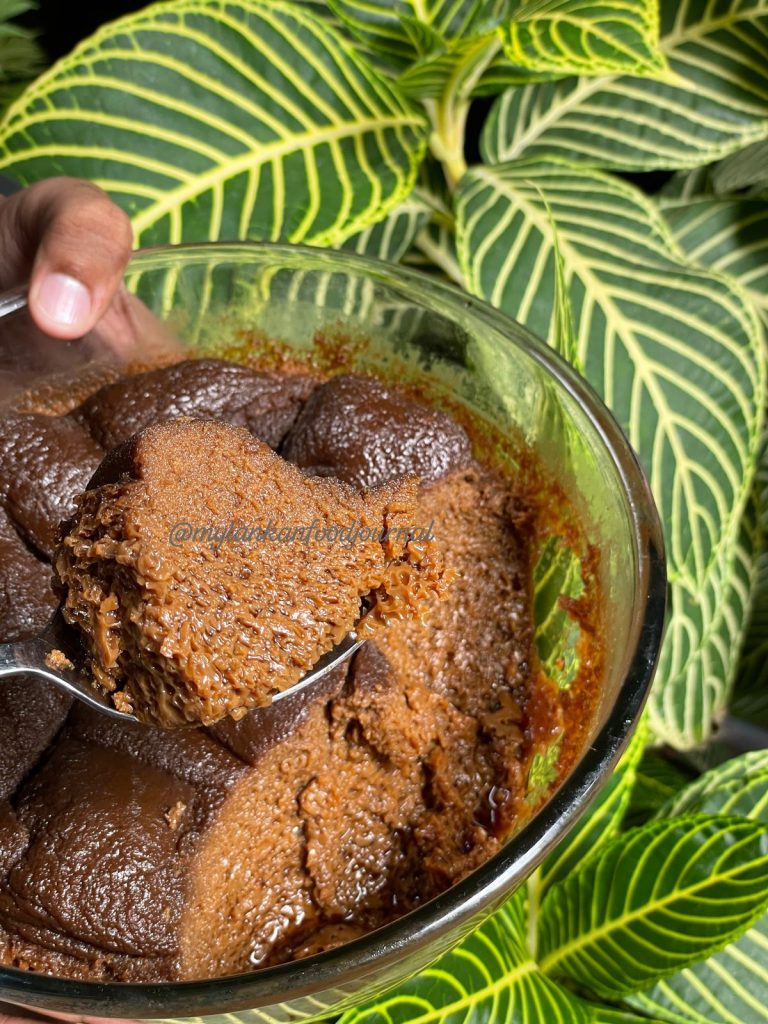 In my case this dessert can be enjoyed on days other than Eid or Weddings : Specially when the monsoon weather calls for a warm hug in a bowl paired with some Ceylon Tea or Mandatory Post Lunch Sukku Kopi
Infused with Ceylon Spices, made with Original Kithul Hakuru and Steamed to Perfection, then adorned with the most deliciously crunchy Pani Cadju…Need I say more about this melt in your mouth taste of tradition.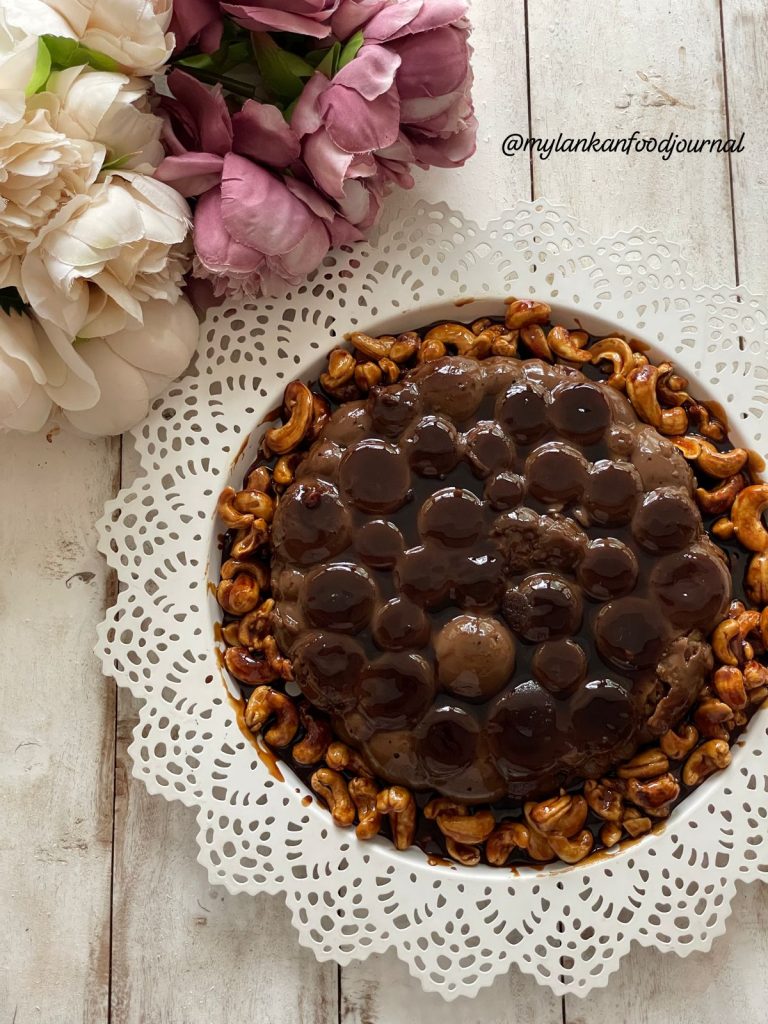 https://www.instagram.com/p/Cwsi3Spos26/?igshid=MzRlODBiNWFlZA==
GO TO THE LINK AND SEE HOW YOU CAN BUY THIS MOULD AND GET IT SHIPPED TO SRILANKA
Obviously the best watalappan dish is judged on the quality of your ingredients.We muslims take this job very seriously by picking out the best Kithul Jaggery and using techniques taught by our mothers and grandmothers that produce the best steamed pudding with the most amount of holes on the inside.
Its known tradition to share this wonderful dessert every Eid specially for our friends & neighbours from other faiths, who looked forward to this just like we would for the Avurudu kavili, Christmas Goodies & Sweet Pongal. My mom would make it then and now we continue what she left behind in small ways possible….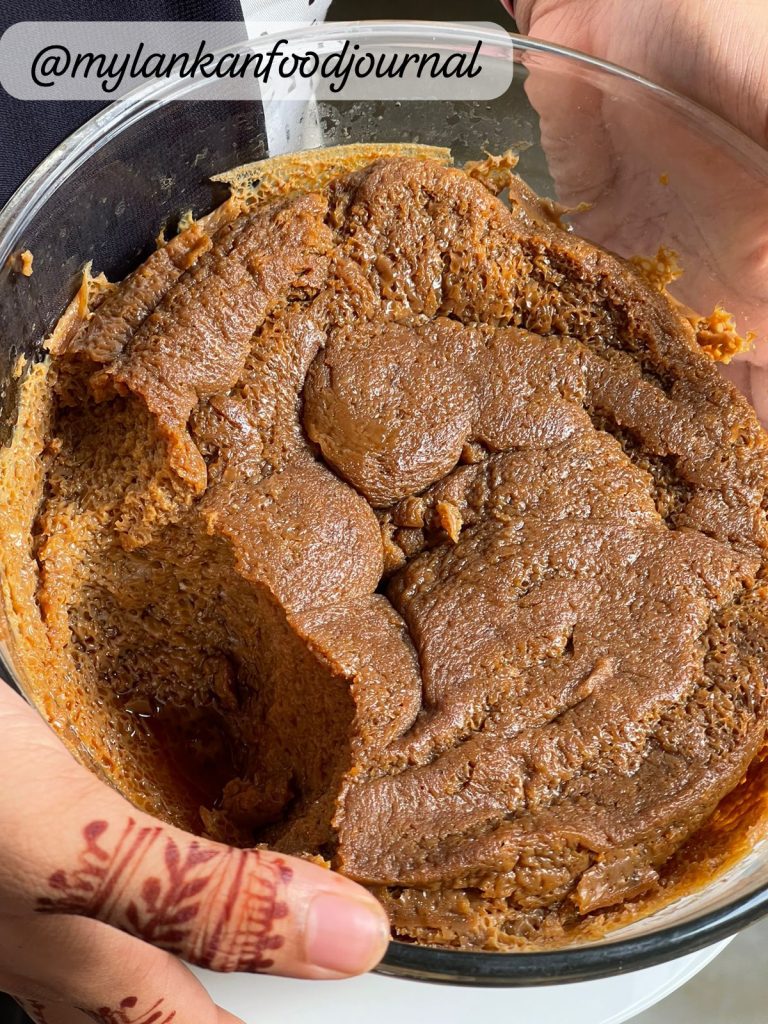 Let Me Teach You How I Make Watalappan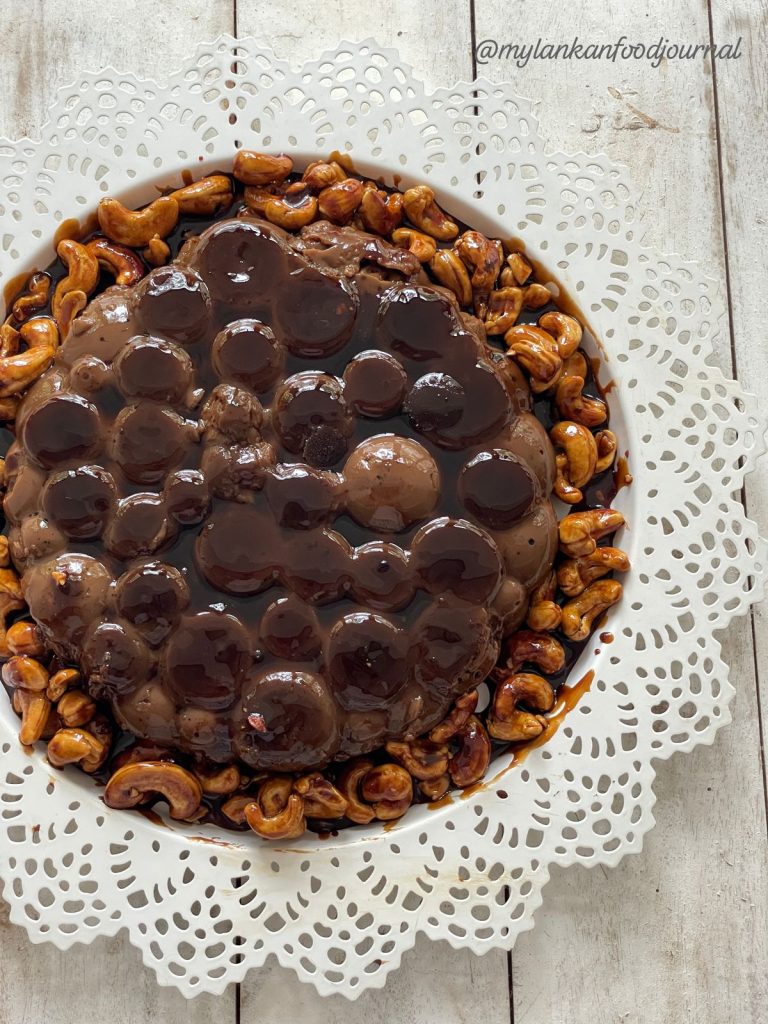 This Is Also Known As : Cardomom Infused Coconut Custard in Non Srilankan Terms.
10 Large Eggs in room temperature
500g Grated Kithul Jaggery
One Cup Thick Coconut Milk
1/2 Cup Thick/Thin Coconut Milk
Vanilla Extract 1 tsp
1/2 tsp Cinnamon powder
10 Whole Cardamom or 1 tsp Cardamom Powder
1/4 tsp Nutmeg Powder
Melt the Jaggery with the spices and Thin Coconut Milk.Let this cool down while mixing the Thick Coconut Milk to speed up the cooling process.You could use freshly squeezed coconut milk extraction or even use ready to use coconut milk if you don't want the hassle.Our grandmothers would never approve but sometimes when you live away from Srilanka, sourcing fresh ingredients can be challenging.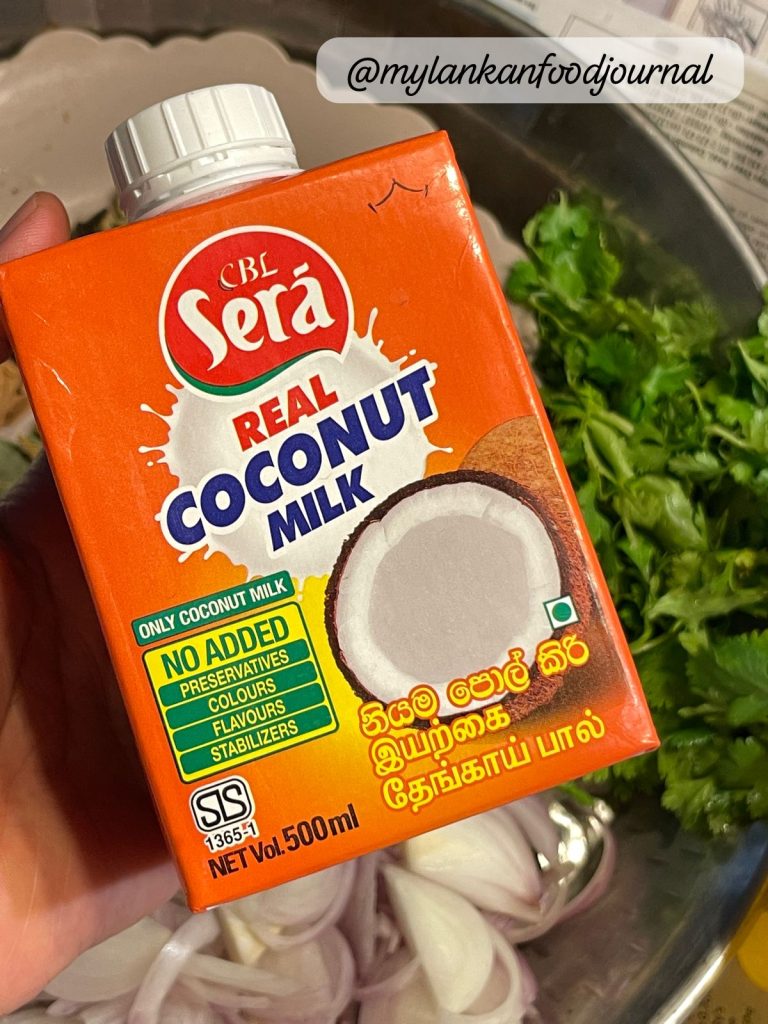 Beat eggs together and combine with the cooled melted jaggery mixture.Using a whisk or sometimes even your clean hands would bring in more volume into the mixture and create the perfect inside with holes.That's what you want when creating this beautiful dish.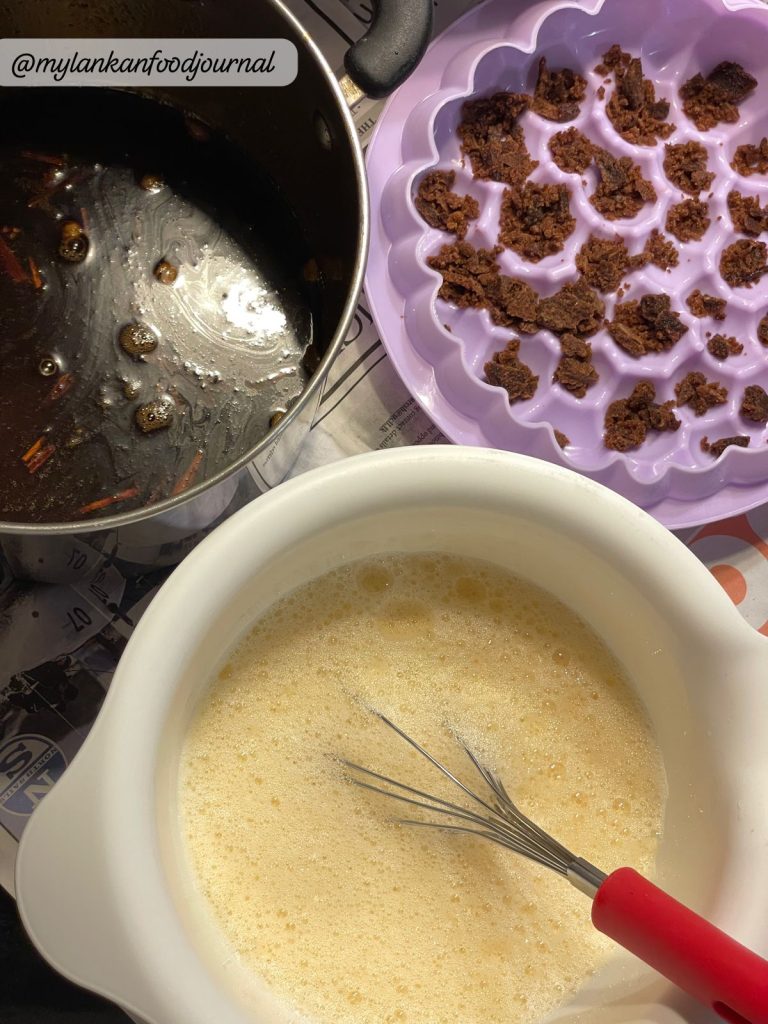 Strain and pour into an aluminium bowl or any heat proof baking dish.Size 8″ diameter
Don't forget to check out my latest post on how I made Watalappan in a Mould. Refer to link attached below :
https://www.instagram.com/reel/Cwr-QiCIxqT/?igshid=MzRlODBiNWFlZA==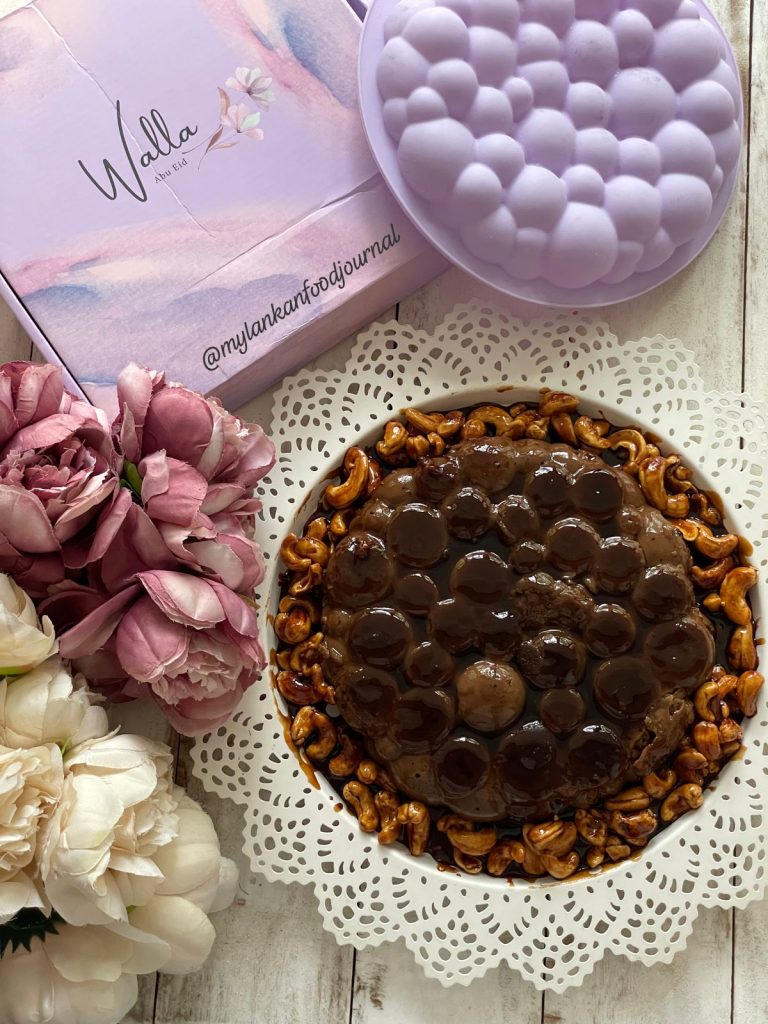 The original way to cook this would be to steam in a double pan, over boiling water for at least 45 minutes while covered with a cloth to make sure the steam is all trapped inside.
But you could also steam this dessert while covered in a heat proof dish in a preheated oven over a hot water bath at 180′ for at least 45 Minutes Or until a toothpick comes out clean.
Once the cooking process is done, as much as we all love to dig in immediately it would taste much better if,let to settle down for at least another 10 minutes before serving.
You could serve it just like that but in my home, if its watalappan it has to be topped with Pani Cadju because we are so extra hahaha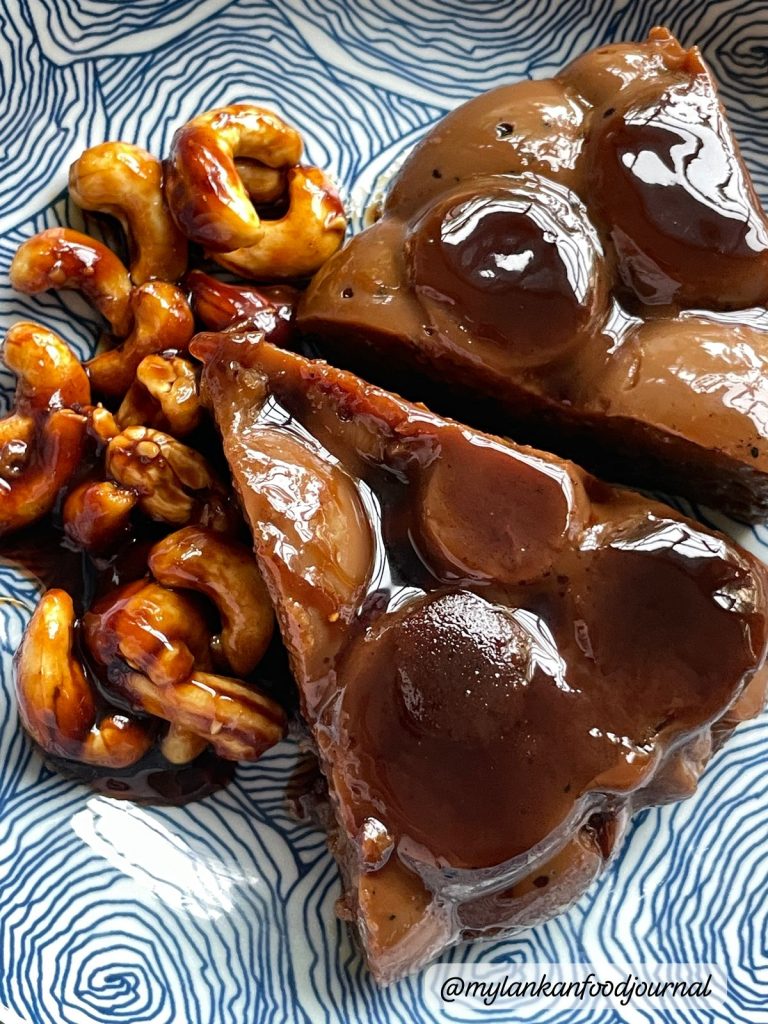 You could definitely make ahead and serve chilled, either way it is insanely good I promise.
Check My Insta Post For The Slow Motion Video
Would love to see your remakes on this deliciousness.Be sure to tag me or send me a screenshot if your account is private so I can reshare it on my stories
#srilankanfoodie #mylankanfoodjournal #colombofoodbloggers #homemadewithlove #watalappan #ramadanishere #maskitchen #ramadanseries2020 #ramadanwithme #ramadan2020 #ramadanvibes #quarantineandchill #stayhome #staysafe #staysane #instafood #instadaily #foodphotgraphy #foodstagram #eatpraylove #begrateful #positivevibesonly #alhamdulillahforeverything