What does Biryani Mean To You Apart From All The Calories!!!!
From A Foodies Point Of view : Definitely A Dish Of Royalty!!!
Do You Agree??
Biryani means everything on special occasions because it is a celebration of many grand flavours in one pot!!!Always Makes A Grand Entrance During Eid!!!
It is a fabulous rice dish traditionally made using spiced meat,rice & various other aromatics that make a rich gravy.Biryani can be made in different ways but ideally the best one is when the rice & masala meat are layered, then cooked in one sealed pot.This can be made vegetarian too,being a favorite amongst the predominantly vegetarian region of India!
This Bold dish belongs to many regions from South Asia in different versions depending on which part you're from.Each kind has a unique flavour??????
Doin abit of research I read something very interesting about how the origins of this dish actually traces to Royalty :
"Mumtaz" The Queen, Shah Jahan's wife who inspired the Taj Mahal once met an undernourished army personnel & immediately ordered the chef to prepare a well balanced meal for him and then "The Biryani"was created.What an awesome history…There's many more to where it came from…this is just a small part that fascinated me on how this dish of royalty has made it to many other societies over centuries …
Each one has their own version.This simplified version is mine!!!
It took me awhile to actually get confident enough to put this recipe out but the amount of response I got from you guys made me do it!!! So ThankYou For All Your Support!!!
Means A lot To Me!!!
This Has Three Parts of Cooking
Sounds Intimidating But I Assure You Once You Give This One A Try,Your Family Will Make Sure It Keeps Happening Often!!!
Let's Get Started
Part One : Prepare Mutton
Step One : You will need 2 Kg Meat
I used Mutton On the bone(preferred)
Using Mutton with bone makes it more flavorful.
Par Boil this & remove liquid.For boiling I only added salt,pepper & some lime juice.
Step Two Place the cooked mutton in a bowl & mix the following ingredients in & let it sit for about an hour in the refrigerator.Meanwhile you could start prepping the other parts for this dish.You could even do this a day ahead & freeze the meat.I would do it often
.
Marination:
4 tbsp Home Made Spice Mix(pls refer to my previous posts to see how I made this spice powder & the ingredients are attached in the image below)
2 Tsp Salt
One Cup Beaten Curd
Tbsp ginger garlic paste
Lime juice of one lime
Cardomom Pwd
Step Three
One Hour Later…
Step Four Heat some ghee in a pan & add the marinated meat in.Let this brown up abit on medium high flame.Keep stirring occasionally & makesure this doesn't burn.
Step Five Switch off flame & mix in half cup of fried onions & fresh mint & corriander leaves.
The Mutton is Ready to be mixed into the gravy.
You will notice that I did not add any whole spices.the reason being that my home made spice mix has all the necessary spices blended.My kids hate biting into whole spices while eating,really puts them off when enjoying a meal.So I decided to take this step,that way there's still no compromise in the taste of this dish & at the same time no throwing away expensive spices in the litter…win win
I highly recommend you try freshly grinding your spice mix for this Biryani to get the best results Cz there's nothing better than adding your own spice mix to a grand dish like this ??????
But if that's not possible don't worry you can still use the regular curry powder from your kitchen shelf…make it according to what you have.Thats what makes it special!! But don't forget the most important ingredient : Lots of Love & Prayers for your beautiful family ???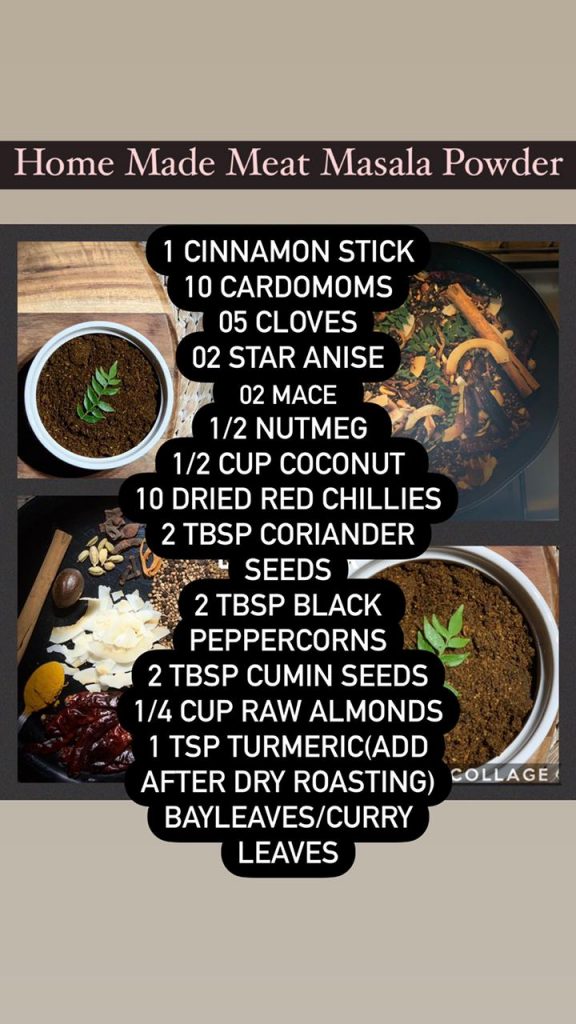 Now let's start making the gravy in another pan…
For Gravy
You will need:
Half cup ghee & oil
One kg sliced B Onions
One kg sliced tomatoes
Two tsp salt
A Tbsp Kashmir Chilli Pwd
A tsp Tumeric
A Tsp Black Pepper
A Tbsp Chilli Flakes
A Tbsp Of My Home Made Masala Pwd
Two Tbsp Finely Chopped Ginger & Garlic
Few Curry Leaves/Bay leaves
Green Chillies (optional)
Tamarind Pulp Two Tbsp
Lime Juice of one lime
Coconut Aminos or Soy Sauce
Other ingredients:
500g Raw cubed potatoes
5 Capsicums sliced
5 Brinjals sliced & DeepFried
1/2 cup Fresh Coconut Paste
White poppy seeds soaked & ground into a paste
One cup coconut milk
Almond powder(optional)
If you're adding my ground spice mix it has everything so you can avoid the almond powder.
Saffron strands in warm milk
Fresh Corriander & Mint Leaves Leaves
Fried Onions
Fried Cashews,Sultanas For Topping & Layering
Method: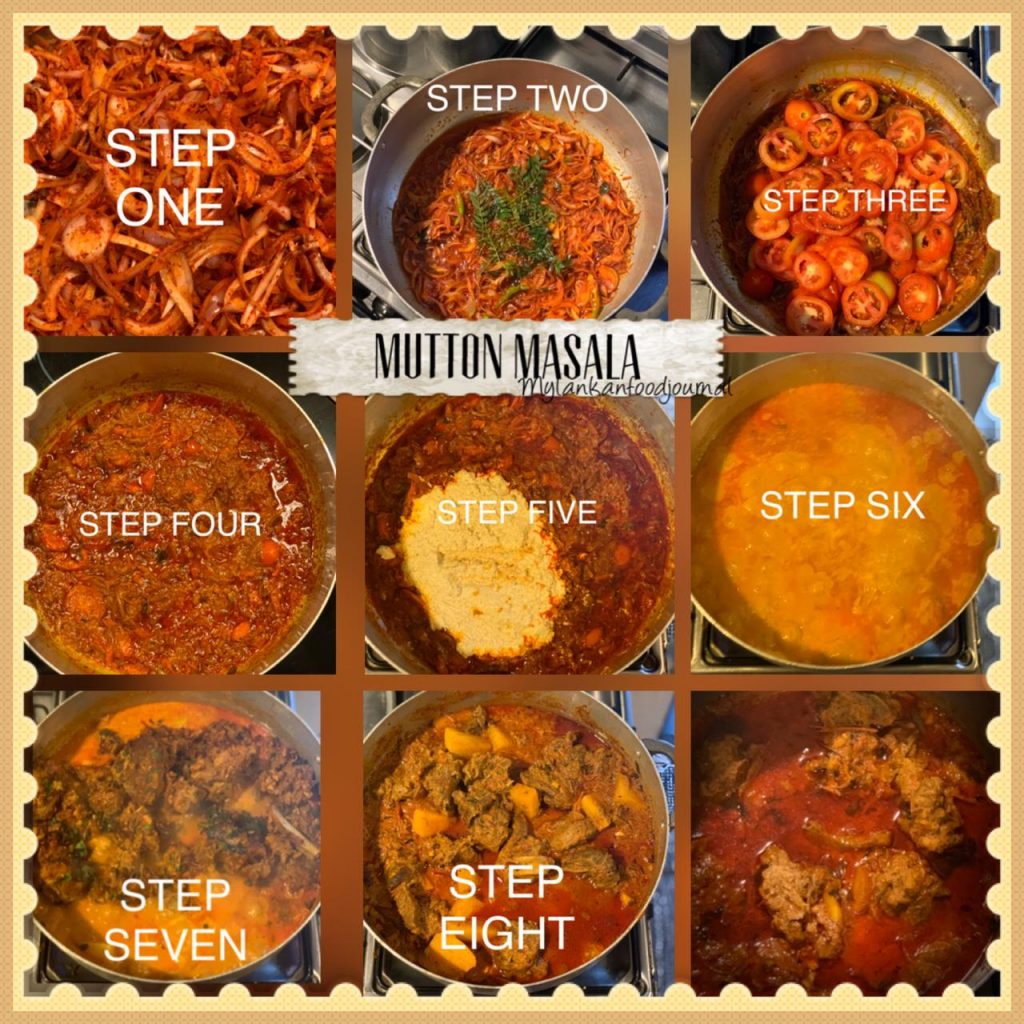 Step One First mix the onions with these spices(salt,kashmir chilli pwd,pepper,chilli flakes,tumeric,spice mix)
Step Two
Heat the ghee & oil in a pan,sauté the onions till Theyr beautiful & golden.Then add in curry leaves,crushed ginger & garlic & mix well.
Again if you're not adding my home made spice mix,you could add some whole spices at this point for aromatic flavour.
Step Three
Next add in the tomatoes,tamarind & lime juice.Mix well.
Step Four Let this cook covered on low for atleast 15 minutes while mashing the tomatoes inbetween using the back of the wooden spoon.This helps release all the juiciness & also helps the tomatoes absorb all that spices & flavour…yummm
Step Five
Once the tomatoes are softened and well cooked, add in blended pastes and combine.
Step Six Add one cup coconut milk & the cubes potatoes,let this cook on low for another ten minutes.Add water if necessary.While checking for salt keep in mind the mutton is well seasoned as well.
Step Seven
Add in the juicy browned mutton
Step Eight Let this gravy come to a simmer according to the way you prefer.We like ours fairly thick but If I felt it was too much gravy Instead of letting it simmer too much I would reserve some gravy & save that goodness for later.
The Meat Masala Is Now Ready!!!
This Mutton Masala is so delicious,it can be used as a dish on its own to be enjoyed with plain rice,rotti or breads, etc…
Part Two : Half Cook Rice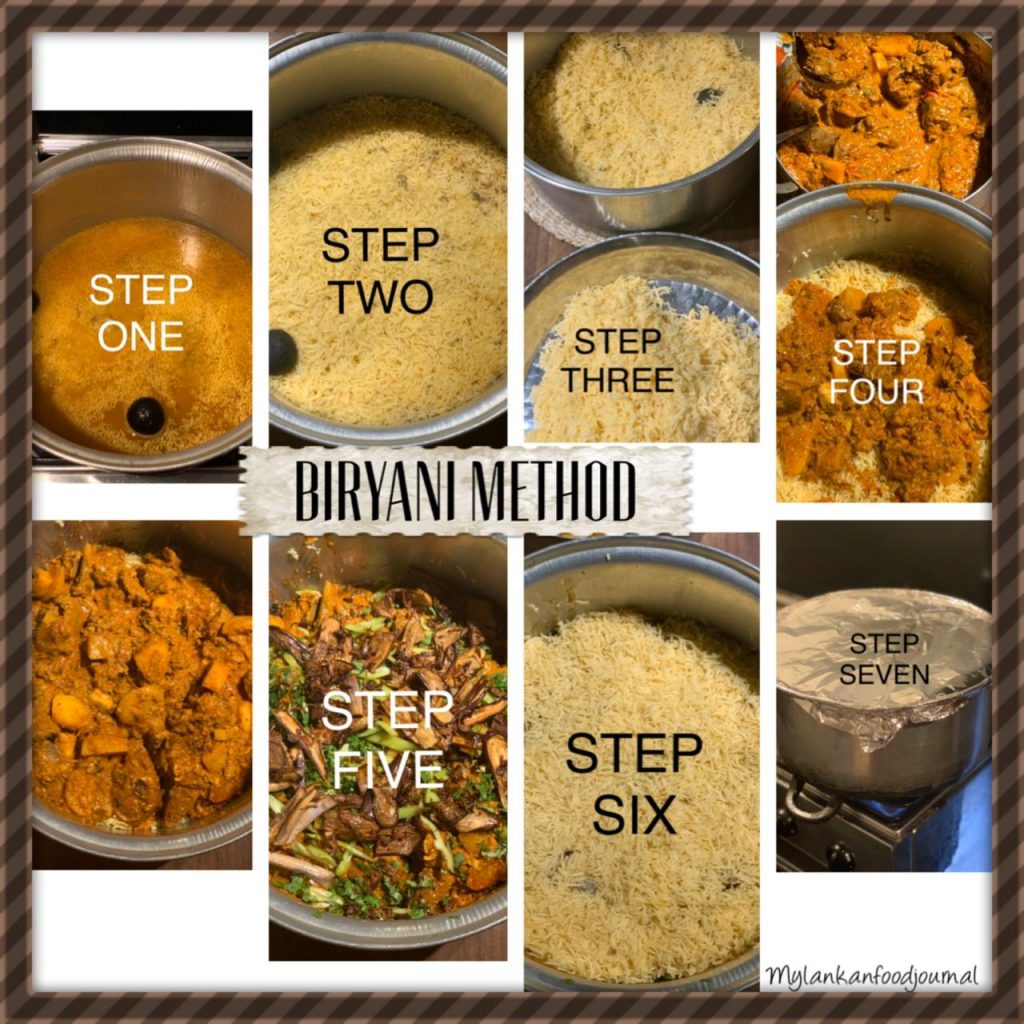 Time To Prep The Rice
Step One
For each kilogram of meat,you would use a kilogram of rice.Since I used two kgs I'm gonna use two kgs Long Grain Rice.
.
Today I used Fortune Brand Extra Long Rice & I was impressed!!!
There are many other brands so use what works for you!!!
Highly recommend other brands like Tilda or Dunar if you're lookin for that perfect long grain or you could buy for much cheaper from the Indian Wholesale Grocery Stores in Pettah.Definitely worth the effort!!!
.
Wash The Rice Well To Remove Excess Starchiness & Soak For Atleast 30 Minutes Before Cooking.Helps in faster cookin of the rice!!!But make sure you don't break the grains while transferring them after theyr soaked.They can be very brittle at that point…handle with care
.
An hour later,strain water & start prepping to cook the rice.
To make the rice I used the liquid from boiling the meat.You could definitely stirfry the rice before cooking,that would be delicious but today I skipped that step & just cooked the rice with the stock Cz there was enough oil goin into making the mutton masala itself….
Check for correct rice measurements while adding liquid.If the stock is not enough add more water.Add salt & a tbsp of ghee,pandan leaves,I added a dehydrated lime just for flavour because it was available in my shelf today(completely optional) . You could even add in coconut water to cook the rice.This makes your rice more fragrant.
. Once the rice comes to a boil,let this cook on low for about 10 minutes or untill it's only 80% cooked.Do not stir inbetween unnecessarily,this may cause to break the rice grains.
.
If you're afraid to do the half cooked method of rice,go ahead fully cook the rice & just layer the mutton masala in between & serve with garnish!!!
That's definitely an easier Biryani..
There are definitely days I would do that but this time I'm not taking shortcuts!!!
This ones a little time consuming but definitely worth all that effort!!!!
Let get to the best part!!!
Part Three : Assembling The Sealed Biryani
Step Two Remove the pan from the fire & get ready for assembling the layers for this fabulous dish!!!This is a very hot pan so please take precaution when opening the lid!!!
.
You will need a fairly large heavy bottomed pan.This helps to lock in the heat for longer & that helps create the sealed cooking effect for this Biryani.It is also called "Dum"
.
I used the same pan that I cooked the rice in.
Step Three Reduce half of the almost cooked rice into another platter & set aside for abit.
Step Four Then layered the mutton over the other half part of rice that's already in the pan.
Step Five
Sprinkle the toppings,fried brinjals,capsicums,fried onions,fresh mint & corriander leaves,saffron in milk,fried nuts & sultanas.
Step Six
Cover with the other half of the almost cooked rice & gently press to tighten the layers
Small tip to lock in extra moisture, pour about one cup coconut milk over the top before sealing.
Step Seven
Cover the top & seal the pan with aluminum foil,then place the heavy lid over this to create the "sealed effect"
.
Place this over a heating thaawa or flat pan on medium heat for atleast 30 minutes.This method helps to really fluff things up!!!!Do not remove seal immediately,let this remain sealed for another 15 minutes…Patience is definitely a virtue!!!!
Finally it is time to remove the seal from this steaming pan.
Watch the video in my insta feed for the moment of truth!!!The smell was amazing!!!And I can't explain how flavored the Biryani turned out to be!!!
Remove the seal just before serving & garnish with your favourite toppings.We used fried onions, cashews,more fresh mint & coriander leaves, sliced hard boiled eggs
This Rice Dish is a meal by itself but The ideal Biryani Accompaniments are Raita,Mint Chutney,Malay Pickle & Fresh Pineapple Slices.There's more additions at a wedding biryani menu like the most popular Maldive fish sambol & Roast Chicken
We decided to have it with simply more gravy, fresh pineapple slices, fresh onions & green chillies with lime & salt, mint & coconut chutney….
In conclusion "The Most Successful Biryani Attempt"
Anyway hope you would give this recipe a try & lemme know what you think!!!
Please feel free to contact me regarding anything Biryani related!!!Would be glad to help you out!!!
During This Beautiful Occasion…
We may not be celebrating it like we usually do but we are definitely celebrating it calmly while being safe in our own homes thanks to all the super heroes out there ??????
The best we can do for them right now is stay indoors & celebrate Eid calmly….
This too shall pass!!!
Indeed, with hardship comes ease…Subhanallah !!!
Stay Safe?Stay Home?EatBiryani?Stay Sane?
Much Love Nuzrath ?
Do Check Out My Recipe In The Next Post For The Perfect Sweet Match Paired With This Fantastic Biryani!!! "Watalappan"
This is also known by non srilankans as spiced steamed egg custard !!!
Follow this link for the post in my insta feed ???
srilankanfoodie #mylankanfoodjournal #colombofoodbloggers #homemadewithlove #ramadanseries2020 #ramadanwithme #quarantineandchill #eid2020 #eidrituals #muttonbiryani#socialdistancingcooking #instafood #onthetable #eatpraylove #begrateful #positivevibesonly#alhamdulillaforeverything?