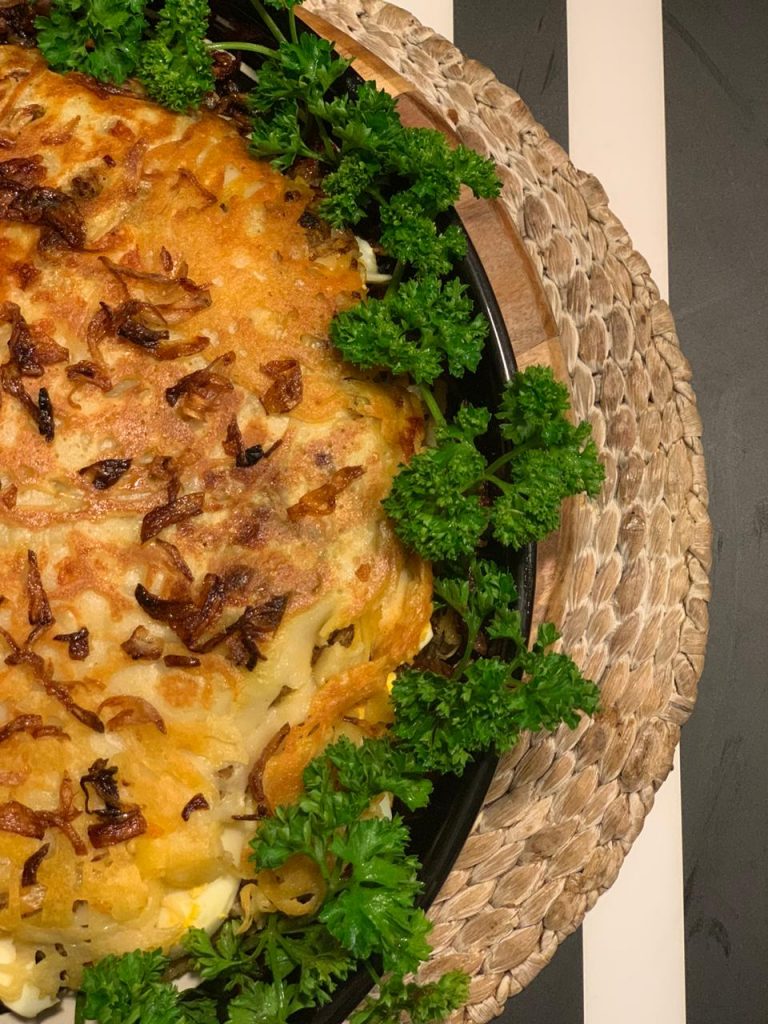 Savoury Kunafa has always bn a popular dish during Ramadan in most muslim homes.Theyr a stack of thin lacy pancakes(made using a mould)with meat filling inbetween.They can be made in individual rolls similar to the Malaysian Rotti Jaala or can be made in one whole large serving that is usually sliced up while serving.
However the authentic version asks for the okra gel but today I took a shortcut & did it my way!!!! Still so delicious…Bcz there's no compromise in flavour!! My version is loaded with a fabulous meat filling,layers of cheese inbetween & also an additional layer of hard boiled eggs….and then slow cooked in ghee!!How delicious is that??
If you want the recipe for the authentic version check out fainazmilhan she has an amazing recipe to follow with the okra gel https://instagram.com/fainazmilhancakes?igshid=199xnlnrg2rdy
The Kunafa Mould Can Be Purchased From Elegant Charms. https://instagram.com/elegant_charms?igshid=16yx2x41qqqmy Check her page out for more details
Lets Get Started
To make the kunafa you will need
To make lacy pancakes you need The Pancake Batter similar to what you would make for the Srilankan Chinese Rolls.But this time I made with coconut milk instead.
Meat Filling
Four Hard boiled eggs sliced
Grated Cheese,I used mozzarella
Pancake Batter
Just Blend Everything Together & Makesure There Are No Lumps Cz They Will Get Stuck In-between The Tiny Holes Of The Kunafa Bottle.The Last Thing You Need Would Be A Messy Lacy Day Specially If You're A Beginner.To Be Safe Strain The Batter.Let this rest for at least 30 minutes
If You Don't Have This Mould Don't Worry You Could Still Pour It From A Squeezy Sauce Bottle Or From A Tiny Hole Through A Zip Lock Bag.
Lets Make Them Lacy Pancakes
Kids had a lot of fun making the lacy pancakes!!! Heat the pan on medium high & pour the batter over the heated pan to create the lacy effect.You need to be quick for best results.This cooks quite fast too.I did not cook both sides,you could if you want to.Place the cooked pancakes on a tray & set aside till you make the beef filling
Beef Filling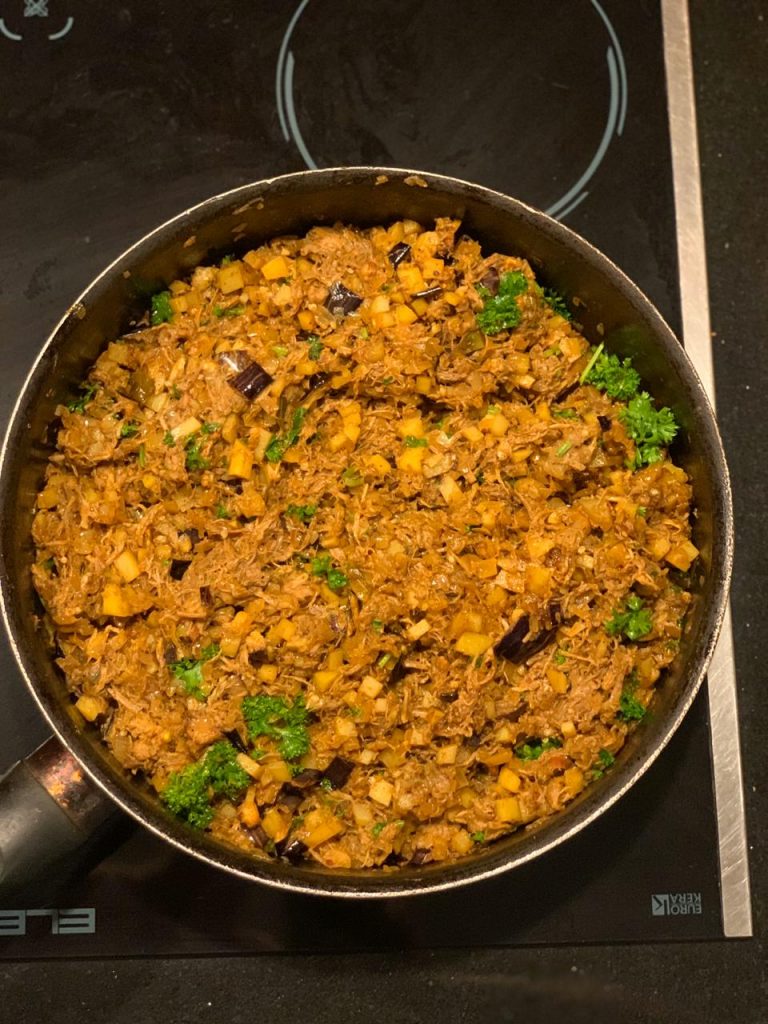 You Will Need
700g Beef boiled & shredded
Two large B onions chopped
Three large raw potatoes cut into cubes
Curry leaves, Pandan Leaves
Cardamom pwd, Cinnamon Pwd(You could add whole spices)
A tbsp Ginger & Garlic paste
salt
A tsp Pepper
A tsp Kashmir chilli pwd
A tsp Chilli Flakes
1/2 Tumeric
A tsp Roasted Curry Pwd
Tamarind Pulp/ Lime Juice
a tbsp Coconut Aminos/Soy Sauce
Three Fried Brinjal Cubes
Three capsicums cut into cubes
Two green chillies for heat
Fresh coriander leaves/mint leaves
Handful of fried onions
Follow The Image For Steps On How To Make The Filling
Step One Heat oil in a pan, add in spiced onions & let this cook on medium till theyr nice & golden. Spiced Onions : Mix sliced onions with salt, pepper,chilli pwd,chilli flakes, curry pwd & tumeric. Add in curry leaves, cardamoms,cinnamon,& ginger garlic paste.Mix Well.
Step Two Add in tamarind,greenchillies & potatoes.Let this cook covered on low till potatoes are tender but not overcooked.Sprinkle some water if needed.
Step Three Add in shredded beef,coconut aminos & mix well.Makesure the beef is well coated with all the flavours.Cover & cook on low for about 10 minutes.Check for salt & spices,adjust if needed.
Step Four Mix in fried brinjals & chopped capsicums.Finally drizzle some lime juice.Add in fresh leaves & fried onions.The filling is ready!!!!
TIME TO ASSEMBLE THE KUNAFA
I used a lined baking tin to make this circular shape.You could even assemble on a pyrex dish of your choice.Lining with a lunch sheet prevents the last pancake from sticking to the bottom of the pan.I used an 8″ round pan.Height 2″
Follow The Image For Steps On How To Make This Lacy Cake
Step One Place the lacy pancakes around the edge of the round pan slightly over each other, half of one side of the lacy pancake hanging to form a scallop along the edge,which will be used to make the shape at the ends.Then place more lacy pancakes to form a firm base. Refer to image
Step Two Place Meat filling & press gently using the back of a spoon
Step Three Sprinkle Cheese as much or as less as you like
Step Four Sliced Eggs
Step Five Layer of lacy pancakes
Step Six Meat Filling & Cheese
Step Seven Last layer of lacy pancakes
Step Eight(Last One) Fold the hanging edges of the lacy pancakes over & gently press to form the shape
LETS COOK THIS BEAUTY
You could definitely bake this in an oven if you assemble in a greased baking tray till its beautifully crisp on top.But I promise you…..The slow cooking on the stove method tastes so much better!!!!!The ghee coating the outside layer of this beautiful savoury cake makes it worth every bite!Try it once & lemme know….
Carefully transfer the kunafa onto a greased pan that's large enough to fit the whole thing.(Remove lunch sheet)Slowly rotate it around to get it cooked evenly.Again slowly flip this onto a plate then cook other side with more ghee.Let this rest for a bit before making the cut….
LOOK AT THOSE BEAUTIFUL LAYERS!!!
Have You Ever Made Savoury Kunafa Before???
Would Love To See Your Remakes On This!!!
.
Stay Safe💕Stay Home 💕Stay Sane💕
Much Love Nuzrath
#srilankanfoodie mylankanfoodjournal #colombofoodbloggers #homemadewithlove #ramadanseries #ramadanwithme #ramadanvibes #quarantineandchill #savourykunafa #beeffilling #socialdistancingcooking #instafood #feedfeed #huffposttaste #onthetable #instadaily #foodphotgraphy #foodstagram #foodphotgraphy #eatpraylove #begrateful #positivevibesonly#alhamdulillaforeverything💕