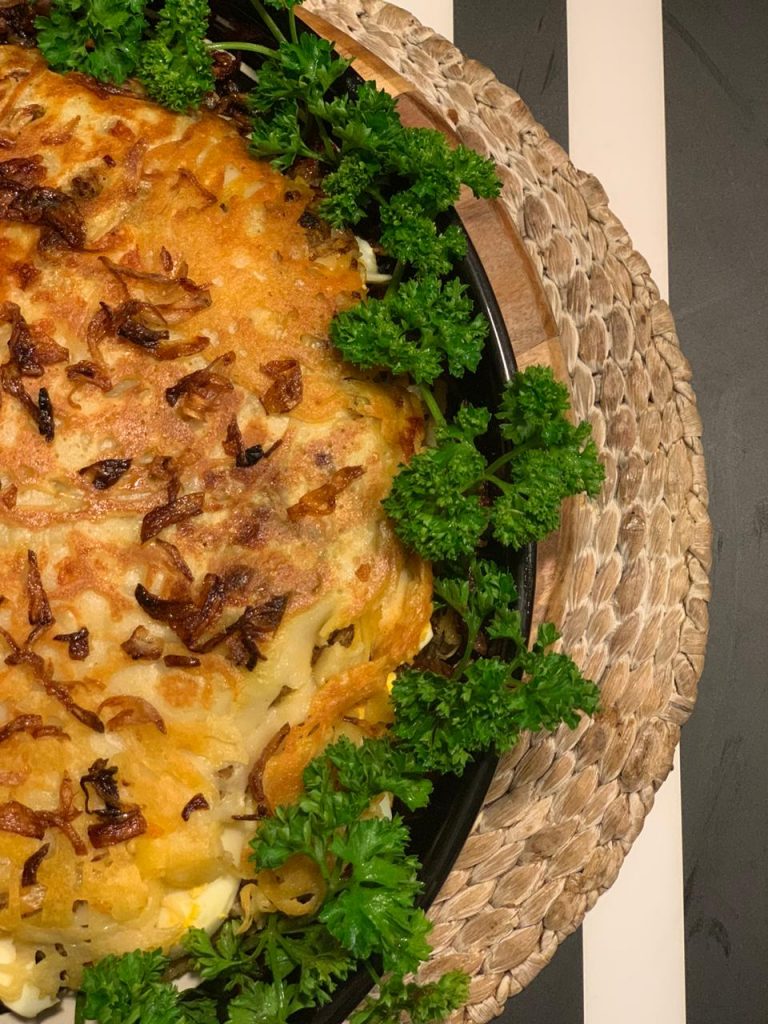 Savoury Kunafa has always been a popular Iftar Dish during Ramadan in most muslim homes.They are a stack of thin lacy pancakes with meat filling in between.They can be made in individual rolls similar to the Malaysian Rotti Jaala or can be made in one whole large serving that is usually sliced up while serving which turns out to be convenient when feeding a crowd.
However the authentic version asks for the okra gel but today I took a shortcut & did it my way!!!! Still so delicious because there's no compromise in flavour!! My version is loaded with a fabulous meat filling,layers of cheese inbetween & also an additional layer of hard boiled eggs….and then slow cooked in ghee!!How delicious is that??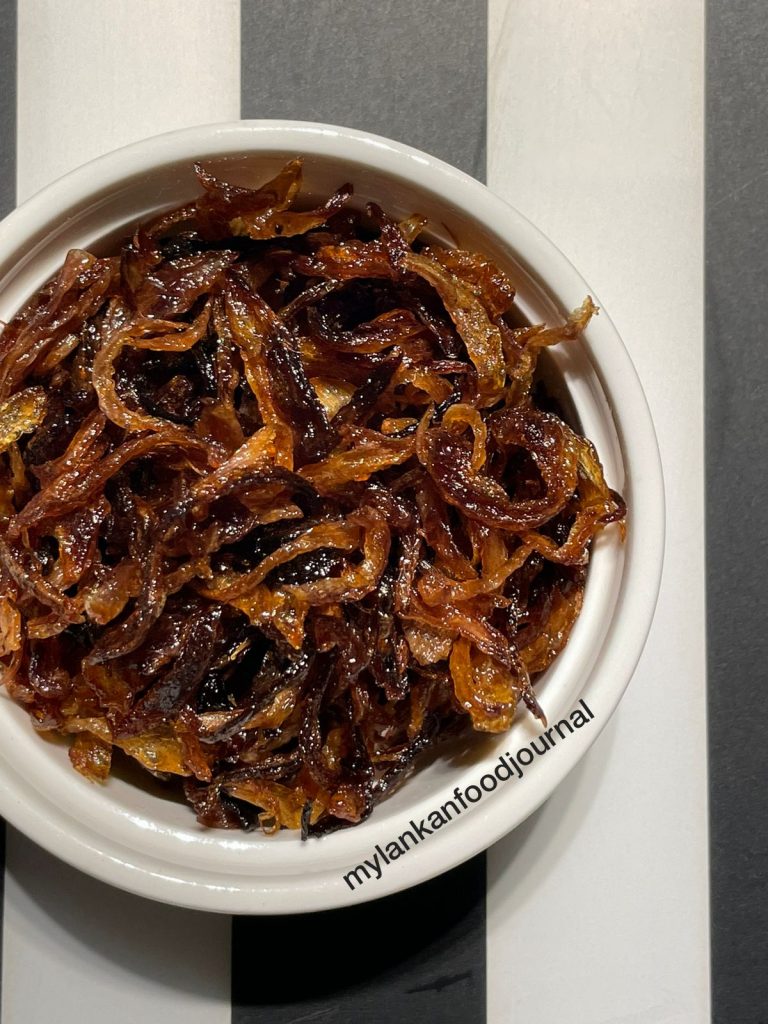 You Will Need
Lacy Pancakes
Meat Filling
Five Hard boiled eggs sliced
Grated Mozarella Cheese
Ghee or Butter
8″ Round Cake tin (approximately 2″ height)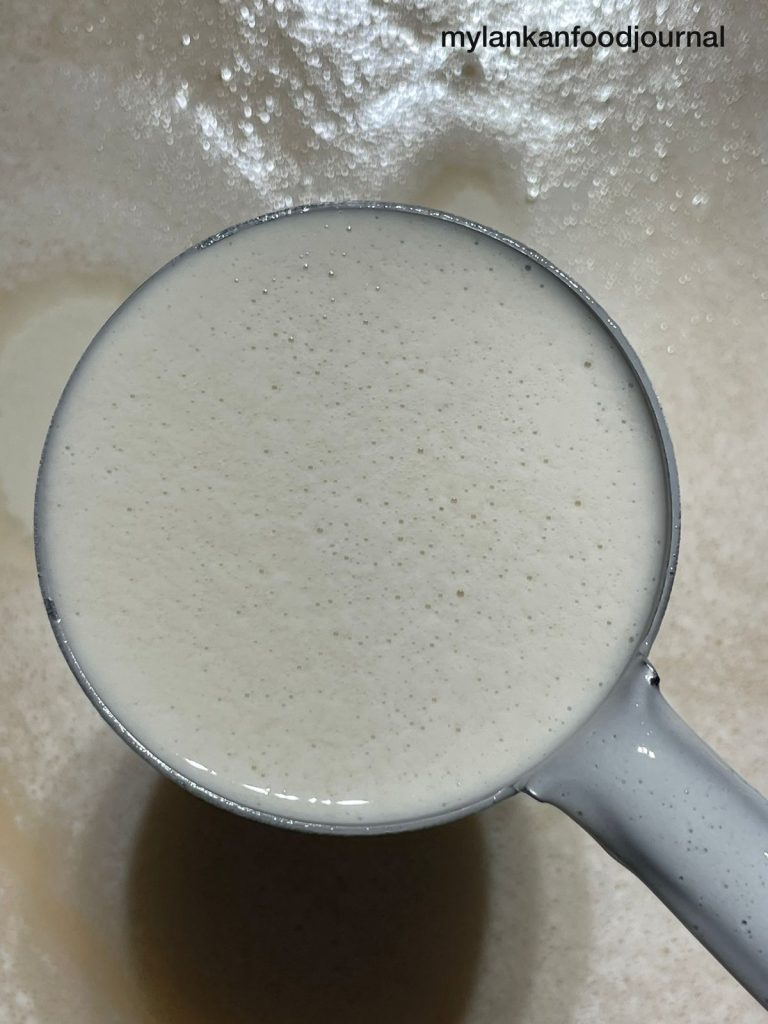 Blend everything together.Strain to make sure there are no lumps because they may get stuck in-between the tiny holes of the Kunafa mould.The last thing you need as a beginner shouldn't be encountering a messy pancake pouring situation.
Let this rest for 30 minutes before starting to make the Lacy pancakes
Don't panic if you don't have a Kunafa mould, you could always do the similar pattern if you have a squeezable ketchup bottle or even if that's not available use a zip lock bag and punch a hole to pour through the lace pattern.
Lets Make Them Lacy Pancakes
Kids had a lot of fun making the lacy pancakes!
Heat the pan on medium high & pour the batter over the heated pan to create the lacy effect like so.Using a non stick pan can make life easy and less sticky.If you don't have a non stick pan, keep in mind to oil the pan before every pancake.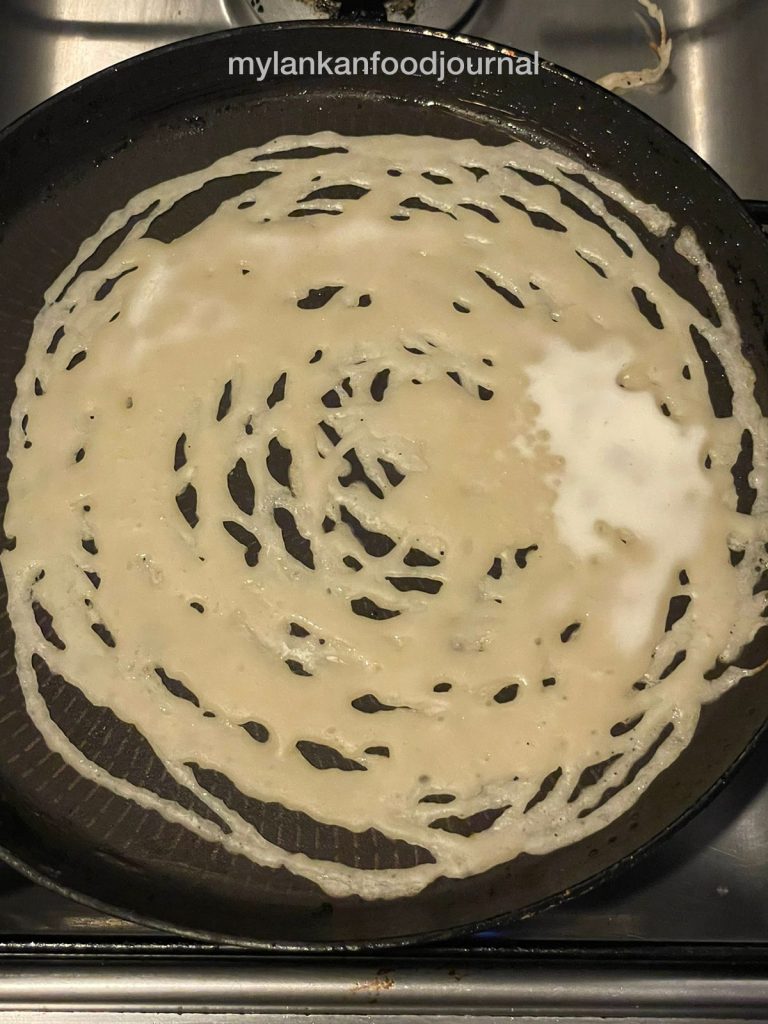 You need to be quick for best results.This cooks quite fast too.I did not cook both sides,you could if you want to.
Place the cooked pancakes on a tray & set aside till you make the filling
This quantity easily makes 20-25 large pancakes depending on the size of your pan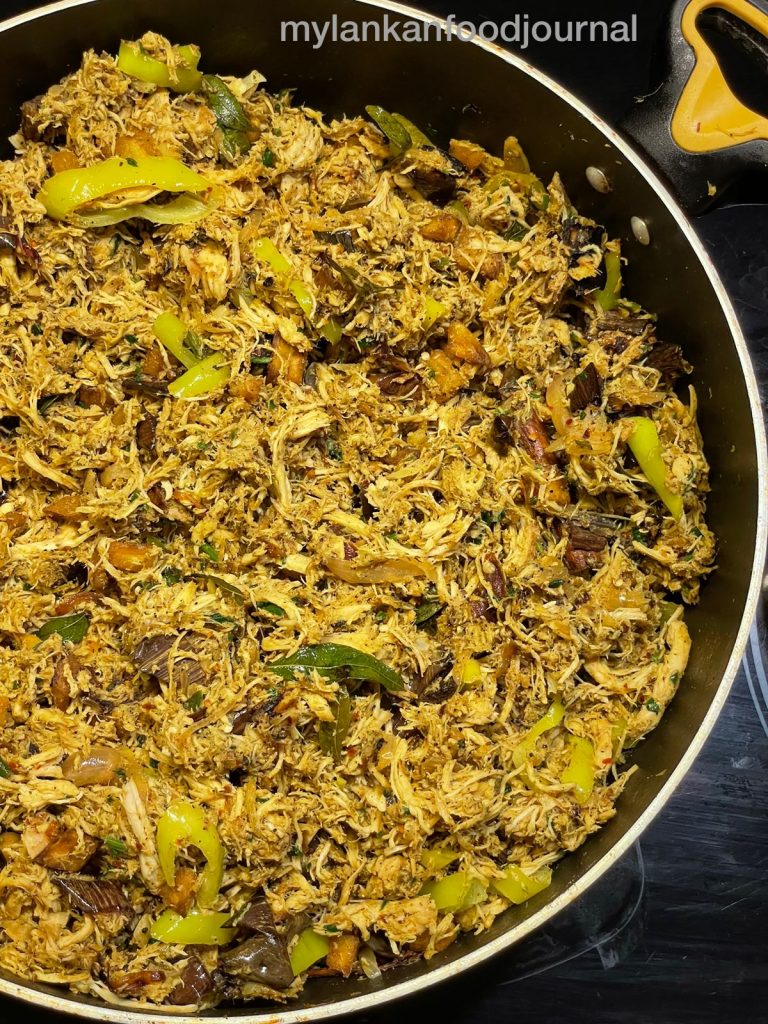 500g Boneless Chicken boiled & shredded
Two large B onions sliced
Three large raw potatoes cut into cubes and deep-fried
05 Curry leaves, Pandan Leaves
1/2 tsp Cardamom pwd or 3 Whole Cardamom
2″ Cinnamon
01 tbsp Garlic chopped
01 tsp Ginger chopped
01 tsp salt
01 tsp Black Pepper
01 tsp Cumin Powder
01 tsp Chilli Flakes
1/2 tsp Tumeric
Lime Juice of one lime
01 tbsp Coconut Aminos/Soy Sauce
1/2 Cup Potato Cubes deep fried
1/2 Cup Egg plant cubed and deep fried
03 Capsicums cut thinly diagonally
02 Green Chillies for heat
1/4 Cup Coconut Milk(optional)
Hand full of Fresh Coriander Leaves
1/4 Cup Fried Onions
Step One : Add oil in a pan and sauté the chopped ginger and garlic for two minutes on high heat.
Step Two : Add the sliced onions,green chillies and let it get nice and translucent
Step Three : Few minutes later, add curry leaves and pandan leaf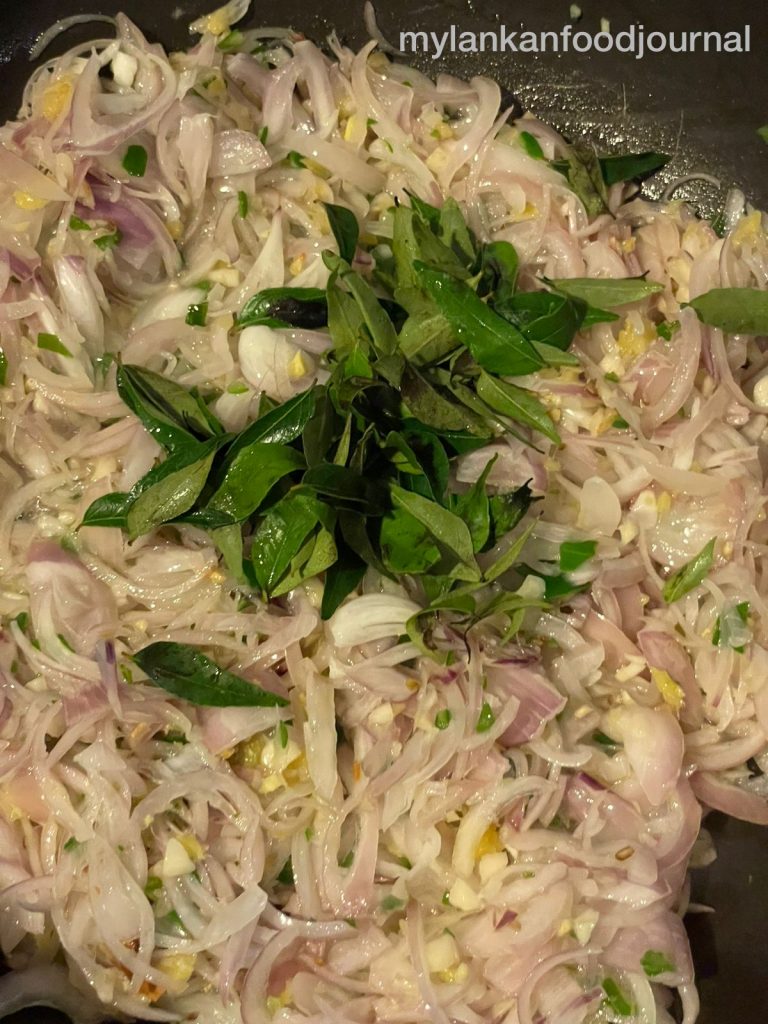 Step Four : Add whole spices like cinnamon and cardamom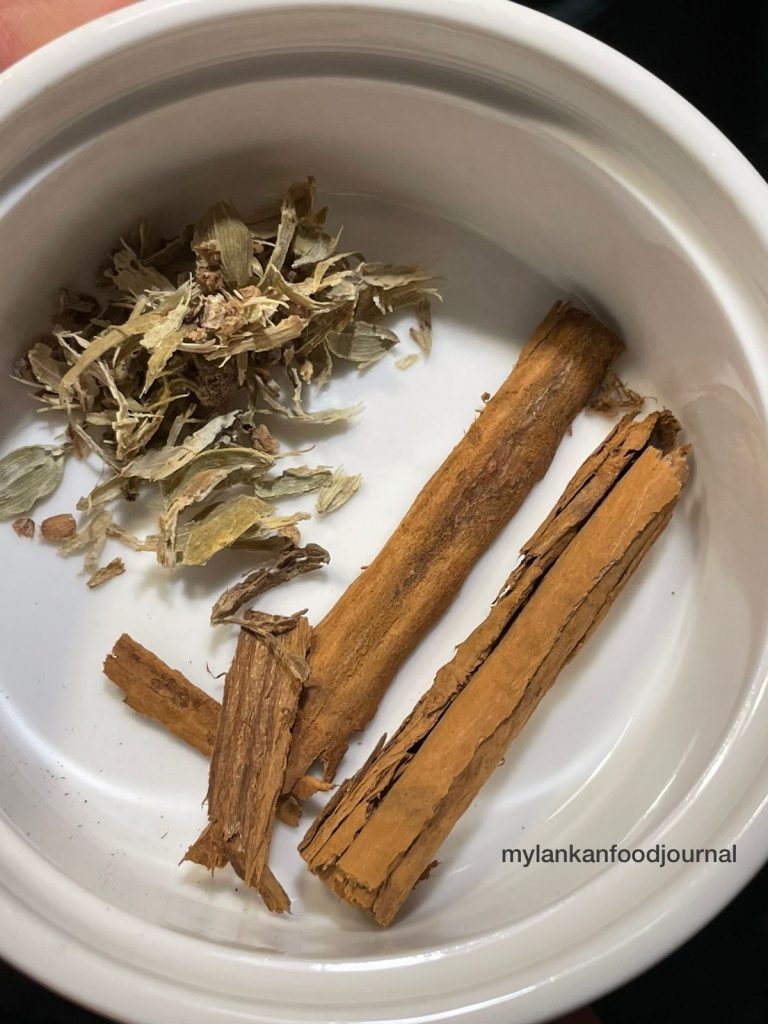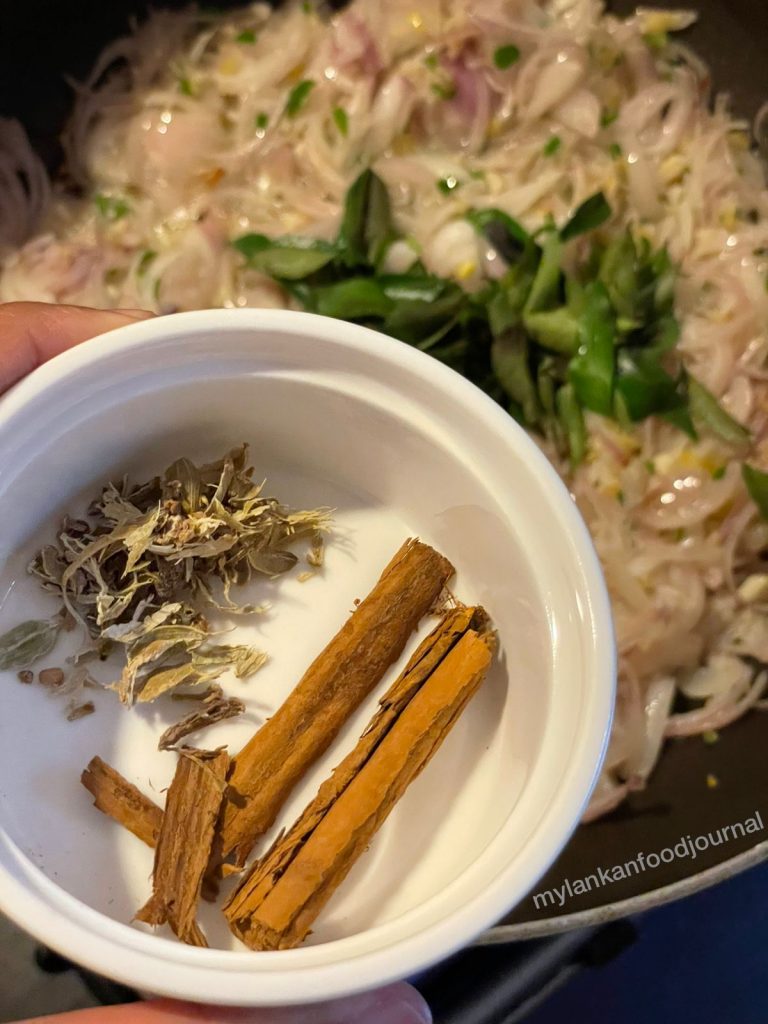 Step Five : Add the spice powders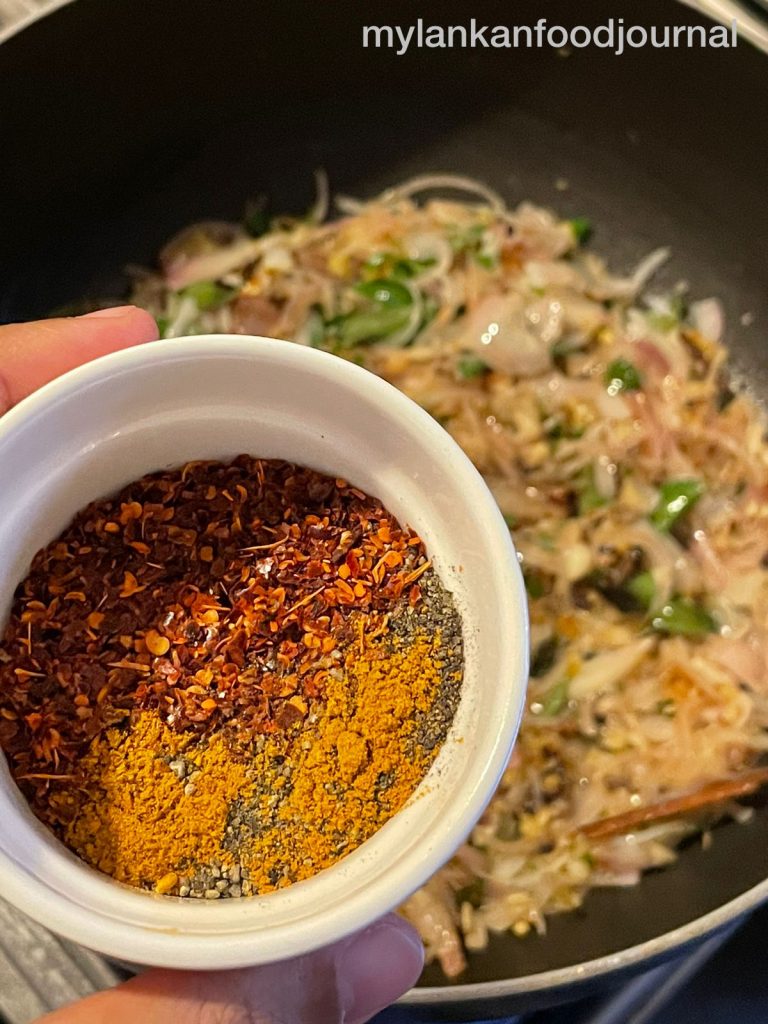 Step Six : Mix well and let this cook on low for 2 minutes
Step Seven : Time to add the shredded meat.In this case it's Chicken but I also made the same with shredded beef.The choice is entirely yours..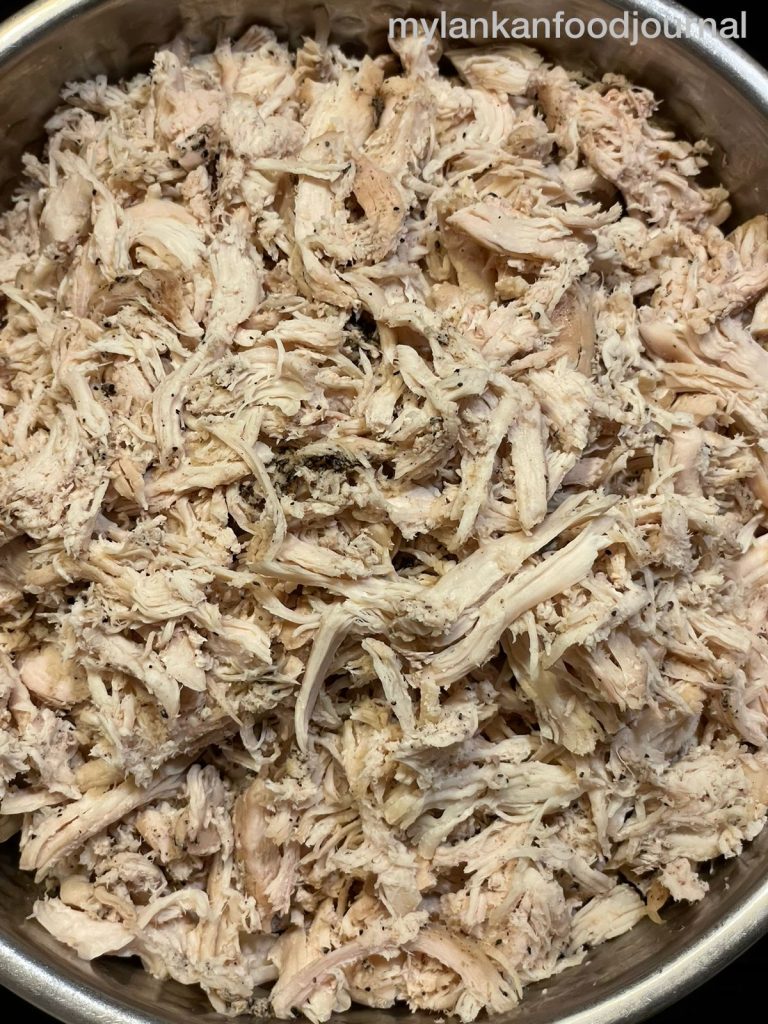 Step Eight : Add in fried items and lime juice, liquid aminos or soy sauce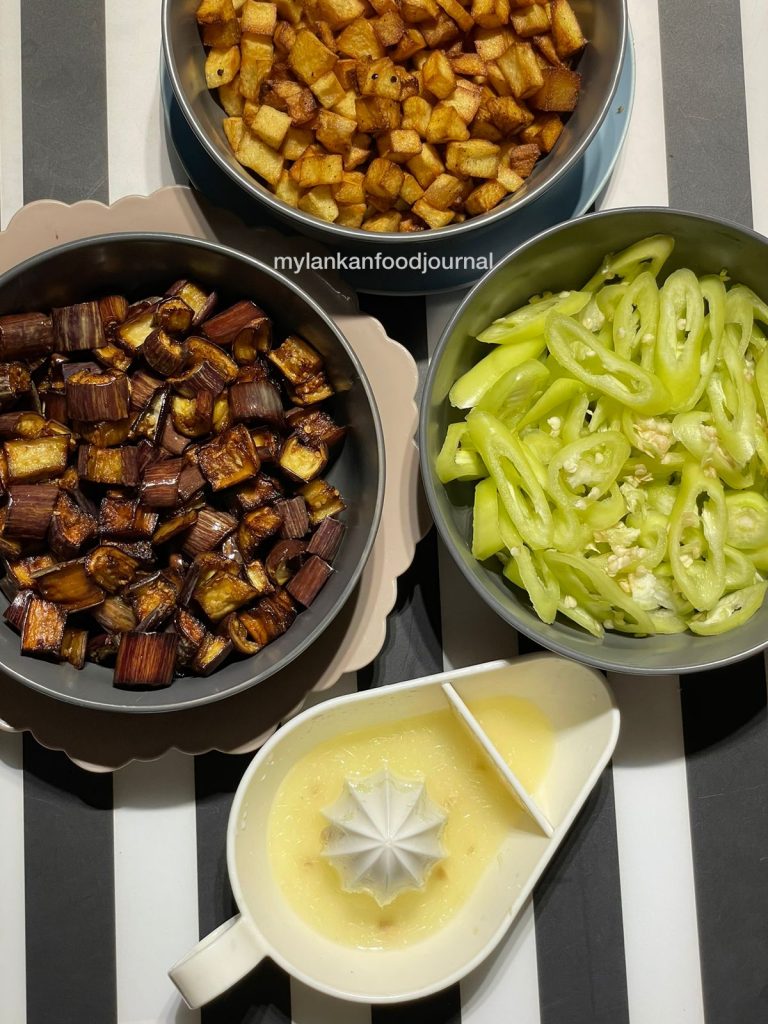 Add the Fried Egg Plant in last to avoid them from getting too mashed up
Step Nine : Coriander Leaves
FINALLY DRIZZLE COCONUT MILK IF YOU FEEL THE FILLING IS SLIGHTLY DRY BUT I ADD THIS EXTRA STEP ANYWAY BECAUSE THE FILLING BECOMES SO RICH AND MOIST…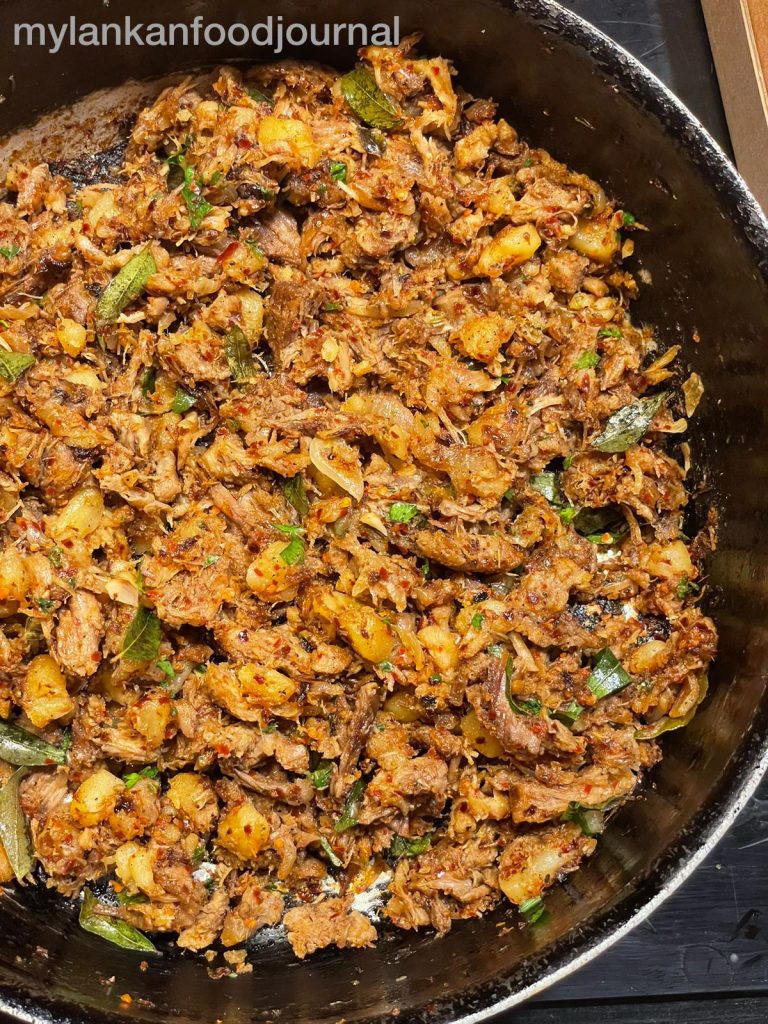 TIME TO ASSEMBLE THE KUNAFA
I used a lined baking tin to make this circular shape.You could even assemble on a pyrex dish of your choice.Lining with a lunch sheet prevents the last pancake from sticking to the bottom of the pan.I used an 8″ round pan.Height 2″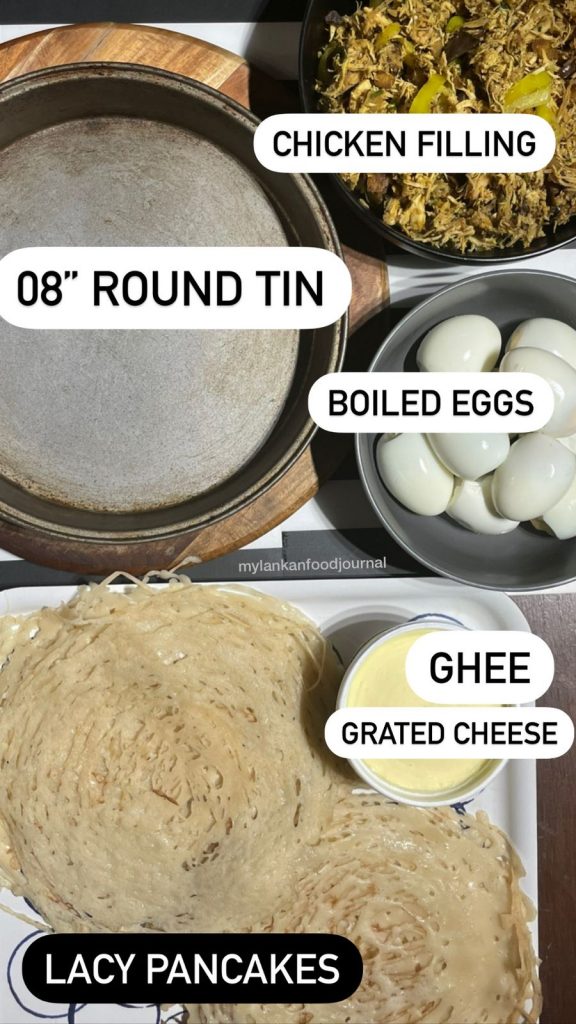 Head over to my Instagram Page to watch a demo on how to Assemble this Kunafa Dish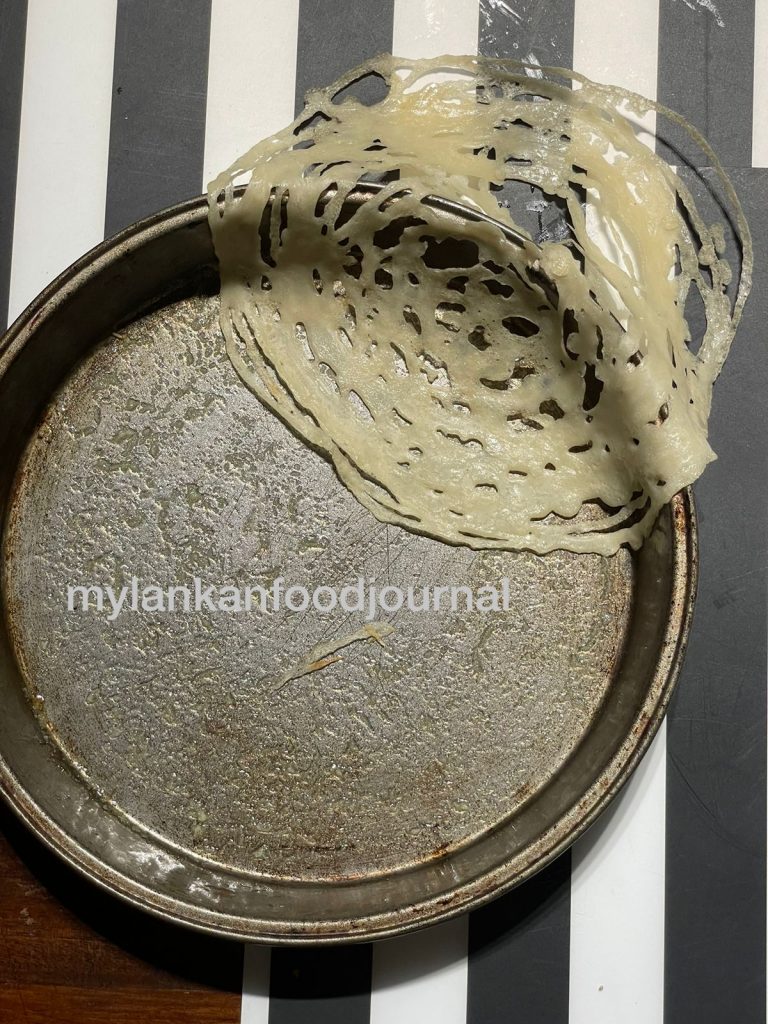 Step One : Place the lacy pancakes around the edge of the round pan slightly over each other, half of one side of the lacy pancake hanging to form a scallop along the edge, which will be used to make the shape at the ends.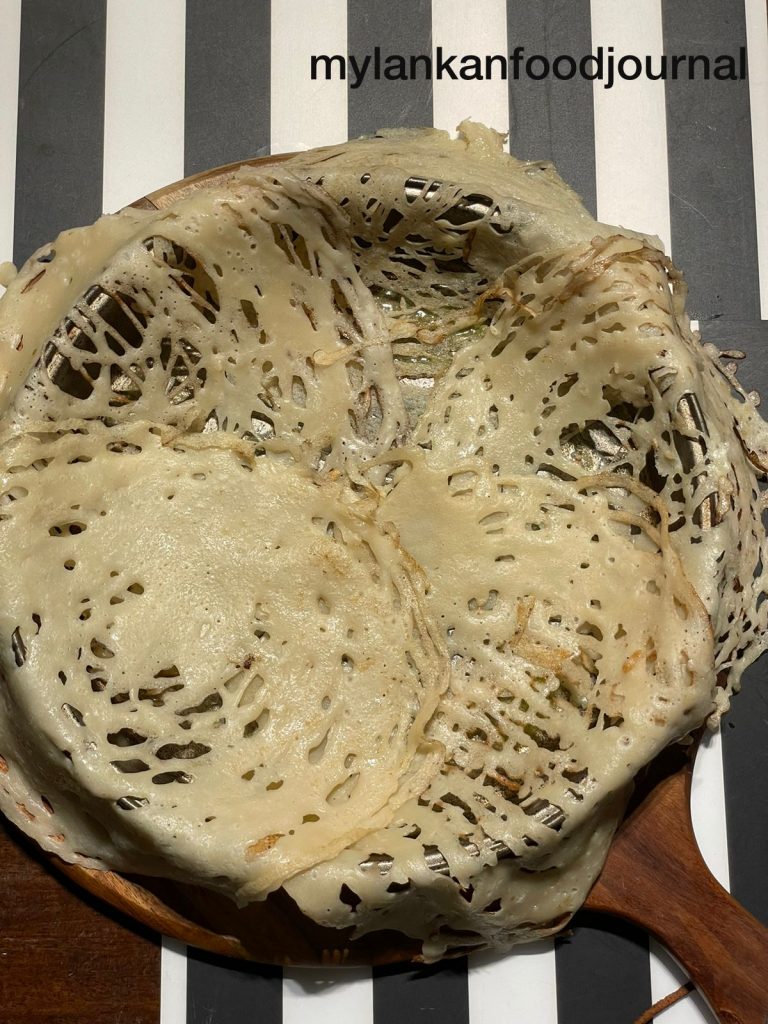 Step Two : Place two more pancakes in the middle to form a firm base.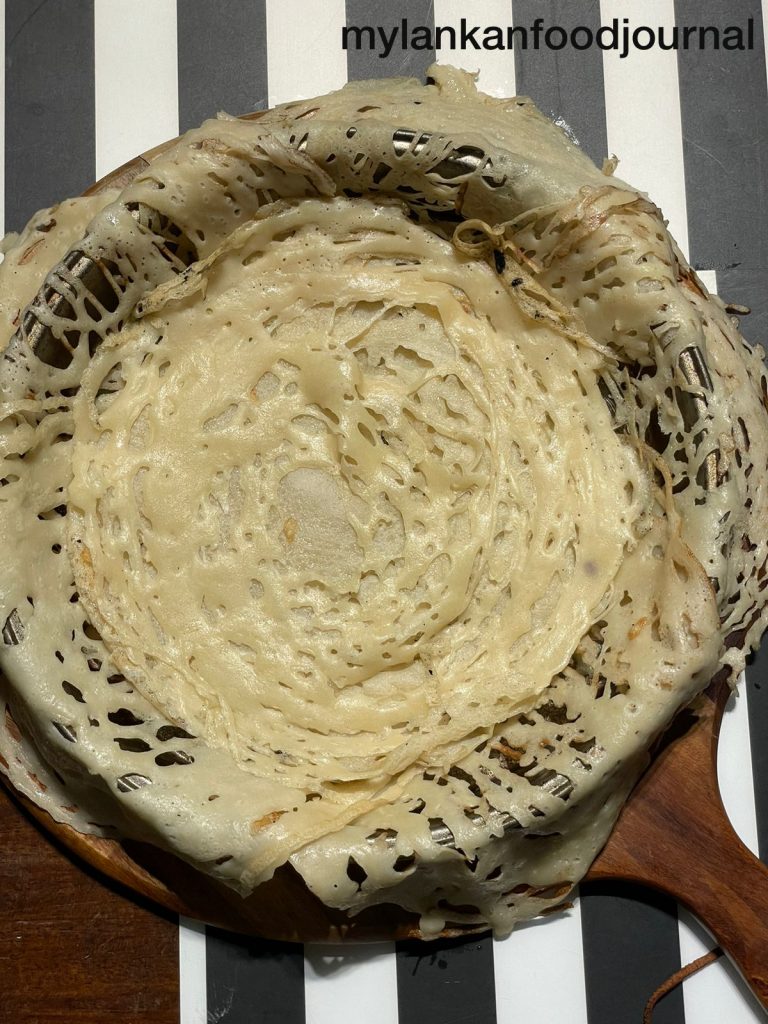 Step Three : Drizzle Ghee and when cooking or baking the prepped kunafa it creates so much flavour and moisture.If you don't like additional grease you can totally skip this step.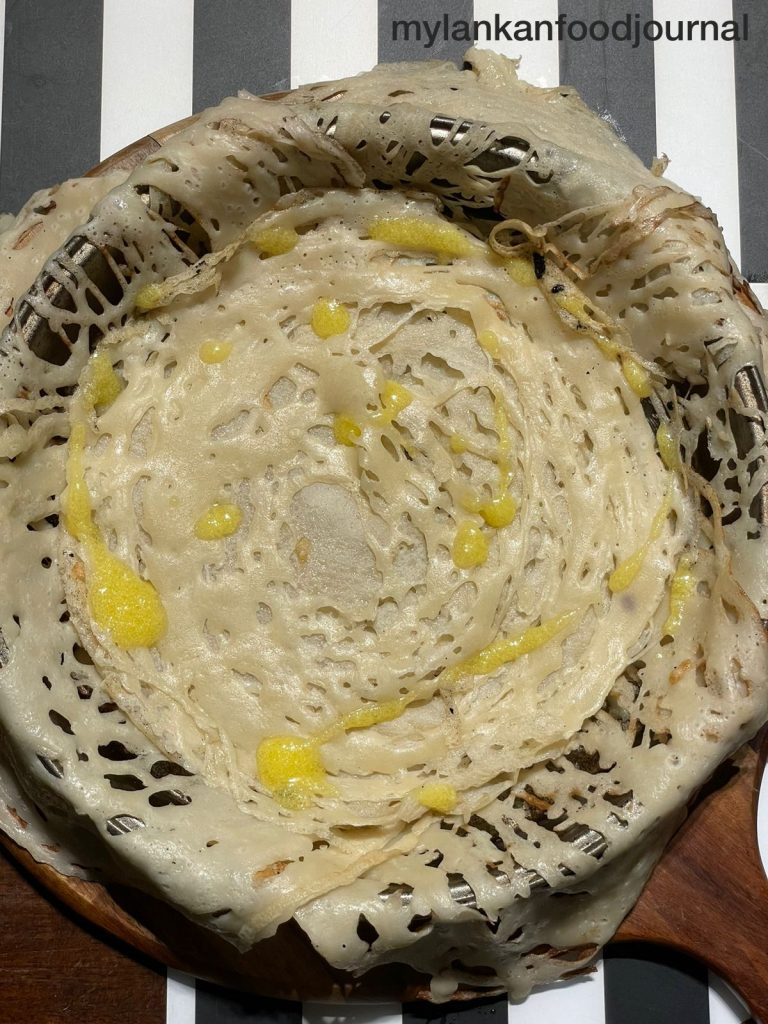 Step Four : Spread a thick layer of filling and press gently using the back of a spoon.
Step Five : Layer of sliced eggs sprinkled with salt and black pepper.
Step Seven : More Filling
Step Eight : Cheese and Cheese
So on days I don't have Mozarella cheese I have used Cheese Slices and it's still fine as long as there's a binding cheesy component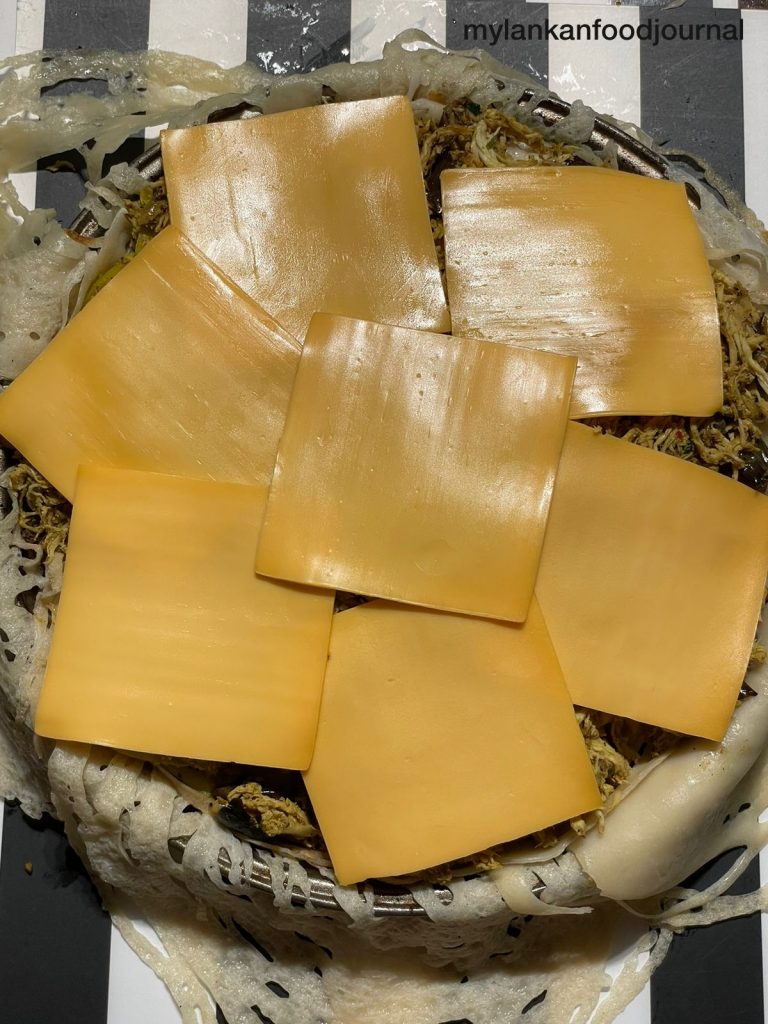 Step Nine : Place one more pancake over the cheese and then fold over the pancakes that are hanging over the edge and gently press down to form a circular shape.Drizzle more ghee
At this point you can pop this into a pre heated oven at 180′ till nice and beautifully golden but there's another method of cooking this whole Kunafa.
Scroll Down to Learn More…
You could definitely pop this into the oven if you're in a rush and you are short of time
However the slow cooking on the stove method tastes so much better
The ghee coating the outside layer of this beautiful savoury cake makes it worth every bite!!
Try it once and let me know which method of cooking works for you.
To be honest when I'm lazy I would just do the oven but on some days like today I would not go for short cuts
Carefully transfer the kunafa onto a greased pan that's large enough to fit the whole thing.(Remove lunch sheet)Slowly rotate it around to get it cooked evenly
Again slowly flip this onto a plate then cook other side with more ghee.Let this rest for a bit before making the cut….
THIS STORES REALLY WELL IN THE FREEZER AND CAN BE MADE AHEAD FOR BUSY RAMADAN DAYS.IF STORING FOR LONGER THAN TWO DAYS I WOULD NOT ADD ANY EGGS THOUGH.
TRANSFER INTO A SHEET OF ALUMINIUM FOIL AND WRAP TIGHTLY.THEN FREEZE TILL NEEDED
LOOK AT THOSE BEAUTIFUL LAYERS!!!
Have You Ever Made Savoury Kunafa Before???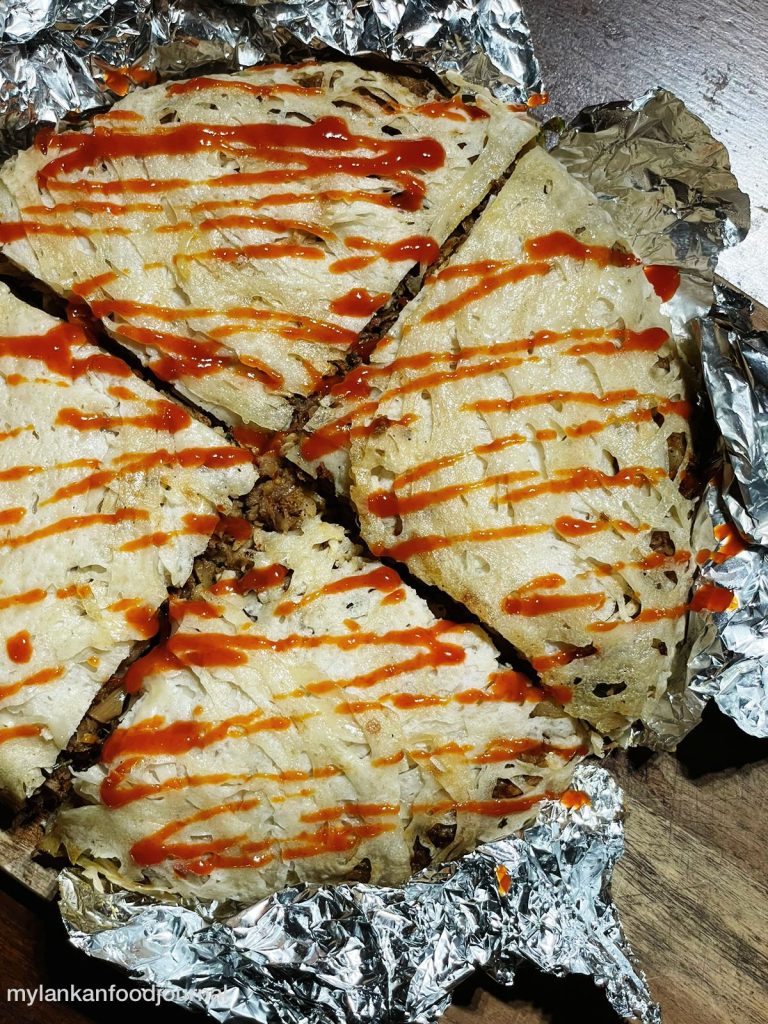 Would love to see your remakes on this recipe, be sure to tag me on social media or send me a screenshot if your account is private so I can re share them on my stories
#srilankanfoodie mylankanfoodjournal #colombofoodbloggers #homemadewithlove #ramadanseries #ramadanwithme #ramadanvibes #quarantineandchill #savourykunafa #beeffilling #socialdistancingcooking #instafood #feedfeed #huffposttaste #onthetable #instadaily #foodphotgraphy #foodstagram #foodphotgraphy #eatpraylove #begrateful #positivevibesonly#alhamdulillaforeverything?