Purple Yam or Ube is a root vegetable that Originates from the Nothern Part of our Beautiful Island Srilanka
They're much different to the Taro Root even though most people confuse the slight resemblance and the taste between the two yams
Once boiled Purple Yam is slightly sweet and nutty.It is a staple in Philippines but it is definitely popular in most other South Asian Countries in the form of desserts and drinks etc…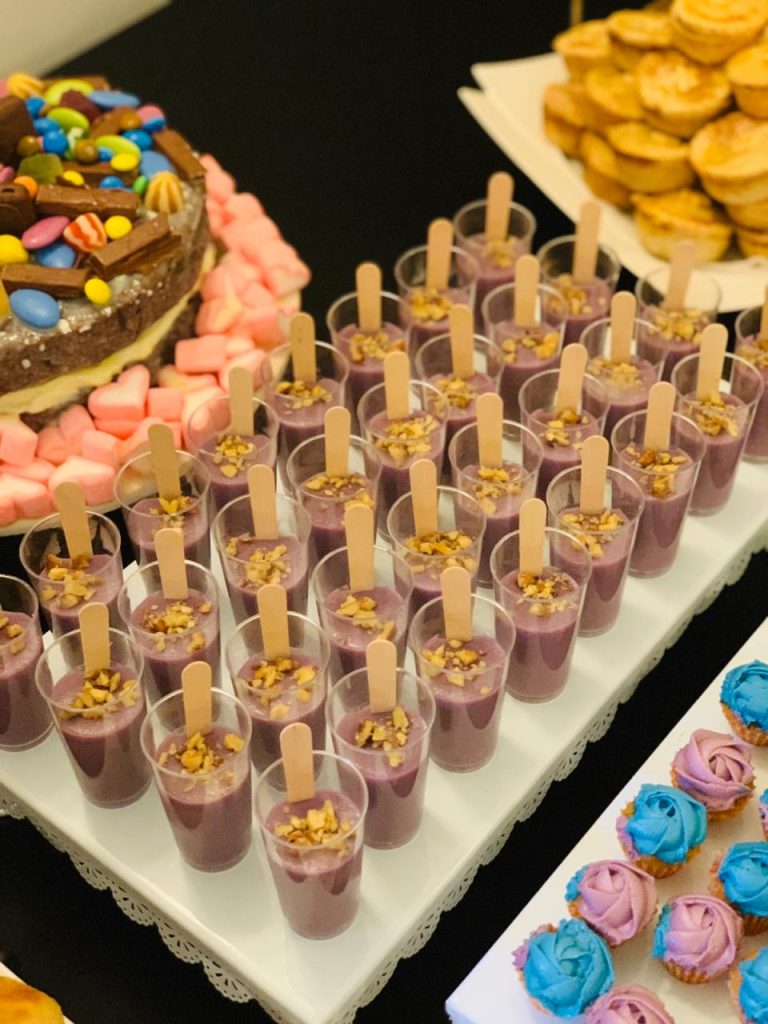 They're full of essential vitamins minerals and antioxidants which may prove beneficial for our system if consumed in the right amount with the right combinations
I got The Purple Yam from Sunny Bees.They delivered the very next day : Contact them for your fresh vegetables and fruits.Check them out on Instagram :
https://instagram.com/sunnybees.lk?igshid=16i4byfnuq43r
Each family has their own version of making this wholesome porridge and my mom used to make it in different ways using semolina and sago pearls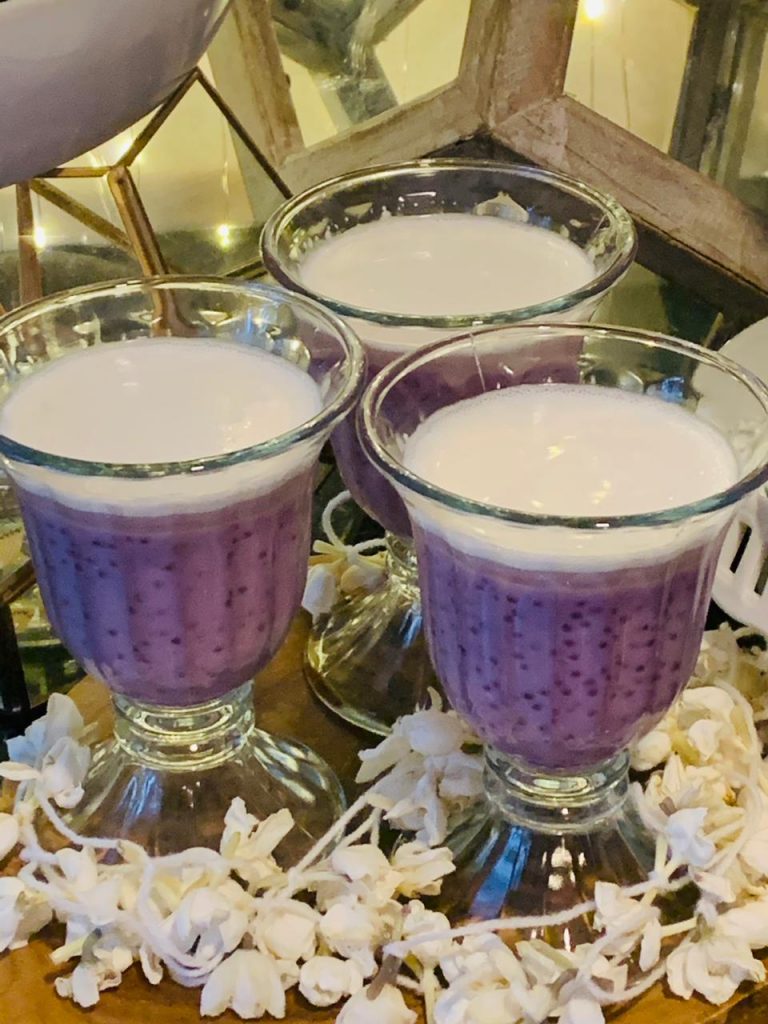 I wanted to recreate her version but I tweaked it a little bit here and there while serving and it was as delicious ??????
My sisters always make this better and it reminded me of those days when I once tried to make this and end up adding too much of something and making a mess, then run to my sisters for help ???omg have you guys ever done that !!! Am sure my sister's rolling on the floor after seeing this post because every time I make this they never let me forget that incident lol !!!
Head over to my Instagram page and check out the video to see the consistency of this drink
https://www.instagram.com/p/CHvV8zKhNo-/?igshid=19g22kwwl6lqn
A highly requested recipe : Would love to see your remakes on this deliciousness.Be sure to tag me or send me a screenshot of your post if your account is private so I can re share it on my stories
Anyway Let's Get Started
You Will Need
500g Purple Yam Skinned
One Cup Thick Coconut Milk to go on top
One Cup Thin Coconut Milk for cooking with the yam
Pinch of salt
Cardomom powder
Original Kithul Treacle for sweetness or you could use Brown Sugar,Maple Syrup
Sago
Boil the yam with a pinch of salt and whole cardomoms, till it's nice and fork tender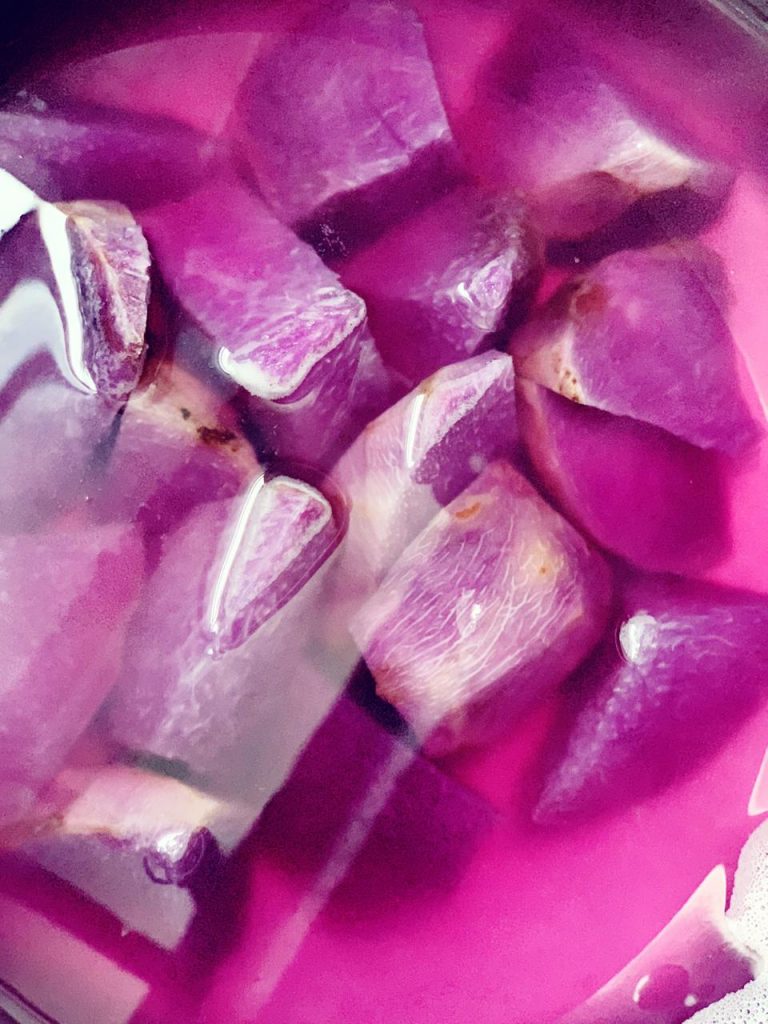 Let this cool down completely and Blend with the thin coconut milk
In the meantime boil 50g clean sago pearls in water and set aside
Put the liquid yam mixture into the saucepan and let this cook on low.
Once this comes to boiling add in the boiled sago pearls and combine well.
Add sweetener of choice , I added Kithul Treacle and the Purple Yam Dessert is ready to be enjoyed after assembling
You could definitely have it right away but I have a nicer way of serving this warm and comforting goodness ??????
To Serve : Spoon them into individual glasses and pour the thick coconut you reserved on top.It is interesting to see the layer of coconut milk on top so you can mix it while enjoying this deliciousness!!!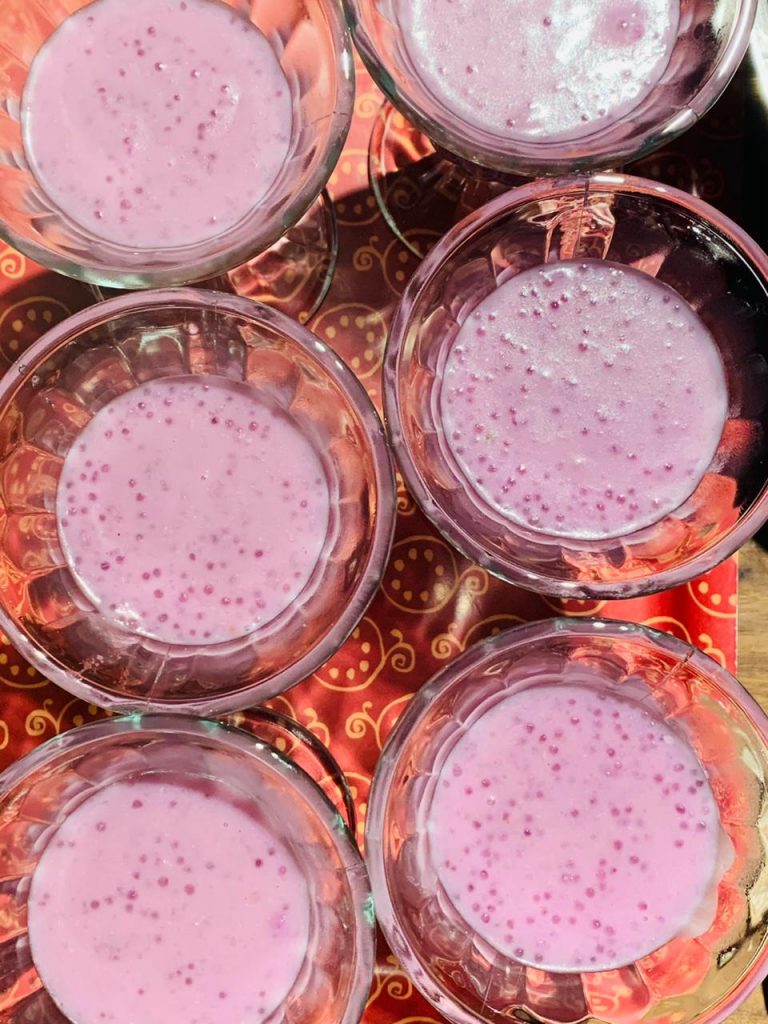 Best served warm but you could chill if you prefer
Have you ever tried purple yam?? If so what's your favourite combination and how do you make yours??
Stay Safe ? Stay Home ?Stay Sane ?Stay Responsible
Much Love ? Nuzrath