The Golden Joy Slice Or Commonly Known Amongst Australia As The Golden Gay Time Slice
This was inspired by the original version made by beautiful @wallaaubeeid
Check out her page for her version !!!
https://instagram.com/walla_abueid?igshid=w9d7iyzhkk33
Layers of soaked biscuits slathered with thick cream and golden toffee caramel in each layer.Finally a silky dark chocolate ganache that's topped with the most crunchy granulated nuts…Yummers!!!
My version is infused with coffee and has a layer of sliced Swiss roll as the base of this amazing dessert…
Let's Get Started
What You Will Need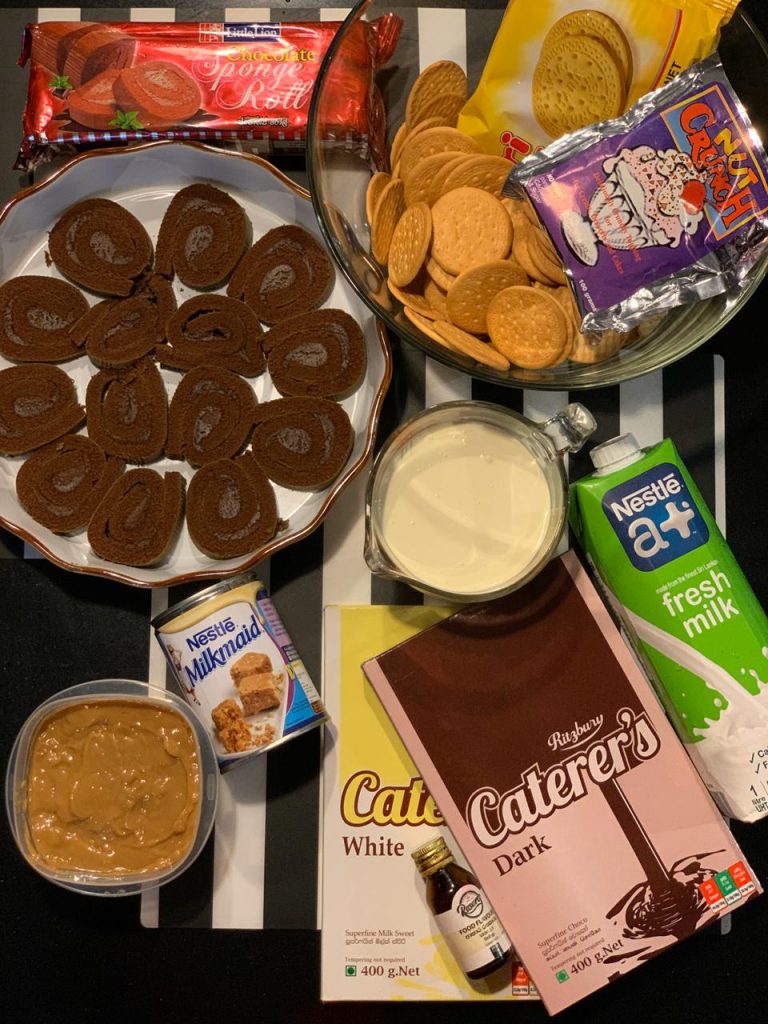 Spreadable Caramel One large tin Condensed Milk
Cake Base : I used Little Lion Swiss Roll
300ml Whipped Cream
300g Marie Biscuits
Fresh Milk mixed with instant coffee and vanilla extract
Dark and White Choc Ganache
Granulated nuts for topping
Caramel Spread
In Srilanka we don't have access to top and fill caramel cans so I made my own using nestle milkmaid
This is a Hack to make your own ready to use caramel using milkmaid :
Just Boil the cans completely immersed in water for at least two hours on medium high heat.Cover halfway and Keep refilling when the water simmers down.You could even pressure cook this for 45 minutes if you have a pressure cooker.I do them in bulk, maybe upto three tins in one batch.You would save some time and your money!!!
Once it has reached the finishing time, let it cool completely….DO NOT EVEN ATTEMPT TO OPEN IMMEDIATELY!!!I suggest do this ahead and let it cool overnight.
Time To Assemble
Refer To Image For Layers
Layer One : Swiss Roll Slices soaked in milk and coffee
Layer Two : Whipped Cream
Layer Three : Soaked Biscuits
Layer Four : Whipped Cream
Layer Five : Caramel Spread
Layer Six : Soaked Biscuits
Layer Seven : Whipped Cream
Layer Eight : Chocolate Ganache and Golden Nougat
DONE DONE DONE
Check my instagram page for this post
Would love to see your versions of this delicious creamy slice of Joy!!!
The Beautiful Black Marbled Base was from nuzutahomz Do check them out for fantastic offers on household items and gifts!!!
https://instagram.com/nuzutahomz.lk?igshid=lt8eqqpv13ng
In love with my new Serving Dish that was from @homeessence
They get down many other items on pre order.Do get in touch with them for more details and check their page out!!!
https://instagram.com/homeessence17?igshid=gdi8q0wyek8d
Much Love
Nuzrath 💕
srilankanfoodie #mylankanfoodjournal #colombofoodbloggers #gaytimeslice #goldendessertofjoy #instafood #feedfeed #huffposttaste #onthetable #instadaily #foodphotgraphy #eatpraylove #begrateful #positivevibesonly#alhamdulillaforeverything💕