When you have extra cake that you can't finish, make my easy peasy Danish Pastry
All you need is store bought puff pastry or you could even use a shortcrust pastry.
Always a winner during Eid amongst both kids and adults!!!
We have few more days to announce the winner of the giveaway!!!
Iam so excited and its been long hours of checking each and every comment
In collaboration with NUZUTA we hosted a giveaway and we were so overwhelmed with the positive response!!Thanks to everyone who took time to participate and share!!!
Check out their instagram page for useful house hold items and they have a variety of organisers, shelving units, and multi purpose trays etc..
https://instagram.com/nuzutahomz.lk?igshid=gbu6t7a1a7ix
This tray was sponsored by NUZUTAHOMZ
It is so pretty with a flowered pattern at the bottom and serves many purposes.I have used this to set up a quick Brunch platter!!!Check my instagram post to see the details!!!
Let's Get Started
What You Need
Puff pastry
Chocolate Filling
To make this Danish pastry you will need a filling and today Iam using leftover cake…You could use almost anything to fill these pastries up.Something as simple as chocolate chips even or leftover cake scraps, brownie dough, cookie dough, cake pop mixture etc…Just modify it to a paste like mixture.It makes it easier to handle.Follow image to see how I made mine!
Lets Roll It Now!!!
Follow Image for Step By Step Guidance
Step One : Make sure the puff pastry is not too frozen or not too soft
Step Two : Roll out the puff pastry dough into a rectangular shape.1cm thickness.
Step Three : Spread the chocolate filling using a spoon or clean fingers.You could also flatten the filling smoothly by using a rolling pin over a sheet of cling film.
Step Four : Sprinkle chocolate chips or nuts of choice.This is completely optional.My kids love this so I added them, you could add any other kind of topping of your choice.Eg : Crushed biscuits,fruit preserve,etc
Step Five : Fold over the edge (refer to image )
Step Six : Roll into a log.Tighten while rolling it…
Step Seven : Slice this up using a serrated knife.Place on a line baking tray.Apply some milk using a brush.
This silicon brush is so easy to clean!!Check Out Elegant Charms to get your own!!Will attach the instagram link below for reference…
https://instagram.com/elegant_charms?igshid=8tw7ibdikav0
Step Eight : Bake in a pre heated oven for at least 20 -30 minutes or until it is golden brown on the outside.
This Danish Log freezes really well.Cover with cling film or lunch sheet and place on a flat tray…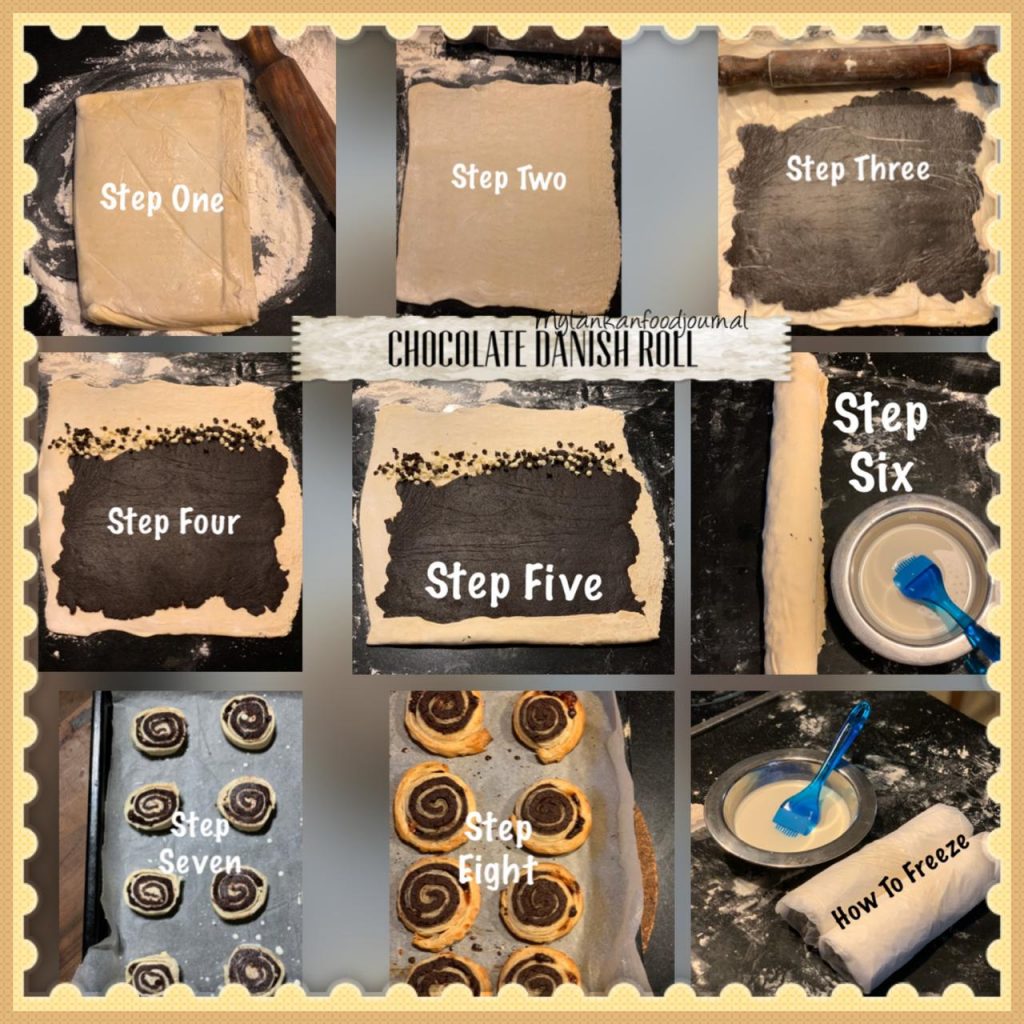 Would love to see your remakes on this Easy Danish Pastry
The Winner will be announced in a few hours!!!
WAIT FOR IT…
Much Love Nuzrath