Anyone planning on joining me for the Shawwal Fast?
This Delicious Kitchdi was the opening to our first Shawwal Fast Alhamdulillah!!!
Sweet Kitchdi is a slow cooked dessert made with wholesome ingredients like green gram,wholewheat,rice,sweetened with jaggery & infused wit local spices.
So easy to make.It is just a matter of combining all the ingredients in different steps to make your own version.This one's mine!!!
Lets Get Started
You will Need
One cup Green Gram
One Cup Whole Wheat/Broken Wheat/Buckwheat
1/2 Cup Rice
Cardamoms
Cinnamon
Pandan Leaf
One cup Grated Kithul Jaggery(add more if you prefer sweeter)
1/4 Cup Sago Pearls(optional)
One Cup Thick Coconut Milk
Pinch of Salt
Use a heavy bottom pan or pressure cooker
Soaking the green gram,wheat & rice few hours ahead would make them easier to cook.Ideal to soak overnight.
Refer To Image For Details On The Steps Below
Step One Cook the pulses, wheat, & rice with a pinch of salt, whole spices & pandan leaf.Make sure theyr completely done.Remove the whole spices if you don't like biting into them…or use powdered version.
Step Two Mix the jaggery in
Step Three I prefer to Sprinkle Sago Seeds at this point for some texture but if like them completely cooked, go ahead & add in earlier!!
Step Four Add coconut milk & let this cook on low till you achieve a little runnier than the consistency you prefer because it thickens as it cools….Check for sweetness & adjust.That's pretty much all…You could just have it this way or go an extra step to make it special like I did!!
Step Five You could get creative & add whatever you prefer.I added chopped nuts, dried fruits & dates.You could drizzle a tbsp of pure ghee as the last step,soon after it is served while warm….This makes it so special!!!
Final Step Serve Warm Or Chilled according to your preference. Garnish with more nuts, dried fruit, dates, saffron strands,edible rosepetals,etc…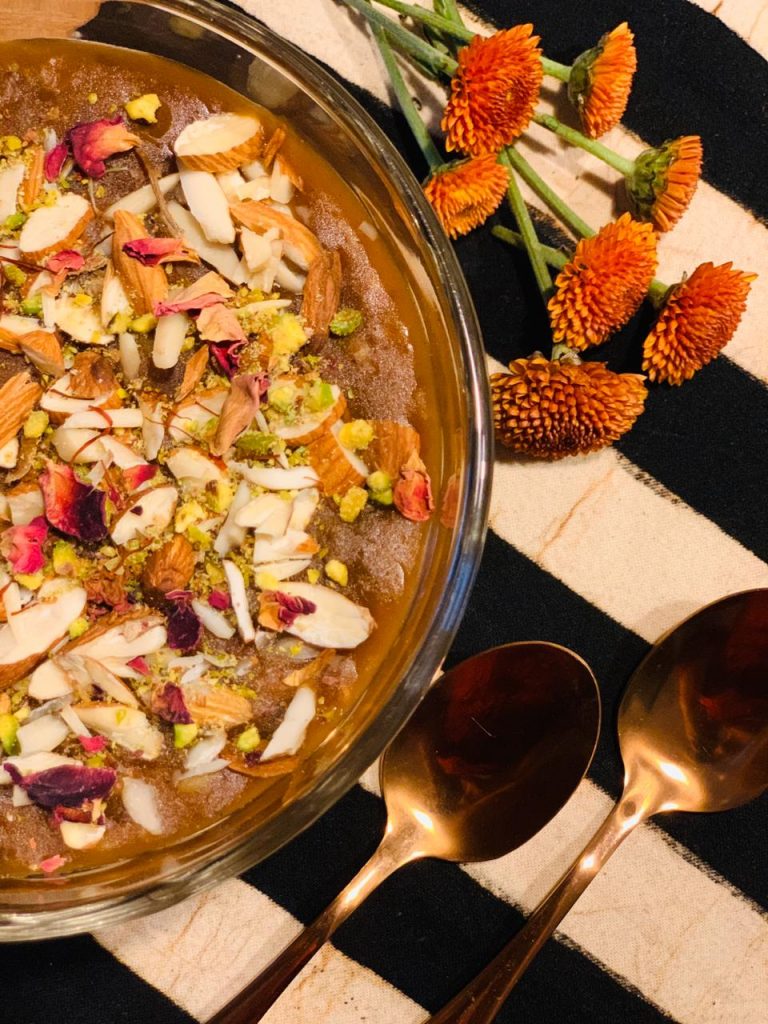 Would love to see your remakes on this!!!
Much Love Nuzrath ?
Scroll Down To Read More About The Shawwal Fast
Shawwal Fasts can be very challenging after a month of fasting & giving the body a full day break, as it still wants to continue with thePost Eid feasting…specially with all the visiting marathons & all that amazing food you are offered can be very tempting!!!However this time was definitely an Eid to remember Alhamdulillah…
Fasting six days of Shawwal after the obligatory fast soon after Eid Fitr is a highly recommended Sunnah(musthahaab) but not waajib(obligatory)However these six fasts can be observed from the 2nd of Shawwal as the 1st day being Eid & it is haram to fast on Eid.You could fast at anytime during Shawwal consecutively or seperately according to your convenience to make up the six fasts, not necessarily the very next day of Eid,although the best of good deeds done sooner the better Inshalla. Allah says " So compete in good deeds" 5:48 "And march forth in the way (which leads to) forgiveness from your Lord" 3:133
Remember not observing this fast does not make you guilty of any sin Subhaanallah!!!Allah is All Knowing!!!
It is so rewarding to be able to observe these fasts Alhamdulilla…May Allah accept our deeds & bless everyone with this beautiful opportunity..Aameen
Abu Ayyub reported that the messenger of Allah,(Sal) said : "Whoever fasts Ramadan & follows it with six days of Shawwal,it will be as if he fasted for a lifetime" Muslim