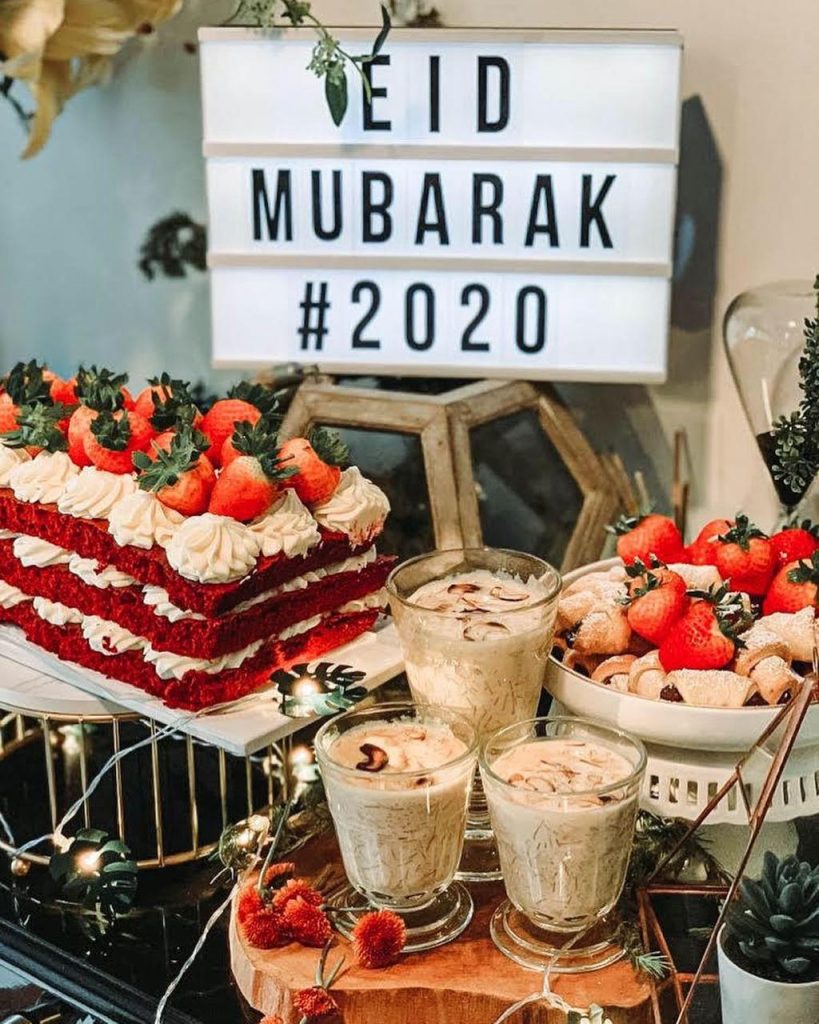 ?Eid Mubarak From Ours To Yours?
Happiness is always celebrated with something sweet & what better way than super quick & simple " KHEER KUMU"
which was introduced to me by my beautiful sis thuraiya
Ever since it has been loved by everyone on Eid Mornings.infact it has become a ritual to have a bowl before performing Salatul Eid Alhamdulilla.As it is one of the sunnahs on this Blessed Day!!!
It was narrated by Anas Ibn Malik(Ral)that the Prophet (Sal) used to never go out in the morning of Eid ul Fitr untill he had eaten some dates and that of which he would eat of an odd number. Bukhari
It only makes sense that we eat something before the salah to acknowledge that we are no longer fasting on this day!!!
There are many more sunnahs to be performed on this blessed day Subhaanalla!!!Keep scrolling if you are interested ??????
This Delicious dessert comes in many forms but today I made the lankanized version where I switched to cashew nuts instead of pistachios or almonds.
It is so easy to make with simple ingredients & gets ready within a short while.
This milk deliciousness has been infused with cardomoms,saffron & cooked with ghee roasted vermecilli that makes everything just better ??????
For Kheer
Add a handful of crushed vermicelli & roast with three tbsp ghee,(cardamoms) in a pan.This changes colour & gets nice & fragrant.
Gradually add in one litre milk & small tin milkmaid(if you prefer sweeter add the larger tin).Keep stirring till the vermicelli is cooked,& the mixture thickens.You could add soaked saffron strands at this point.Remember this thickens as it cools so if you prefer it runny, add more milk & reheat.
Check my instagram post for videos to see the consistency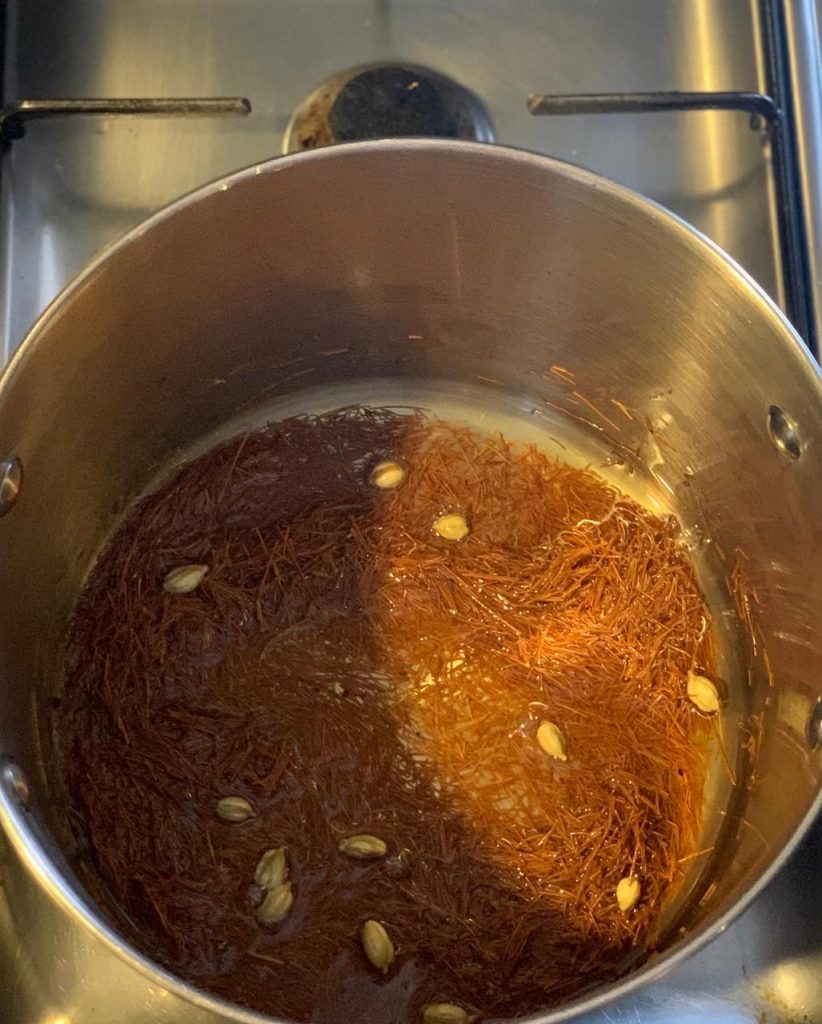 Finally add in Lots of crushed nuts.Since I made the Lankanised version today I added ghee roasted cashew nuts….So creamy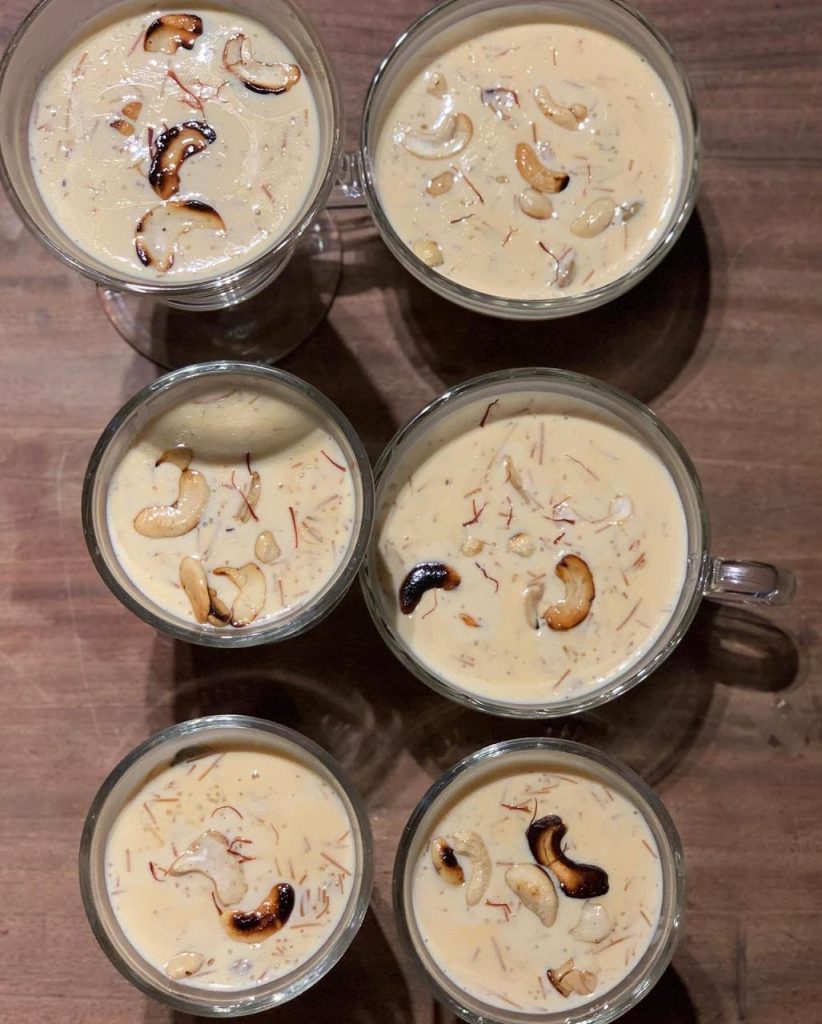 Do Lemme Know If You Give This A Try!!! Would Love To See Your Remakes!!
This Eid was definitely one out of the ordinary but Alhamdulilla there's always better plans from The Above Almighty
By now Eid feelings have already overtaken our homes Mashalla Tabaarakalla!!! My kids have never been this thrilled in a long time…
However they woke up to a different Eid…
COV – EID
Usually Eid at home is a big deal, specially when you have little kids fasting for the first time in their lives and we have been having at least one joining us with their first fast almost every year for a few years now Alhamdulilla
We plan ahead and start collecting gifts and theme decor few months ahead because we have many little kids who walk in looking forward to being rewarded on that day!!And planning ahead really helps for many reasons.Most importantly The last ten days are the most special days during the month of Ramadan so it doesn't make sense to be using your precious time for too many outings during that period.Another reason being how it goes easy on your wallet when you buy in parts!!!!!We make it special just for them in whatever way we can afford.
The Colourful Sweet Table,Balloons & Exchange of gifts always their most favourite part!!!!There's no restrictions on what they can or cannot have from the sweet table…anything can be eaten all day!!!!!After all that day is just for them….Gifts are given according to age
They definitely deserve somethin special for their effort of fasting for 29 days Subhaanalla ….not as easy as it may sound!!!
However this time has been a tough one to handle with everything that's been happening around the globe due to the pandemic…
.
Allah ease those who are being affected??????Aameen
.
Countless prayers from all over the globe
Having Said That MODERATION IS KEY
So There's no reason your child should feel any less on this day because he or she earned this Alhamdulilla right??
.
So we decided to make it fun for them at home within our means
Just A Glimpse Of Other Sunnahs We Performed On Cov – Eid 2020
Celebrating Eid is a sign of showing our love towards Our Creator & being happy & festive on this occasion represents your love for the religion Alhamdulillah
The Messenger (sal) "There are five nights on which due is not rejected : The First Night Of Rajab,The Fifteenth Night Of Sha'ban,Thursday Night,The Night Before Eid ul Fitr & Night Before Eid Ul Adha" As Suyuti
We usually wake up to the Thakbeer in our ears from the radio & then after the Fajr prayers we sit as a family have some dates & discuss our activities for the day with family. Saying the Takbeer a tul Eid from the last evening of Ramadan continuing towards the following day which is Eid,and after the Fajr salah untill the time of Eid Salah.This is a form of glorification and gratitude towards Allah!!!
Performing Ghusl(Ritual bath)and looking your best meaning wearing special clothes but not necessarily new clothes but if you have the means to go ahead & flaunt your new accessories Alhamdulilla ???
Cleanliness is a part of Faith so taking some extra effort in grooming ourselves on this special day is very important even if it be performing salah quietly at home with family and still be presentable even if you know you are not expecting guests this time
Narrated Ibn Abbas (ral) that Prophet Muhammed (Sal) used to take a bath on the day of Eid ul Fitr (Ibn Majah)
.
Another narration Jabir (ral) : Prophet (Sal) had a special cloak that he would wear on the two Eids & on Fridays.
Offering Good Wishes on this blessed day is another important sunnah because this whole month has been a time for deep spiritual connection for body & soul.So this definitely needs to be acknowledged & rejoiced over Alhamdulilla
However this time we switched the physical embraces by getting creative & virtually setting up a beautiful dua for our loved ones via technology while maintaining safe distance…Watch my instagram page for the video that was created for the kids!!!Many Thanks to my talented little cousin who helped me out with everything.Check out his page to see more of his talent
https://instagram.com/llking11?igshid=dge9fn6a8lbf
https://instagram.com/studio11.lk?igshid=j4e27syic9pz
Going Outside for Eid prayer is another important sunnah which cannot be fulfilled this time.Prophet Muhammed (sal) commanded both men & women to go out for Eid Salah.It is also allowed for women in Haidh(menses) to take part in the sermon if this prayer is performed in an open ground & not a masjid.
Like I mentioned before having a little something to eat before the Eid ul Fitr prayer is highly recommended…
After Eid Prayers visiting the graveyard of the deceased loved ones has also been a practice for generations now…this time we stayed far and performed the Eid prayers quietly at home but our duas will definitely reach higher Inshalla ??????Our Rabb Ya Sam'eeh hears us!!!
Taking a different route is a great sunna but this time we will not be able to fulfill that but Allah definitely knows our intentions although we did have different routes around the compound if that matters ??? Jabir Ibn Abdulla "When Allah's messenger (sal) would go out on the day of Eid by one route, he would return by another" At Thirmidhi As this day is all about meeting & greeting,switching routes on the way back would mean you would have the opportunity to wish more people…..
Prophet Muhammad (sal) " The days of At-Thashreeq are for eating, drinking and remembering Allah" Muslim
Ofcourse The Best Part Is Food!!!!!!and when I mean food!!! There's food all day ???
So what if we can't entertain & serve them traditional Eid sweets….We delivered shares of these sweets to our loved ones & helpers ahead because this month is all about caring & sharing!!! Eid gifts were delivered online and Eid cards were sent out in the form or videos…
Possibilities are endless!!! This way of showing love goes a long way!!!miles apart but connected at heart ?
Another important point I want to mention while talking about feasting on this Special Day is "Be Responsible" Meaning putting effort in any little way that you can afford to be the reason for not letting at least one family to be forced to celebrate Eid in hunger…There are many families specially during this trying times struggling for the next meal due to the current lockdown situation.Let's Do what we can to help Inshalla & every little thing counts Subhaanallah!!!Allah reward everyone for their intentions….Aameen
Also remember Israf meaning wastefulness is considered a heavily abhorrent act in Islam Surah Al Isra : "And render to the kindred their due rights, and also to those in want, and to the wayfarer, but squander not in the manner of a spendthrift!!!Verily spendthrifts are the brothers of Satan,and Satan is to his Lord ungrateful!!!"
The Day Begins With…….
The Fabulous Srilankan breakfast that consists of the sago porridge at the end..yummm
then there's snacks & shorteats & what not on the Eid table which is usually laid all day refilled with the sweets & savories.This time there was no such sweet table spread cz we didn't have any guests coming in…..Now this was the hardest for me…Unable to see my own father ? and my siblings who walk in to our homes soon after they perform their Eid Salah during the mornings…..but as responsible human I decided to wait till Iam allowed to see them for real!!!Inshalla & Thanks to technology we were able to connect even while social distancing Alhamdulillah ? Visiting loved ones is a must on Eid but this time we had none except a few of us who lived in the same compound & so grateful for that Alhamdulilla.We set up zoom conference with the whole fam, kinda getting used to the new normal….
Next comes Mandatory Eid Biryani & Watalappan before you know it because you're so busy meeting n greeting family & friends soon after Eid prayers.But this time we enjoyed the same meal over long conversations with the family and it was bedtime after every meal lol…
Do Check Out My Recipes For The Eid Biryani & Watalappan In Previous Posts
And Then The Party Started With A Wonderful BB Surprise
Anyway hope everyone is having a safe & calm Eid surrounded by loved ones???
.
Let's make the best use of this time we have after a long month of fasting!!!
Next Day We Start Shawwal Another Beautiful Month.Next Post Will Be About The Shawwal Fast Inshalla! Anyone else with me to continue the fasts???Lets Do This!!!
.
Have a Blessed Day Everyone!!!
.
This was a small set up we did for Jemimah & Jumeyna who fasted the entire lot Mashalla Thabaarakallah
Stay Safe ? Stay Home ? Stay Sane?
srilankanfoodie #mylankanfoodjournal #eidmubarak #eid2020 #quarantineeid #eidrituals #quarantineandchill #socialdistancingcooking #instafood #feedfeed #huffposttaste #onthetable #instadaily #foodphotgraphy #eatpraylove #begrateful #positivevibesonly#alhamdulillaforeverything?