When it's gloomy during the day and you see Amal's post first thing in the morning….This Happens ????
Thank You for inspiring me to do this even while we were dealing with the most busiest Sunday Morning…..
You should definitely check out his feed : You will be so impressed by the piece of art that he creates using his food….I'm still in awe!!!Link is attached below :
https://instagram.com/thunapahadiaries?igshid=1tlftgs5qmm5a
Let's Get Started on the Deliciously Warm Strawberry Crumble!!!
What You Need
The Berry Base :
1 kg Strawberries or mixed berries.My favourite choice is The Jagro Brand(link is attached below)I had some frozen strawberries and used them as well.Cut them in halves or chop them up, do what works for you…
2 tbsp cornflour
1/4 cup Coconut Sugar or 1/4 cup regular sugar
1 tbsp lime juice
https://instagram.com/simplystrawberriesbyjagro?igshid=1xqpvpiucmmot
Method : Just simply mix all the above ingredients in a bowl and transfer into a baking dish while you make the crumble.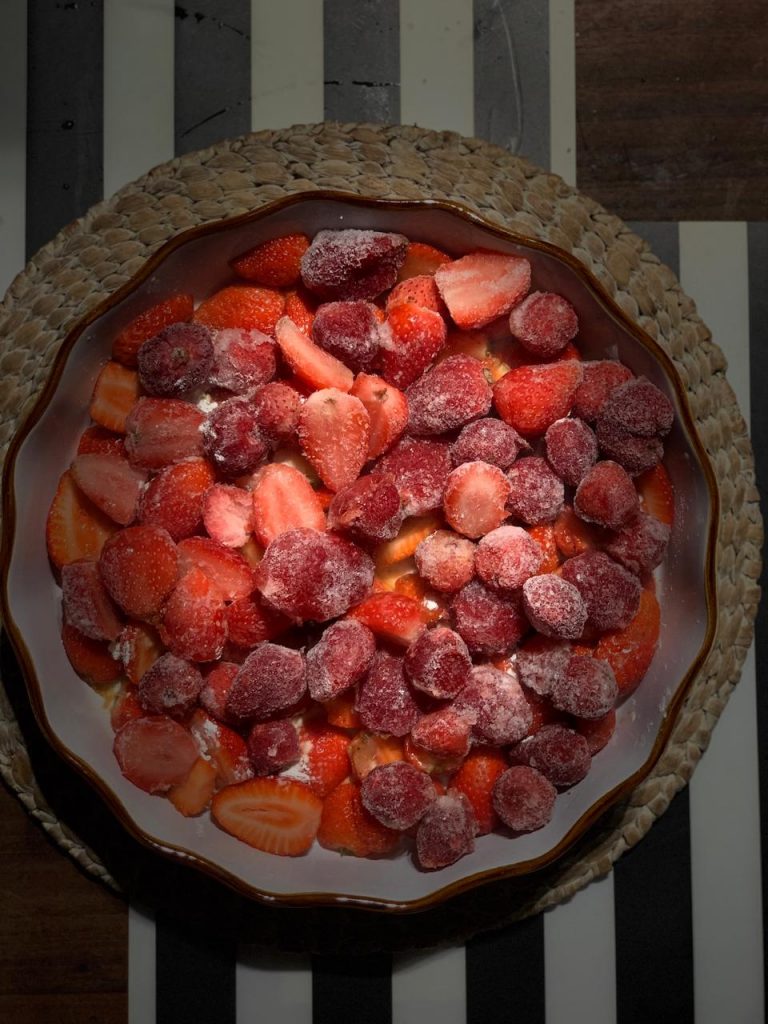 I used this fluted oven proof dish from the home essence company, find the link attached below :
https://instagram.com/homeessence17?igshid=15r2xfp12zubv
For The Crumble Topping
200g Cold Butter
200g All purpose flour
pinch of salt
Vanilla,Cinnamon
50g Coconut Sugar(optional)
100g Granola/Rolled Oats : I used my favourite granola from 3by3(link is attached below)
Nuts (optional)The granola I used had nuts in it already so I didn't add any extra
https://instagram.com/3x3granola?igshid=1vzl343iluv1a
Method : Mix the cold butter into the flour using your fingers tips and create a crumbly mixture, then add in rest of the ingredients to form a slightly sticky but manageable dough…
Let's Assemble
Spread the crumble over the set oven proof dish and I infused some rosemary for flavour.Then, bake in a pre heated oven at 180′ for at least 30 minutes.Untill the top is nice and golden!!!!
Ideally this would be served with some cold refreshing vanilla ice cream but today I opted for some fresh Nestle cream….This balanced the tartness with the sweetness from the warm and comforting dessert….
The cutlery in this image is a limited edition and they're from palladium holdings…The SALE is still on UNTILL STOCKS LAST!!!! Use my code myfj2020 to get an additional 10% off your total bill!!!
Have you visited them yet??
https://instagram.com/palladium_holdings?igshid=14j5fur5wiea1
GRAB THE BEST SELLERS NOW BEFORE STOCKS RUN OUT!!!
Much Love Nuzrath ?
The little wooden tray : oak social is the place for all your personalised wooden platters and tray requirements.located in Expressions Showroom, duplication road,Col-04
https://instagram.com/oaksocial?igshid=lxwmo8bdr0nq
Napkin used for Image : Paradise road
https://instagram.com/paradiseroad_srilanka?igshid=ork5ydc7q7il
srilankanfoodie #mylankanfoodjournal #colombofoodbloggers #instafood #feedfeed #huffposttaste #onthetable #instadaily #foodphotgraphy #eatpraylove #begrateful #positivevibesonly#alhamdulillaforeverything?